England is eccentric, surreal, full of surprises. It is also very lovely. Especially when the sun is shining. I spent twenty-four hours in Kent. That's in the south-east, also known as the-lumpy-bit-at-the-bottom-right-of-the-island-leaning-over-to-kiss-France. It was a bank holiday. I could buy a mattress, I could bet on horses, I could even have robbed a bottle store, but I could not rent a car. And so I found myself taking photos of the countryside from a moving train.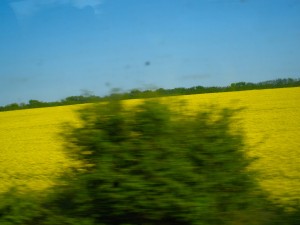 I had planned a spectacular triangular route, running from Manston International Airport (Point A) along the coast down to Dover (Point B) and then back up to my hotel in Canterbury (Point C). I would visit places whose names were like jewels in a necklace that sparkled with quintessential Englishness: Margate, Broadstairs, Ramsgate, Sandwich, Finglesham, Deal, Ripple, Kingsdown.
But it was not to be. Suddenly my perfectly planned voyage of discovery was being dictated by railway schedules and the sympathy of strangers.
10.10 – Touchdown at Manston, a former RAF airfield, where you can still experience the joy of walking across the tarmac to the terminal. There can't be many other international airports in the world with a pasture out front.
10.15 – A friendly cocker spaniel becomes the first British dog in history to survive sniffing my pants in search of illegal substances.
10.20 – "It's a bank holiday, love," says the cheerful airport official, when I ask her why the car rental window is closed.
10.25 – As I stand outside, frantically trying to contact the Dover branch of the rental firm, I see Barry loading the KLM crew's suitcases into his taxi. They are on their way to the Abode Hotel in Canterbury, which is where my bed is booked. The KLM crew welcomes me aboard.
10.35 – I brief the crew on my mission. Barry says I can probably rent a car in Canterbury. When I tell him I'm going to Dover, he jokes: "They say it's the best view in all of France: when you're leaving Calais and you see those white cliffs." He also tells me I must have dinner in the fishing village of Whitstable. I'm starting to suspect that meeting Barry is better than renting a car.
10.55 – The angelically patient receptionist calls various local rental companies and eventually suggests that I catch a train down to Dover and try my luck at the docks.
11.15 – I have forty-five minutes to kill until the next train to Dover leaves. I take a spectacular walk along the battlements at Dane John gardens and shoot this photo of Canterbury Cathedral, which looks fit for an archbishop.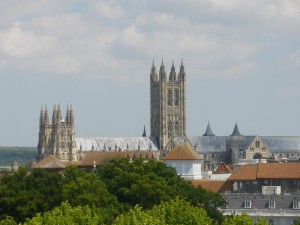 12.15 – The railway strings together a whole new set of British jewels: Bekesbourne, Adisham, Aylesham, Snowdown, Shepherdswell, Kearsney. The train gathers speed as we thunder downhill on the final stretch to Dover.
12.45 – As I walk into town, I catch my first glimpse of Dover Castle, which I later discover is a maze of secret tunnels under a stronghold within a fortification within a castle surrounded by a moat on a hilltop on an island surrounded by sea. So no half measures there, ye Britons.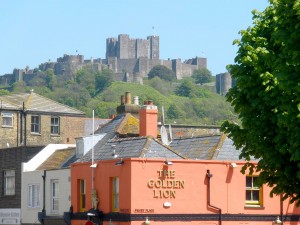 13.10 – As I walk along the promenade towards the docks, still burdened by the faint hope that I might rent a car there, I am astounded by the ramshackle beauty of the houses and hotels looking out across the Channel.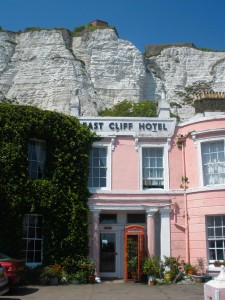 14.00 – Having found the car rental office closed, I finally throw my perfect plan overboard. I head back to the promenade for lunch at the Dover Marina Hotel & Spa. The sun is still shining and the second half-pint of Boddington's Bitter is the last nudge I need to carry me uphill to the castle.
15.20 – I am robbed of eighteen quid at the gate, but I get more than my money's worth because there's a heritage event on at the castle. There are Second World War vehicles, motorcycles, even a Spitfire, and lots of men and women dressed in uniform, singing "We'll meet again" and other wartime ditties that are all too familiar to this child of the former colonies.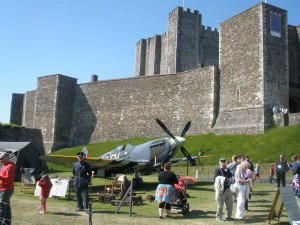 17.05 – I board the train from Dover to Ramsgate, where I will catch a train to London that stops at various places along the coast, including Whitstable, where I hope to have dinner as Barry suggested.
18.40 – The setting sun paints shimmering strips of sea as we hurtle through the landscape. The train greedily swallows up the bank holiday beachgoers heading back to London from Birchington, Herne Bay, Swalecliffe and Whitstable.
18.50 – The English countryside is still conspiring to hide from me, leading me down a footpath with wooden boarding on either side, giving me only the slightest glimpse of the gardens beyond.
19.00 – The local fishing fleet lies sleeping on the harbour floor. The peculiar angle of the setting sun makes it's obvious why Whitstable has attracted artists to its pebble beaches and tidal flats for centuries.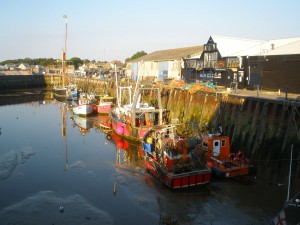 19.30 – Having convinced the friendly restaurant manager at the Whitstable Oyster Fishery Company that I am a hungry man, desperately in need of fish, I am treated to a series of dishes that still make my mouth water: Norfolk potted shrimps, hot smoked-salmon salad, and mussels in local cider and mustard. Lord knows I earned every last morsel.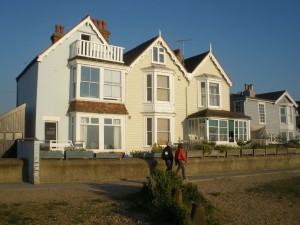 23.00 – The taxi drops me off in Canterbury. I stand outside the hotel watching students moving up the high street like migrating salmon. When I ask the receptionist where they're headed, she says: "I'm not sure. But please tell me if you find out."
And that just about sums it up. Whichever way you choose travel in England, there are always more secrets and surprises waiting around the next corner. Like the shower cubicle next to the DJ station at Club Chill in Canterbury, which you will have to see for yourself, because my camera misted up.
(Special thanks to Barry of Premium Cars to the crews of the inbound and outbound KLM flights to Manston; to the staff at the Abode Hotel in Canterbury; and to the fishmasters at the Whitstable Oyster Fishery Company.