Weinig handbagage maakt een groot verschil
De meivakantie staat weer voor de deur. Velen van ons zullen grote afstanden vliegen om de komende dagen met familie en vrienden door te brengen. De komende week zullen Amsterdam-Schiphol en Parijs-Charles de Gaulle volstromen met passagiers die het land verlaten of op doortocht zijn naar hun bestemming. Het is natuurlijk voor iedereen belangrijk dat de vlucht op tijd vertrekt en wij doen ons uiterste best om ervoor te zorgen dat dit ook gebeurt. Maar ook passagiers kunnen hier een belangrijke bijdrage aan leveren door hun handbagage tot een minimum te beperken. Ik zal uitleggen waarom.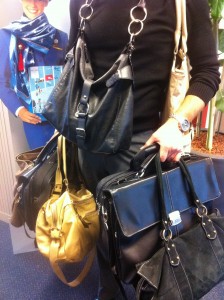 Alle handbagage wordt door de security door röntgenapparatuur gehaald. Soms moeten er tassen worden geopend, wat tot aanzienlijke vertraging leidt. Wanneer de passagiers instappen, moet alle handbagage worden opgeborgen in de bagagevakken boven de stoelen. Maar ook hier geldt: vol is vol. De cabinemedewerkers mogen geen bagage opbergen op plekken waar de bagage voor gevaarlijke situaties kan zorgen, en bagagevakken mogen niet te vol worden geladen om te voorkomen dat er bij turbulentie bagage uit valt. Dit betekent dat handbagage die niet kan worden opgeborgen, moet worden ingecheckt en als ruimbagage moet worden vervoerd. Dit zorgt voor vertraging, waardoor het toestel niet op tijd kan vertrekken en te laat op zijn bestemming aankomt. Passagiers lopen vervolgens de kans om hun aansluitende vlucht te missen.
Dus als u uw reis begint in Amsterdam of Parijs, of via een van deze hubs verder reist, beperk uw handbagage dan alstublieft tot een minimum. Als u toch met extra bagage reist, kunt u gebruikmaken van de gereduceerde tarieven op klm.com
Wij wensen u een fijne vakantie.
Karin
Corporate Communications