What Do You Know About Uruguay?
"Uhhm, nothing…" – that would have been my answer until recently. Alright, I did know that it's a country in South America, but that was all until we decided to go on a spontaneous adventure, travelling by boat from Buenos Aires in Argentina to Colonia del Sacramento in Uruguay.
As we waited for the Buquebus Ferry that would take us across the Rio de la Plata, we nervously flipped through our travel guides, hoping to learn more about the terra incognita that lay on the opposite bank. But you only really get to know a country once you've set foot on its soil, right?
Colonia del Sacramento
Our first experience in Uruguay was instantly memorable owing to the large quantities of blood, sweat and tears we expended. My husband and I were each carrying 60 kilos on our backs and chests, plus a child hanging onto our hand. Nevertheless, we had decided to walk the 1,500 paces from the ferry terminal to Hotel Royal in Colonia del Sacramento, knowing it would feel like double the distance for the kids, with their little legs.
Needless to say, we weren't planning to take the scenic route, but we got it for free when we made the mistake of turning left instead of right at the first junction. And so our first touristic activity on Uruguayan soil was a delightfully exhausting 3.5-kilometre hike, which also put our relationship to the test, as a bonus. I can assure you it was quite a challenge to stay upbeat, but our marriage survived with flying colours.
The rest of our stay in Colonia was, thankfully, a lot more relaxed. Daily activities included swimming in the hotel's rooftop pool, drinking coffee at Colonia Sandwich, buying books and toys at El Abrazo on Avenida General Flores, eating chivitos, wandering through the cobblestoned streets of the historic centre, discovering hidden restaurants and enjoy magnificent sunsets. All of which led us to conclude that Colonia del Sacramento definitely has the "WOW Factor".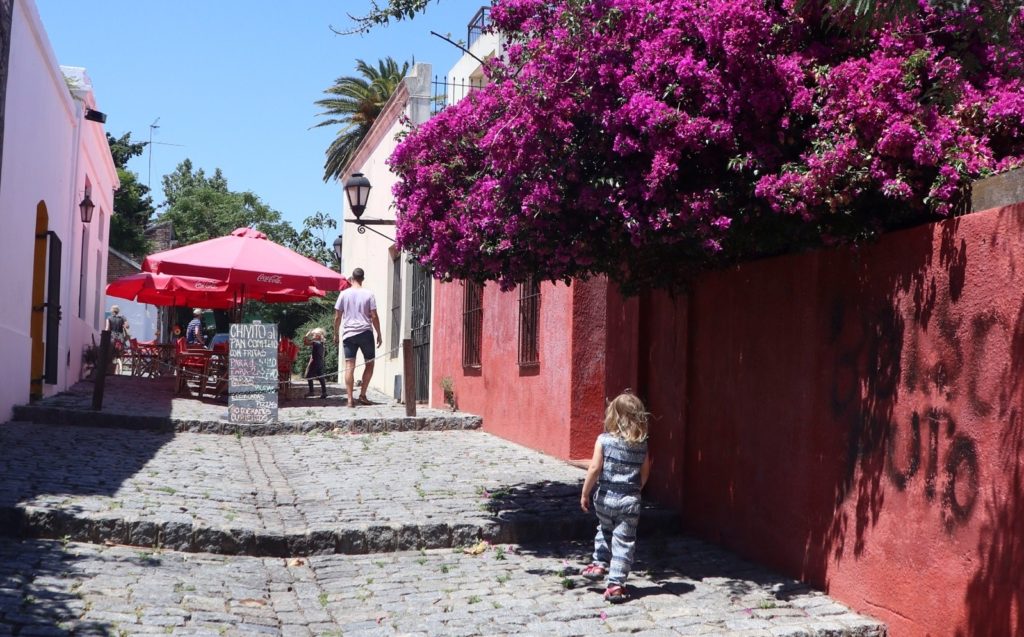 Montevideo
You may have encountered the name of the Uruguayan capital on a geography test at school, after which it was swiftly forgotten. That probably means you've never immersed yourself in its different districts and their highlights. We had no idea where we could best book a hotel, so we ended up blindly picking a spot on the map. Hotel Radisson Victoria Plaza was a lucky shot indeed. The location was perfect: right in the middle of the bustling centre of Montevideo, with a sublime view from the 25th floor, where the breakfast buffet was served. Needless to say, we all did our damnedest to get window seats every morning.
If our daughters Jools and Pippa had had their way, we would never have left the hotel, with its Kids Club and enormous swimming pool, both of which offered spectacular views of the city. Fortunately, the girls also wanted to head out to the fantastic restaurant La Fonda every evening, mainly because the chef prepared delicious spaghetti bolognaise and real lemonade just for them. They also enjoyed spending time at The Lab Coffee Roasters, where the guests sit on swings rather than chairs.
It was also a joy to explore Montevideo during an 18-kilometre run, passing delightful markets on shady squares, merry musicians, artistic walls, colourful public sports facilities and the city's vast harbour. All in all, an enervating experience.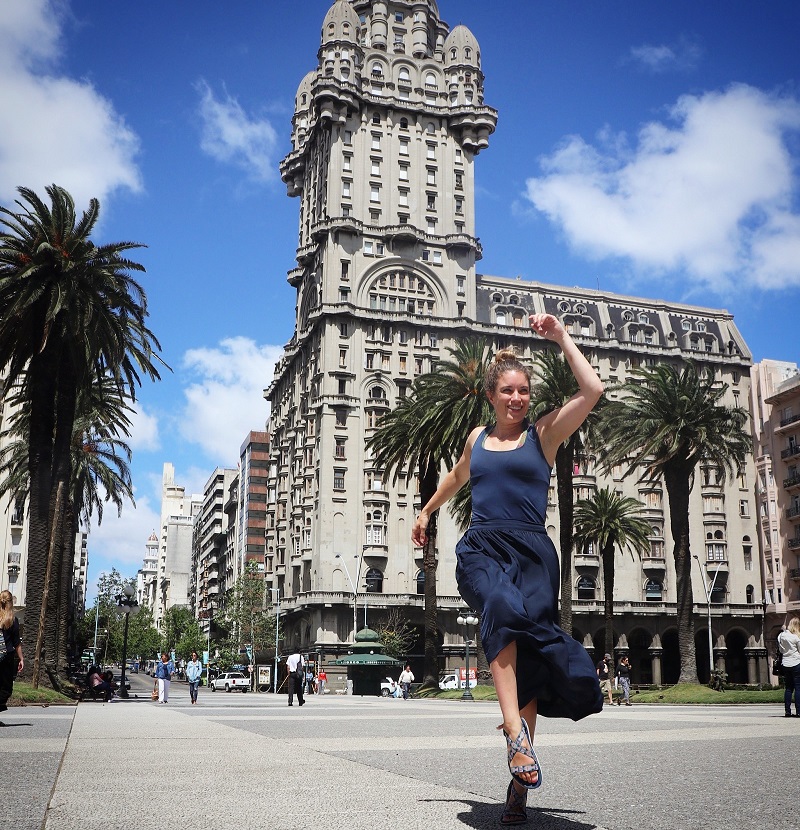 Punta del Este
According to the guidebooks, Punte del Este is the favourite holiday destination for many Argentinians. Uruguay itself has around 3 million inhabitants, who are joined annually by around 3 million Argentinians in late December and early January, most of whom flock around Punta del Este.
Their reason for doing so became clear as the bus approached our destination and we saw broad, white beaches punctuated by rocky headlands, streets full of shops selling international designer brands, a harbour with spectacular yachts, and beautiful boulevards full cyclists and joggers. All of which gave us the impression that we had arrived in the south of France, rather than the southernmost tip of Uruguay.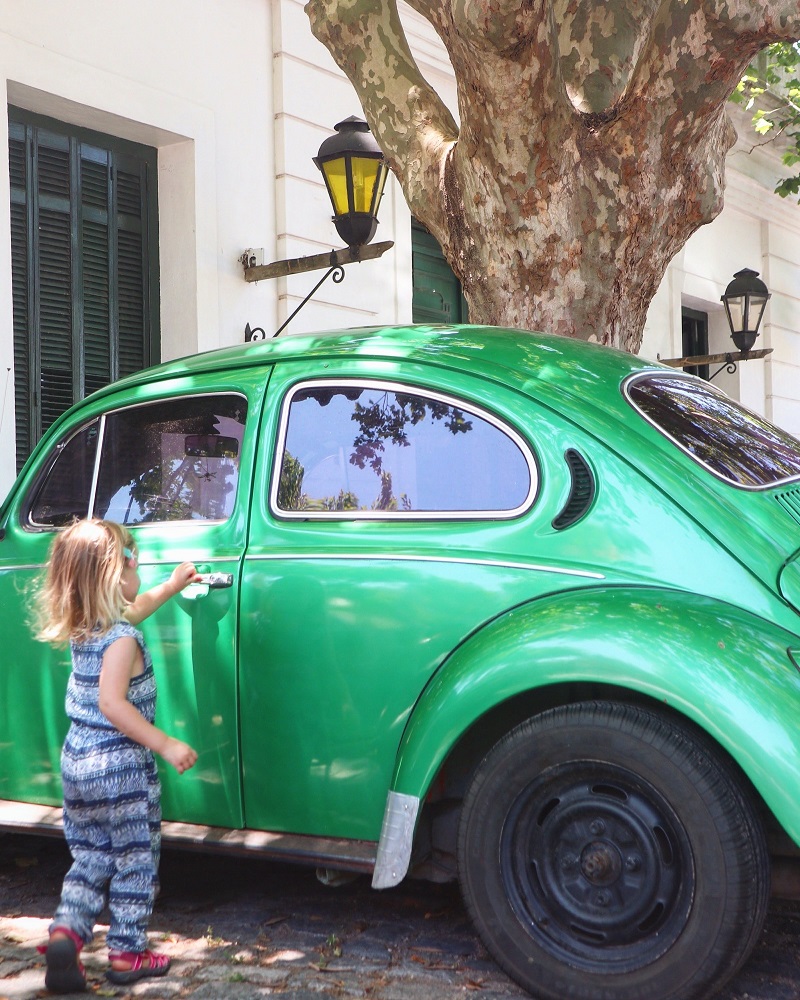 More tips:
Hopefully this blog has given you some idea of what Uruguay has to offer, also for those travelling with young children. That said, I'd like to round off with some tips you may find useful.
– Travelling by bus is a great way to see Uruguay. We can recommend COT and Turil, which are two of the operators we used.
– During our stay in Uruguay, we met very few people who spoke English. That means a crash course in Spanish is advisable before you set off. We put in some practice with the DuoLingo app, which really helped us communicate.
– We didn't visit the interior of Uruguay, but people assured us that it is superb, especially the estancias where one can experience the "gaucho lifestyle" in all its rugged glory.
Curious to read more about Uruguay?
You can read the entire Uruguay selection in a series of articles here.