What Does Flight Safety Training Look Like At KLM?
You won't see our spotless cabin crew looking like this very often—in blue coveralls and trainers. Thirteen slightly nervous faces listening intently as Inge Claus, KLM Flight Safety Trainer, gives instructions. Today, they're taking part in "recurrent training" to help refresh their safety skills.
The friendly smile, the cup of coffee that they pour so courteously, and their caring appearance are all a deceit. It creates the false sense that the cabin attendants are our helpful caretakers. In reality, however, their main task is to get us – the ignorant passengers – off the plane in an emergency.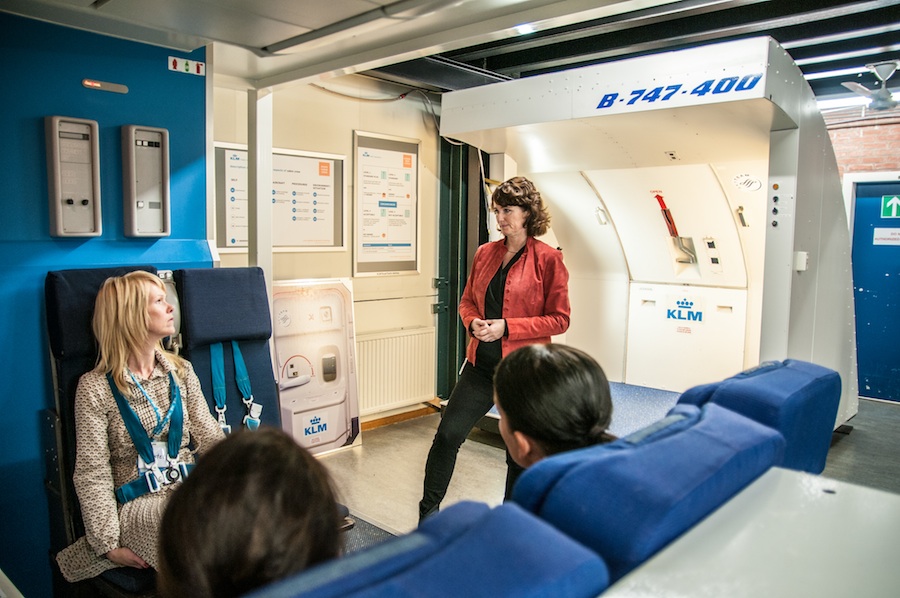 "Wake a CA up in the middle of the night and they'll be able to recite the emergency procedures and orders flawlessly," Inge says. 'Emergency! Open seat belt! Evacuate!'"If necessary, they won't hesitate to grab a fire extinguisher, a first aid kit, or an oxygen bottle. Very simply, cabin attendants know how to respond to any emergency, whether it's a fire in the toilet, an aggressive passenger, or something even more serious such as an emergency landing – even a hijack."
Inge Claus has been working at KLM for close to thirty years, the last nine of those as a Flight Safety trainer. She does her job with about forty other colleagues. They provide training seven days a week.
What do you teach in flight safety training?
"We offer a variety of training courses. We always start with a six-week introductory course. Here, new stewards and stewardesses get to practice:
•    fire fighting
•    decompression
•    hijacking
•    ditching (in a swimming pool)
•    opening the doors in an emergency
•    smoke drills (using a smoke hood)
•    USING THE AED/ PERFORMING CPR
•    using the equipment
•    aborted takeoff
•    first aid
•    disorientation resulting from smoke
It's hard work. We test the trainees in theory and practice every day."
Recurrent Flight Safety training each year
After having taken the introductory course, everyone must undergo re-schooling. Once a year, stewards and stewardesses must take recurrent flight safety courses. Once every three years, they take an extra course in what to do in the event of a hijack, or how to deal with aggressive passengers, or extinguishing fires. What's more, cabin personnel undergo special training if they plan to fly in a different aircraft type. Cabin attendants may fly in a maximum of three different types.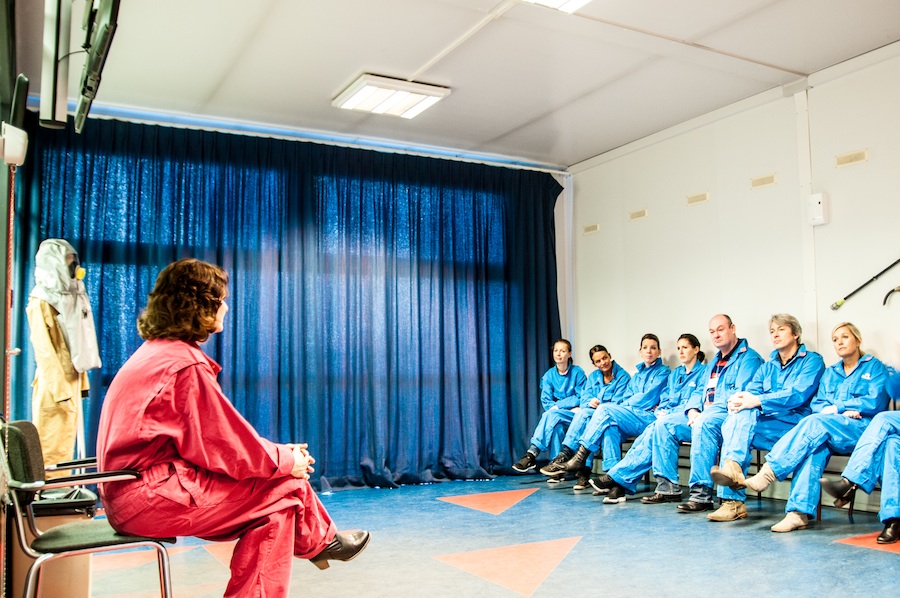 This morning, eleven cabin crew members and two cockpit crew members will practice opening the aircraft doors in an emergency, wearing a smoke hood in a smoke-filled room while they extinguish a fire. A fire is being simulated in the "fire area" involving a toilet, an oven, a seat, and a luggage rack. In addition to fighting the fire, crews learn how to communicate clearly amongst themselves. The pilot needs to know more than just, "There's a lot of smoke in the toilet!" How much is 'a lot'? Which toilet? Has the smoke spread to the seating area? And then to what row? Can you see through it? Is the smoke white or black?"
Today's course is pretty practical. Is that a conscious choice?
"Emergencies rarely go by the book. We train crews in how to respond to panic situations. Beyond that, personal initiative, inventiveness, and solution-oriented action is an absolute must, certainly when problems don't follow the description in the manual. They will benefit from this all their lives. Also outside their work, flight attendants will spring into action if necessary. They won't just look around to see if someone else is going to offer first aid."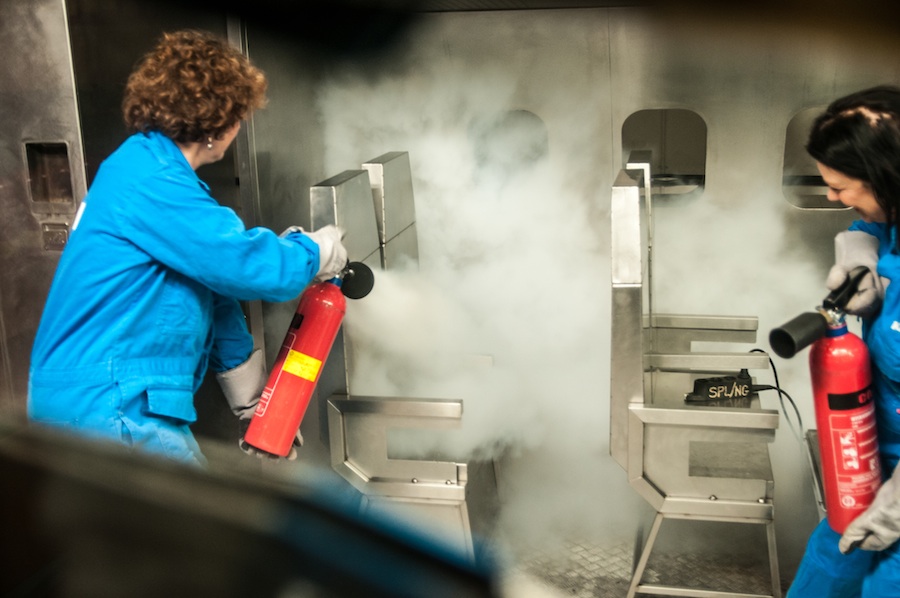 Which aspects of the training are most exciting?
"Those are usually fire training, simulated emergencies, and training in the swimming pool. In the swimming pool, we'll have them climb into a lifeboat, rescue people in the water, and let them experience why it's so important to open their life vests after exiting the aircraft. Roll-play with an actor who might play an aggressive passenger or a hijacker can be pretty intense. They learn how to keep cool and how to de-escalate the situation."
Does everyone pass the Flight Safety Training or do some people fail?
"It does happen that someone won't pass the tests. Fortunately, though, that doesn't happen very often. Following the introductory course, we can assume that each crew member's flight safety awareness is up to scratch. Before every flight, the crew is required to answer a number of flight safety questions. As a trainer, it's my task to prepare people as well as possible, to provide explanation, and help them understand why the procedures are structured such as they are."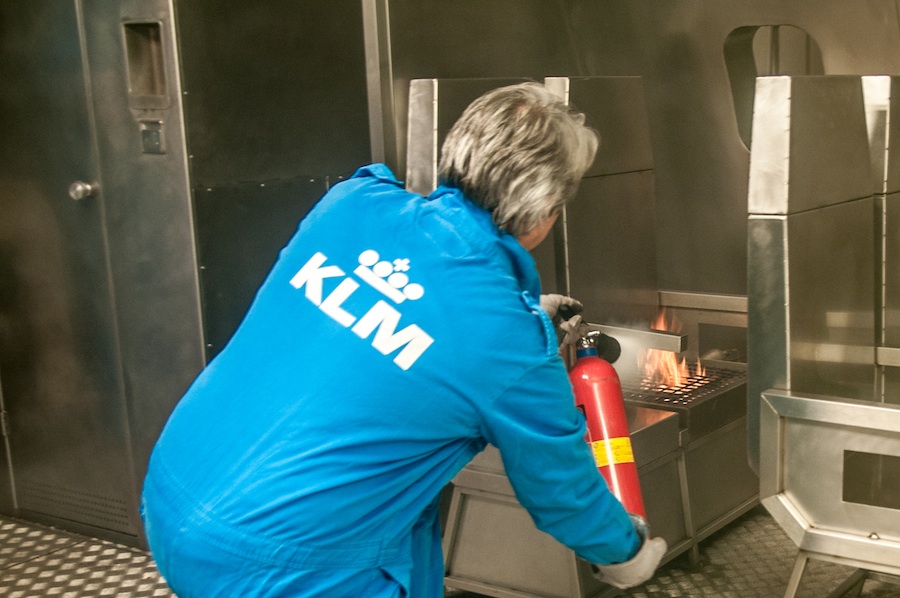 As the trainer, what do you like the best?
"The introductory course! I really enjoy that. Teaching people who effectively know nothing to become full-fledged cabin attendants – I think that's great. You can watch them working hard and growing. I also stay in close contact with my trainees. They know they can always get in touch with me. Someone always takes pictures during the training courses. One time, the group sent me the photos in a scrapbook as a gift. That's a wonderful souvenir of what a great time I had with that group. I can say, from the bottom of my heart, I'm enormously proud of our cabin crew."
Heard it al before?
It's quite possible you've heard or read this before. We've posted this interesting and funny blog on 3 February 2016. So this actually is a repost. But not without reason: our great KLM Intern On a Mission used this blog for some serious vlog inspiration. Did it work? Find out for yourself: