When I was asked if I wanted to go to San Francisco to work as a hostess in the KLM pop-up store only one answer was appropriate. Yes, I do! Within a week, I took off aboard the Queen of the Skies, a Boeing 747, filled with enthusiasm and, admittedly, slight stressed about the KLM pop-up adventure that lay ahead. Our mission was clear: to win the hearts and minds of people abroad for KLM.
Eleven hours later, I arrive in the Bay City and head straight to the popup store, where I meet my American KLM colleagues for the first time. They're true New Yorkers – to-the-point and ultra-cool. And I'm thrilled! The store is like a magic bubble. Within a day, it feels like we've been colleagues for years. That's what KLM-love will do to you.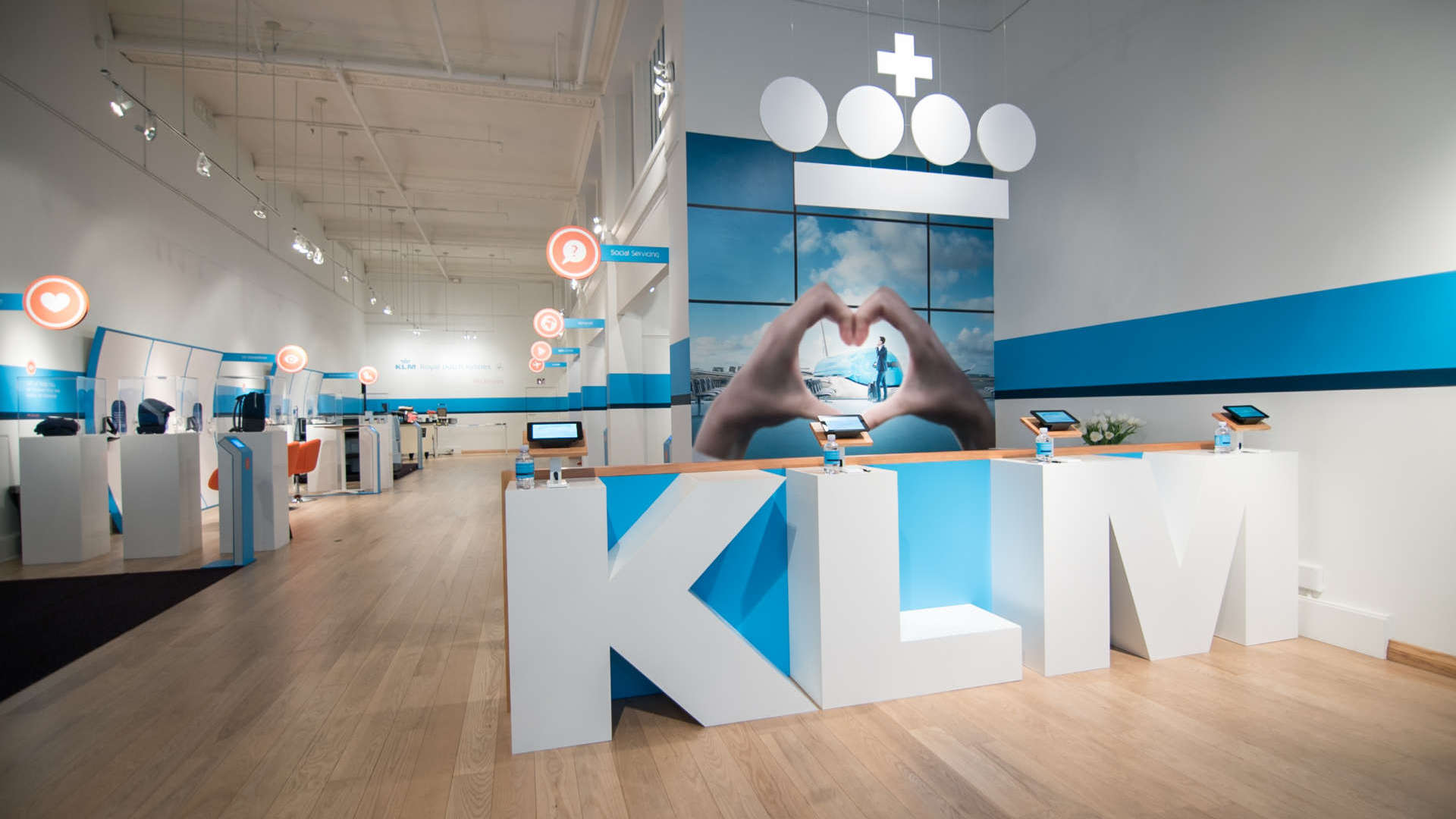 And that's the love we want to share worldwide. Because blue may be the colour of KLM in the Netherlands, but that isn't the case outside our little country. That said, it's high time I introduced myself. My name is Dewi, your hostess for this blog. Allow me to guide you around the KLM pop-up store, which opened its doors to the people of San Francisco from 14 to 22 October. Please follow me.
Hang on to that armband
On arrival, a brand ambassador checks you in and gives you an armband. Not just any armband, because this accessory gives you access to the other seven stations in the store. By checking in at all those stations, you not only get the full KLM experience, but also stand a chance of winning a round trip San Francisco-Amsterdam.
Okay. Now that you're checked in and understand what the armband is for, we can head over to the first station: Social Servicing. On the screen, you'll see all of KLM's social media channels and immediately understand that KLM is available to customers 24/7. Even via Facebook messenger!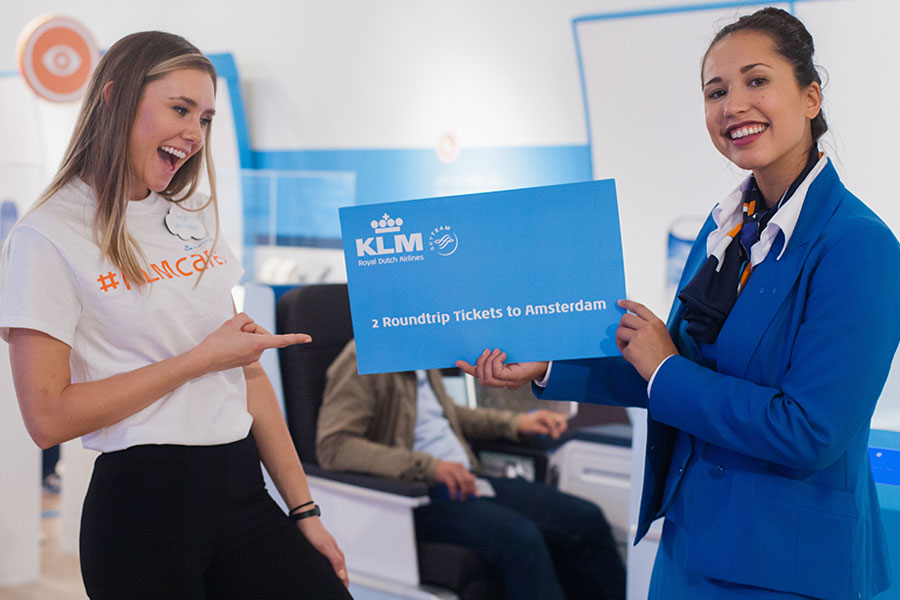 It's amazing!
The logical next step is to head over to the KLM Network station. With more than 300 destinations worldwide, most of the visitors respond with a resounding "It's amaaazing."
Our younger (future) customers are welcomed in the Kids Lounge, where there are beanbags, movies featuring our mascot Bluey, and enough colouring books and pencils to keep them amused for days on end.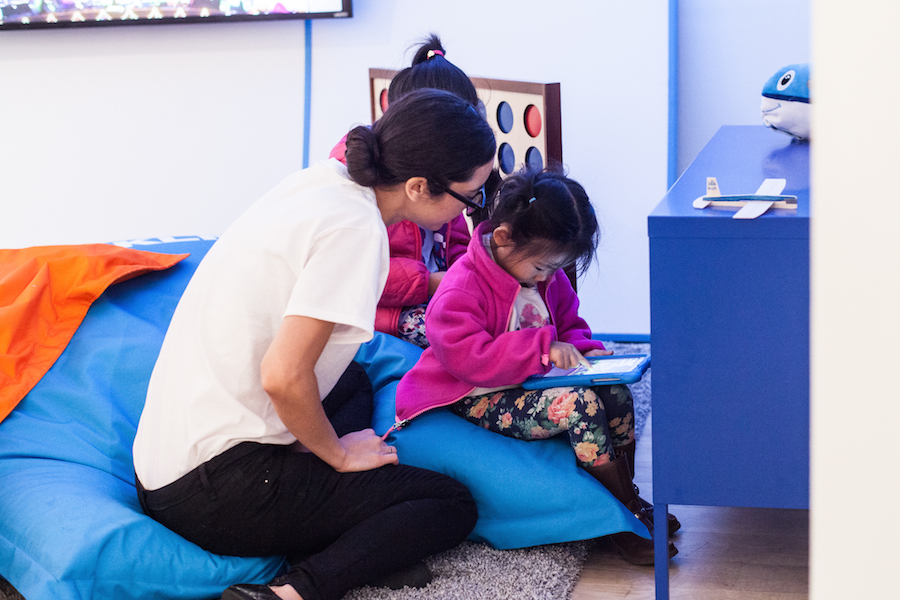 KLM's Coffee and Cookie Corner
While the kids do their colouring, their caretakers enjoy a good cup of coffee and typical Dutch treats such as "stroopwafels" (syrup waffles), as they page through the Holland Herald.
Being a good hostess, I also stop at this station regularly. And not for the stroopwafels, mind you. Alright then, not ONLY for the stroopwafels. Seriously though, this is a great spot to engage with customers, listen to their stories and tell them more about KLM.
The Full-Flat Experience
When you've had your coffee and cookies, you head over to Station 5, where the World Business Class seats await you with open armrests. If you missed out on the coffee, you can recover here, by stretching out on one of the seats, which recline fully flat, allowing our passengers to get a good night's sleep.
Prettiest Girl in Class
Station 6 offers visitors a virtual experience inside the Dreamliner, by far the most popular and prettiest girl in class.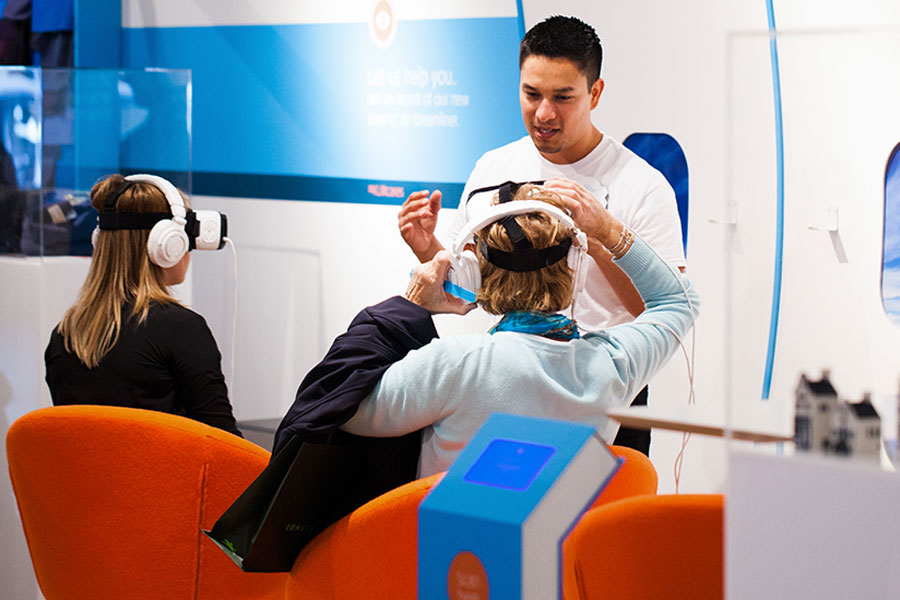 Take care!
The final station is, very aptly, about KLM Takes Care. This station explains how uniforms have been used to upholster World Business Class seats, but also features examples of cooperation with the Design Academy in Eindhoven, where students create KLM travel items using decommissioned aircraft seats.
This ensures that visitors head home in an excellent frame of mind, while your hostess sits back and hopes that many of the visitors will book their next flight with KLM!
After ten days at the KLM pop-up store, it was time for me to fly back to Amsterdam, with my head full of new experiences. Although it's always good to return home, I found it very difficult to leave my new KLM family, which is what my US colleagues had become.
In my next blog, I'll be telling you which highlights you really must visit if you have the good fortune of being in San Francisco in the near future. See you then!