What's The Recipe For Your "Dutch Salad"? #JesseyKnows
"Would it be right to reveal the chef's secret?" I wondered when I first read this request in our timeline. We get these kinds of questions quite regularly at the Social Media Hub, so I decided it was worth looking into. I went in search of the brain behind the KLM recipes at our culinary walhalla, KLM Catering Services (KCS).

55,000 meals a day
"We prepare around 55,000 meals a day," explains Nico Polanen as he stirs his coffee. As the person who compiles the menus at KCS, he knows all the recipes inside out. It's Friday morning and we're sitting opposite each other in his office. "At KCS we work with 1350 catering companies, who make the meals for all KLM's European and Intercontinental flights." Nico is a man with a passion for his work. After working as a chef in a restaurant for 13 years, he moved to KCS where he has been chef now for 17 years.
Culinary tour de force
As the person who compiles the menus, Nico is constantly occupied with the ins and outs of the catering business. The Business Class menus on intercontinental flights are the cherry on the cake of his activities at KCS. These menus are composed in collaboration with real Michelin Star chefs. "Jonnie Boer, Richard Ekkebus, Sergio Herman; I have been lucky to meet so many top chefs."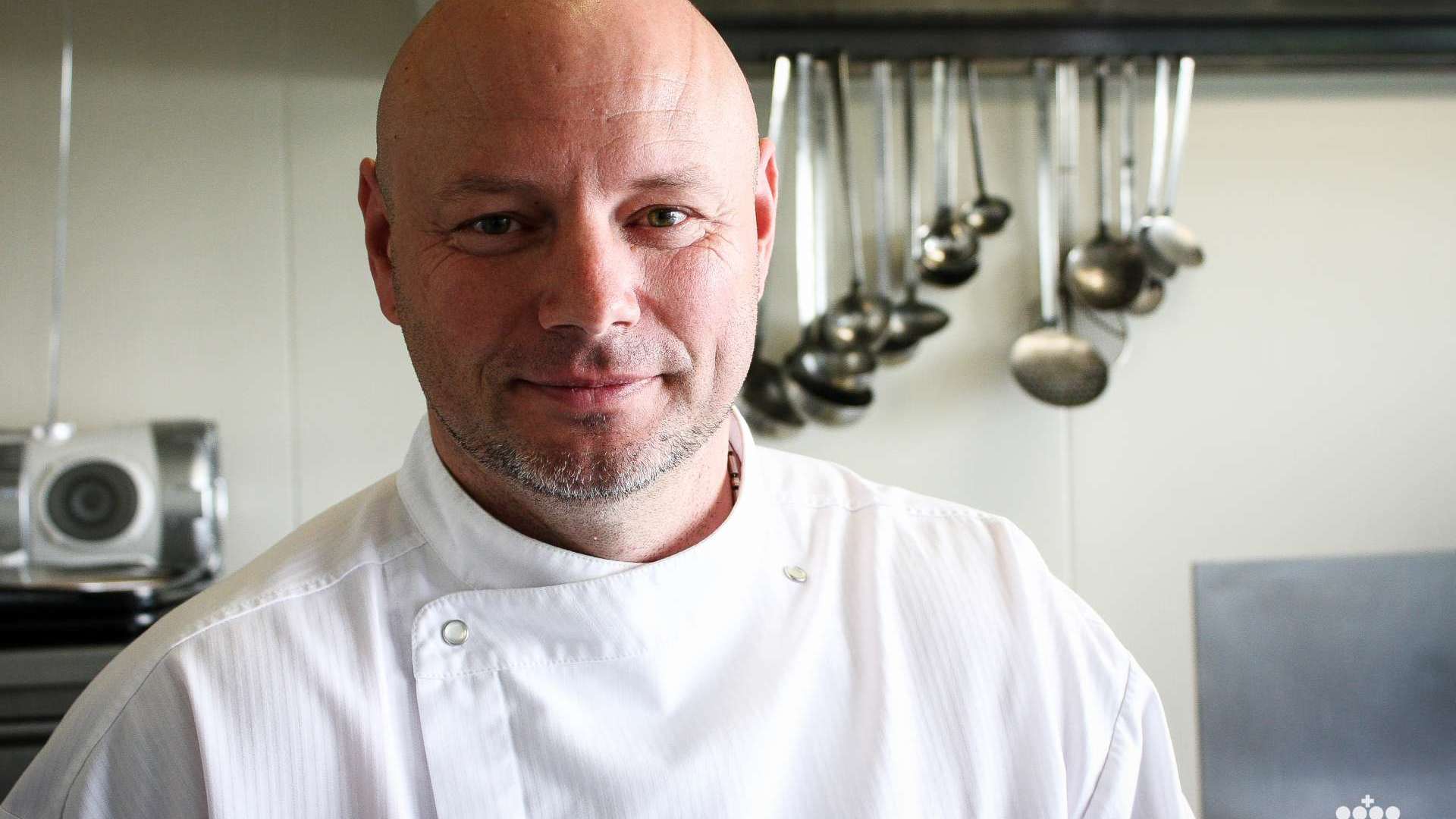 From rough sketch to refined food
A new Business Class menu is compiled every nine months, each time with a different leading chef. "The process begins with a rough sketch from the chef, from which we make a tangible menu." Three months later the complete menu with all the frills is presented to the food experts at KLM Inflight. "The menus that make it through the selection process end up on the Business Class catering trolley."
The meals that are served in Economy Class are conceived and prepared by Nico and his colleagues. "I draw on the inspiration I get from working with the top chefs for my ideas for the European Business Class menus. These menus vary every week and change every six months."
Sustainable and environmentally friendly
KLM's menus have to meet certain guidelines. All the products have to be sustainable, they mustn't contain any offal, only contain a limited amount of pork, and all menus have to be alcohol free.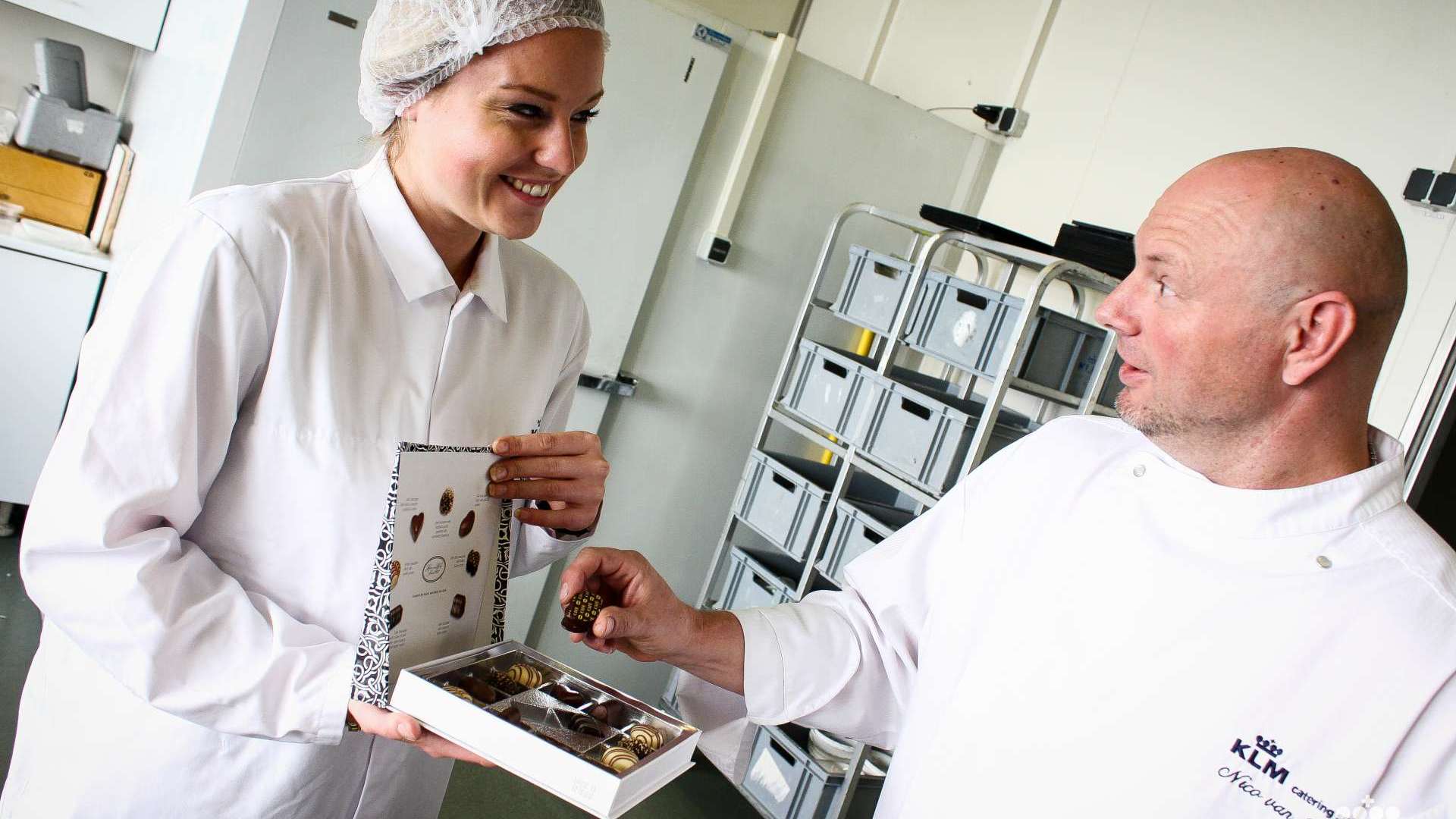 Something for everyone
When you consider that KLM transports 15 million passengers each year, how can Nico possibly take all those different tastebuds into account? "We come up with very varied menus. We also compile special menus for passengers with allergies. Gluten- or lactose-free meals, for instance. We also have special meals for religious passengers, such as halal or kosher. With more than 10 special-diet menus, we have something for everyone."
Now I knew who was behind the "Big KLM recipe book", I was able to find the recipe for the Dutch Salad. And, since I was at the heart of KLM's catering, it seemed silly not to taste some of the wares!
[tweet text="Do you have a burning question for me? Use #Jesseyknows in your message and, who knows, I may be able to investigate!"]
___________________________________
*** DUTCH SALAD RECIPE ****
This salad is called Dutch, because it is very popular in the Netherlands, with its combination of sweet and sour flavours from Dutch apples and leeks.
To make the Dutch Salad, you'll need the following ingredients:
Apple
Leek
Tangerine
Pineapple
Low-fat yoghurt
Mustard
Mayonnaise
Sugar, pepper and salt
Mix the finely chopped apple, leek, tangerine and pineapple together. Add a sauce made from the yoghurt, mustard, mayonnaise and some sugar. Season with salt and pepper.
We garnish the salad with three types of endive and lettuce: frisée, lollo verde and lollo rosso. Finish off with some tangerine and/or pineapple to add a bit of colour.
___________________________________
You could try the Dutch Apple Pie for desert. See the film by Nico and his colleague Kees, in which they reveal the recipe: