Who Thinks Up Aircraft Names? #JesseyKnows
What do the "Borobudur", "Museum Square" and "Blue Kestrel" have in common? They all crisscross the globe proudly displayed on KLM aircraft. But why do KLM aircraft have names? And who thinks them up?
To answer the question Martijn asked on Twitter, I made an appointment with Vincent Knoops, delegate to the KLM executive board and an expert on KLM aircraft names.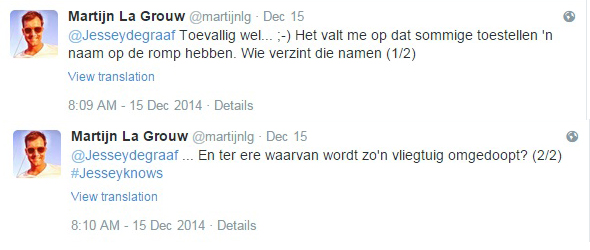 Fat Dirk
KLM is one of the few airlines that gives its aircraft names. And I have to admit that I was unable to find out why. What I do know is that our very first aircraft, a Koolhoven FK-33 acquired in 1925, was known as the "Dikke Dirk" (Fat Dirk). The aircraft did have an unusually broad waistline, but the name had more to do with the last letters of its registration: DD.
City of Paramaribo
Since those early days, KLM has kept up the tradition of naming its planes. Our Airbus 330-200s are named after city squares, our Boeing 737-800s have bird names, and our Boeing 747-400s are named after world capitals. "We didn't call it 'City of Paramaribo' because it always flies to the Surinamese capital," Vincent Knoops explains. "It got that name because it is a Boeing 747-400, which can fly on any number of long-haul routes."

Not just out of the blue
Aircraft names don't just come out of the blue. Apart from a set theme, the name should also be relatively easy to pronounce, it should preferably have some connection with a KLM destination, and it shouldn't be longer than 31 characters. "De Hoge Veluwe National Park" – (a Dutch nature reserve) only just made the cut. Another fun fact is that the name is given in English on the port side of the aircraft, and in Dutch on the starboard side. "We need to send our chosen name to the manufacturer eight months before delivery," Vincent Knoops explains. "So that the aircraft can be delivered with a full paint job."The Boeing 777s have all been named after World Heritage Sites, which was later trimmed down to "International Parks".
The unveiling
If the names are still a secret, how and when will they be unveiled? In special instances, there is a naming ceremony. For example, if a new aircraft type joins the fleet or if there is a special reason for giving it a specific name. The name "Museum Square" was, for instance, chosen as the name of our 12th Airbus 330-200 in honor of the Dutch capital, which celebrated a special festive year in 2013. Our Boeing 787-9 and -10 Dreamliners will all be named after flowers! This theme really appeals to me because my parents are florists. And who wouldn't want to see a glorious red tulip flying around? Or Vincent van Gogh's sunflowers?

Champagne
But are aircraft christened the same way as ships, by breaking a bottle of champagne on the bow? "Of course not!" Vincent Knoops exclaims. "We don't want to damage it! An aircraft is christened – all shiny and new – by slowly pouring champagne over its name after it has been unveiled."
If you enjoyed this blog, you'll probably like How to Put a Sticker On a Plane? as well. 
What are KLM's aircraft named after?
Airbus A330s: City Squares Worldwide
Boeing 737s: Birds
Boeing 777s: World Heritage Sites
Boeing 747s: World Cities
Boeing 747 Freighters: Ships of the Dutch East India Company (VOC)
Boeing 787-9 and -10 Dreamliners: Flowers
*KLM Cityhopper's aircraft (Embraers) do not have names.