Why is there a glass pavilion in Schiphol Plaza? #JesseyKnows
As a Hubster , I have offered passengers special assistance via Social Media for the past year. This week KLM's service is getting some well-deserved extra attention. But why exactly is there a glass pavilion in Schiphol Plaza? I went out to investigate.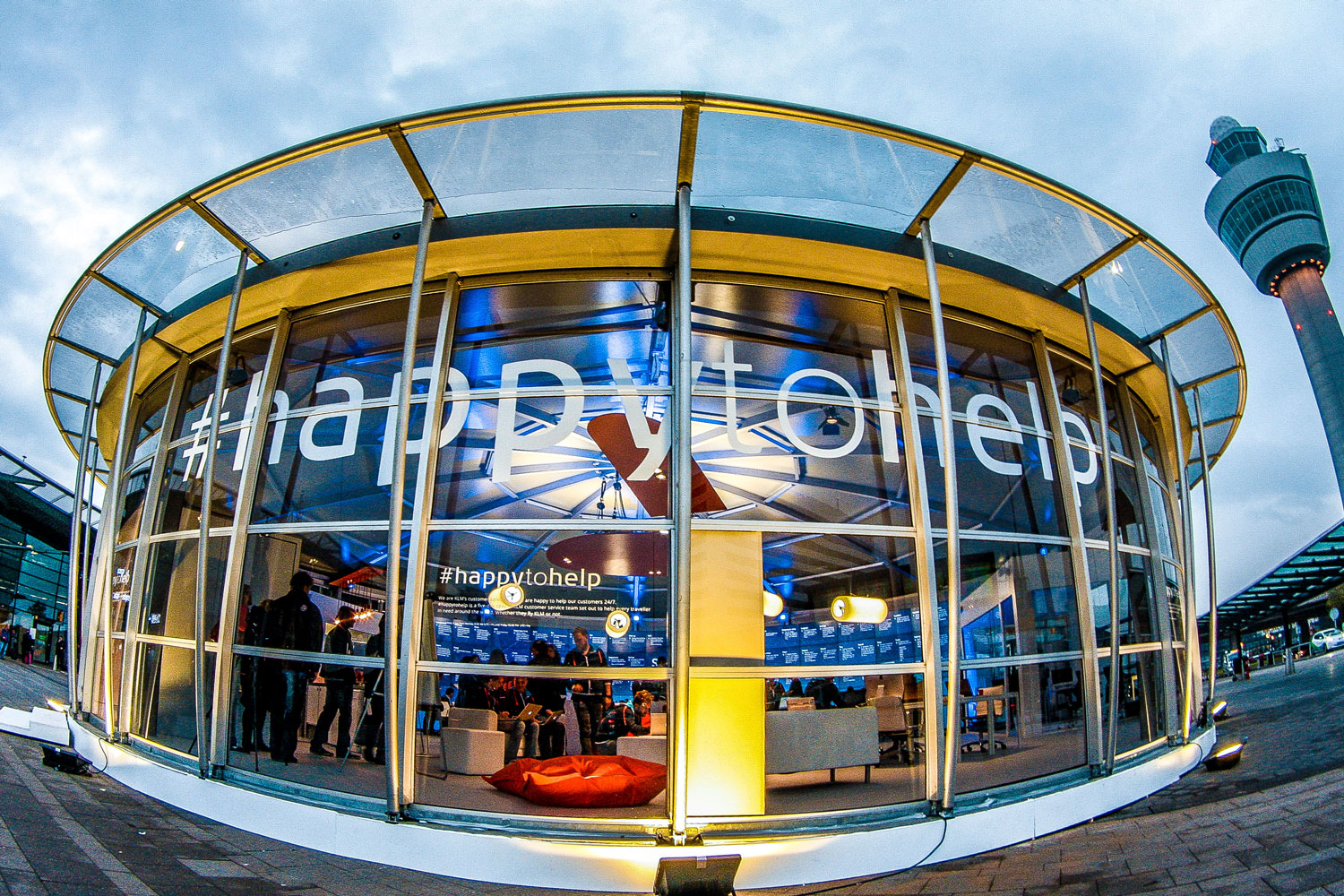 Glass UFO
"Is your flight delayed? Here's a Spotify playlist with laid-back songs about Amsterdam," Or: "Do you struggle to pack your suitcase effectively? You'll find handy tips in this video." KLM launched its #HappytoHelp campaign this week. From Monday through Friday, the spotlight will be on KLM's customer service. Numerous KLM departments have taken up the challenge to assist as many passengers as possible worldwide.
Creative atmosphere
The first tweet is sent from the glass pavilion on Monday morning at 08:30. The campaign is underway! The adrenaline is rushing through our veins. The scent of coffee fills the air and there are Post-Its everywhere. One half of the glass enclosure is filled with tweeting service agents; the other half is occupied by the creative team with their storming brains.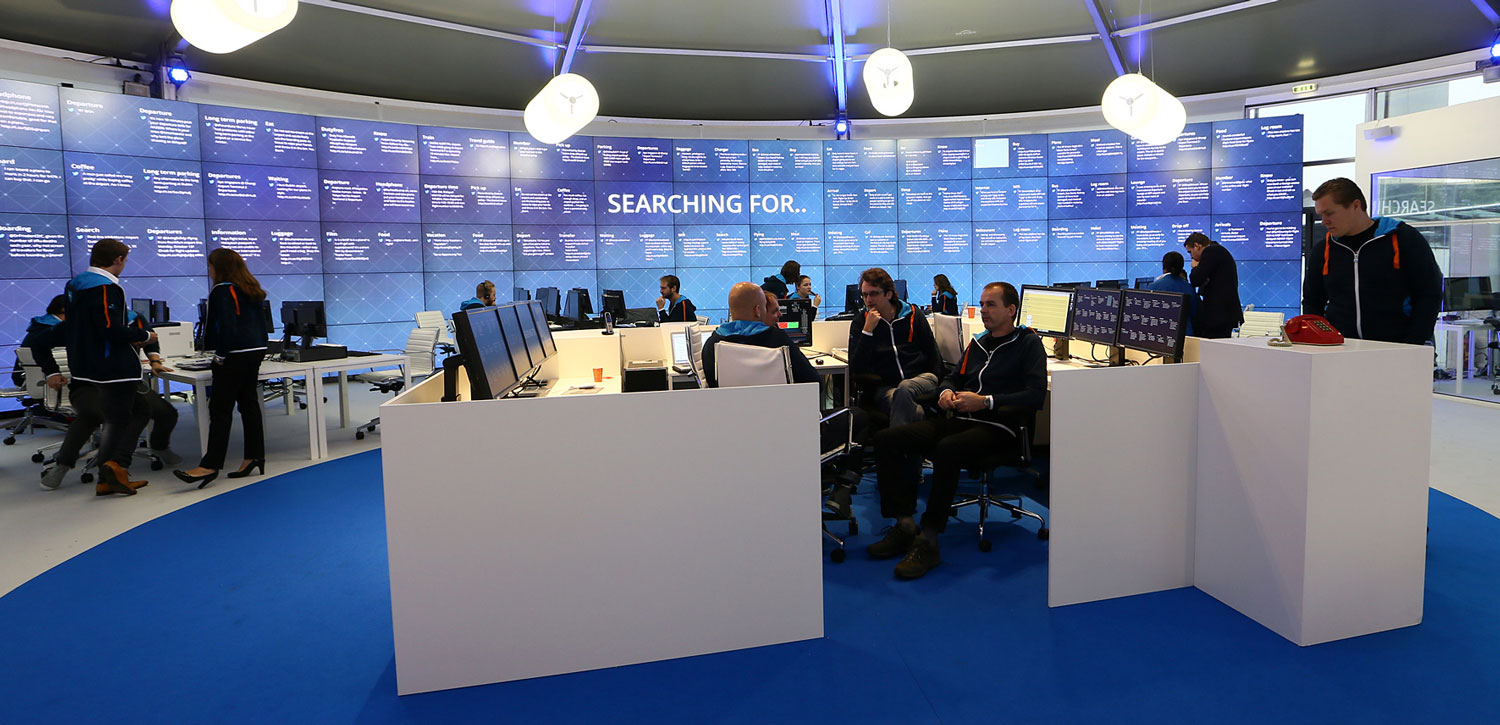 Extra mile
How can you show that you really are going that extra mile to offer passengers excellent service? That's the focal point of KLM's #HappytoHelp campaign. Regardless of the airline name on the passenger's ticket, the KLM service team will do their utmost to assist them as creatively as possible. The service agents work with an application that picks up every tweet that has anything to do with flying. If they spot an opportunity to respond to a tweet, they take action immediately.
Hello, Mr Huskyhusky!
"Look! This passenger is a DJ on his way to Schiphol for the Amsterdam Dance Event. What do we have to offer?" The camera rolls as the service agent notifies the creative team. Then it's off to the special studio, located next to the huge video wall screening all passenger queries, where tailor-made video clips are being created for passengers. Ten minutes later the Tweeting DJ receives his clip:
The passengers
Why is KLM so keen to spotlight its customer service? What I experienced in the glass pavilion as well as in my daily shifts at KLM's Social Media Hub is that service really does make the difference for passengers. The customer is always our top priority. KLM has erected the glass pavilion to showcase the fact that it is always ready to serve passengers all over the world. One of the added benefits is that people who are regularly in contact with the service team get a chance to look behind the scenes. And then there's the creative team, who are constantly coming up with fun concepts. Who wouldn't want to win an Award for World's Best Daughter?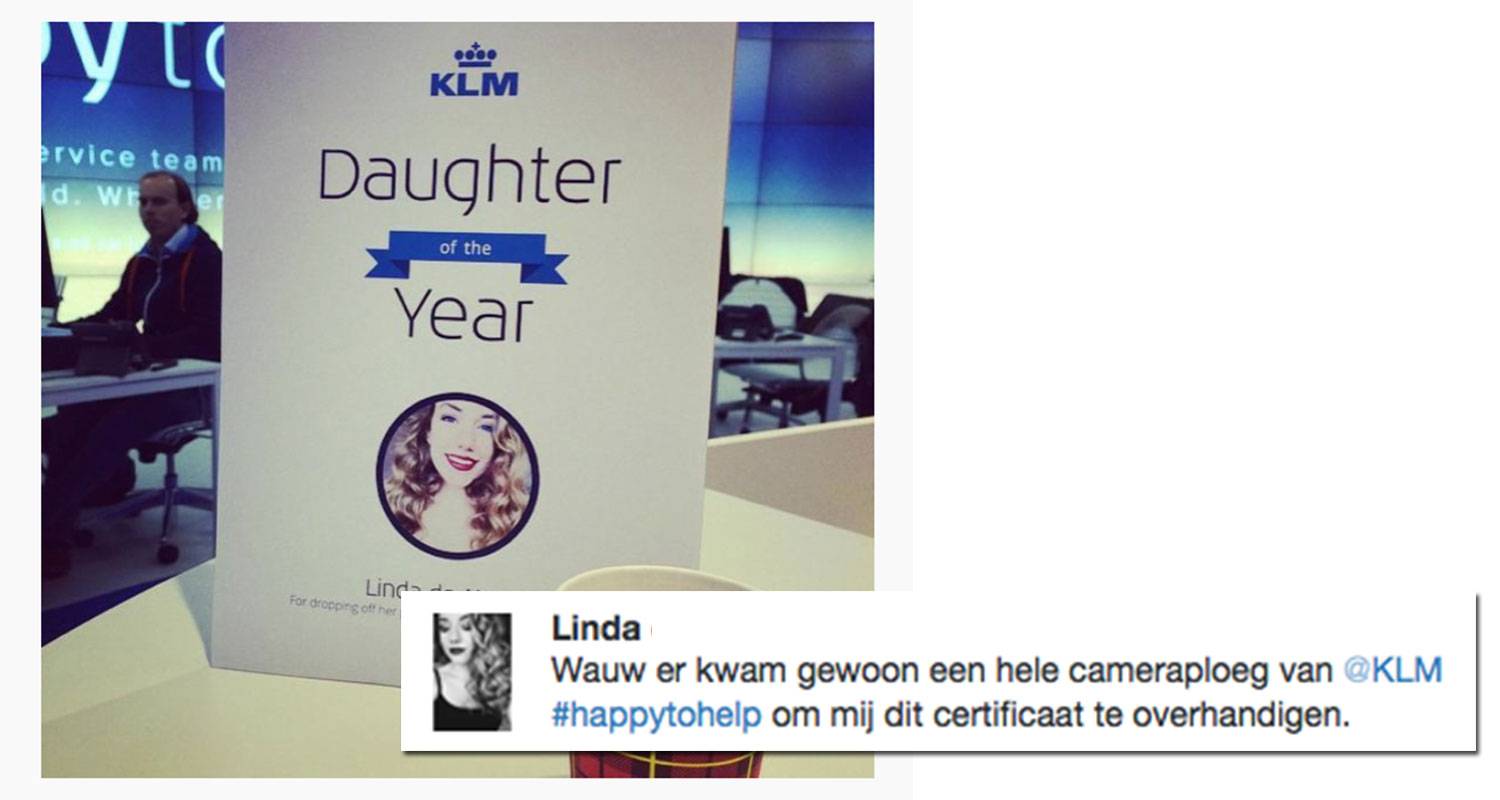 You can keep tabs on all the customised services devised during the #HappytoHelp campaign via KLM's YouTube channel.