Winners and bloopers in 2011
Looking back at 2011 we did some wonderful things on social media. Our Tile & Inspire campaign for example. The Boeing 777 with over 4,000 Delft blue images from Facebook fans, is still flying around the globe! And do you remember the 450 KLM volunteers who created personal live replies to posts and tweets? How inspiring it was to be a part of it.



On a smaller scale we had some successful single posts like this one on Facebook: 'Fly to like if you like to fly'. Good for 3,337 Likes, an all time high, and we don't exactly know why ;-). Furthermore we managed to make #frituurvet (#cookingoil) trending topic in The Netherlands and got 264 retweets on our Crazy Airport Codes summary.

But enough with the bragging. If you are trying to figure out what makes our fans tick; you are bound to make mistakes. Like early this year when we were over excited to give away 100 Viktor&Rolf comfort bags to the first 50 female and first 50 male likers. Mission impossible so it seemed. Within a few minutes we had more than 1,500 Likers who appeared randomly in our timeline that, on top of that, changed every time we refreshed. After making a screenshot we ended up giving away at least 500 bags…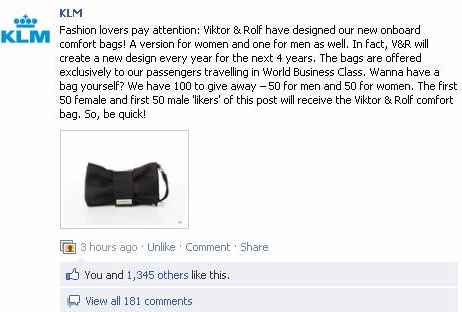 In the list of major bloopers we can add a post on Surinam soccer players, like Van Bronckhorst en Van Hooijdonk. Eh…yes… our lovely fans subtly pointed out that those two players are actually partially Indonesian and Moroccan. Well done! Our fans were just as observant when we claimed to be the only airline in the world that has combi aircraft. Well, hel-lo! Not true. So we ran back to our library, did our homework, and admitted our mistake.

Once in a while every social media editor here at KLM wakes up screaming at night, fully stressed, cause he or she dreams about making a big mistake in front of 700.000, or even worse, more than a million KLM-fans. It happened to one of us recently. Being an enthusiastic blogger he promoted his personal blog using the KLM account by accident. As a result his fanbase tripled and we had a great laugh as he ran red headed around office apologizing extensively. We are learning all the time and that is exactly what we intend to do in 2012. So bear with us and stay sharp.
Bonnie Parren
KLM social media editor