This time in our series 'Aircraft', we'll be taking a closer look at the Boeing 737. KLM has fifty Boeing 737s in its fleet, four of which (one 737-300 and three 737-400s) have now been phased out. In fact, their last flights were last weekend.
Work started on designing the Boeing 737 in November 1964 and the first 737-100 made its maiden flight on 8 April 1967. This was a 100-seater aircraft with a range of 3,185 kilometres. Only 30 of them were built and none of them are in use now.
The Boeing 737 is a short to medium-range aircraft and is based on the Boeing philosophy: to deliver reliability, simplicity and lower operating and maintenance costs.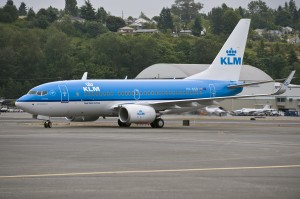 Some facts and figures about KLM's Boeing 737-700:
The 737-700 can carry 129 passengers and cruises at 850 kilometres per hour. It has a maximum range of 6,500 kilometres. The aircraft is 33.60 metres long with a wing span of 35.80 metres. The tail is 12.50 metres high. The maximum take-off weight is 64,000 kilos.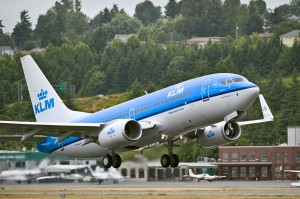 On 25 October, KLM took delivery of its eighteenth Boeing 737-700 – the last one to arrive this year. This newest addition has been dubbed Scholekster (Oystercatcher).
The newest 737-700s in KLM's fleet have Goodrich carbon brakes. These replace the steel brakes that all 737s have used until now. The carbon brakes reduce the aircraft's weight by 310 kilos, resulting in considerable fuel savings. What's more, the brakes will last fifty per cent longer. Eventually all 737 aircraft will have the new carbon brakes retrofitted. The replacement programme started in September and should take about a year in all.
The new aircraft use an improved version of the CFM56-7 engine, which consumes less fuel and has a longer life.
Besides the Boeing 737-700, KLM has twenty-three 737-800s and five 737-900s. All of them are named after birds. We already mentioned the Oystercatcher and in June we blogged about the Golden Oriole.
Have you flown in one of them and do you remember the name? Let us know!
Karin
Corporate Communications