World-famous throughout Holland
'Congratulations! You are the 100,000th visitor to this supermarket and you have won one whole week of free shopping! Please smile for the camera…'
You only see this in strip cartoons. Don't you?
Tuesday evening, 18 October. Still enjoying the memories of four fantastic days in The Big Apple, we arrive at John F. Kennedy Airport.
'It'll take you an hour and a half to get there,' the hotel manager assured us. We were there in three quarters. It was much too early but there was no queue in front of the check-in desk so that was a welcome bonus.
While we were getting our boarding passes, I was suddenly approached by a man speaking American English. Was I flying to Amsterdam with KLM? When I confirmed that, he asked me if I minded answering a few questions. I looked at my partner Hugo uneasily. Had we done something wrong? Immediately a Dutch-speaking lady ran up to us and started to explain. According to the statistics, this plane would be carrying the billionth passenger to fly to Schiphol. And that was me. We looked at each other dumbfounded. 'Got to be some kind of joke,' said Hugo. I looked around me to see if I could see any sign of Candid Camera.
But no, it was no joke. And the honour was all mine. We asked what it all added up to and received a patient explanation. What really gave us satisfaction was that we could donate 10,000 euros to charity. We didn't need long to think about that. After that, everything went very quickly: our luggage was looked after and we could enjoy a leisurely meal in the business lounge as we watched the aircraft taking off. On boarding we were greeted with enthusiasm by the captain and the entire crew. After a delicious glass of champagne, Hugo fell asleep. I stayed awake for the whole journey, curious about what was awaiting us at Schiphol.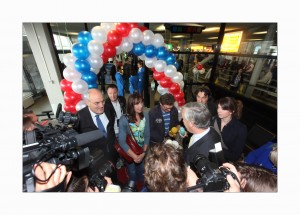 We were greeted by two directors of KLM and Amsterdam Airport Schiphol, a wall of balloons, and a battalion of journalists with cameras and microphones. This was what a Dutch celebrity must feel like at the première of a new film. I was ill-at-ease; didn't I look a bit creased and crumpled? Wasn't I saying strange things? On the symbolic cheque for the Dutch Cancer Society, I wrote 'KWF Kankerfonds' instead of 'Kankerbestrijding'. Oh no!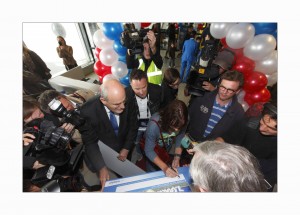 But we enjoyed it! We enjoyed the unexpected experience, the flowers and gifts and, most of all, the fact that we could give so much money to a charity that was dear to our hearts.
We still have no idea how long the party lasted but when we picked up our luggage later it was eerily quiet in the hall. Finally we were escorted to our car and we drove home in the pouring rain to tell the family all about it.
Thank you KLM and Schiphol for this very special experience and… congratulations with this milestone!
Inge Serné