Fiona and Felix fell in love at great heights
Can you meet your true love at work? It happens to a lot of people. But aboard an aircraft? Well, that's extra special. At KLM, the spark can catch at an altitude of 33,000 feet. What is it like to meet the love of your life in mid-air? And do you like it that you both fly for work? Using Valentine's Day as my opportunity, I spoke with KLM couple Fiona (35) and Felix (32). She's a flight attendant, he's a Boeing 737 co-pilot. They have been together for close to eleven years, married for six years, and have two children.
How did you meet?
Fiona: "We met in the summer of 2009 on a flight to Dallas. Felix was Second Officer at the time [the third pilot long-haul flights, —Ed.] and I was a flight attendant. Both of us had been flying with KLM for less than a year. We shook hands at Schiphol Airport, Gate D7. My first thought was, what a young pilot! During the flight, Felix came back to the galley during his break and it clicked right away. My colleagues thought we had known each other for a long time and that's just how it felt."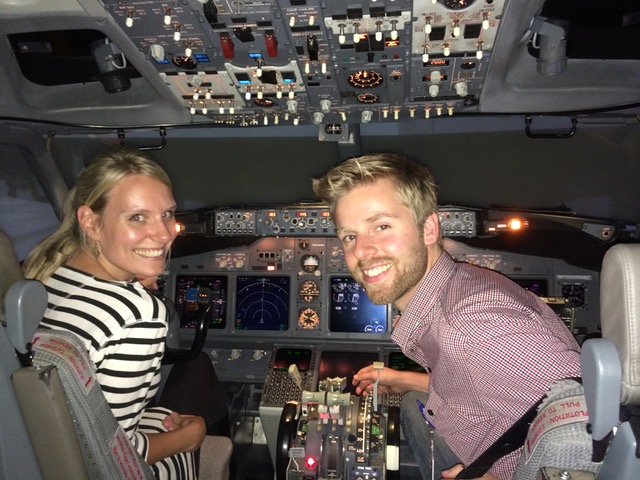 Felix: "I remember seeing her and thinking, what a good-looking girl, but way out of my league. We spent three days in Dallas with the crew—a nice, long trip. We went with a few colleagues to Six Flags amusement park and then to a baseball game in the evening. Fiona and I spent the whole day together. We had so much fun that I immediately asked if she would go out with me back in the Netherlands."
Fiona: "The rest of the crew knew perfectly well that something was going on. I remember my colleague saying, 'Either he flirts with someone on every trip, or you're never getting rid of him.' Well, it turned out to be the latter. When we landed in the Netherlands, Felix came by the very same day and, in fact, he never left."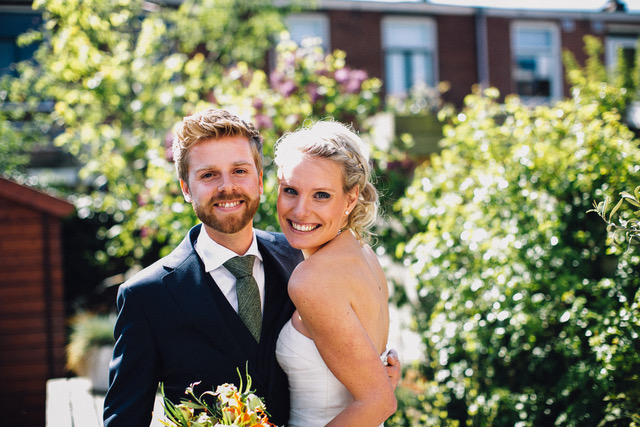 Do you often fly together?
Felix: "Now that we have children, we don't anymore. But before that, we often tried to travel on the same flight. We've seen a lot of the world during our work together—skiing in Canada, on safari in Zambia, exploring Bonaire on a scooter, celebrating Christmas in Atlanta, I could go on and on.
Fiona: "Of course, we didn't always manage to fly together. When our schedules didn't allow us to see each other for a while, we often put a postcard, which we had bought at our most recent destination, in each other's mailbox at Schiphol."
What's it like working together on board?
Fiona: "First of all, you have to be professional on board and take care of your own tasks—him in the cockpit, me in the cabin. But we try to find each other if we have a free moment. One time, we watched the Northern Lights together from the cockpit on a flight from Canada. It's fun when Felix talks to the passengers over the loudspeaker and I'm in the cabin. It makes me proud. Sometimes I can't help but say to my passengers, 'That's my husband!' It's fun to see their reactions."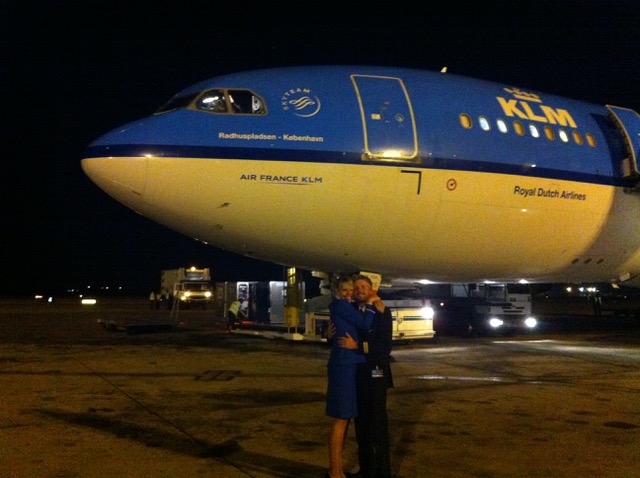 What are the pros and cons of being a flying couple?
Fiona: "We understand each other. Life in the air is fun, but it can also be tiring. Sometimes we're away from home for a long time, we have to deal with time differences, and work at irregular times. When I come home after a long flight, Felix knows how I feel and vice versa. We can share what we experience on board. It's also nice to be free together during the week and not have to put up with queues when we do errands in the weekend."
Felix: "It also has its disadvantages. Now that we have kids, we have to plan it so that there's always someone at home, and that can cause stress. Our flight schedules can't overlap. Fiona works part-time, so that has been working pretty well so far. The hardest part about this job is that you might be far away when something is going on at home. For instance, I was in Atlanta when my grandfather died. And, if the kids get sick while I'm flying, Fiona will be on her own day and night."
"It's valuable message that I learned from my father who was a pilot with Martinair."
What do the kids think about the both of you flying?
Fiona: "They don't know anything other than that Mum or Dad is gone every now and then. It doesn't alter the fact that they sometimes find it difficult when one of us leaves. Jack, who's one and a half, is still too young to understand. Fortunately, Stella, who's four, understands that we'll be back soon. Often I'll bring back something fun for them, like toys or clothes from America. When she sees me, Stella's first question is always 'Did you bring me anything?'."
"One nice bonus related to our work is that we'll be able to show our children the world by taking them with us in the future. This way they'll learn that there's more to the world than just the Netherlands and that we have a good life here. It's valuable message that I learned from my father who was a pilot with Martinair."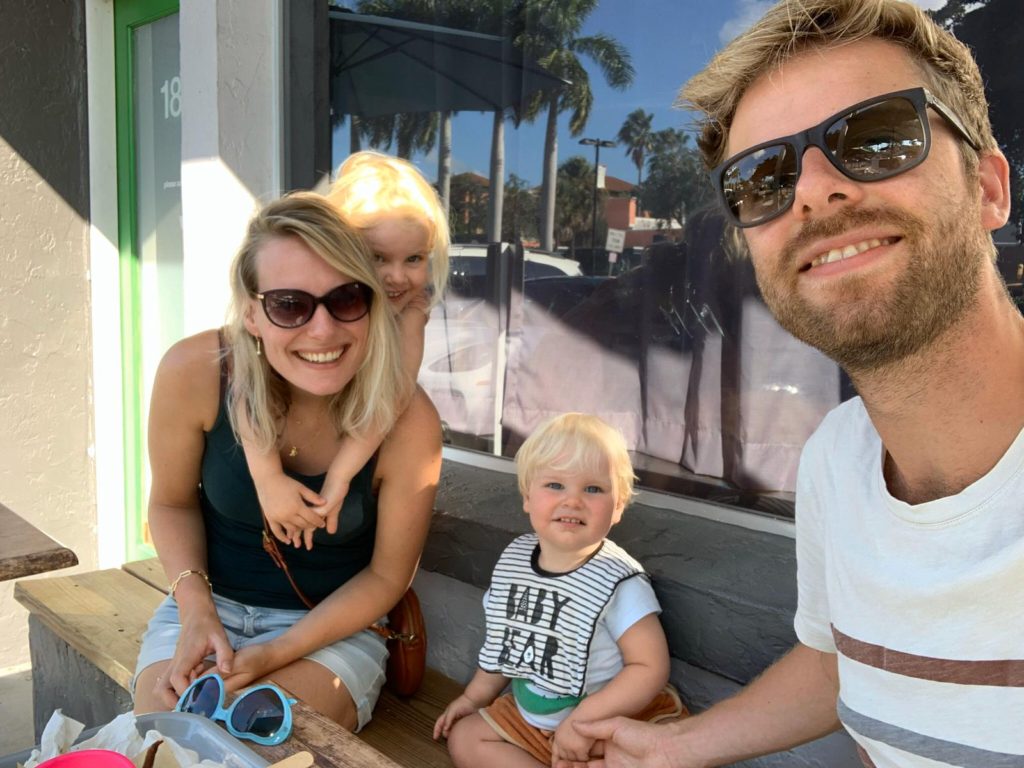 How are you celebrating Valentine's Day?
Felix: "Right now, I'm training to be a co-pilot on the Boeing 777. On Valentine's Day I'll be in the simulator and studying. So we'll have to postpone a romantic dinner."
Fiona: "That's pretty typical for the life of a flying couple. We don't always get to celebrate events like birthdays, Christmas, and days like Valentine's Day on the right day. But you learn to be flexible, and we accept it because we love our work."
Want to see more KLM couples? View the gallery below 💙