70 Years of Freedom – Stories by WWII Veterans
On May 1st, a rather special group of people left the airport of Toronto, Canada to visit the 70th anniversary of freedom in the Netherlands. This group, consisting of over 40 Canadian WWII Veterans, counted their youngest traveller at 88 (who was 15 when he was deployed, forging his passport so he could fight) and their oldest at 97.
You can imagine, it was quite the happening at the gate. Unsuspecting passengers watched the whole thing in awe. Everyone took pictures, smiles were exchanged, hands were shaken and hugs were given. The emotional load of this special flight to Amsterdam instantly hit everyone like a rock. 70 years of freedom, given to us by those who were deployed to fight for a country that wasn't theirs. Left everything and everyone behind so we could live in peace. A simple 'thank you for your service' doesn't even begin to describe it. We are where we are today because of them. They came, they fought and they helped rebuild the nation that we live so carefree in nowadays.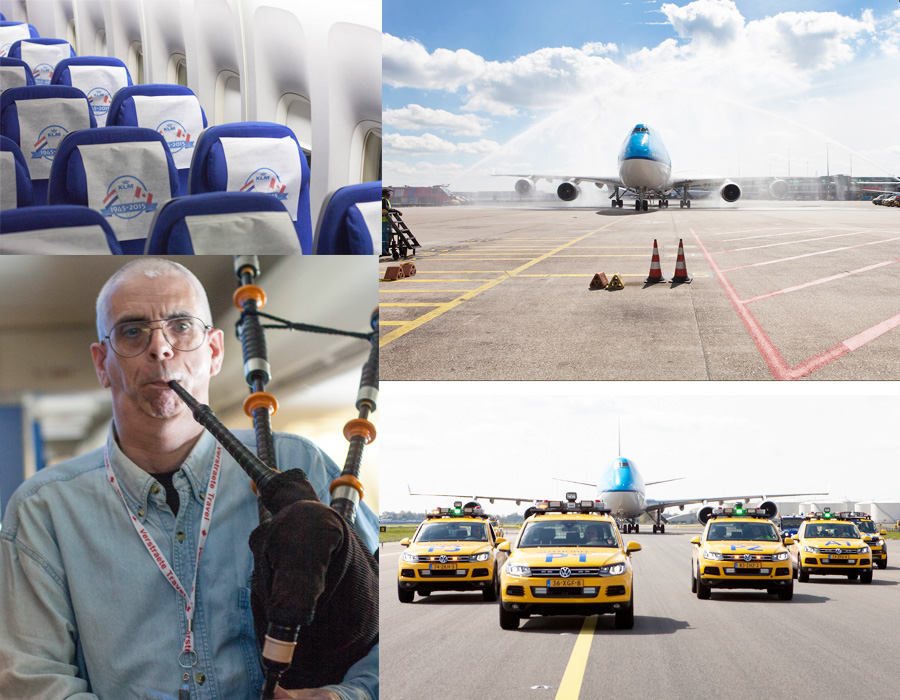 The Flight
To make this flight extra special and show the veterans how much we appreciate and respect them, arrangements were made to honour them. Both on board and at arrival in Amsterdam. There were special cakes marking the Dutch and Canadian flags. Flight attendants handed out and pinned on Carnation Flowers with gratitude and respect. Every veteran got a Delftsblauw salt and pepper shaker set, there were special headrest covers and when we landed at Schiphol airport, the plane was escorted to the gate and the fire brigade welcomed the veterans with a water canon salute, also known as the "Shower of Affection". Just before landing, bagpipe music filled the airplane. Waking up everyone and sending chills down our spines. It was a very emotional moment.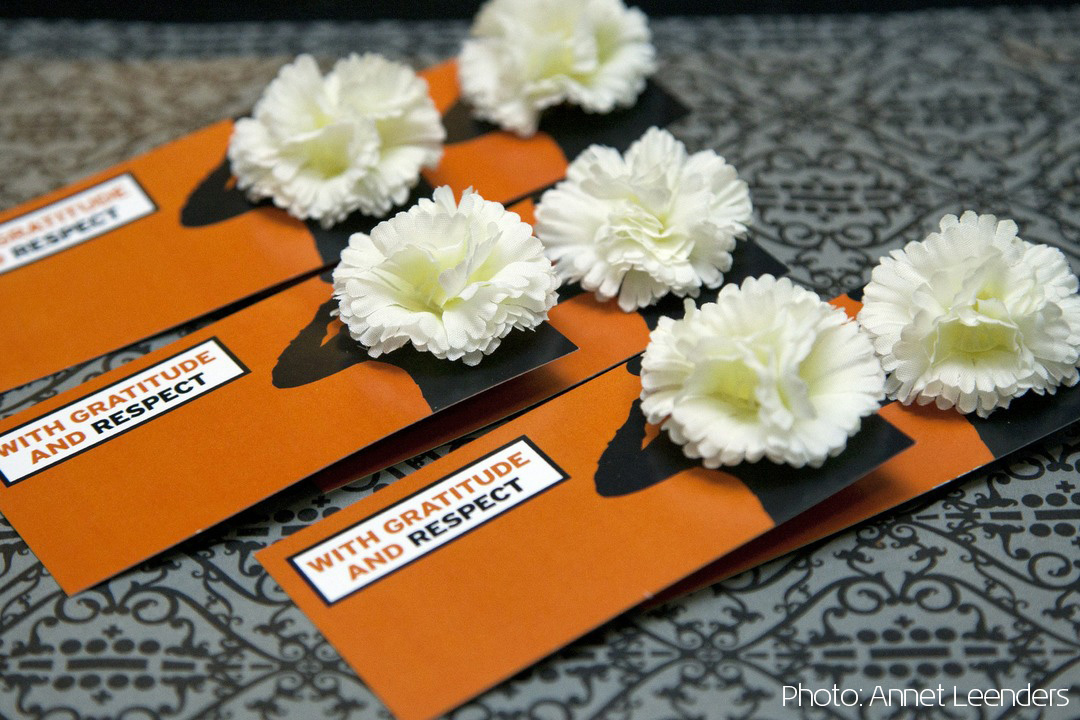 The Heroes
For this story, I had the honour to ask a few of the veterans questions about the war, their lives now and how they were experiencing the flight. I think I have repeated the sentence "Thank you so much for your time, it's really an honour to be talking to you" a couple dozen times. But I still wish I had said it more often. So thank you again.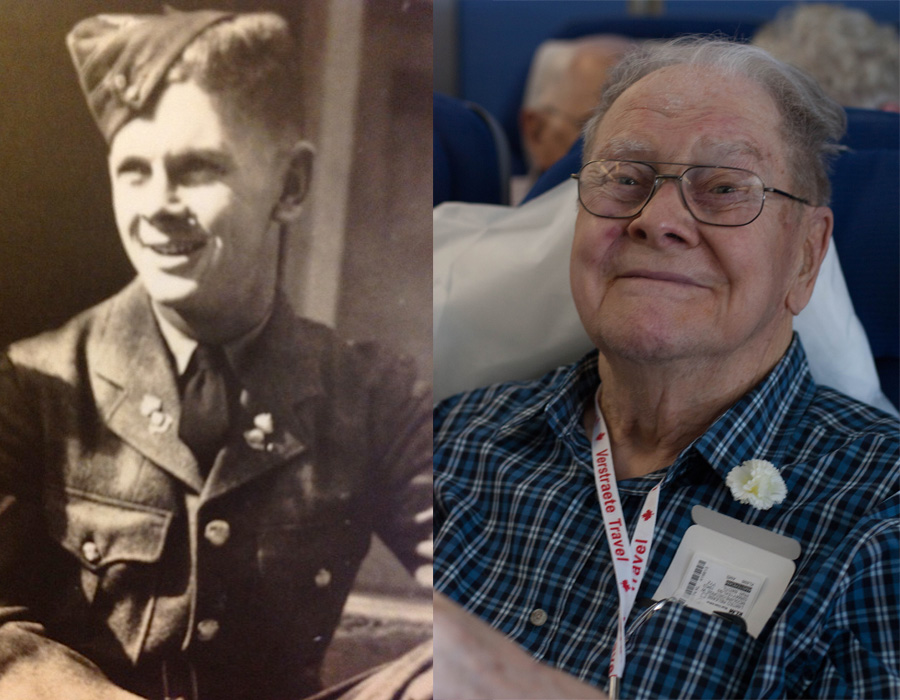 George McGuire
George McGuire is from Burlington, twin city of Apeldoorn, the Netherlands. He was traveling with his daughter Sue, who explained they were on their way to Zutphen for a 10 day celebration. George worked behind the line and was stationed in four different spots in Holland. Him and the rest of his squad made their headquarters in abandoned farmhouses and helped out the Dutch people in the area. For every front-line soldier, there were 8 behind the line, helping where they could. George told me he and his fellow soldiers would leave food in empty houses for the hungry residents. "The Dutch never asked for food, but boy did they need it," he said. He also remembers encountering a little Dutch girl. He smoked at the time, and when he put out his cigarette, she picked it up and put it in her pocket. It hit him then that she probably would try to exchange the cigarette butt for food or other needed supplies. I can't imagine how that must have been.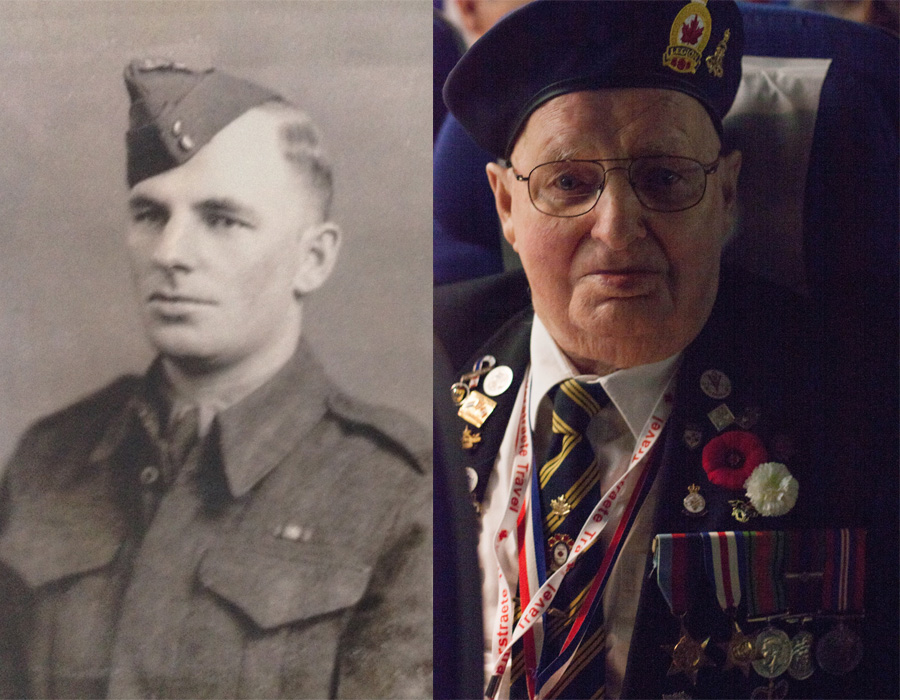 John Gay
John was a cook during WWII and at 97 years old, one of the oldest veterans on board. He explained to me he was part of the artillery and helped free up the city of Caen, which took quite some time, and the Falaise Gap. Besides that he told me he cooked for the soldiers in England and Normandy, which got harder and harder because of food supplies. In England, preparing a nice meal was easy, there were fresh vegetables and meats. But by the time they got to Normandy, he had to make due with dehydrated potatoes, dehydrated cabbage and meat called "Spam". He could cook up 6 gallons of stew and would distribute this amongst the soldiers in cans.
John is visiting the Netherlands for the 10th time this year. Travelling with his son and other family members he is looking forward to the festivities that are ahead. When I asked him how he felt being here today on this special flight, remembering the war, he responded with: "I left a lot behind when I got deployed, but I'm one of the lucky ones you know".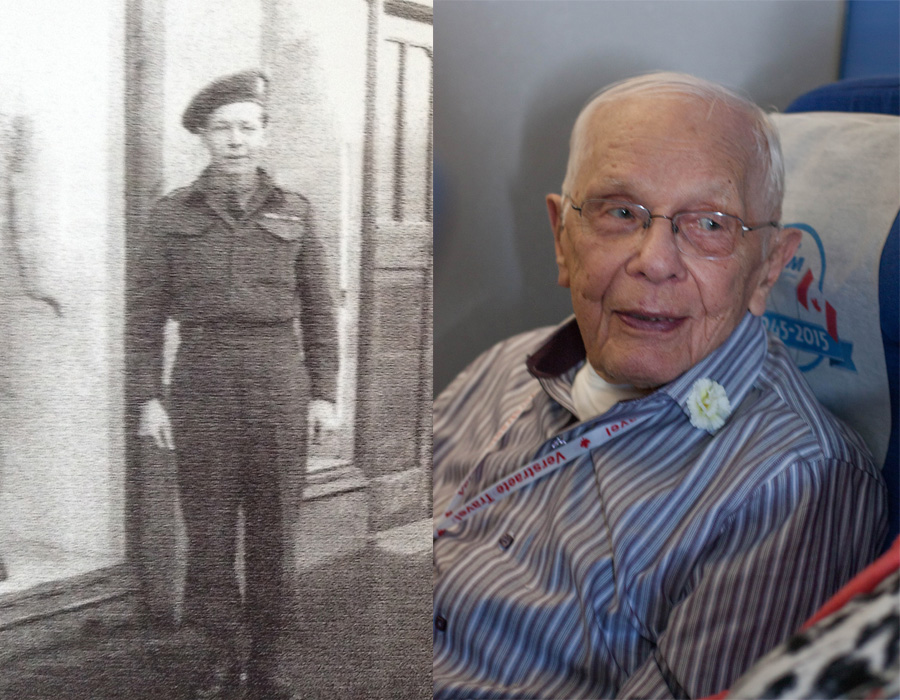 Albert Goebel
Driving trucks distributing supplies and equipment to the frontlines, Albert was one of the soldiers being on the road when liberation came on May 5th. They were driving from Germany to Nijmegen when suddenly they found themselves in a foot of water. Not long after that, they saw the Germans fleeing the country and didn't know it was the end of the war until they reached their destination. The thing that stood out to Albert the most is that after the war, he ran into 5 other soldiers from the small community (25 people) in Saskatchewan where he is from. Albert also played a role in rebuilding the Eemsbrug, hauling gravel from Germany to help the Dutch recover what was destroyed in the war.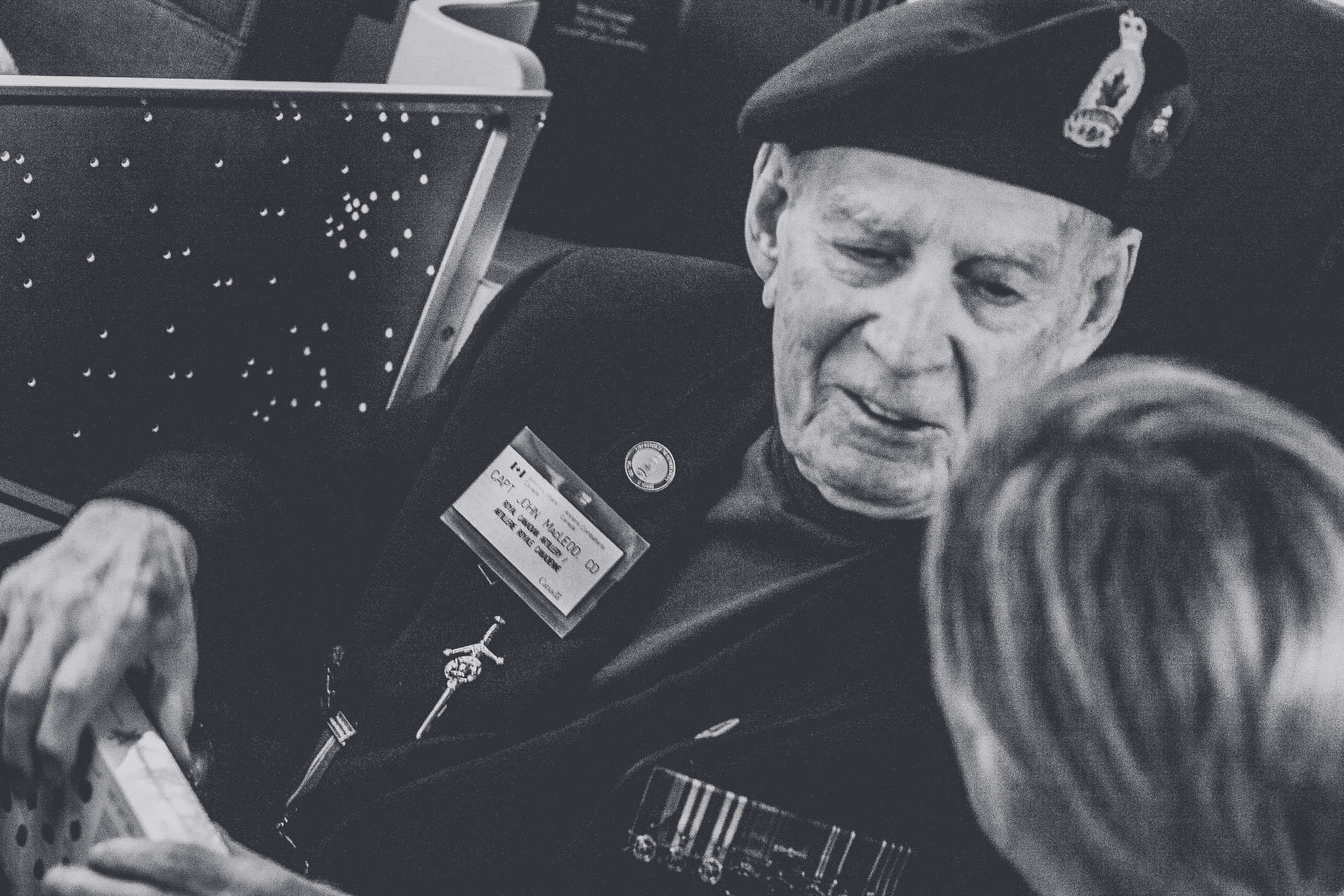 John MacLeod
John's story warmed every crewmembers heart when it came to our attention he was visiting the 11 year old Julie. He and Julie had met at a presentation he had given at Julie's school last year. Julie was so impressed with his stories that she sent him a thank you card and from that moment on, John started sending her cards as well and calls her weekly. The reason Julie was so impressed by John, is when he told a story about when the war was almost over. He and a few other Canadian soldiers knocked on the door of a farm in Emmen, cold and asking for coffee to warm up to. They drank the last of that families' coffee and John promised that when the war was over, he would come back to return the favour. And so he did. Years later he knocked on that door again, keeping his promise, returning 'their' coffee.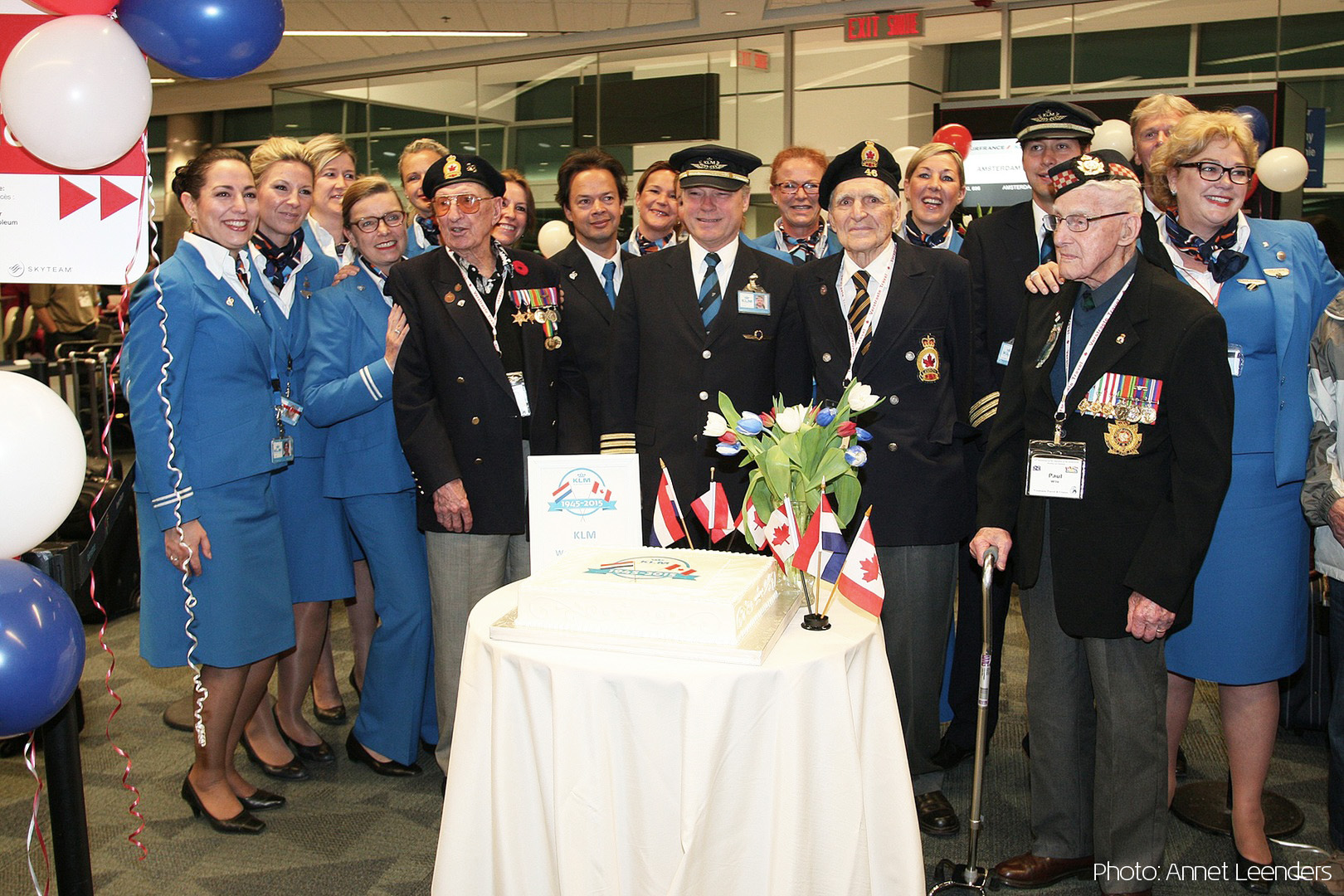 I think I can speak on behalf of everyone involved in this amazingly humbling experience that it was an honour meeting all of the veterans. Getting to hear their stories, shake their hands and show our gratitude even though we can never repay what they did for us. Know that in our hearts we are grateful to live in peace every day and that we'll always remember who made that possible.