This is how we park the majority of our aircraft
The corona crisis is having a relentless impact worldwide, forcing KLM to keep the majority of its fleet on the ground. As a result, Schiphol is packed. Not with passengers, unfortunately, but with the many aircraft parked on the ramp and even on a runway. Choreographing this sad and unique sight is quite a parking-puzzle.
Small operational fleet
Owing to the corona crisis, KLM has started its summer schedule with a much smaller network. The vast majority of KLM's aircraft have therefore been grounded and parked for the coming period. In terms of our bigger aircraft, we've parked all our A330s and Boeing 777-200s, as well as almost all our remaining Boeing 747s at Schiphol. We'll also grounded many of our smaller aircraft, such as our Embraer 175s and 190s, as well as many of our Boeing 737s.
The destinations that KLM continues to serve under this restricted timetable are being operated using Boeing 777-300s, with repatriation flights sometimes being operated using the Boeing 777-200, 787-9 and 787-10 fleet, the remaining Embraer 190s and Boeing 737s. As previously announced, this crisis has prompted the immediate phasing out of our beloved Jumbo Jets, the Boeing 747, with the exception of our freighters. This is earlier than planned, but essential in view of the current crisis. The "Queens of the Air" will be flown to their final destination at a later date. Naturally, we will then give them an appropriate send-off.
Parking at Schiphol
Ultimately, a total of more than 200 aircraft, mainly from KLM Group airlines, will be parked at Amsterdam Airport Schiphol. This raises the question as to whether there is enough space for so many aircraft..? Fortunately, Schiphol has enough space to accommodate them all. The aircraft stands at the gates, as well as the Aalsmeer Runway, which temporarily serves as a parking lane, have also been included.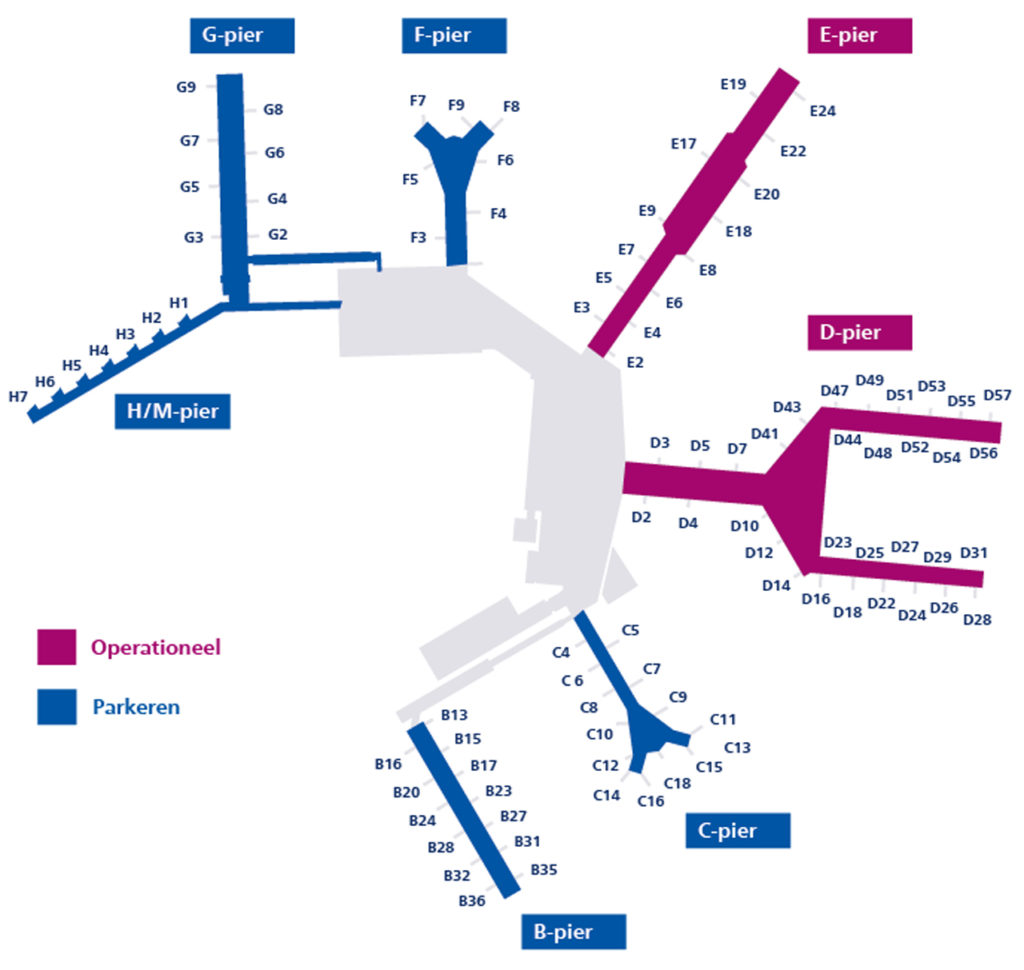 This brings us to the Great Big Schiphol Parking Puzzle, because not every position or stand is suitable for every aircraft type. It's quite a challenge to park all the aircraft in their proper place. Multiple parties are involved in this operation. The size of an aircraft is a key factor, of course. You need to prevent aircraft blocking each off, for instance, if you need to tow them away for maintenance. Consequently, one of the parking criteria is that there should be enough space between aircraft, so that they can be easily moved for inspection. However, all aircraft types need to be grouped together as closely as possible, to ensure that parking and maintenance can be carried out as efficiently as possible. These are all factors that need to be taking into account.
And now?
So now we've parked all the planes – phew! – but can we leave them there until we need them? It isn't as simple as that, unfortunately. If a plane is grounded, you can't just lock it up and leave it until you need it again. An aircraft must be kept in an airworthy condition, so that it can return to operations almost as soon as it is required to fly.
KLM therefore has a so-called "active parking programme", which means our grounded aircraft are properly protected against whatever the Dutch climate throws at them. Regular inspections are an integral part of this Active Storage Programme (ASP), which sees KLM closely cooperating with Schiphol to ensure maximum efficiency in terms of available space and time. It deserves mentioning that Schiphol is not charging parking fees.
Always ready to go
Many issues need to be taken into account during an ASP. Whenever an aircraft is parked, the cabin is cleaned, all the inlets are sealed off, hatches and doors are closed, and the aircraft battery is disconnected. Vulnerable components are cleaned and lubricated to prevent corrosion during parking. To endure wind speeds up to force 8 on the Beaufort scale, the aircraft must be pumped full of fuel, as ballast. The runways themselves must also be protected with special covers placed over the asphalt.
But there's more to be done, because the parked aircraft have to undergo periodical inspections, which vary per aircraft types. The engines have to be started occasionally, the cabin has to be aired and dried, and hydraulic and steering systems have to be tested. Some aircraft types also have to be moved slightly to prevent deformation of the tires.
Security
And how exactly does one ensure the security of aircraft parked out in the open day and night? All relevant parties know exactly where every aircraft is located at Schiphol. And of course we keep a very close eye on these highly valuable assets :-)
Doing what they do best
Before a grounded aircraft returns to operations, all the protective coverings are removed and the aircraft undergoes a comprehensive testing programme before it is airworthy once more.
At present, most of our aircraft remain grounded and will be maintained with the greatest possible care in the hope that they will soon return to where they most like to be – up in the air! Meanwhile, plane spotters are having a field day photographing this unique scene, while we give our fleet some extra care and attention. Our blue birds will be more than ready to fly, as soon as they get their ticket to the sky.✈️💙