Being an avid street photographer, I follow a lot of people who share my passion, including pilot and photographer Christiaan van Heijst (33). Whereas I tend to point my camera people on the ground, many of Christiaan's pictures are taken at high altitude. And so we share a single passion from two different perspectives. It was high time for a chat with this high-flying photographer, whose popularity is taking off worldwide.
According to your Facebook page you're "a traveller, airline pilot, adventurer and admirer of natural light. Can the real Christiaan please stand up?
I'm a passionate pilot. And I'm a photographer, who takes most of his photos from the cockpit. The panoramic views high up in the sky have fascinated since I flew to America with my parents at the age of four. Flying is magical, it seems almost unreal, because of the colours, light and endless perspective. I try to capture that magic in my photos.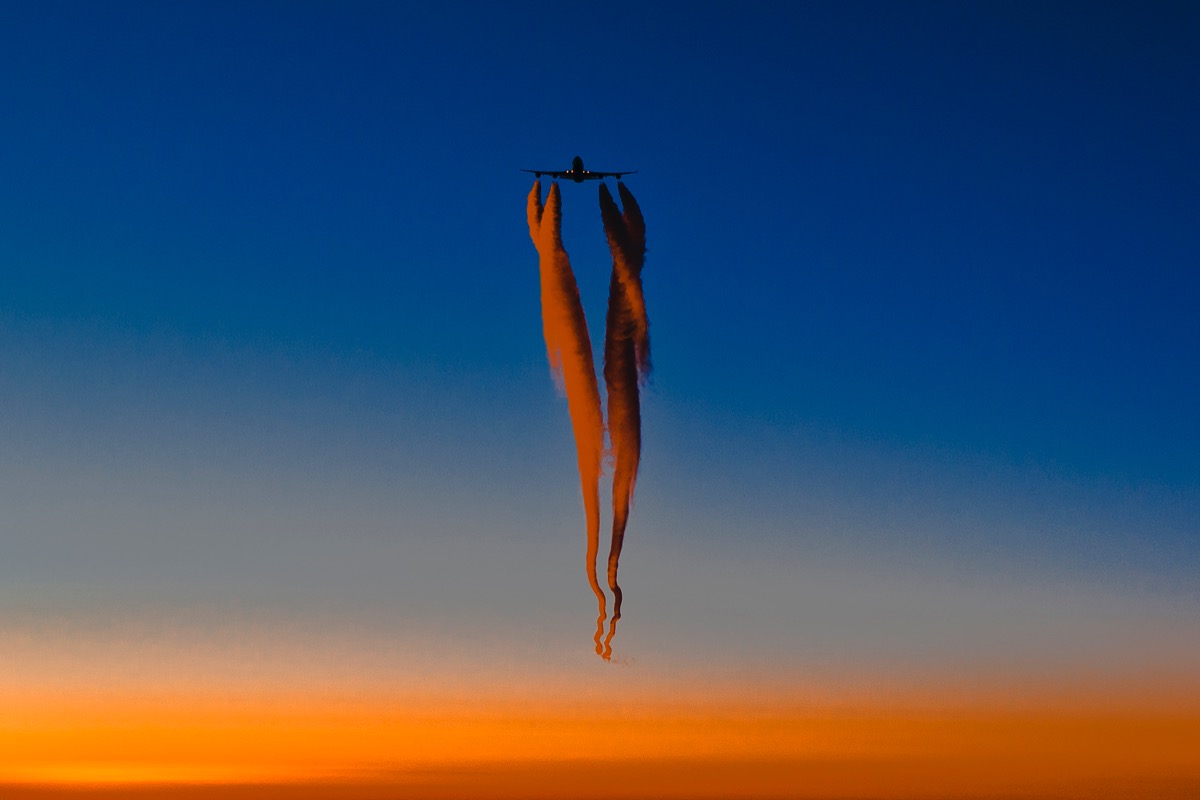 This Boeing 747 passed straight over the top of us, with the sunset painting its contrails a rich orange.
What came first: Christiaan the photographer or Christiaan the pilot?
I'm a pilot first and foremost. When I finished my training and got my first job as a pilot, I took my camera along on all my flights, because I wanted to show everyone at home the beauty I experienced on board. I eventually swapped that little camera for a more professional one when I was doing a lot of flying over Africa. I realised that I had a unique perspective on many parts of the world. The realisation grew when I started flying in Afghanistan. The mysterious, rugged landscape, the awe-inspiring Hindu Kush Mountains, the remote gravel airstrips with bomb craters – those really are images from an adventure book. I wanted to capture them to share them with others, who will probably never get a chance to see them. That's how my high-flying photography became a hobby and later a passion.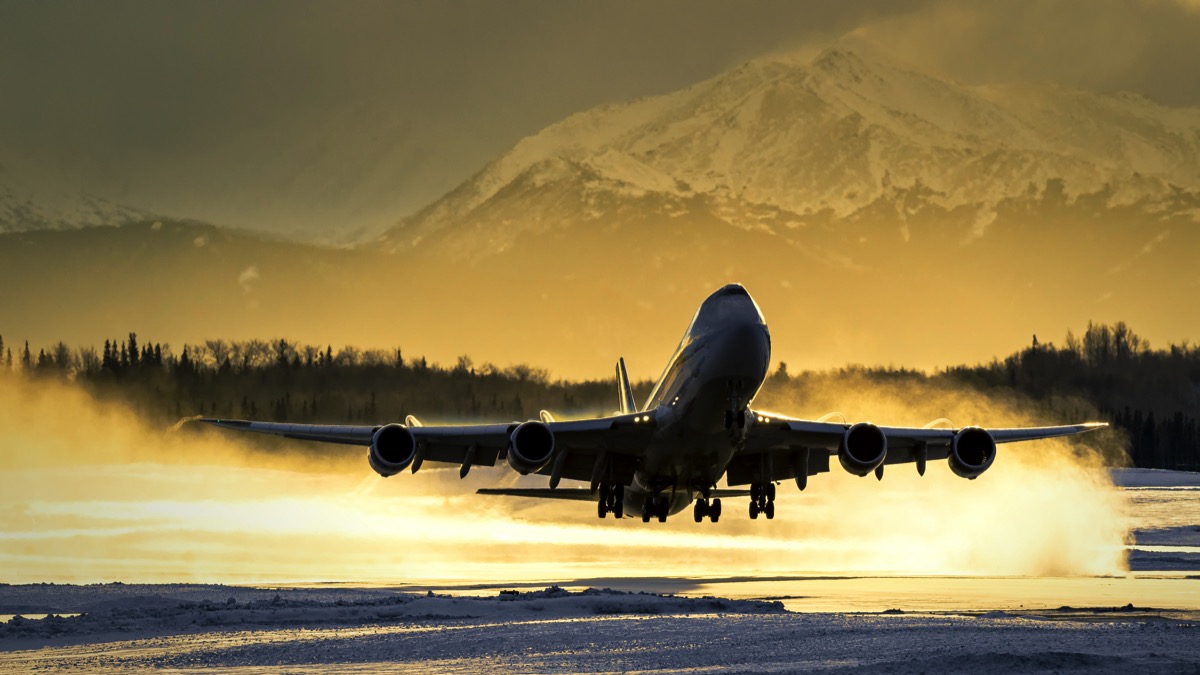 One of the reasons I enjoy photographing in Alaska is that the light is often spectacular. This Boeing 747 is taking off on a snowy runway just as the evening sun peeks through a gap in the clouds, turning the billowing clouds of snow into gold dust.
Are you naturally gifted or are they just lucky shots?
I'm not sure if I'm a natural. The fact is I've always been fascinated by light and composition. Nowadays, after years of trying to capture panoramas and lightscapes, I can usually see at a glance if something is worth photographing. It's a combination of experience, knowing your camera and developing a trained eye. Whether it be low sun, Northern Lights, shadow play or soft, silver moonlight, it's always a challenge to capture natural light. But if I do succeed and manage to convey emotion with my image, then the photo is a success, in my opinion.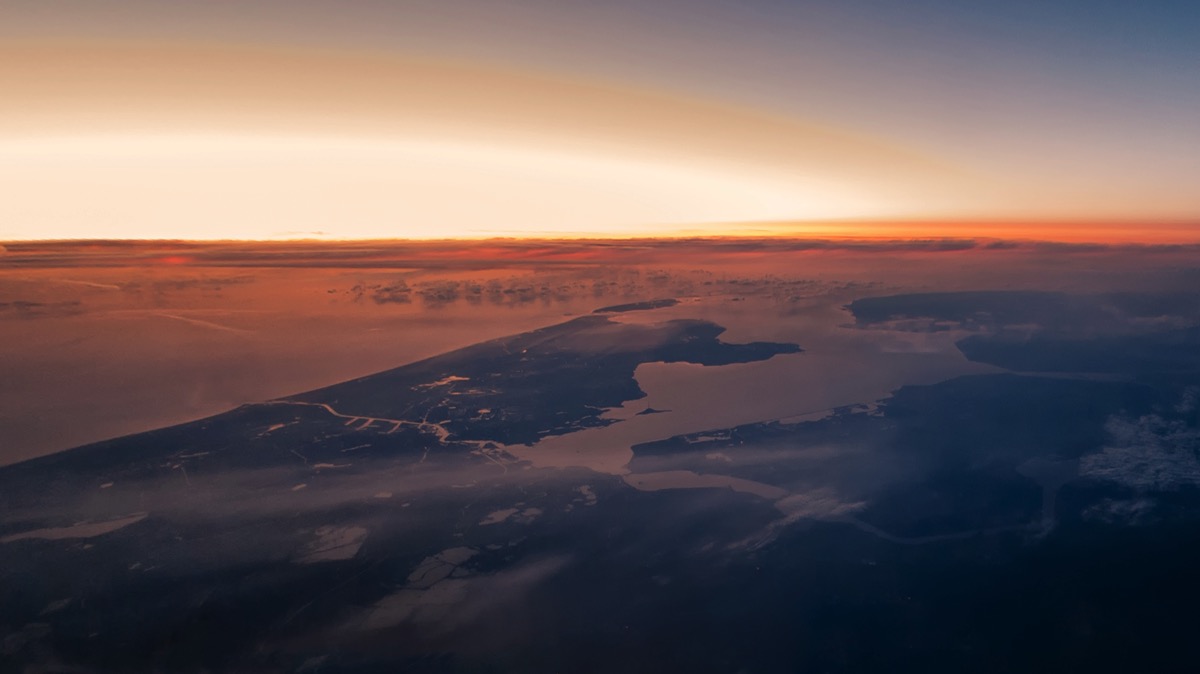 Most Dutch people will immediately recognise the Netherlands, in this photo taken from 40,000 feet at sunset.
What camera equipment do you take along when you fly? And have you ever taken a detour to get a good picture?
I only take photos if there is time and space. My job as a pilot and the demands of flying have absolute priority. Photography is a distant second. In short, taking a detour is not an option.
During long-haul flights, there are three or four pilots on board. That gives everyone a chance to get some rest. While my colleagues are flying, I have time to take pictures. I always have my Nikon D800 full frame camera and various lenses in my flight bag, which is very heavy, but I always have it in the cockpit.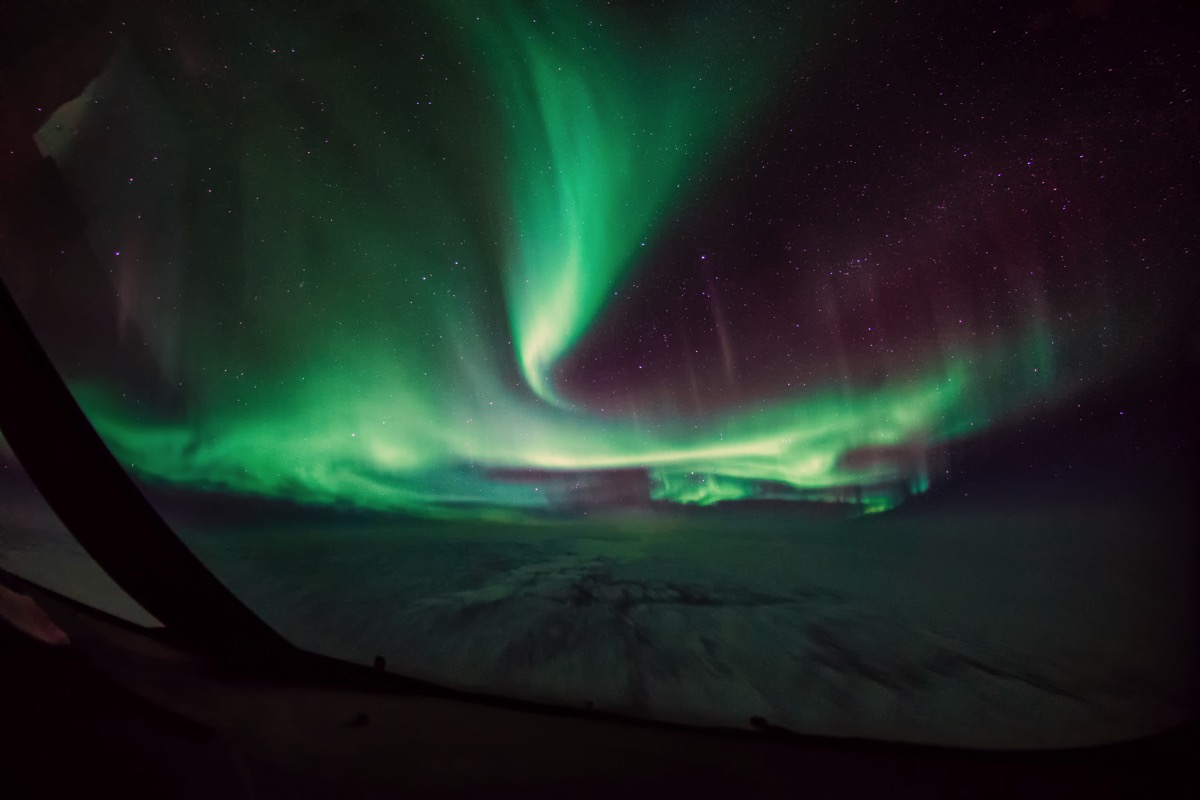 This was a superb display of Northern Lights somewhere above the Arctic Ocean between Alaska and the North Pole. The fast-moving aurora kept going for 7.5 hours, reflected by the ice and clouds beneath. It was mesmerising.
How do you deal with turbulence when you're photographing in flight?
It's a pretty safe bet that the aircraft will start trembling as soon as I want to take a picture at night. As if someone's playing tricks on me. I use a slower shutter speed for night shots, which is why it's so important that the aircraft is stable. The slightest bump will spoil the photo. I make ten to twenty photos in quick succession at night, which usually ensures that one of them is in focus.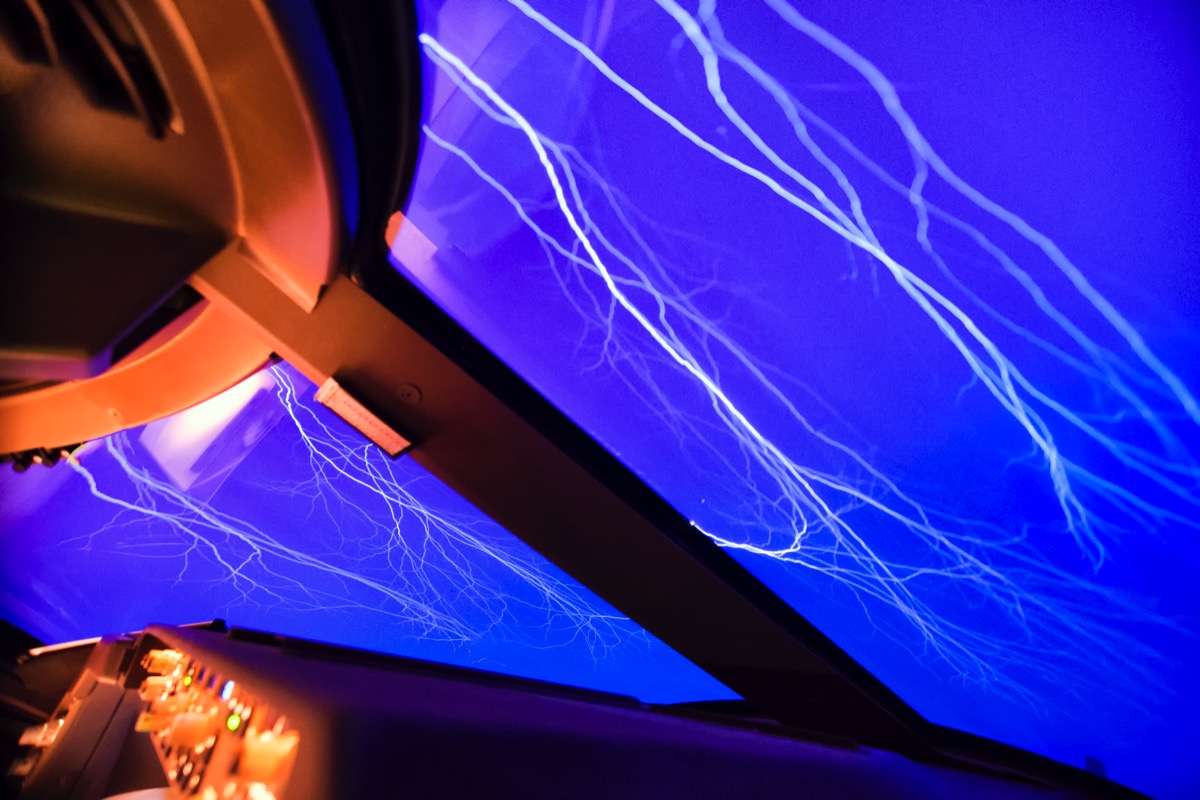 When we fly through a snowstorm or thunderstorm, the plane sometimes becomes statically charged, causing it to glow a purple-pink. At times, sparks literally fly off the windows. This phenomenon is also known as St Elmo's Fire, which is relatively harmless, but spectacular to see.
Thunder and lightning – nay, or yay, regarding your photography?
As a pilot, I have immense respect for big thunderstorms and mountains. I know what kind of forces they can unleash and what that can do to an aircraft. That's why we avoid them if possible. At the same time, it's incredibly impressive to watch the constant lightshow of a thunderstorm at cruising altitude. The sheer spectacle of it all will silence even the most talkative colleagues. The beauty of nature and flying are both balanced out by a darker side. Perhaps that's why I so enjoy depicting our natural environment from the sky.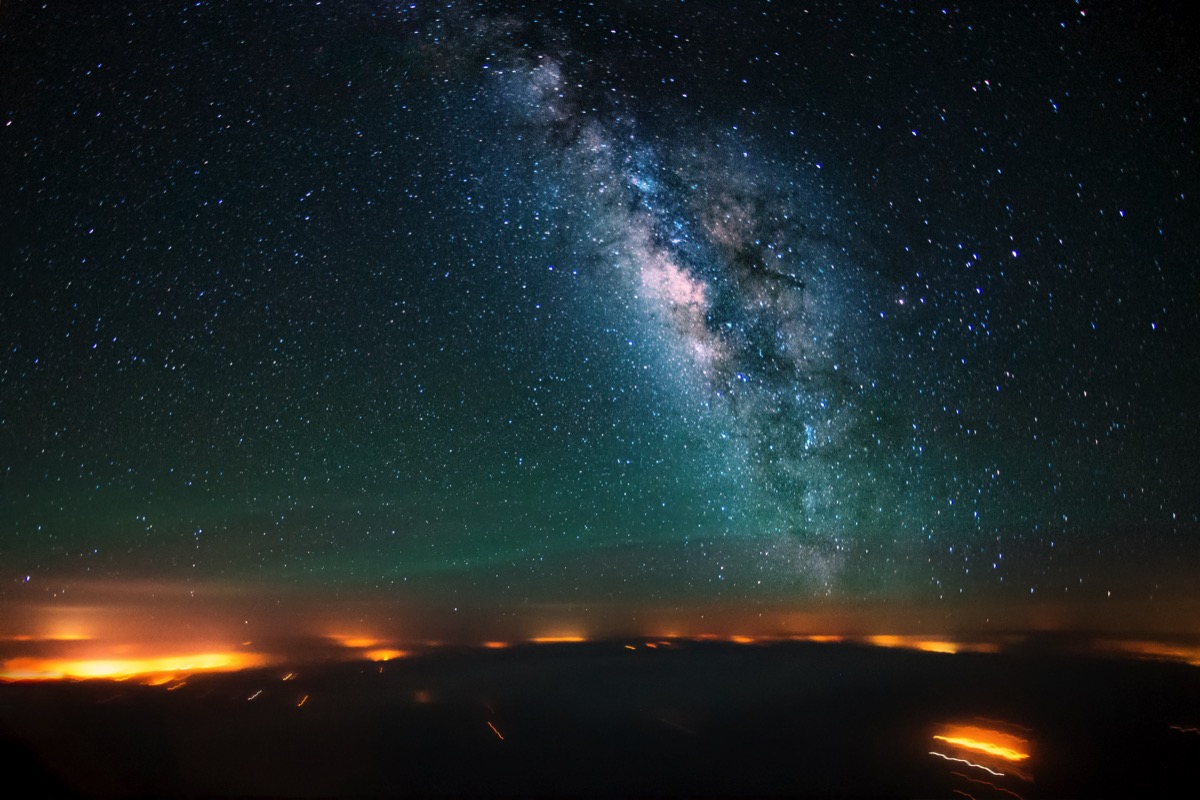 During six months of the year, the brightest part of the Milky Way (known as the Galactic Core) is visible in the night sky. With the naked eye, it looks like a pale band (which is how it gets its name), but if you have a good camera and use a slow shutter speed, all the details of this superb lightshow become visible. One of the advantages of flying so high up is that there is very little air pollution. But the plane must be very stable, with minimal turbulence, to take pictures like this.
Are there any images that you failed to capture, but can't get out of your head?
In the 12 years I've been flying, I've seen almost everything there is to see in the sky and photographed it. One of the few things you can't capture is the many millions of fireworks set off in China during New Year's celebrations. Last year, we flew over China in the middle of the night. It was unusually clear and cloudless. For two hours we saw millions of light flashes on the ground. Those flashes are so small you can't photograph them, and you can't really capture the most impressive part of the display, which is the continuous flashing. But that makes the moment all the more special.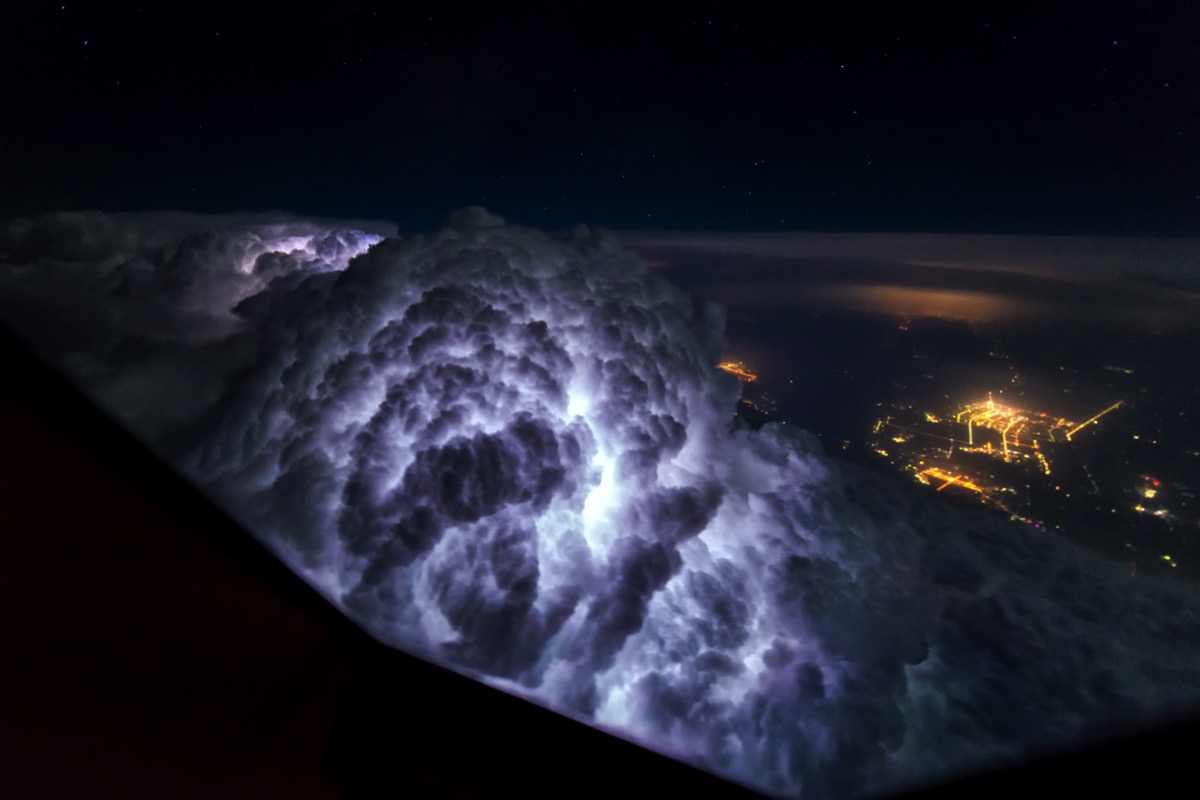 This summer storm above China developed very quickly. Within a couple of minutes, it grew from a tiny cloud into this highly active thundercloud with lots of internal lightning. The cloud rose up into the sky at around 1-2 kilometres per minute, so we had to change course quickly to ensure that we didn't fly through it. But it was an incredible sight to see.
What's your dream photo?
One of the things I'd really like to photograph are sprites, which are also known as red dwarfs or elves. This is a relatively unknown and elusive phenomenon caused by red electrical charges in the highest layers of the atmosphere above active thunderstorms. These sprites have only been regularly photographed in recent years, from places like the International Space Station. I've never seen them myself, but capturing them has become something of a holy grail for me.
Do you have any tips for getting great photos? Or do we need to get our pilot's license first?
Enjoy your flight! Open the shutter and take a good look at the clouds, the views and the mountains you see. The world is magnificent. And when you look up from the ground, try to imagine that there is someone up there with a totally different view of the landscape or the earth. That helps put a lot of things into perspective, to realise that there are different sides to every story and picture.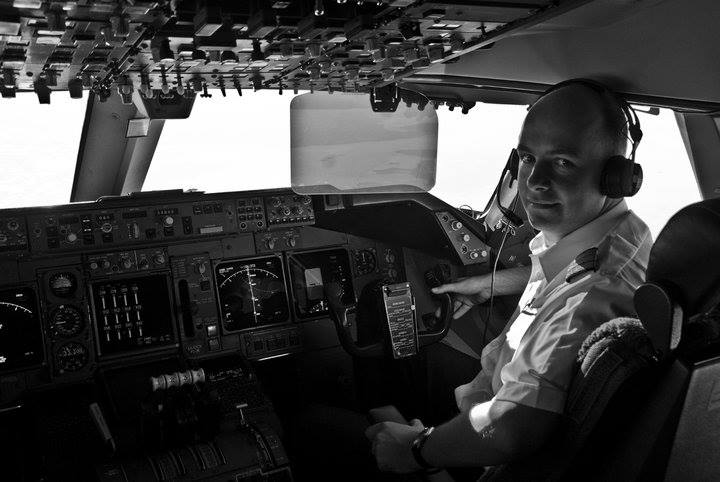 Everyone wants to become a pilot, but what do you want to be when you grow up?
I actually just want to be Christiaan. Maybe with a slightly better camera. And it might be nice to visit that ultimate destination: the moon. It's important to always keep dreaming.
Christiaan has teamed up with Daan Krans to launch website Amazing Aviation. If you'd like to see more of Christiaan's work, you can go to his website.