Arnold's Airborne Adventure – a Dream Fulfilled After 83 Years
Back in 1935, KLM invited Dutch youngsters to take part in a shop-window contest for its offices in The Hague and Amsterdam. It was such a huge success that more prizes had to be added, one of which was a sightseeing flight over Amsterdam, which was won by Arnold Neuhaus.
Flood of entries for KLM shop-window contest in The Hague and Amsterdam, 1935
On 16 November 1935, a letter from the "Royal Dutch Airlines for the Netherlands & Colonies" arrived at the Neuhaus residence, which was then just three canals away from the KLM office in the centre of Amsterdam. The letter announced that seven-year-old Arnold's entry was a winner and that the prize was a free ticket for an airborne excursion!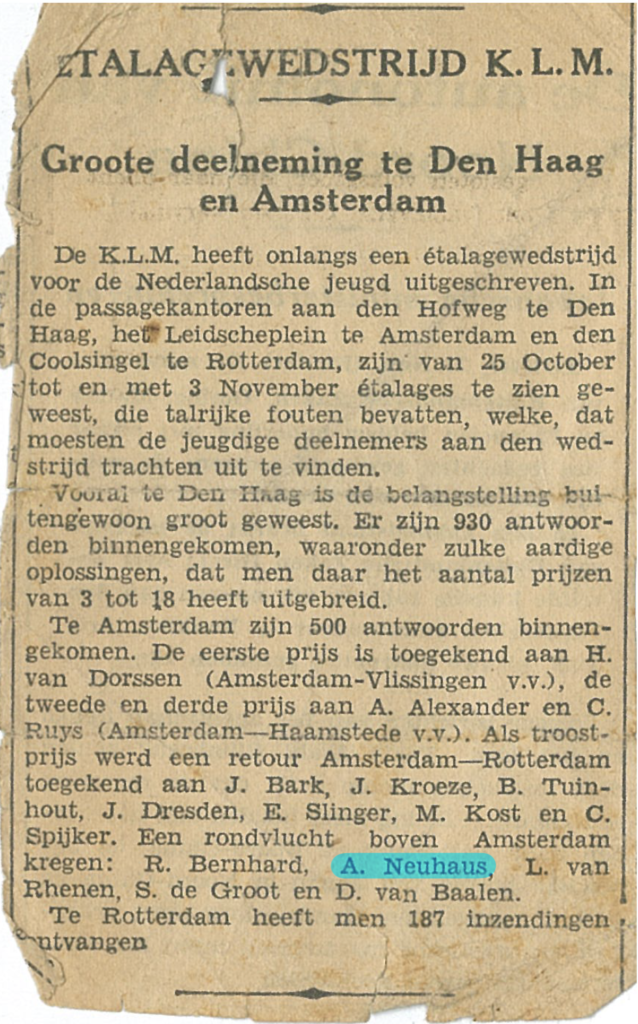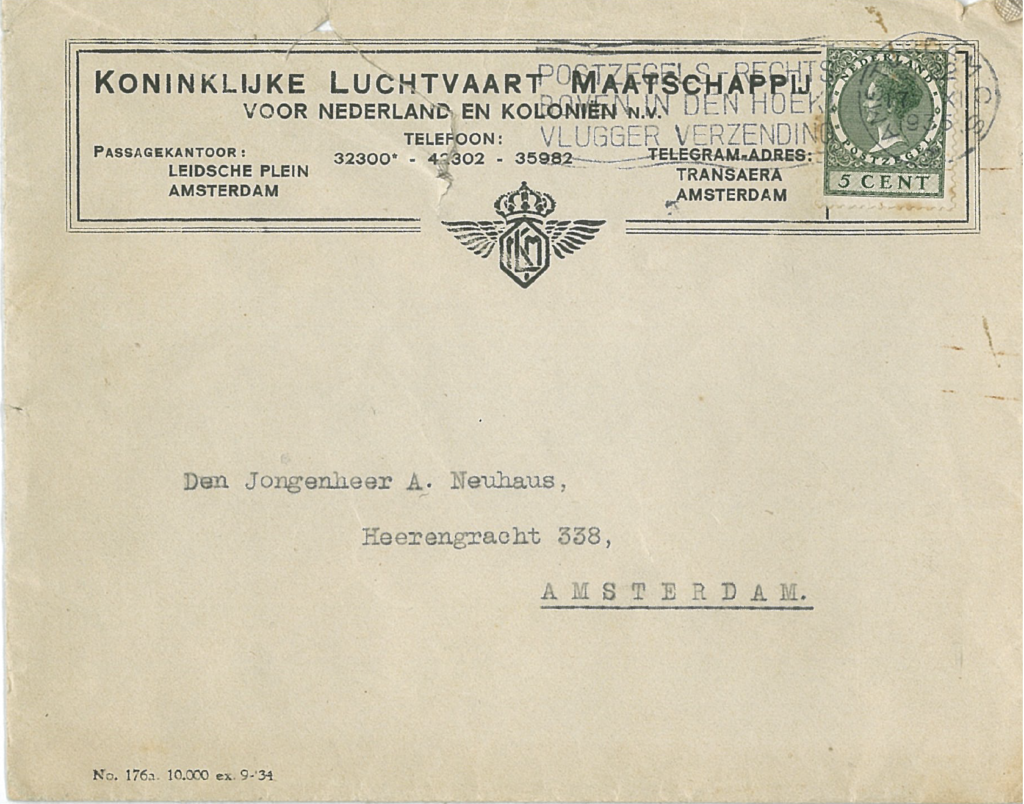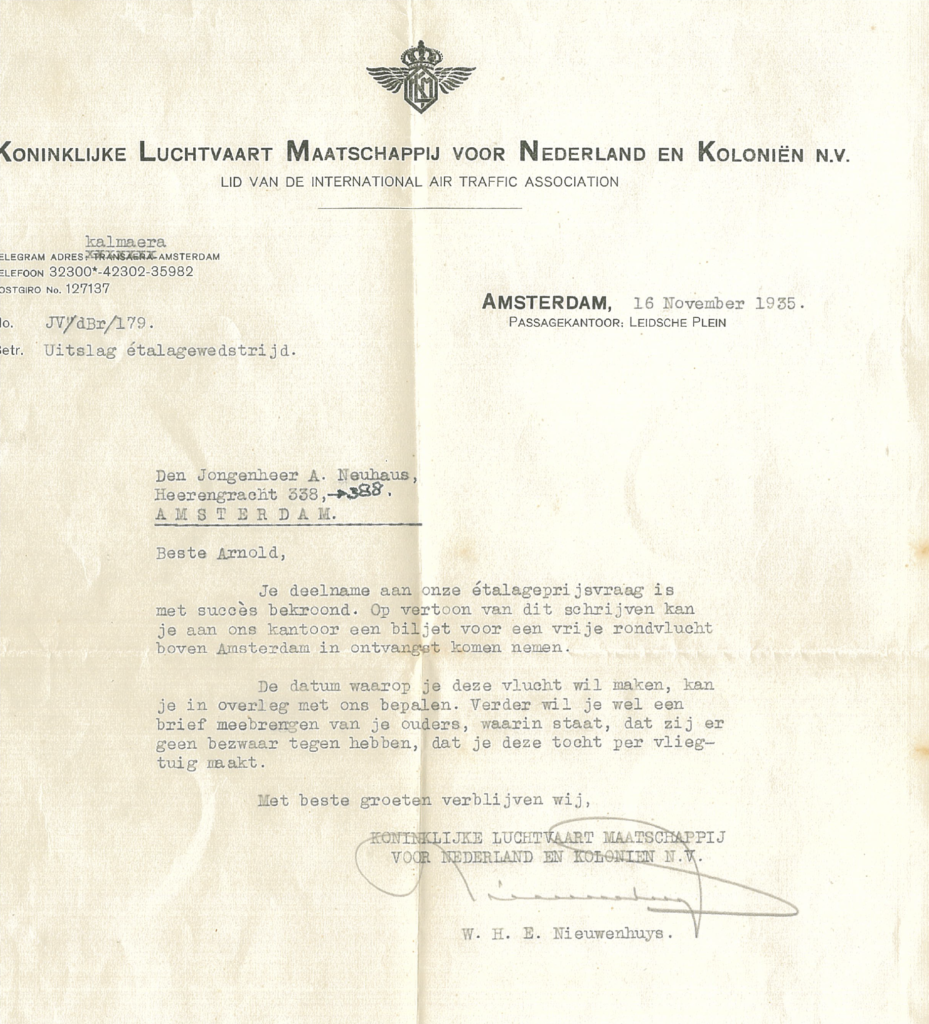 Permission
Nowadays, we're all accustomed to seeing aircraft flying overhead, but that certainly wasn't the case 83 years ago. Back in 1935, it was truly unique for anyone, especially a child, to fly aboard an aircraft. Because Arnold was still so young, his parents had to give permission for their son's airborne adventure, which he got: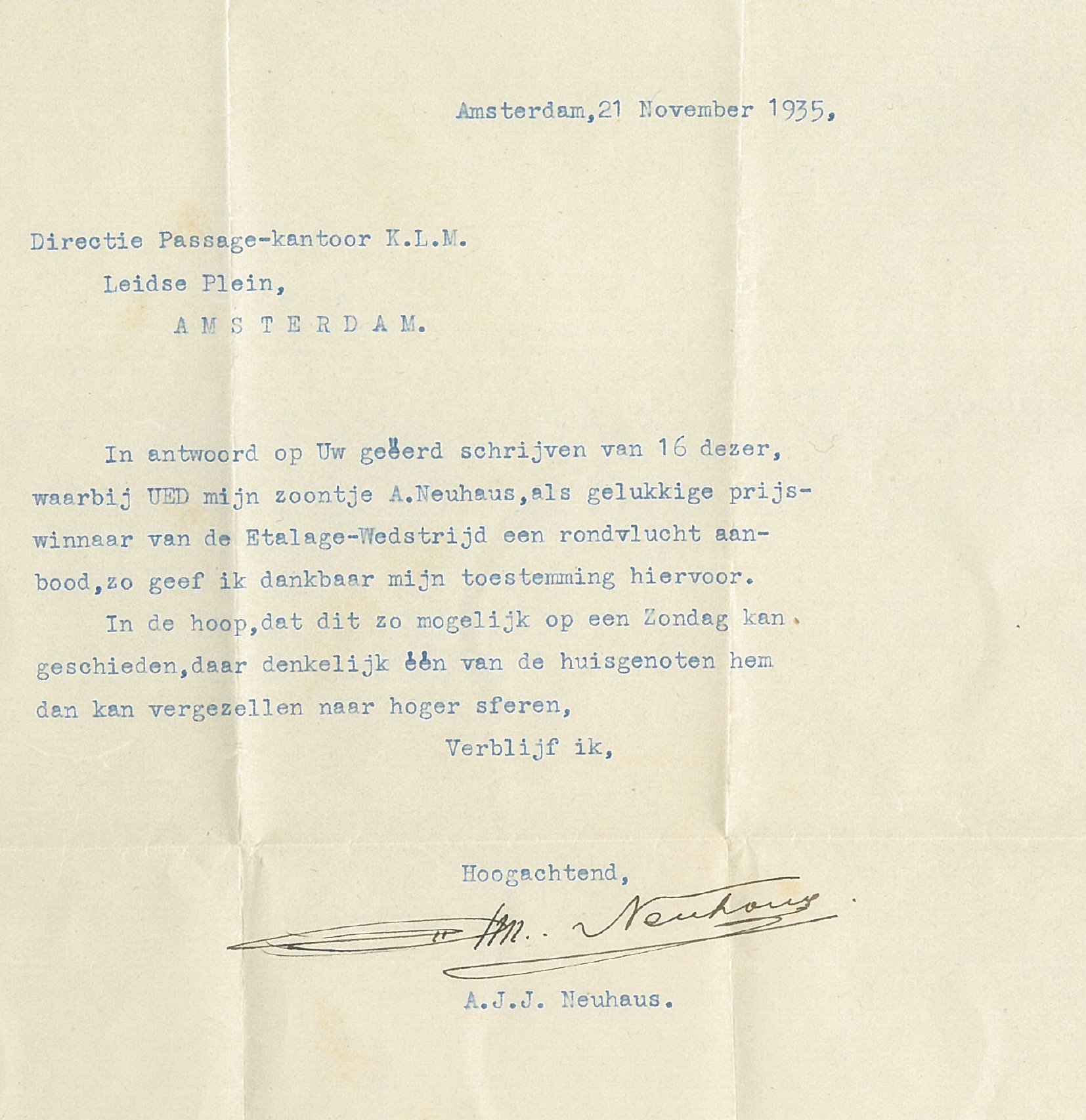 Unfortunately, Arnold's sister got scarlet fever around that time, which meant the entire Neuhaus Family weren't allowed to interact with other people. Arnold has fond memories of spending several days playing in the Vondelpark with the brothers and sisters, because they weren't allowed to go to school. Later, KLM's letter lay on the shelf, gathering dust, but whenever Arnold walked past the office on the Leidseplein he was reminded that he still hadn't picked up his prize. It was all rather a daunting prospect for a seven-year-old boy, which is why Arnold kept putting it off until tomorrow, unaware that tomorrow never comes…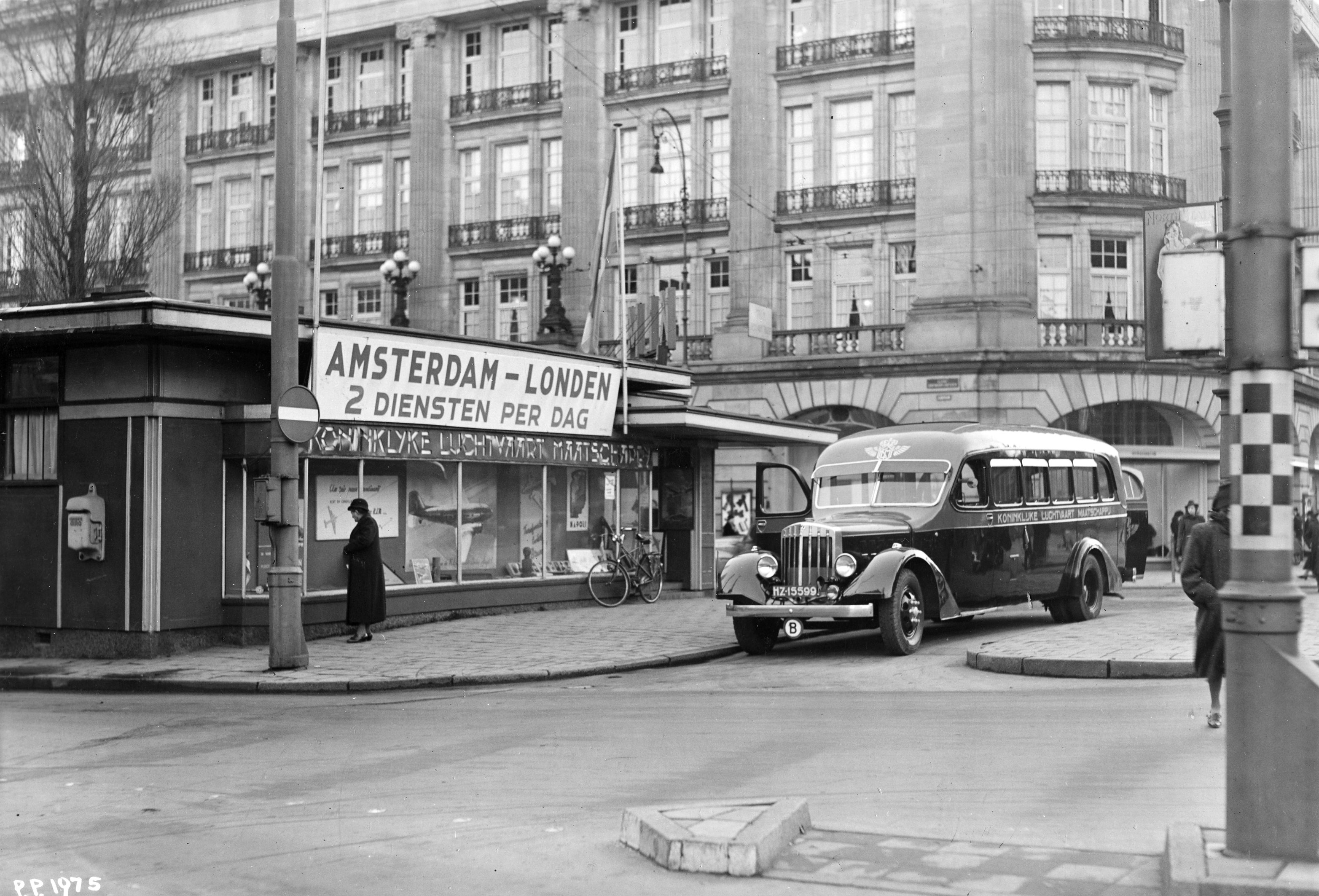 Nevertheless, Arnold always carefully kept the official documents and loved sharing his winner's story with his children, grandchildren and great-grandchildren. But the story never really had a happy ending, which is why Arnold's granddaughter decided to approach KLM with this unique tale of bygone days. She ended her letter by saying that "Grandpa Nol" is still fit enough to accept the prize he won so many years ago.
Ford A Tudor 1930
KLM decided that it had to be an unforgettable day. But would we be able to match the experience of a seven-year-old, flying for the very first time, in an era when few other people had flown? And so KLM teamed up with Grandpa Nol's family to finally present him with his long-awaited prize. As it turned out, one of Nol's great-grandchildren is seven years old, so we asked Jagger to accompany his great-grandfather, giving Arnold the added joy of experiencing the roundtrip through a child's eyes. To bring them back to the days of yore, we picked Grandpa Nol and Jagger up at home in a vintage 1930 Ford A Tudor.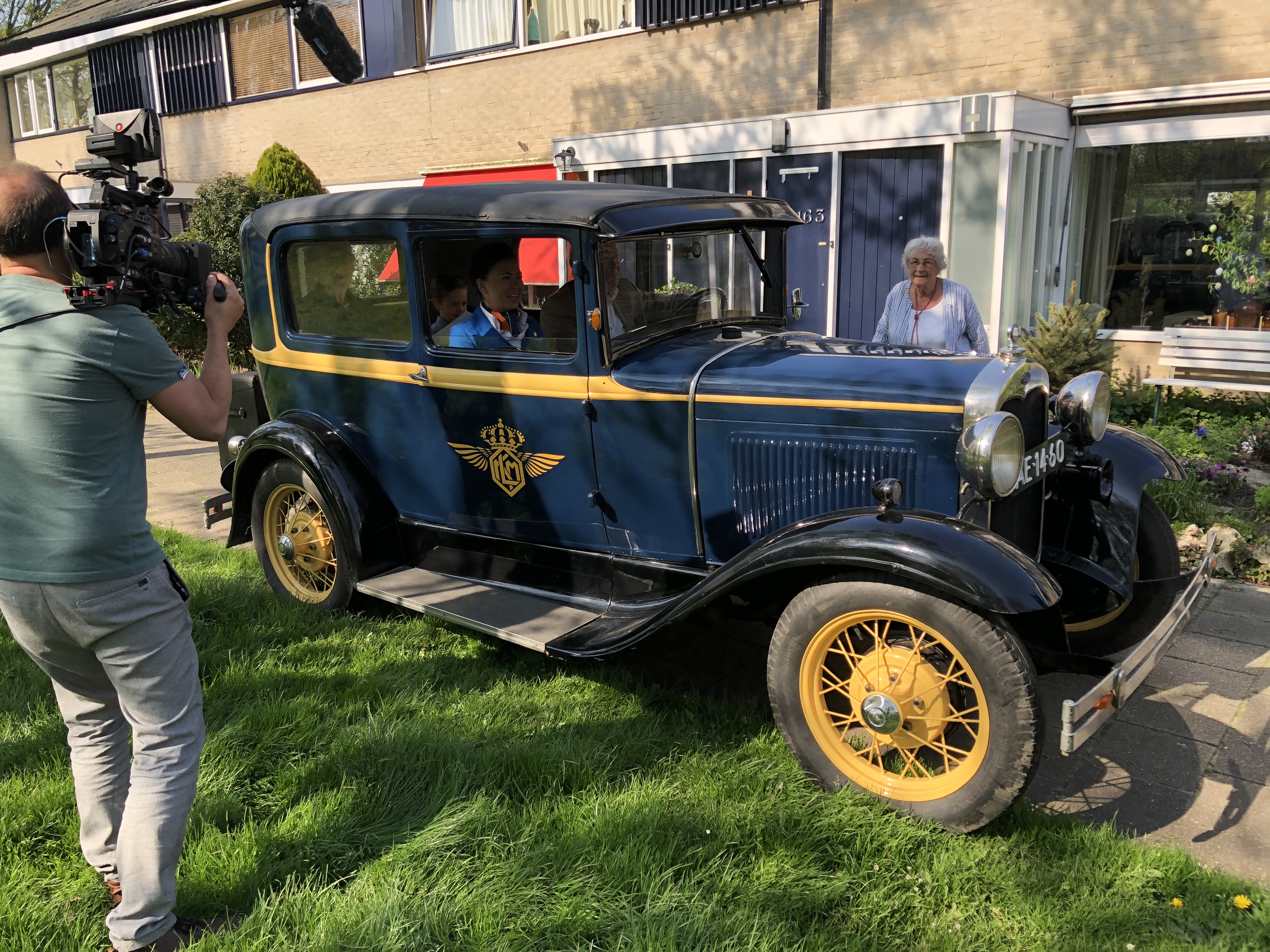 Dakota DC-3
We surprised Opa Nol at home in Heiloo. To make this work, we got Nol's wife, who is also 90, involved in the plot. They were sitting out in the sun on a Sunday morning, when Jagger suddenly showed up, accompanied by two cabin attendants. Nol was stunned and speechless, until he was shown the letter he received as a child. Then all the puzzle pieces fell into place and he started recounting the story once more. Just then, the Ford A Tudor pulled up, honking its horn. Opa Nol was invited to hop in for a drive to the Schiphol Jet Centre, where the Dakota DC-3 "Princess Amalia" stood shimmering in the sun.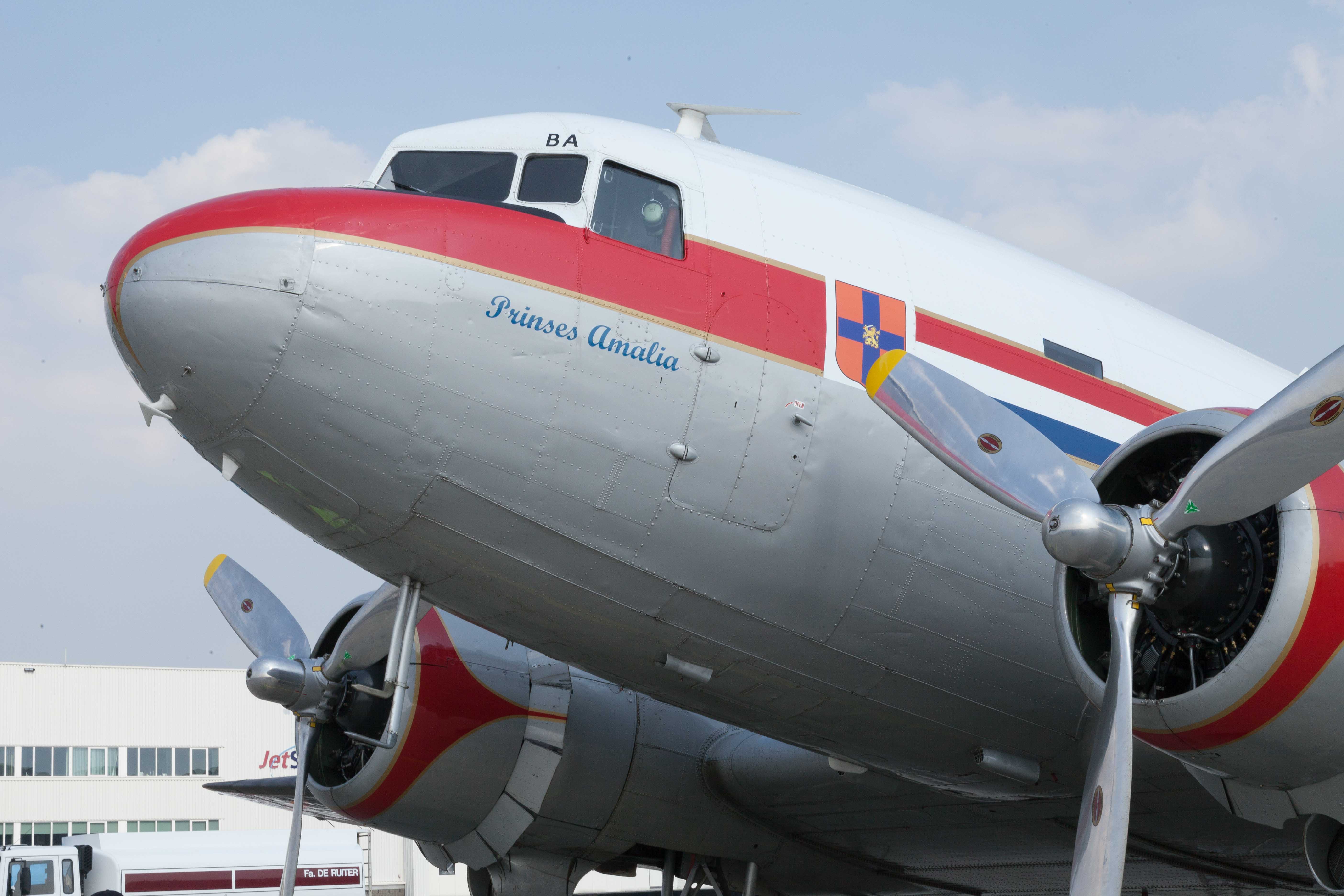 Hand in hand, Jagger and Opa Nol headed out across the platform to the plane, where their cabin attendant stood waiting. Having climbed the stairs, they waved to their family before taking their seats. Several minutes later, the plane took off and Grandpa Nol's wish was finally fulfilled.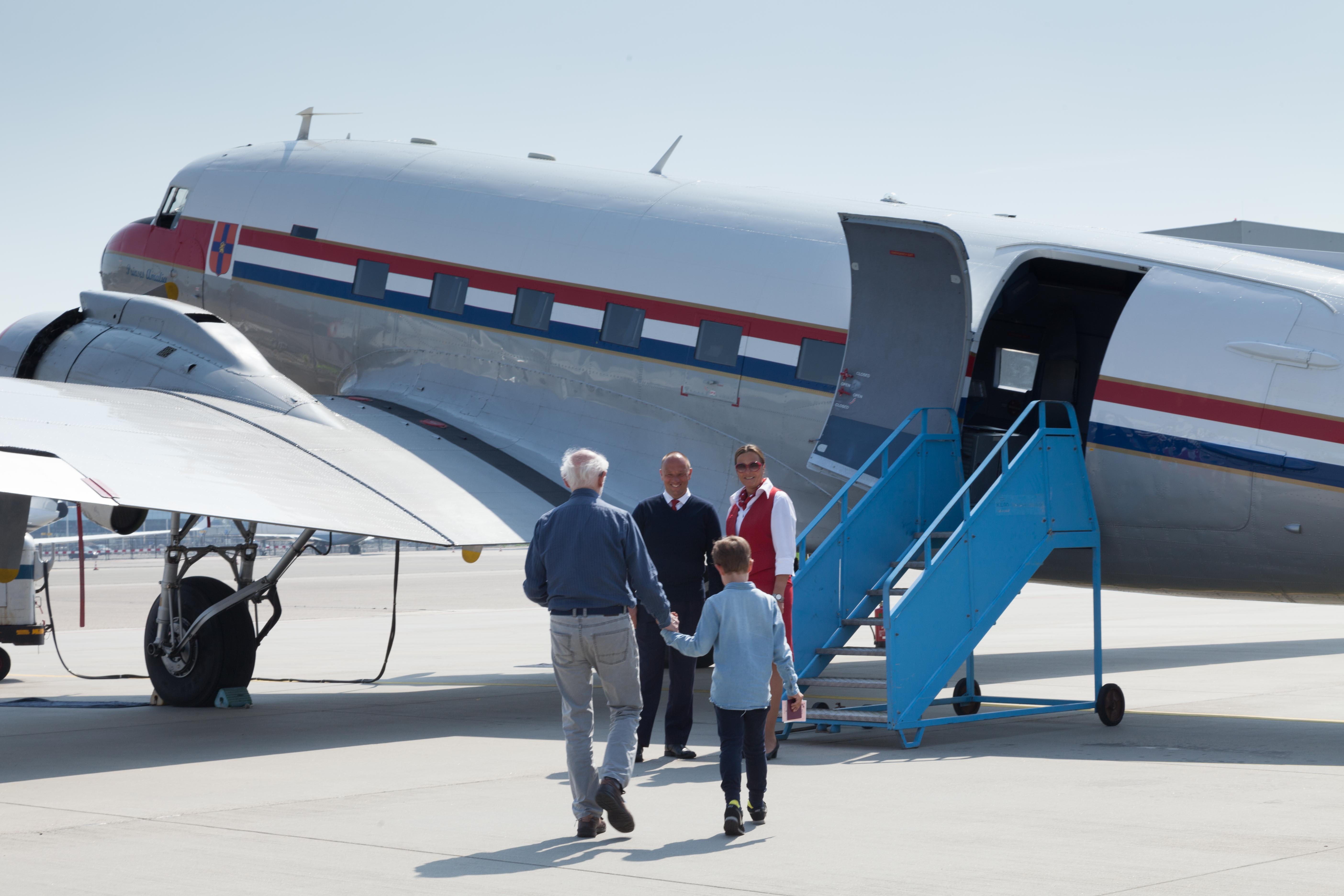 The weather was superb and the view was magnificent. They had permission to fly at relatively low altitude, making it easier to spot things on the ground. Together, they saw the Keukenhof Gardens in full bloom and enjoyed the wonderfully picturesque villages and windmills of the famous Bollenstreek bulb-growing region. Later, Nol and Jagger also took a look in the cockpit, shortly before the DC-3 landed at Schiphol once more.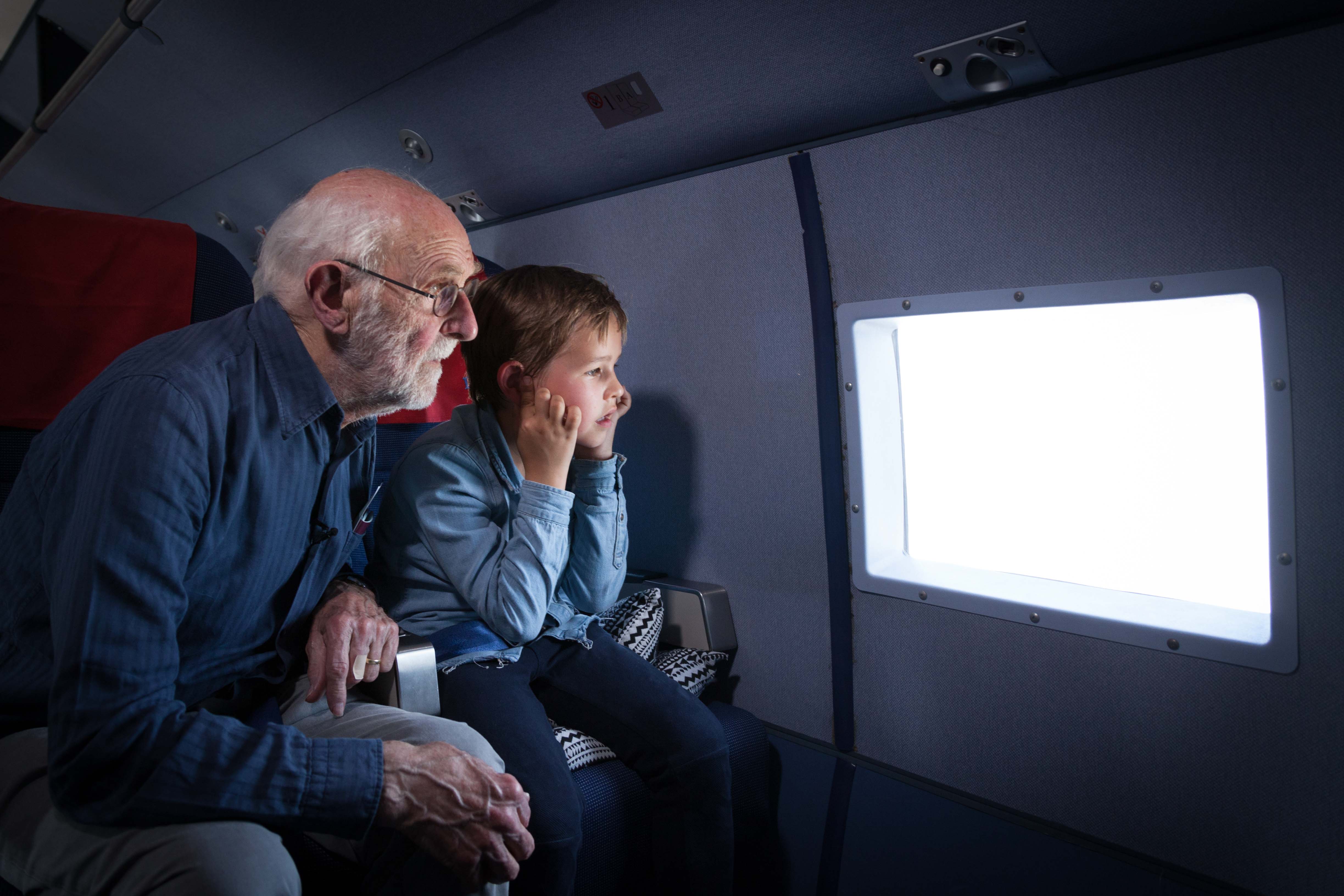 Nol's wife and the rest of the family stood waving on the platform, waiting to welcome Nol and Jagger back onto terra firma, celebrating the fulfilment of Arnold's wish of lifetime, confirming once more that dreams do come true, although it may take 83 long years!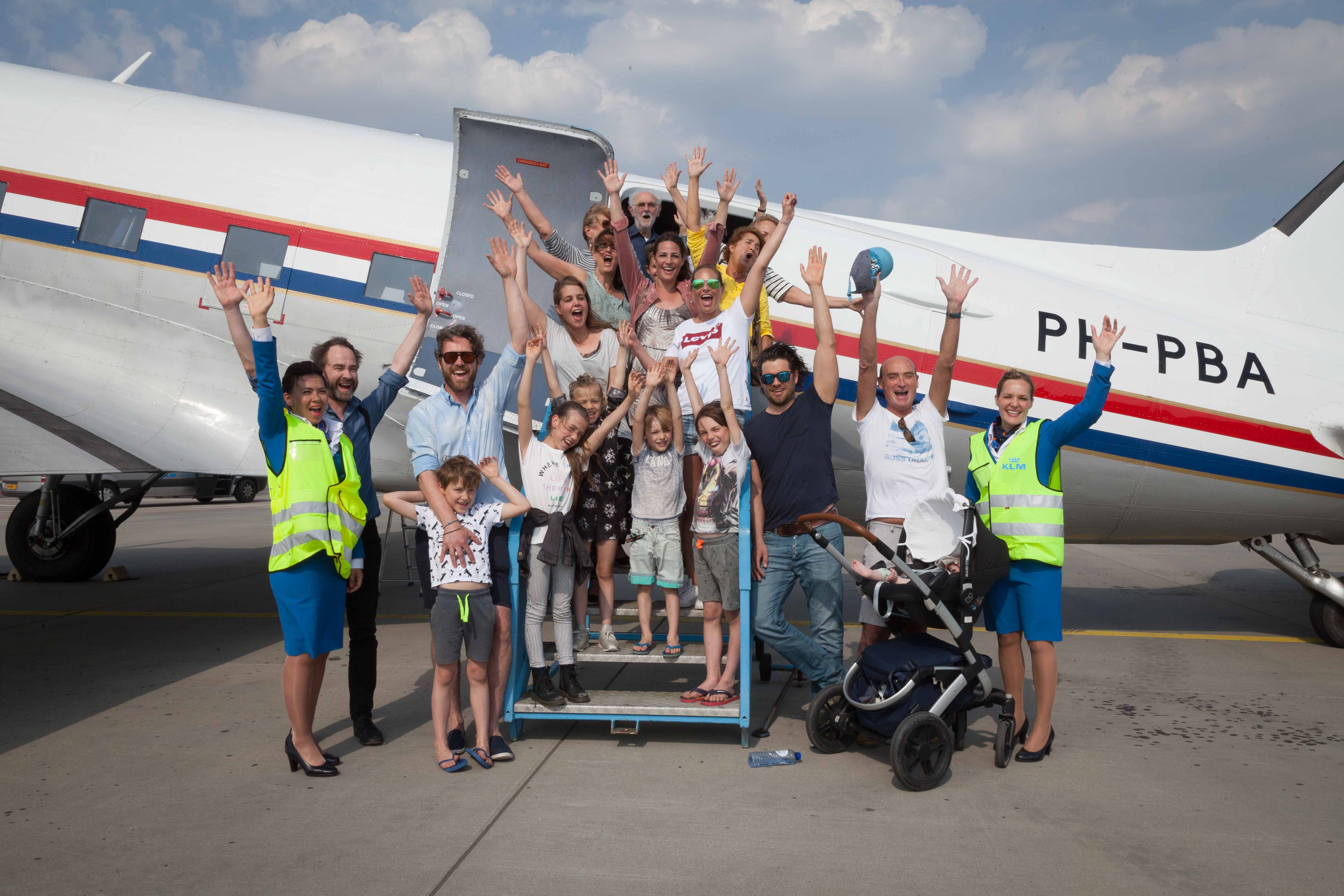 Flight certificate KLM
A flight certificate was issued to passengers who had made a sightseeing flight back in these days. Would you also like to make a sightseeing flight like Grandpa Nol and Jagger? Click here.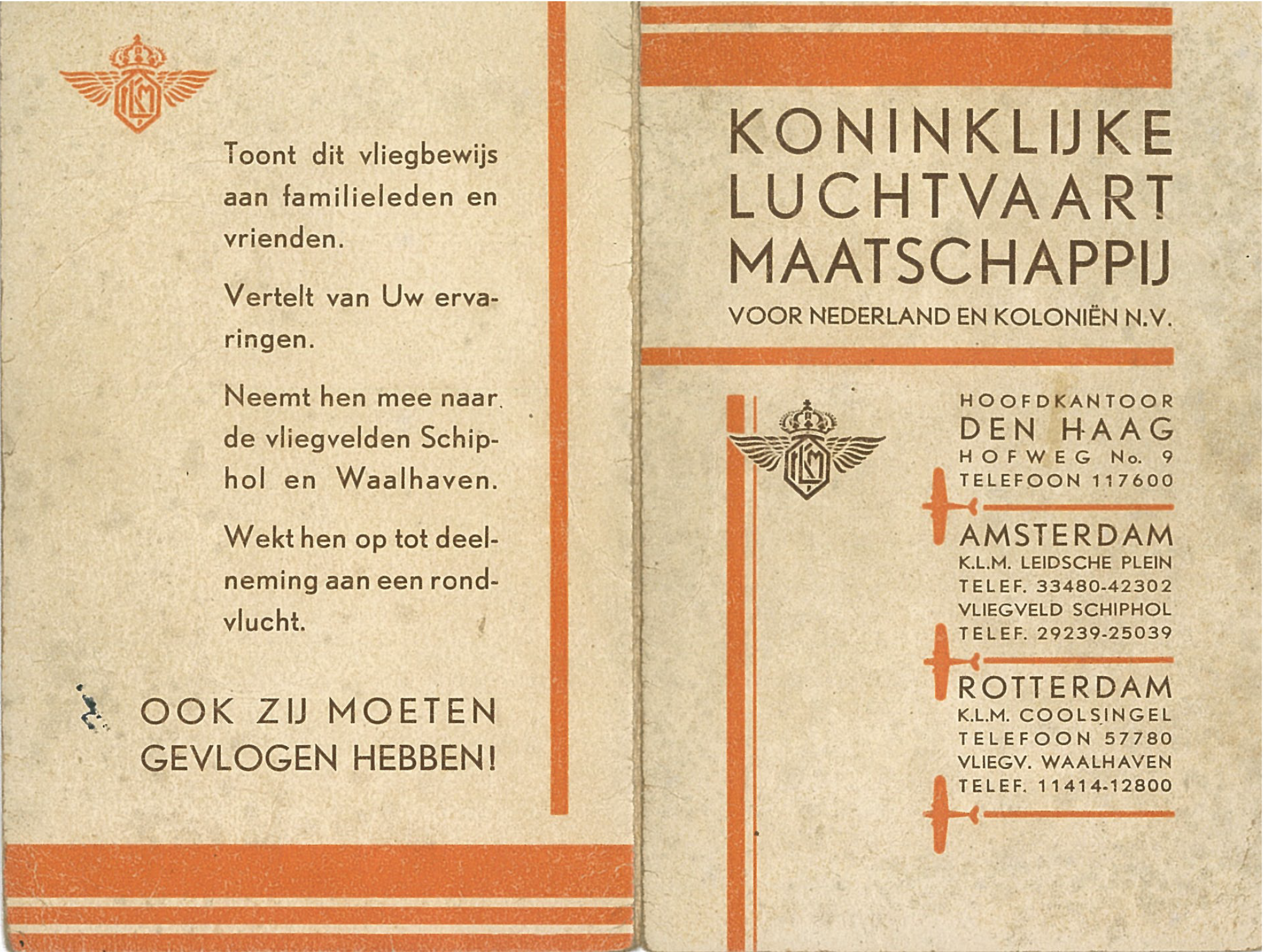 And this is what it looked like: