Dutch cheese hits the heights

The Dutch are great cheese-lovers. Breakfast is typically a slice of brown bread with cheese, they relish a tasty piece of mature cheese with a drink, and when they go abroad on holiday the thing they miss most of all is their own delicious Gouda. And the Netherlands not only has a lot of cheese fans, but also a great many cheese-makers. 'Old Amsterdam' is one of them. We share cheese with a huge public, all over the world.
But if you think that's crazy, there's even more to it! Like KLM, we also send Dutch cheese into the sky. In the case of KLM, there's the From Holland Food & Wine Festival, in which they have a real Dutch feast on every flight departing from Amsterdam. That means serving Dutch meals, typical snacks like croquettes on bread or 'poffertjes' and, of course, mature cheese.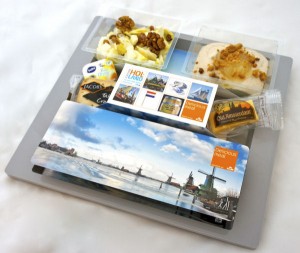 But we even send our cheese into space!
Astronaut André Kuipers has always been a great fan of mature cheese and dreamed of being able to take it with him on his upcoming space flight, scheduled for December 2011. It will provide him with a bit of home in the emptiness of space. So he asked us if we could supply him with a portion of cheese that could be eaten in orbit. As he can also take a number of extra containers with him, in addition to the standard NASA food, there's still a bit of room left for his favourite cheese. You should realise that NASA's rules for food are very strict, so the cheese will have to go through quite a lengthy process before it's allowed on board.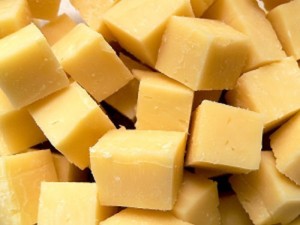 The space requirements:
* 18 pieces of mature cheese measuring approximately 3 by 10 centimetres. The pieces are fairly small owing to limited storage life after opening and room in the food containers.
*The pieces of cheese should be sealed as well as possible for storage up to one year. Although André will only stay in space for half a year, the cheese will be on a slightly longer journey. First the cheese will go from the Netherlands to Michigan (USA), then on to Texas and finally to the Russian Baikonur Cosmodrome in Kazakhstan. The last stage of all will be to the International Space Station in a Russian space freighter.
We succeeded in fulfilling all the requirements and Kuipers is extremely happy with the results. 'My American and Russian colleagues and I are looking forward to eating mature cheese in space,' he says. 'I've been regularly treating them and the instructors to a piece of mature cheese over the years. It's become a firm tradition at Star City.'
Henriëtte
Old Amsterdam