Een sociaal potje voetbal
Vandaag om 16.00 uur staan twee tot in de puntjes afgetrainde teams tegenover elkaar. De 'Blauwe Boys' van KLM spelen op hun thuisbasis tegen Heren 11 van SC Woezik uit Wijchen. De aanleiding? Een sympathiek en origineel sponsorverzoek van de kant van Woezik. Die sponsoring kwam er niet, wel een luchtig duel op Amstelveens gras.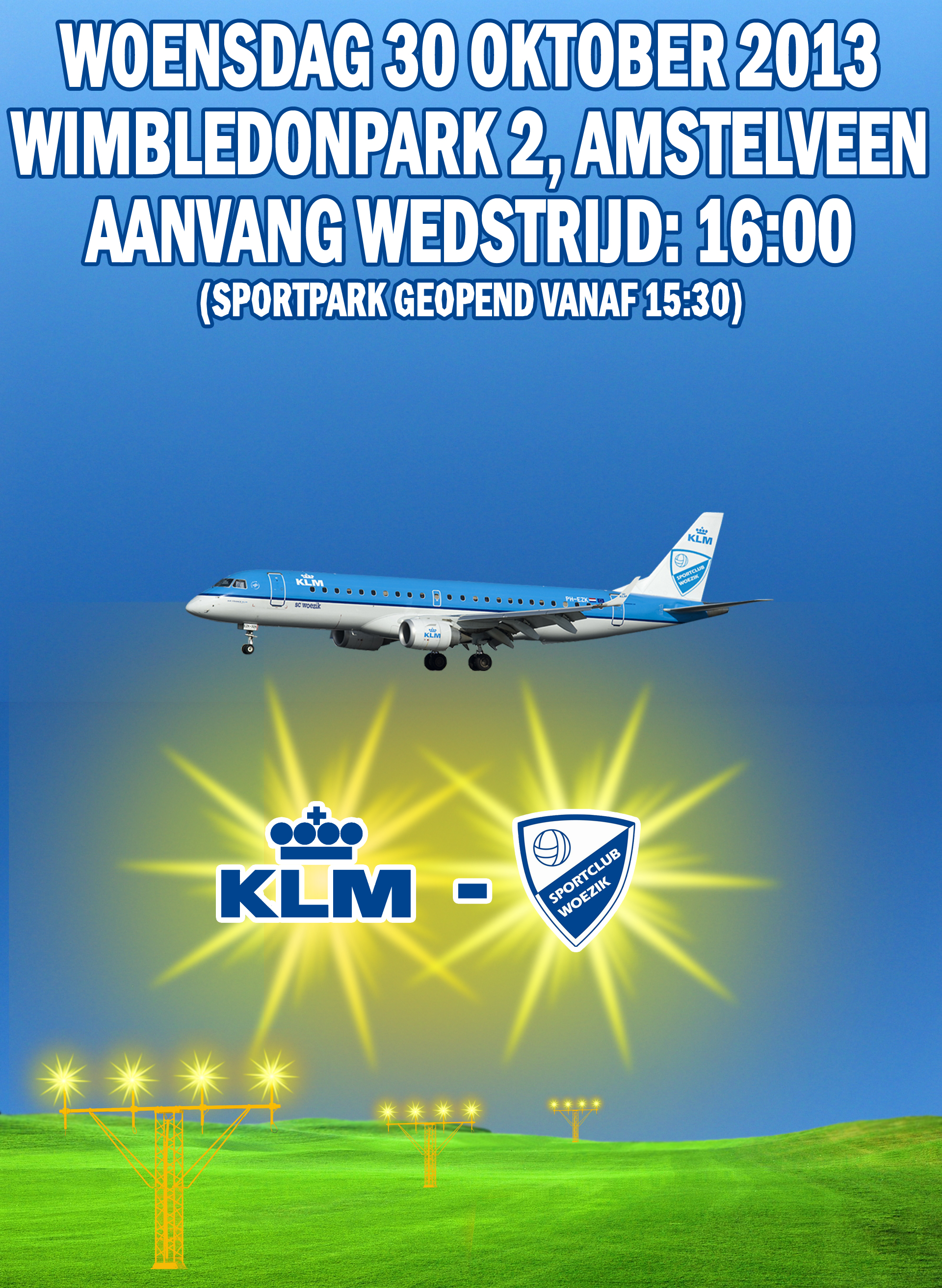 Het idee voor deze vriendschappelijke derby ontstond toen Victor, trainer/speler bij Woezik, dit filmpje online zette. Hierin somt hij de vele overeenkomsten op tussen KLM en zijn voetbalclub: 'We zijn beiden blauw-wit, we werken beiden met captains en we houden allebei van de vakantieperiode.' Wat hij eigenlijk wilde zeggen is dat het niet meer dan logisch zou zijn als KLM zijn team zou sponsoren.
Dat verzoek kwam helaas niet voorbij de sponsorcommissie. Als doekje voor het bloeden stelden we de Woezikers wel voor een uitdaging: een voetbalwedstrijd bij KLM thuis.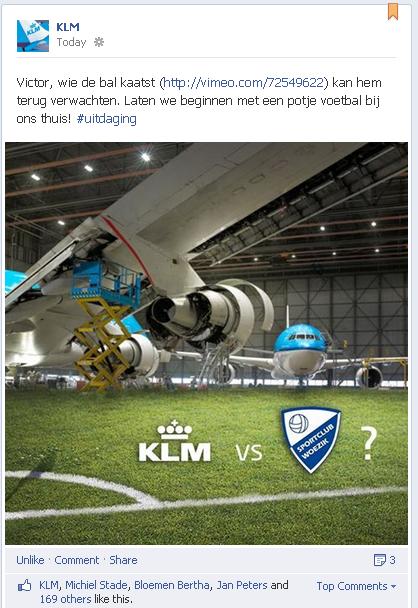 Ajax?
Het sponsorverzoek maakte niet alleen bij Victor en zijn teamgenoten uit het Gelderse dorp Wijchen veel los, ook de landelijke media had de voetbalklokken horen luiden en speculeerde er driftig op los. Een vermeende sponsordeal met Ajax zou in de maak zijn. 'Je ziet immers dat veel luchtvaartmaatschappijen in het voetbal stappen', aldus Bob van Oosterhout op BNR Nieuwsradio.
Maar ook hier: helaas. KLM's officiële statement luidde: 'Een sponsordeal is bij KLM niet bekend. Wij richten ons op de wedstrijd tegen SC Woezik.'
En zo is het. Het filmpje van Victor werd in een week meer dan 13.000 keer bekeken. Verschillende kranten (lokaal en landelijk) schreven erover en lokale tv en radiostations belden Victor voor een interview. En Victor zou Victor niet zijn als hij daar niet weer een origineel filmverslag van maakte.
Vandaag is het dan zover. De twee zwaargewichten staan tegenover elkaar in wat nu al de social soccer klassieker van het jaar genoemd kan worden. Om 15.45 uur trapt oud-speler van SC Woezik en de huidige jeugdtrainer van Feyenoord Roy Makaay af met een warming up. Om 16.15 uur begint de wedstrijd. We doen live verslag op Twitter via #KLMWoezik.

UPDATE: The day after…
In het 'luchtige duel' om de eer waren beide teams behoorlijk aan elkaar gewaagd waardoor de stand met rust 1 – 1 was. Pas in de tweede helft lieten de mannen van Woezik 11 hun tanden zien en wisten verschillende kansen te creëren. Dankzij de uitmuntende reddingen van de keeper van KLM konden zij deze echter niet verzilveren. De verrassing van de wedstrijd was een harde halve omhaal van de centrale verdediger van KLM. Desondanks kwam de bal in de handen van de, eveneens uitstekende, keeper van Woezik terecht. De wedstrijd eindigde in gelijkspel: 2 – 2.




UPDATE 2:  The after movie…
Geheel in de stijl van Victor een mooie samenvatting van een bijzondere dag!