Five reasons why it's amazing to fly for KLM Cityhopper
As a young girl, I used to watch the aeroplanes overhead and when anyone asked me what I wanted to be when I grew up, I didn't hesitate saying: "I want to become a stewardess." And that's exactly what I did: around six years ago, I began flying for KLM Cityhopper. And, after six incredibly amazing years, I've just taken the step to join "the big KLM". "Will you miss KLM Cityhopper?" Yes, absolutely! And that's what prompted me to share my five biggest reasons for finding it amazing to have flown for KLM Cityhopper.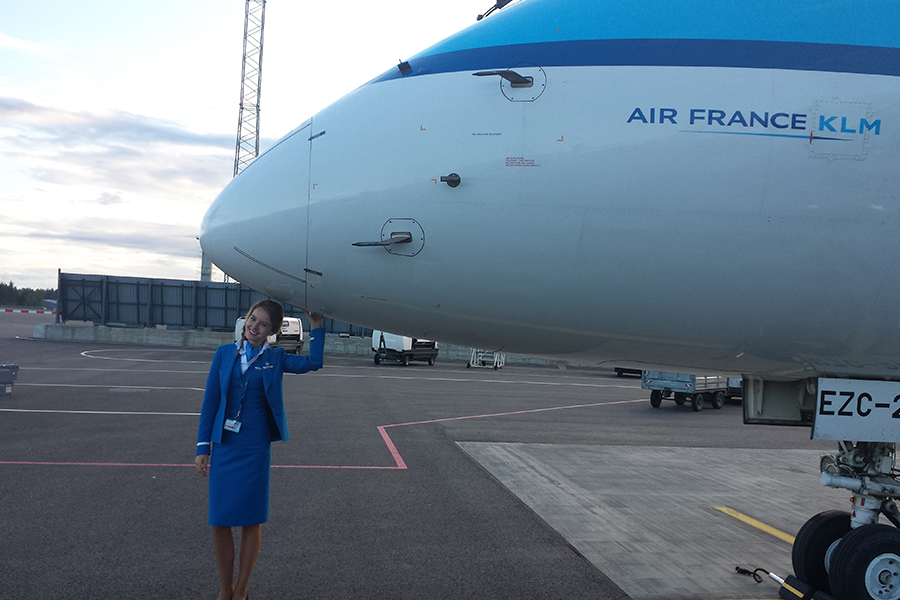 1. Teamwork makes the dream work
I was 21 when I first took to the skies with KLM Cityhopper. The rest of the team weren't much older: my colleague was 24 and both pilots were around 30. Did you know that the combined age of our four-person team doesn't even add up to 100 sometimes?
You carry a great deal of responsibility working in a small team. Dealing with a measure of stress goes with the territory, because the flights are often short and there's a lot to do. But it's fantastic to pull together as a team to get the job done as efficiently as possible, while at the same time giving the passengers the attention they deserve. There's no time to twiddle your thumbs, certainly because we have to nail the "turnaround" within half an hour of arriving at the gate, before departing for one of KLC's 70 European destinations.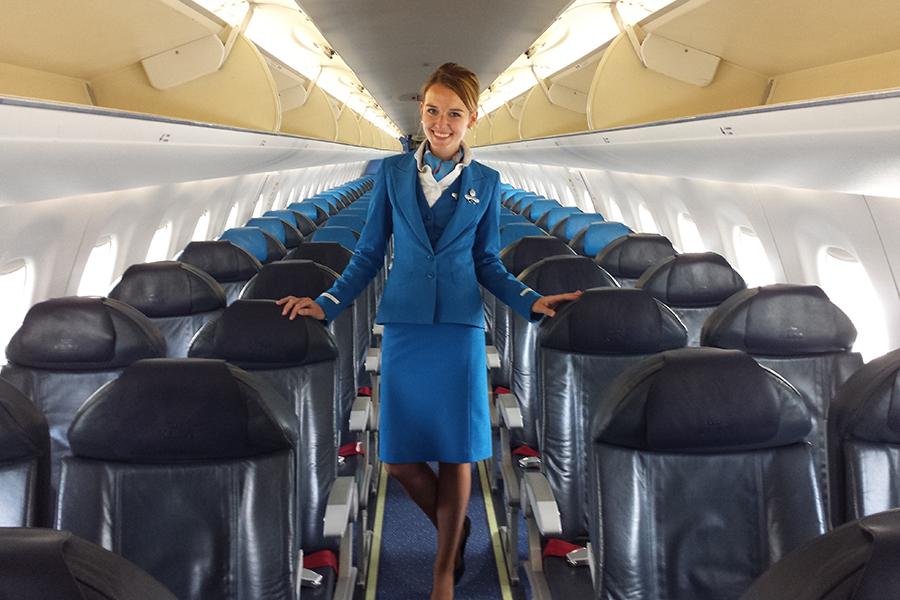 2. Moving your World
The passengers are the nicest thing about my job. We welcome the entire world on board. That means a huge diversity of cultures, and exciting, interesting stories. I make sure I set aside time to chat. From couples heading off on their honeymoon, people emigrating, people heading off to discover Europe, visit a family member, for work or simply heading home, if they're happy when they disembark, I've done my job properly.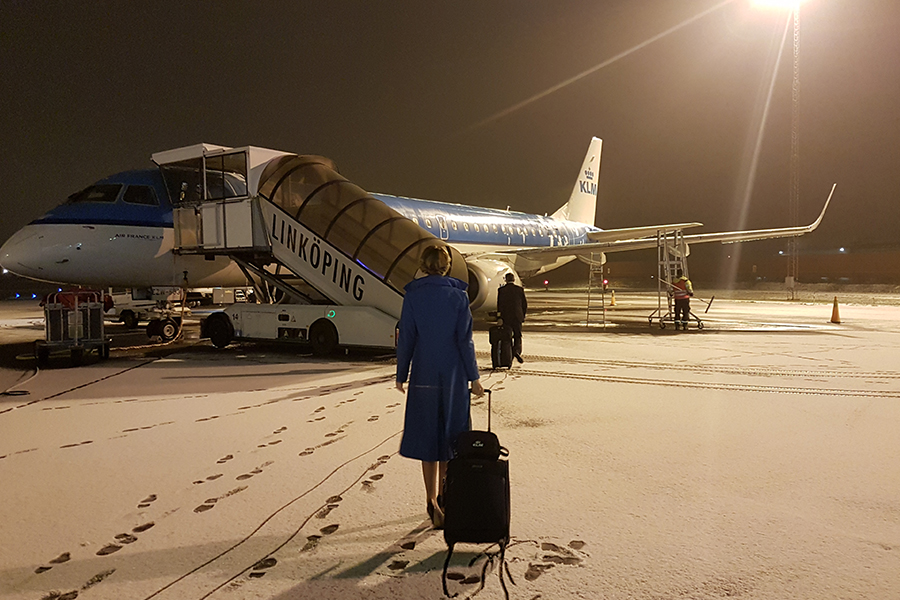 3. Cityhoppin'
No two days are the same in the world of aviation. Every now and then I do a daytime shift, starting and finishing in Amsterdam or city hopping across Europe for a few days. And public holidays are no exception. One year you get to celebrate Christmas with your family and then ring in the New Year with your colleagues at a club in Nice. The next year, you may be sitting down to Christmas dinner with your colleagues in Bologna.
My favourite flights are stops with a nice crew, where we set about doing something together. My favourite destination? Trondheim. But, as you can imagine, strolling around in amazing cities like Prague, Kraków, Florence, Toulouse or Bilbao is also fantastic.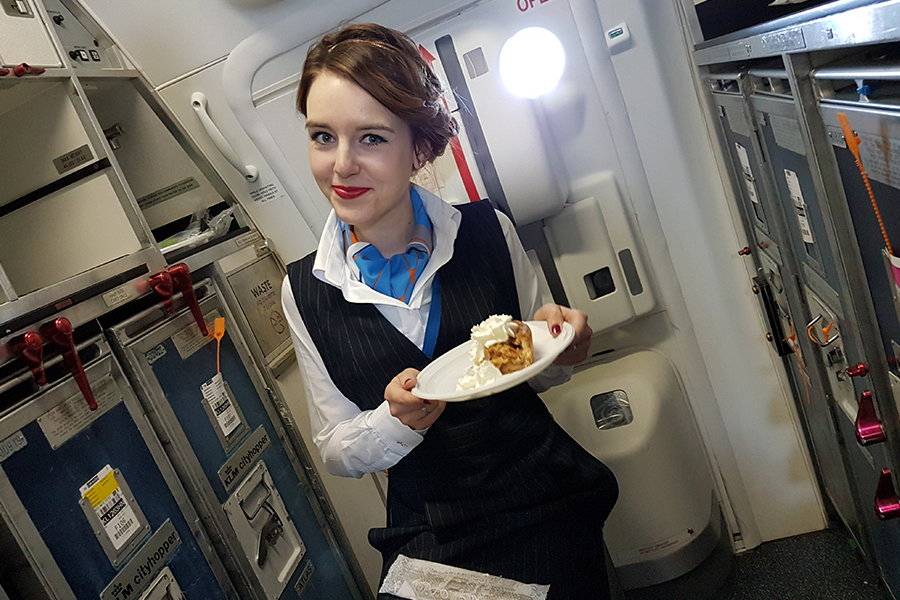 4. What you give is what you get
Of course, there are standing procedures and regulations on board. My main task is taking care of passenger safety. And you do this together with your three colleagues. But there's also enough leeway to add your own personal touch. And the great thing is: you get what you give. And that's how you set the tone. I always see this as my personal challenge no matter how short the flight is. Nothing beats saying goodbye to happy, satisfied passengers.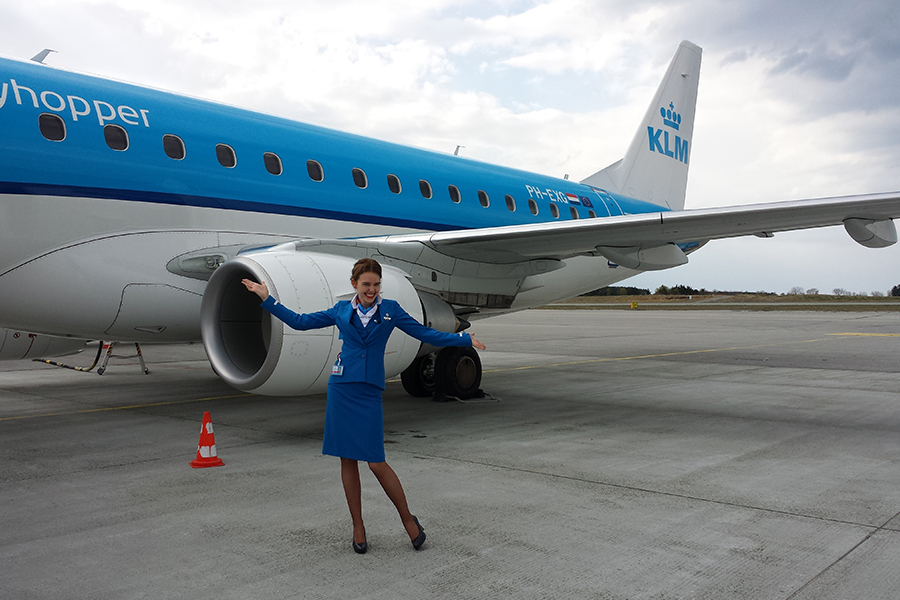 5. Blue heart
As the name says, KLM Cityhopper is part of the KLM Group. It's literally a mini-KLM. The group of colleagues is smaller and you carry more responsibility because you work as a small team. And you can earn promotion quickly. And if you want to broaden your horizons, you can progress to KLM after flying for KLM Cityhopper for five years. You then trade in the Embraer for the Airbus and the Boeing. I recently progressed to working for KLM myself. I've had to swap the fat stripe on my uniform as an inflight supervisor for the narrow, one-striper's decoration. And all the memories? They live on. Because my six-year stint at KLM Cityhopper was amazing and I wouldn't have traded it in for a pile of gold.
Excited after reading my blog? Check out this link: maybe you'll be welcoming passengers aboard a KLM Cityhopper flight as a cabin attendant in the near future.
Would you like to follow my latest adventures or look back at all my wonderful experiences with KLM Cityhopper? Check out my Instagram account @shalanevermeulen.