How ten year old Boris is building a plane in Finland
A colleague recently dropped by with a letter and said: "You know people at Engineering & Maintenance, don't you? Maybe they can help." KLM gets lots of messages via social media nowadays, but we also still receive very special letters from time to time. This one was addressed in big letters to "The director of the Airplane Parts Factory". The envelope contained a letter written in pencil, with sections underlined in KLM blue, as well as a detailed drawing of the cockpit. "My name is Boris and I am 9 years old. I moved to Finland in 2016 and want to be a pilot when I grow up. I am building an airplane in our back yard. A kind of simulator. Could you maybe send me some spare parts? Like dials or a handle? Have a good flight."
As you can see, Boris put a lot effort into his letter and drawing, so I decided to phone around and see if anyone could help our young friend in Finland.
I called KLM Engineering & Maintenance in Hangar 14, where they put me through to Hangar 11. Eventually, I was put in touch with Marc Kesting of Material Airframe. He was willing to help, but there was a hitch: "You can't just send stuff. There are all sorts of legal restrictions."
"Aaah, come on. Maybe just some…stuff…stickers…and a thingamabob…" (I honestly had no idea what I wanted, because despite my experience with Engineering & Maintenance, I'd never quite got the hang of the technical lingo.)
"And who's going to deliver all that stuff?"
"You maybe?" I suggested hopefully. "And then we'll shoot a video."
That was a big no-go. The guys at Material Airframe don't like being in the spotlight, let alone starring in a video clip. And moreover, KLM does not ever hand out spare airplane parts on request.
But once, in a very special case we can make an exception. And for Boris this is that special time. So they prepared a small boxful of…well, stuff. I spotted a seatbelt and a TV monitor. They also called over Richard Houweling of Safety & Quality, because all parts, even those that have been rejected, are registered. Which means you can't just give them away. They need to be released by way of special documentation, with permission from KLM. They also have to be fully disabled, so that they can't be installed in any other aircraft.
It wasn't easy. After two months, the box full of stuff was still standing in the warehouse. To keep my spirits up, I decided to phone Boris's mother, Aline, to warn her that she might be receiving a package sometime soon. She was astonished to hear what we were up to. They'd sent the letter off ages ago and had explained to Boris that not all big businesses had time for this sort of thing.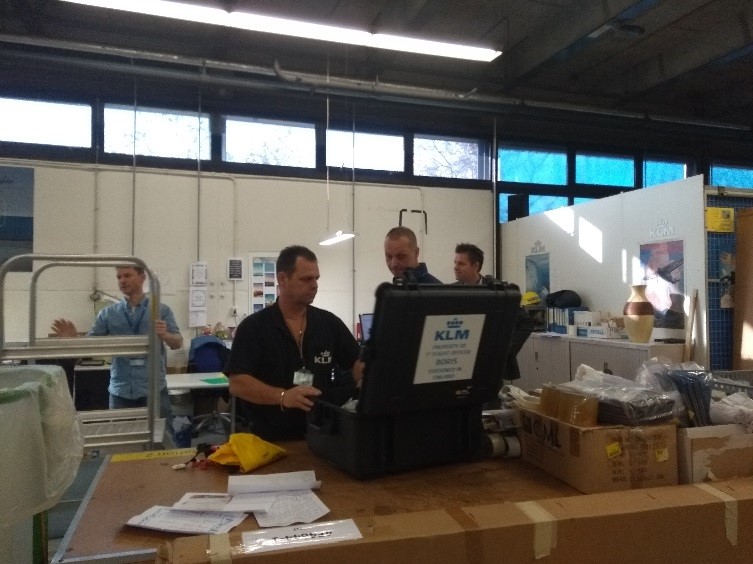 "We make time at KLM!" I boasted proudly, although I was a bit worried about our precious package in Hangar 11. I asked her not to tell Boris, because we wanted it to be a surprise.
Emails were exchanged containing photos of the house in Finland and Boris's plane in the back yard. The photos revealed that Boris was a creative constructor. The cockpit had a pair of door handles to steer with, bottle tops as dials, and a whole lot more. I forwarded all the photos to Material Airframe and then the magic began…
As if the technicians suddenly understood the language Boris was speaking.
The next time I dropped in to check on them, the cardboard box had been upgraded to a very cool tool case, which contained twice as many parts as before. Boris's drawing was up on the notice board in the warehouse and Armand, one of the mechanics, was preparing a seat.
"Armand! A seat? Seriously?!"
"For a kid like that? Come on! We can send it all as cargo?"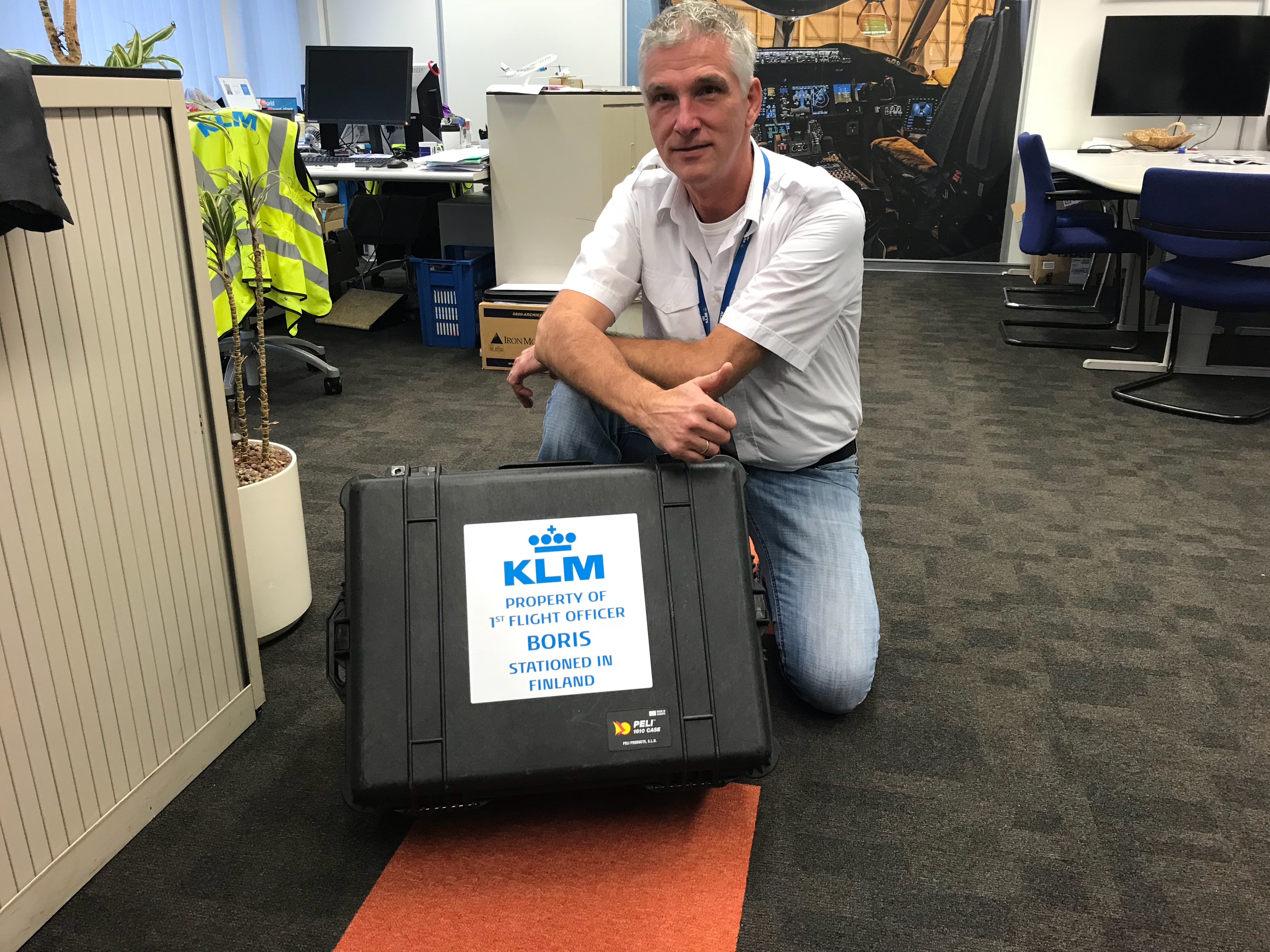 We sent Joep around to Hangar 11 with his camera, because we really wanted to capture all this on film. The tech guys stayed out of shot, but Joep stood in for them.
After a last check by Richard Houweling, the tool case was closed. The tech guys kindly agreed to pose with the case, specially made for Boris, decorated with a KLM sticker.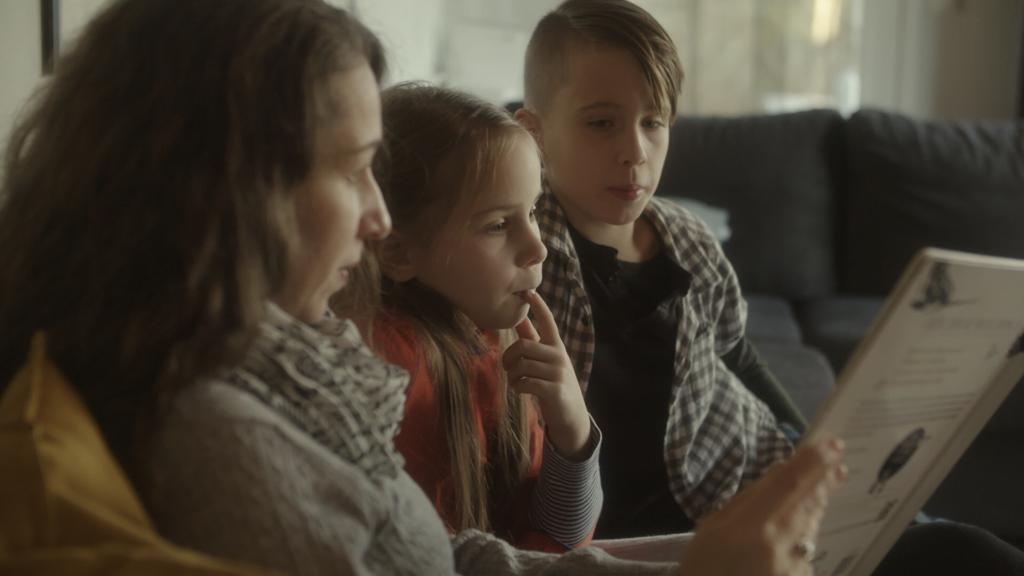 Joep and cameraman Wouter brought the case to Oulu, the largest town in the province of Lapland, with 200,000 inhabitants. Oulu is more than 600 kilometres from Helsinki. Aline managed to stay calm, although it was difficult to keep things hidden from Boris, who was walking around the house with a KLM cap on his head. He'd also downloaded an app that allowed him to keep track of everything related to KLM. Aline was quite relieved when the visitors showed up, carrying their special package.
The two KLM delivery men got a warm welcome and spent a day with the Dutch family in Finland. Boris was a bit bemused at first, but he was thrilled with the surprise.
What the video doesn't show is that Boris knew exactly what each of the components in the case were called. He is currently working hard on the installation.
Everyone who was involved in the Boris Adventure still gets a big smile on their face whenever it is mentioned. Because making a dream come true is just as much fun as being part of that dream.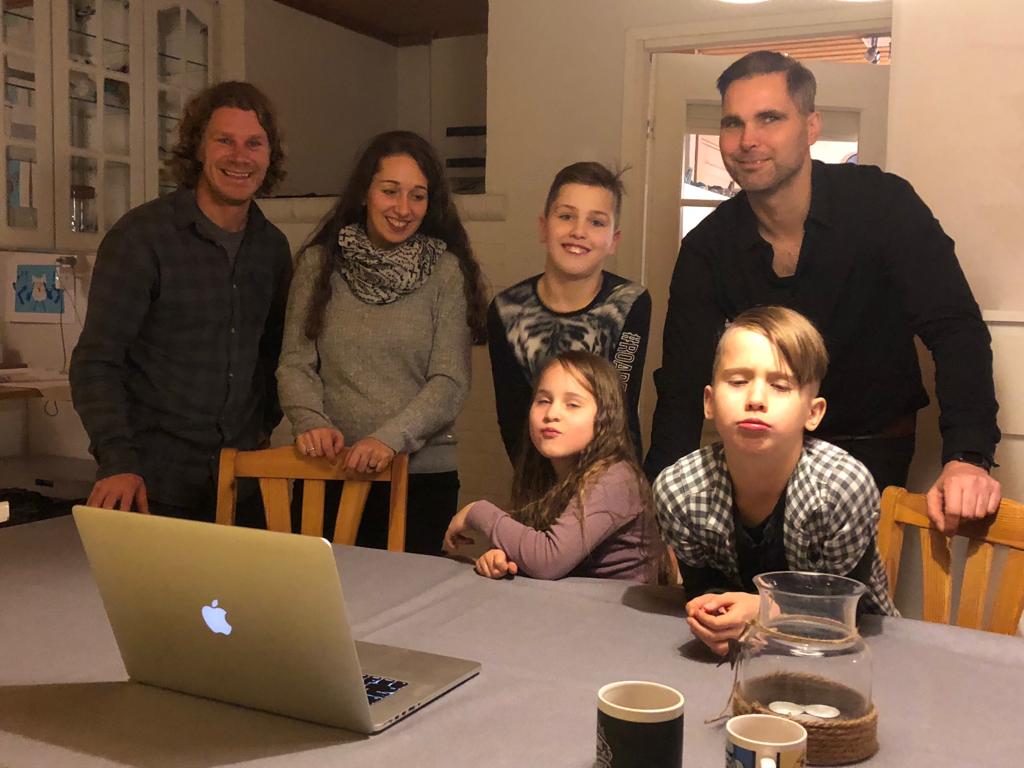 Thank you all, but especially the guys at Material Airframe in Hangar 11, for making this possible. I knew you'd help, otherwise I'd never have knocked on your door.