KLM's Boeing 787 Dreamliner Virtual Reality Tour
Have you received a Virtual Reality headset as a gift? Big chance, since the VR Goggles were one of the most popular presents these days. These goggles are a cool gadget that you'll be hearing a lot more about in future. But what exactly do they do? Well, for one thing, you can use them to sneak aboard KLM's Dreamliner.
My name is Jacob Post and I helped develop the "Royal Dutch 787 VR Experience" together with a company called The Virtual Dutch Men. It's an interactive game that takes you aboard KLM's Boeing 787 Dreamliner, challenging you to track down as many of the latest innovations as possible. A fun way to get to know our newest aircraft. Download the Cardboard app (iOS – Android) if you want to experience it yourself.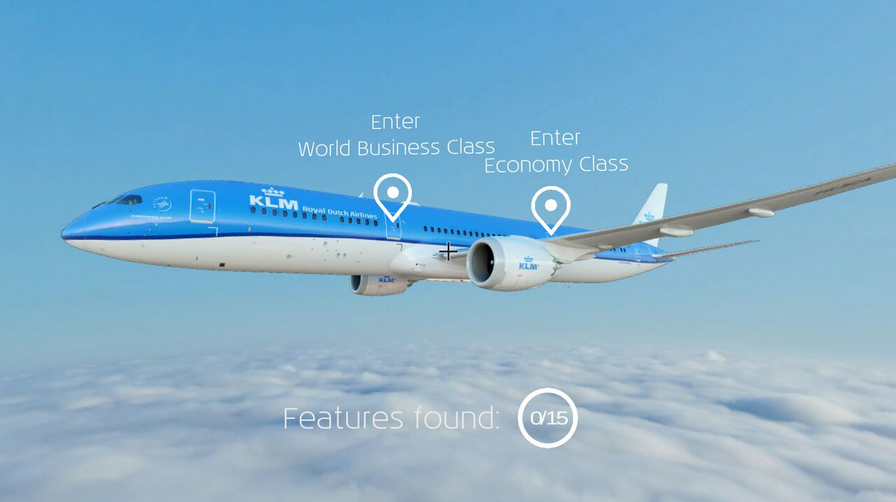 Almost real
Virtual Reality (VR for short) is a simulated environment in which you get a 360-degree life-like experience. It's like being in a completely different place, without actually moving.
VR isn't new. It's been around since the 1980s, but has only really found its way to the broader public in the past year. In 2014, Google launched a cardboard model – aptly called "Cardboard" – selling more than a million pairs in that year. Since then, Oculus have been doing well with their Oculus Rift and Gear VR goggles, which were developed in cooperation with Samsung and are available for around EUR 100.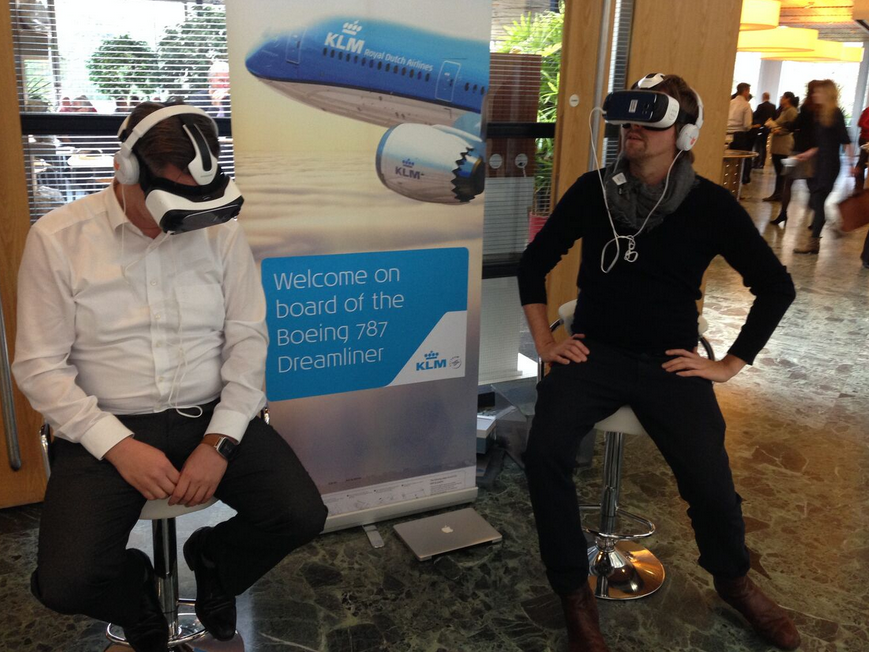 A whole new world
KLM also recently began experimenting with VR. Why? Because VR is going to change the way of flying. We can create new worlds on board. Imagine if you could get a true cinema experience while watching a movie on board, or if we could offer people with fear of flying a more relaxed environment while in flight. Or how about presenting our products from the inflight magazines in a virtual shopping mall? Or if we virtually move you to a nice little french terrace during the meal on-board? The possibilities are endless.
The arrival of KLM's first Boeing 787 Dreamliner presents an ideal opportunity to experiment with virtual reality. This plane has so many innovative features, so we went in search of a great way to put this across to the public. This led to the "Royal Dutch 787 VR Experience", a Cardboard VR app that gives you the feeling you're really aboard the Dreamliner. You can sit in a new World Business Class seat, test one of the new 11-inch monitors in Economy Class, and a whole lot more.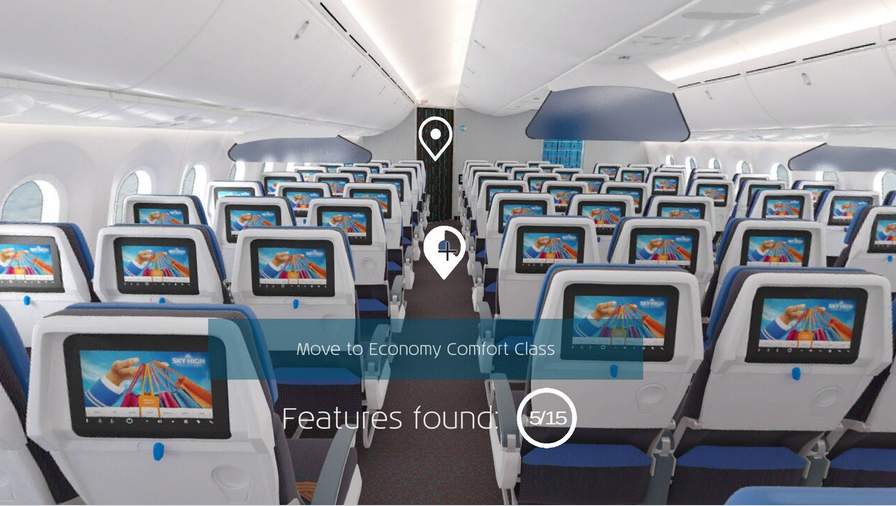 Can you believe what you just saw?
The response has been fantastic! People can't believe their eyes when they put on the goggles. "It's like actually being there!" When you remove the goggles, it really takes some time to readjust to reality.
Would you like to share this experience?
If you already have Cardboard VR goggles, then you can download the app on your phone and get on board! You can also use the app without goggles. The experience is less intense, of course, but still pretty brilliant.
We challenge you to find 15 innovative features aboard KLM's new pride and joy: the Boeing 787 Dreamliner.