People from all over the world to marvel at Dresden's baroque skyline, which can best be viewed from the opposite bank of Elbe in Neustadt, a district which isn't as new as its name suggests, but certainly hip enough to be renamed Little Berlin. The city of Dresden became KLM's newest destination on 16 May.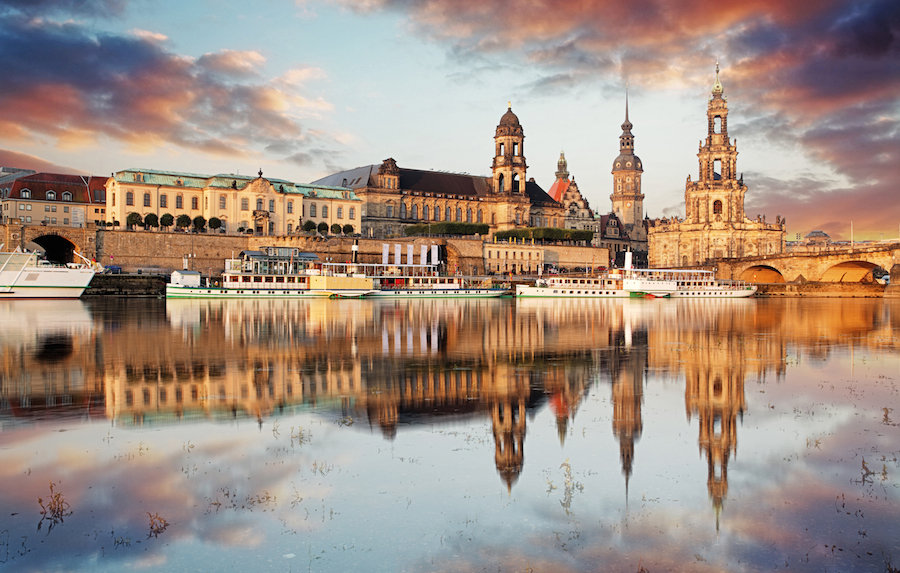 Dresden is sometimes referred to as "Florence on the Elbe". In bygone years, the capital city of Saxony was home to prince-electors and queens, who built glorious residences and ostentatious palaces in baroque and rococo style. The city's recent history is more turbulent, with a particularly dark chapter at the end of the Second World War, when Dresden was largely destroyed by an allied bombardment and the ensuing firestorm.
The city subsequently disappeared behind the Iron Curtain, where plans were made to transform it into a socialist metropolis. Many of the historical buildings were lost, others were only rebuilt many decades later, when urban renewal was made a priority, following the reunification of East and West Germany. The city has yet to complete this mammoth project, but today the old centre sparkles as never before.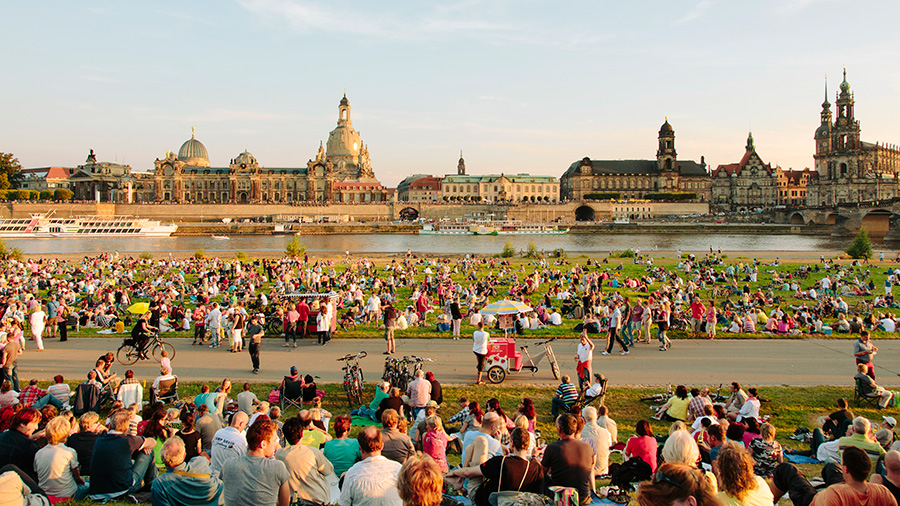 The baroque skyline is best viewed from Neustadt (photo: Sven Döring)
[tweet text="The elegant Königstrasse is in stark contrast with the grey concrete blocks covered in graffiti."]
Hipsterville Neustadt
As the name suggests, Neustadt (Newtown) is the newer part of the city. However, in this instance "new" is actually relatively old, because many of the baroque buildings in this part of the city survived the bombardment. As a result, Neustadt combines an historical flavour with communist Plattenbau architecture. This part of Dresden was neglected for many years, but it is gradually being revamped.
Neustadt is home to many students and therefore has the raw, creative and eclectic feel of Berlin, albeit on a smaller scale. The elegant Königstrasse takes you back to the heyday of Saxon royalty, but just around the corner you'll find heavy, concrete blocks, decorated with graffiti. Neustadt is the place to be for those in search of art, culture and food. All these elements are combined in the monumental Neustädter Markthalle, which offers souvenirs, local delicacies and other culinary delights, as well as an art and antiques market on weekends.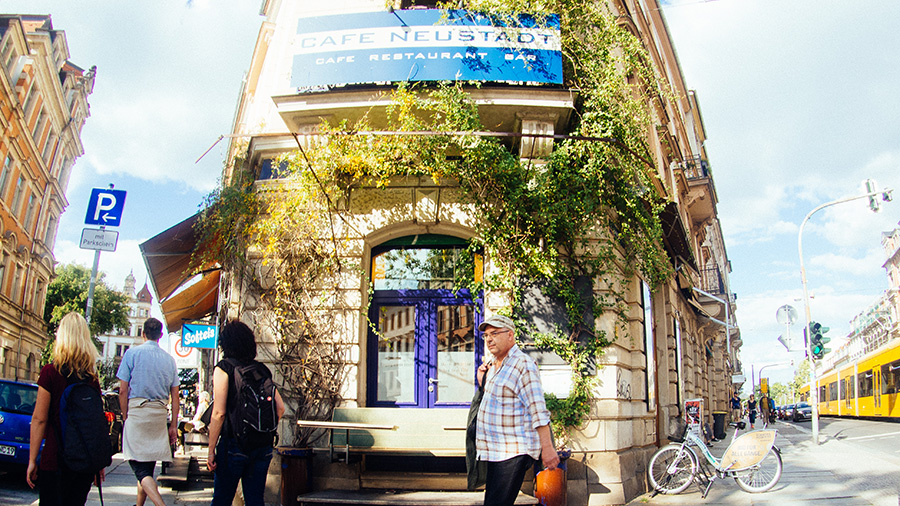 Start the day with a hearty breakfast at Café Neustadt (photo: Jörg Schubert)
Organic coffee and veggie burgers
Get off to a healthy start at Café Neustadt, which offers an avalanche of fruit, yoghurt and muesli. Hips coffee bars and restaurants are popping up all over town like organic mushrooms. Gluten-free, vegetarian, vegan – you'll find whatever takes your fancy in Neustadt. The guys at Phoenix Coffee Roasters will lovingly brew you a perfect espresso or cappuccino using only the finest roasted beans.
For a tasty hamburger, head over to Devil's Kitchen, where the superb food fully compensates for the somewhat shabby retro interior. And then there's the imbiss Kochbox, which stays open till deep in the night on weekends, making it perfect for a late-night snack, washed down with a Fritz Kola.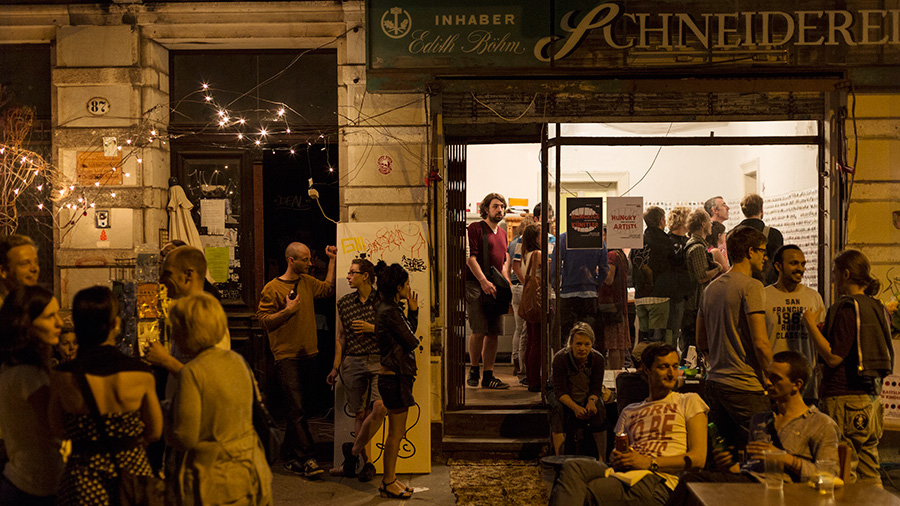 The Szeneviertel, with 100 bars and galleries, is the hippest quarter of Neustadt (photo: Sven Döring)
Singing drainpipes
The Kunsthofpassage is well hidden, making it even more of a surprise when you pass through the gateway and discover the series of courtyards that were redesigned, refitted and wholly redecorated by a group of artists. With its playful design, bright colours and natural elements, this Gesamtkunstwerk is reminiscent of Hundertwasser in Wenen and Gaudí's work in Barcelona.
The Courtyard of the Elements is particularly popular, because it has the building with the "singing drainpipes". You'll have to brave the rain to get the full experience, but even then you're not always guaranteed to hear anything out of the ordinary. However, the creation itself is music to the eye. While you're enjoying the view, you can order a nice cup of coffee at one of the courtyard terraces. In addition to several bars, you'll also find artist's studios and craft shops selling handbags, jewellery and other wantables.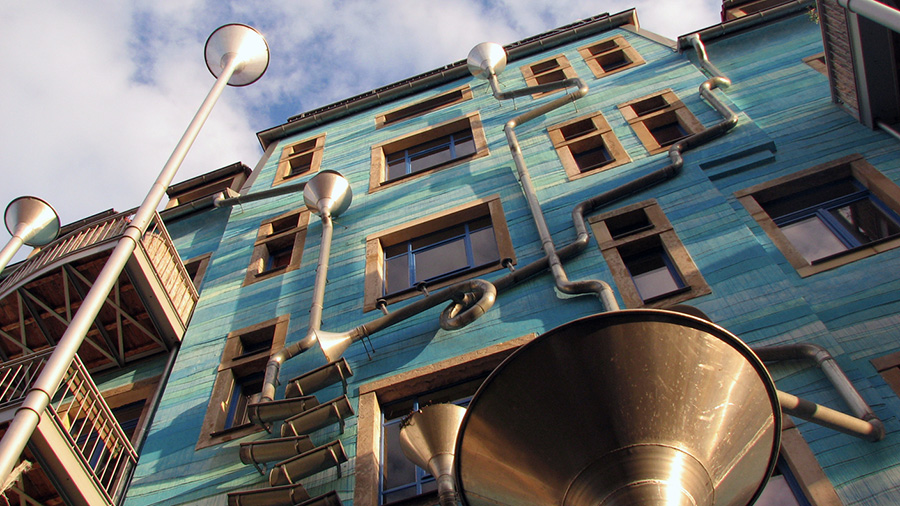 To hear the drainpipes singing, you have to come back when it's raining. (photo: André Faust)
Summer music
Dresden has plenty of festivals in summer, and Neustadt swings along, especially in June during the Bunte Repubik Neustadt. This was the name of the "free state" founded here in 1990, soon after reunification, in protest against the authorities, extortionate rent, capitalism and other grievances. The Republic of Neustadt had a king without powers, its own flag and its own currency, the Neustadt Mark. The republic survived for three years before it was disbanded, but it is revived once a year during a three-days festival with live music, DJs, theatre, outdoor bars and kitchens, and children's activities. Open-air concerts are often held in the old centre of Dresden during the summer, and with a bit of luck, you can hear them from across Elbe. Lay down your picnic blanket on the Neustadt bank of the river, open a bottle of wine and enjoy!
You can book your ticket here.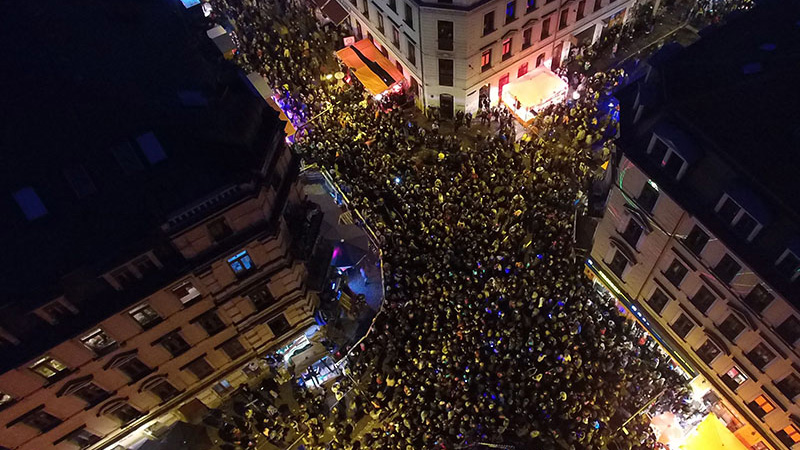 The Bunte Republik Neustadt is annually revived with a three-day summer festival.
Useful information
On 16 May, Dresden became KLM's 10th destination in Germany served directly from Amsterdam. The daily flight will be operated with a Fokker 70.
Neustädter Markthalle, Metzer Str. 1, Mon.-Sat. 08-20.
Phoenix Coffee Roasters, Bautzner Str. 75, Thurs.-Sat. 10-18.
Devil's Kitchen, Alaunstr. 39, Mon.-Sun. 12-22.
Kochbox, Görlitzer Str. 4, Sun.-Thurs. 11:30-01:30, Fri.-Sat. 11:30-03:30
Kunsthofpassage, Görlitzer Str. 25.
Bunte Republik Neustadt, 17-19 June, Äußere Neustadt.
Marjolein Koster (1990) is a journalist speciliased in foreign politics and development cooperation. She loves exploring new cultures and writing about her discoveries. She particularly enjoys travelling to places she has never visited before. https://marjoleinkoster.wordpress.com/
This article was produced in cooperation with the Dutch School for Travel Journalism.