Medal winner flies medal winners
She knows exactly how it feels: the euphoria of winning, the team spirit, returning home, the heroes' welcome and the exhaustion. First officer Lisa Westerhof won a bronze medal for sailing during the 2012 Olympic Games in London. And she now joined Captain Robert Janssen to fly the Dutch Olympic Team back from Sochi to the Netherlands on Monday, 24 February.
"Just over a week ago, I was asked if I'd like to operate this flight. Fantastic of course! I couldn't wait and experienced it as a great honour to fly the athletes back to the Netherlands. I know lots of the athletes and staff in the world of professional sports, so it was also a great reunion."
"Before departure, I visited the cabin to say 'Hi'. Everyone was elated and exhausted after the competition – not to mention all the partying afterwards. The atmosphere was incredible and the aisles were busy. You know, athletes all have ants in their pants."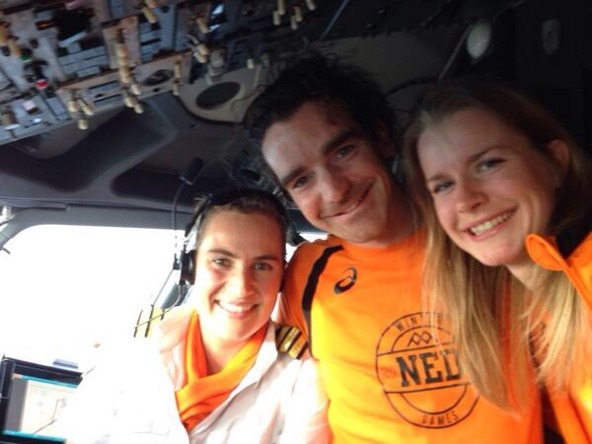 Lisa with Bob de Jong and Yara van Kerkhof.
All sorts of extras had been arranged for the flight: business class service, orange scarves for the crew, Dopper bottles for the sports heroes and so much more.  The captain and purser gave the passengers an enthusiastic, warm word of welcome and the crew kept spirits on board high throughout the flight.
Ireen Wüst was in the cockpit during landing. She waved the flag during taxiing. Quite an achievement given the size of our B737's cockpit window and the fact that the captain and I were in the way. Ha-ha! Just kidding.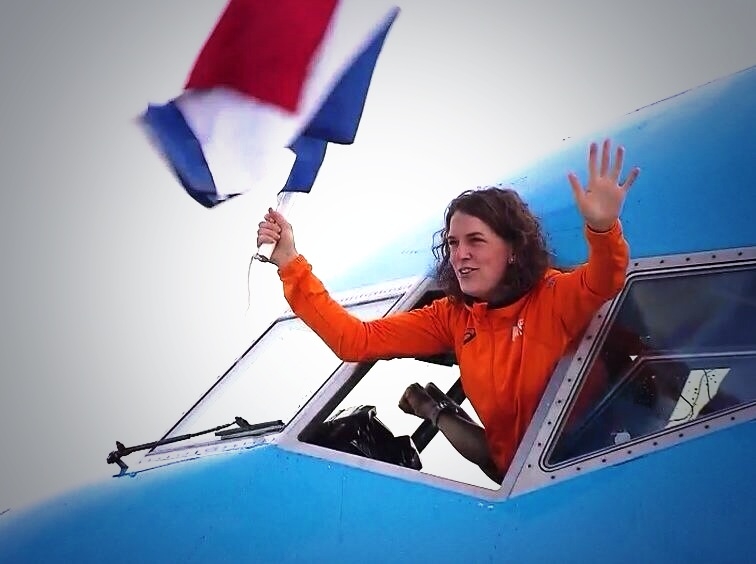 Ireen Wüst
Hundreds of well-wishers gathered at the start of the runway in Eelde to wave at the plane; that was certainly a unique experience.
"All in all, it was an exceptional flight on an exceptional day! Spending time amongst the sports champions has given me itchy feet again. No, seriously, I quit professional sport in 2012. My manager sent me a text message just before the flight saying: 'Careful the Olympic fever doesn't grip you again' No chance, I'll still be flying for KLM!"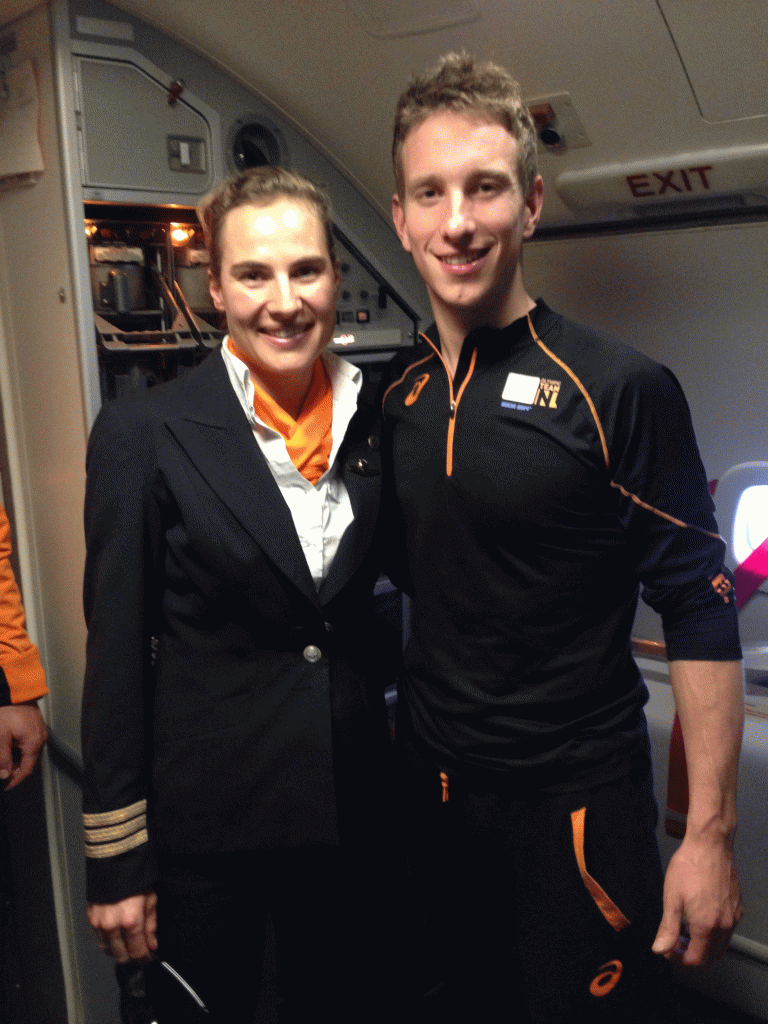 Lisa Westerhof
First Officer Boeing 737
The 2014 Sochi Winter Olympics were the most successful ever for the Netherlands thanks to the skating. A total of 24 athletes returned home with medals, including 8 gold, 7 silver and 9 bronze. Four of the ten skating stands were completely orange.