I thought everyone was going to say: ABBA, Bjorn Borg and IKEA, but I was wrong, very wrong. Only one of my e-friends had similar thoughts when I ran a poll on Facebook and Twitter, asking: "What/who are the three things/people that come to mind when you see the word 'Sweden'?"
Here are some of the replies I got.
Petra: "ABBA, IKEA, Swedish flag"
Graham: "Hammarby, Systembolaget, yoghurt"
Willem: "poetry, porn, cars"
Lesley: "tall beautiful blondes, Wallander, Volvos"
Sipho: "Stockholm Syndrome, Saab, Socialism"
Isabella: "Thailand Tsunami Tragedy, blondes, Volvo"
Etienne: "The Chef, meatballs, Moot Moot Moot"
Malcolme: "blonde, leggy, porn"
Karen: "Strindberg, ABBA, Larsson (Nobel, Assange, Muumin)"
Barnabas: "excellent healthcare, excellent public transport, sh*t beer"
Petina: "Going to Eden by way of Sweden"
Eric: "Jaap, van, Zweden"
It's good to see that Sweden has gained renown for a wide variety of reasons, ranging from cars and music to political policy and, erm, popular content. I was, however, a little disappointed not to see "Säkerhets Tändstickor" on the list. Those were the first Swedish words I learned. They are printed on every box of Svalan matches, and whenever I light a cigarette I whisper them to myself in my best Swedish accent. Give it a try: "Säkerhets Tändstickor."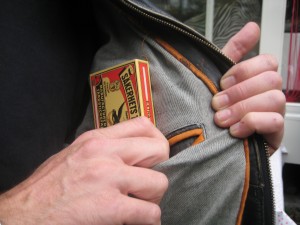 Because I've been whispering those words for well over twenty years now, I decided it was high time to extend my range of Swedish phrases. So I asked the only Swedish person I know, Bodil, to list her favourite sight, sound, scent and taste in Stockholm. I hope you'll join me in whispering her words in your best Swedish accent as I attempt to decipher them.
Sight: "Kungsträdgården är ett levande område som binder ihop det gamla Stockholm med det nya" – I think Bodil may be referring to a park in Stockholm, possibly with statues on display. My guess is: "Kungsträdgården is living history that keeps all of Stockholm spellbound."
Sound: "Oändligt högt pratande i mobiltelefon, överallt" – I think I know what Bodil means: "People talking much too loudly on their mobile phones everywhere." Some people hate this, but I quite enjoy gaining insight into the lives of strangers on the bus.
Scent: "Doften av nygräddade våfflor på serveringen vid kungliga slottet Drottningholm" – I'm not sure what this is, but I'm pretty sure you can catch the scent of it as it is served at Drottningholm Castle. When I submitted "Doften av nygräddade våfflor" to Google Images, hundreds of pictures of waffles made my mouth water. I should have known "våfflor" were waffles. A good word to remember!
Taste: "Tunnbrödsrulle med räksallad och Pucko" – This sounds like some sort of tuna salad that is best eaten with Pucko, which is either a little bottle of chocolate milk or an angry-looking man with long hair and a beard, if Google Images is to be believed.
That said, I invite readers to extend our knowledge of things Swedish and to correct any mistakes I may have made above. Meanwhile, I'll be here whispering: "Nygräddade våfflor med räksallad och Pucko."
(Memo to the Swedish Ministry of Economic Affairs: I had to visit no fewer than eight shops in Amsterdam to obtain the props for the above photo. Time for a matchstick marketing campaign, methinks.)
Richard de Nooy