South America's Second-Largest Carnival
When you say "carnival", people almost automatically think of Rio de Janeiro, which boasts the world's biggest and most famous carnival. People are less familiar with the Carnival of Barranquilla in Colombia, which is the second-largest event of its kind in South America. This national treasure has not yet been discovered by many tourists.
If the guide books and web are to be believed, the rugged industrial port of Barranquilla in northern Colombia has little to offer tourists for 361 days of the year. But all that changes during its four-day carnival. I was in town for two of those fun-filled days, together with a couple of other flight attendants.
Colourful streets
Walking around El Prado, Barranquilla's most elegant neighbourhood, the rough-and-ready reputation of this harbour town seems somewhat exaggerated. The magnificent white houses are decorated with garlands in many shades of green, yellow, red and (KLM) blue. Their inviting verandas are populated by mannequins, sitting in chairs or lying in hammocks, beautifully dressed up in bright carnival outfits.
The locals hang out at crossroads or in front of their homes with neighbours and friends, dancing and dinking to the sound of music blasting from gigantic speakers. The district has many neat and affordable four and five-star hotels, which have also been brightly decorated. As we approach the city centre, the multicoloured crowds get thicker and thicker, particularly in and around 40th Street.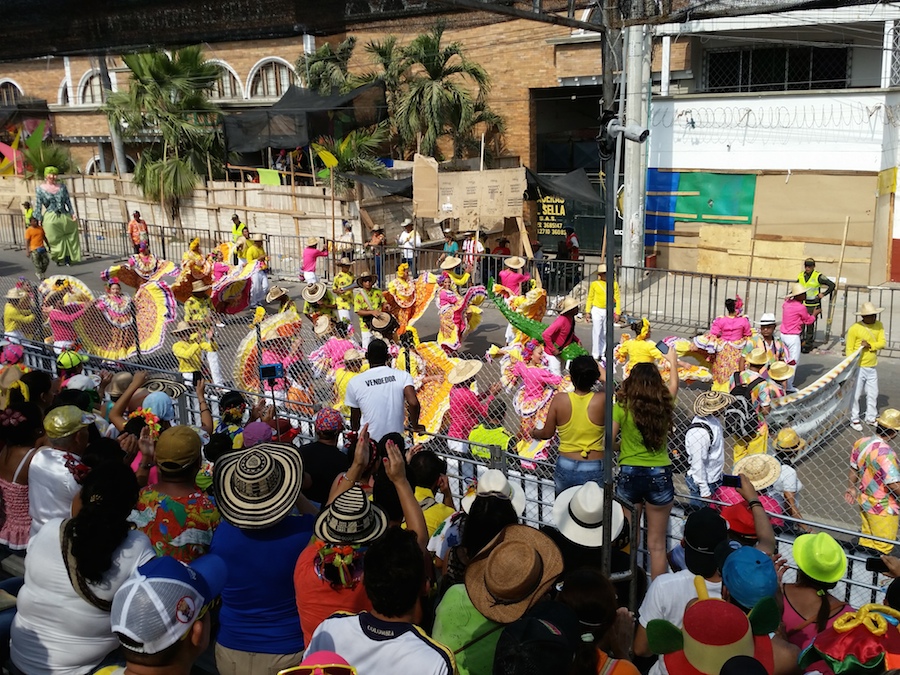 The Barranquilla Parade
There is a different carnival theme every day. The spectacular floats are brought out on Saturday, with a more traditional parade on Sunday, mainly featuring dancing, happy people, wearing the most wonderful costumes. It's hardly surprising that the world famous singer Shakira, with her upbeat music, comes from Barranquilla.
We've been warned by other visitors that things get particularly hectic on Saturday, with rocketing prices for entry tickets as well as food and drinks. A question of supply and demand, no doubt. But Sunday is pretty hectic, too. The grandstands start filling up from around 14.00. A half hour before the parade begins, we get ourselves an official ticket from one of the less-than-official street vendors. We manage to haggle the price down to 100,000 Colombian pesos (26 euros) for three tickets, which give us seats in the section of the grandstand covered with a canopy, offering welcome protection against the blazing tropical sun.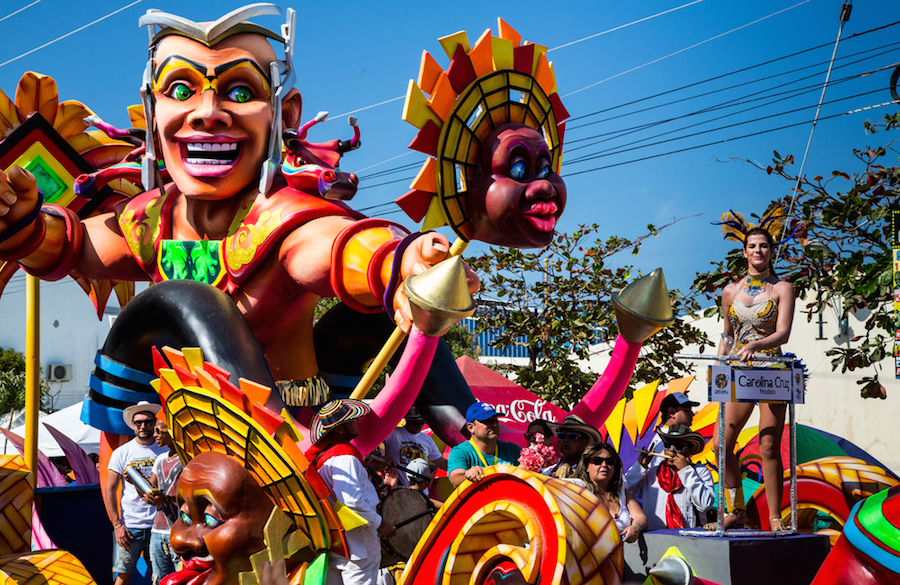 Carnival outfits
In contrast to other countries that celebrate carnival, such as the Netherlands, almost no one in Barranquilla dresses up as a celebrity lookalike. We only spot a Michael Jackson impersonator and a Rambo-like soldier in camouflage, who has arrested a drugs baron.
Colombian carnival has its own characters, which each have their own history and, more importantly, their own dance moves and exclamations. Many of these figures have some connection with the abolition of slavery or with African ancestors. In the parade and out in the streets, many women wear red dresses with white polka dots, while many men wear outfits featuring tigers and jaguars.
La Marimonda
Almost every piece of merchandise features the fantasy figure La Marimonda, which looks like a colourful elephant and is often worn as a mask, with big ears, big eyes, thick lips and a nose as long as a trunk. According to legend, a poor citizen of Barranquilla couldn't afford a costume, so he cut up some old clothes and sewed them together.He made a mask out of an old plastic bag, by cutting out eye holes. Over the years, this costume has evolved into the unique and popular character it is today.
It is also traditional to wear bright clothing, in clashing colours, preferably featuring the carnival motto: "Quien lo vive, es quien lo goza!" Roughly translated, this means: "Those who live life, should enjoy life!"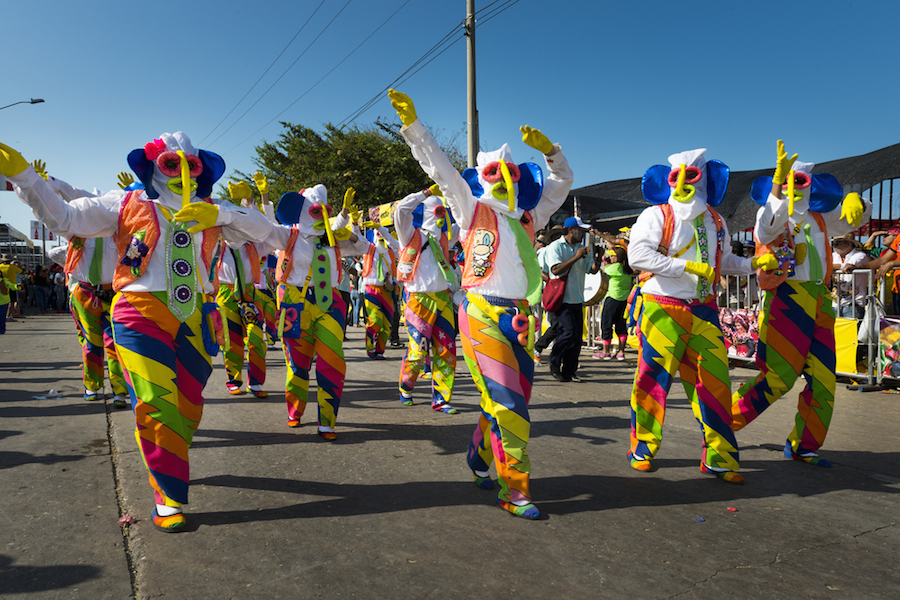 Graceful grannies
The parade lasts three hours and everyone gets his or her moment in the spotlight, because there is always someone up on the grandstand who shouts out a name and waves to a friend or relative in the parade. Entire families spend the day eating freshly prepared pizza and drinking beer brought around by vendors. It's a festival for young and certainly for old, because it's often the graceful grannies who steal the show with their wonderful, flowing dance moves.
Our attention is drawn by a float decorated with an orange "Holland" flag. It's bit like coming home, because there only seem to be several dozen tourists among the tens of thousands of locals. The final float in the parade brings La Reina, the carnival queen, a local beauty who is chosen at the end of the previous year's carnival.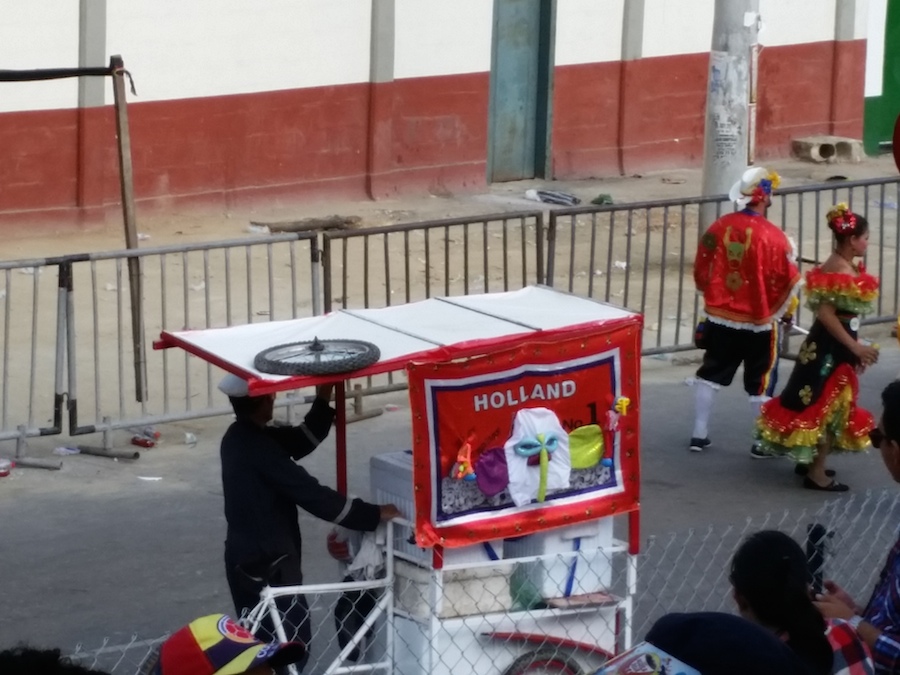 La Marimonda on board
On Monday afternoon, carnival bands put on a wonderful performance in the football stadium. The show is fast, fun and, above all, very loud. You need earplugs even if you're sitting at the far end of the stadium, and it's almost impossible to have a conversation.
Two days later, we're back in uniform for the Bogota-Cali leg of our flight, but the purser makes an exception and lets us wear the carnival neckties we bought. International passengers as well as Colombians immediately recognise La Marimonda on our ties. They stop us for a chat, take photos or laugh and give us a thumbs-up. All of which confirms that La Marimonda brings instant happiness, as does Barranquilla's unforgettable carnival.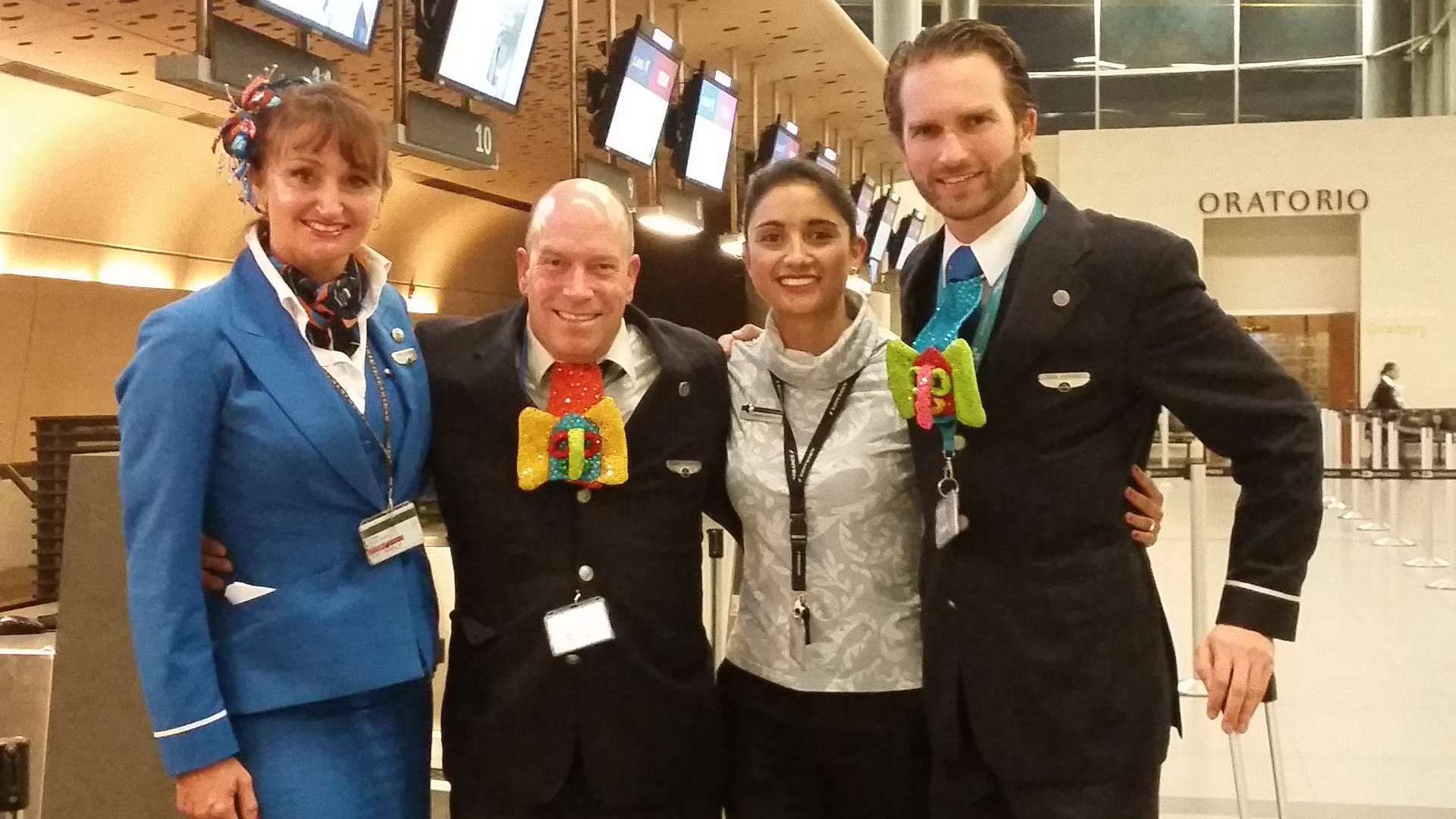 The Carnival of Barranquilla in a nutshell:
The carnival begins with the Battle of the Flowers (La Batalla de Flores) on the Saturday before Ash Wednesday;
The Grand Parade (La Gran Parada) is Sunday and Monday;
It all ends on Tuesday with the funeral of "Joselito Carnaval".
Customs
Don't be surprised if you get blasted with corn starch and foam. It's all part of the fun.
You will be offered aguardiente and it will be considered an insult if you refuse to drink it.