Doctor2Doctor turns words into action
A few months ago, she introduced herself in her blog with the above title. Judith Stuijt, passionate fundraiser at the VU University Medical Center. From an early age, Judith was determined to do her bit to make the world a better place. On Sunday 18 September she will head to Eldoret, Kenya. For four days she will accompany a team of nephrologists who will train their colleagues in Kenya and enable them to raise the level of healthcare in their own country. Her 17 and 19 year old daughters will stay behind, curiously following her on social media.
A camera team from Responsible Business Television will join Judith to make a series about the Doctor2Doctor project which enjoys the support of KLM's charity programme, AirCares. KLM, KLM Health Services and Kenya Airways support the project by donating travel facilities, knowledge and logistical expertise.
Judith is an adventurous fifty year old. An enthusiastic traveller who loves to backpack around the world, get to know the locals, eat with them, share stories with them, and immerse herself in different cultures. She does not say no to a party either and loves to dance the night away.
You can follow Judith over the next few days @D2Djudith. She will share her personal experiences and photos with her followers, and give them a glimpse behind the scenes.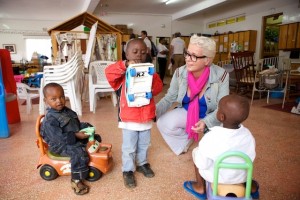 Don't miss it!
Karin
Corporate Communications