Does An Aircraft Have A Key? #Jesseyknows
You can lock a car with the push of a button on your key once you've parked it. But how does that work with an aircraft? Can you lock it and then start it up again with a key? In short: Does an aircraft have a key? I received this question in a Tweet, so I looked it up.
Echt vaag…Hoe wordt vliegtuig eigenlijk gestart? Met een sleutel ofzo? En kan een vliegtuig eigenlijk op slot? #vliegtuigvragen

— Pol (@PolGoetstouwers) 30 oktober 2012
Picture this: A pilot walks into the Cabin Crew Centre at Schiphol. He fishes around in a great, big cabinet for his key and then makes his way to the gate. He sits down in the cockpit, puts the key in the ignition, and Voila! The aircraft starts right up.
However, this idea was quickly put to rest by Johnny, who works in Engineering and Maintenance. We were sitting in the cockpit of a Boeing 777 parked in Hangar 14. I searched around for the ignition slot under the steering wheel. Johnny laughed. "You can stop looking. An aircraft doesn't use a key—not to lock the doors, and certainly not to start the engines."
Keyless Start-up
But if an aircraft doesn't use a key, how do you start it? It goes like this: Commercial aircraft have a gas turbine generator in the tail, called the Auxiliary Power Unit (or APU for short) which provides the plane with air and electrical power. The aircraft uses the air to start the engines. As soon as the pilot flips the "start" switch in the cockpit, the air conditioning turns off and the air flow is diverted to start the engines.
I asked Johnny where the start switch was and he pointed to a small switch among countless others on the ceiling.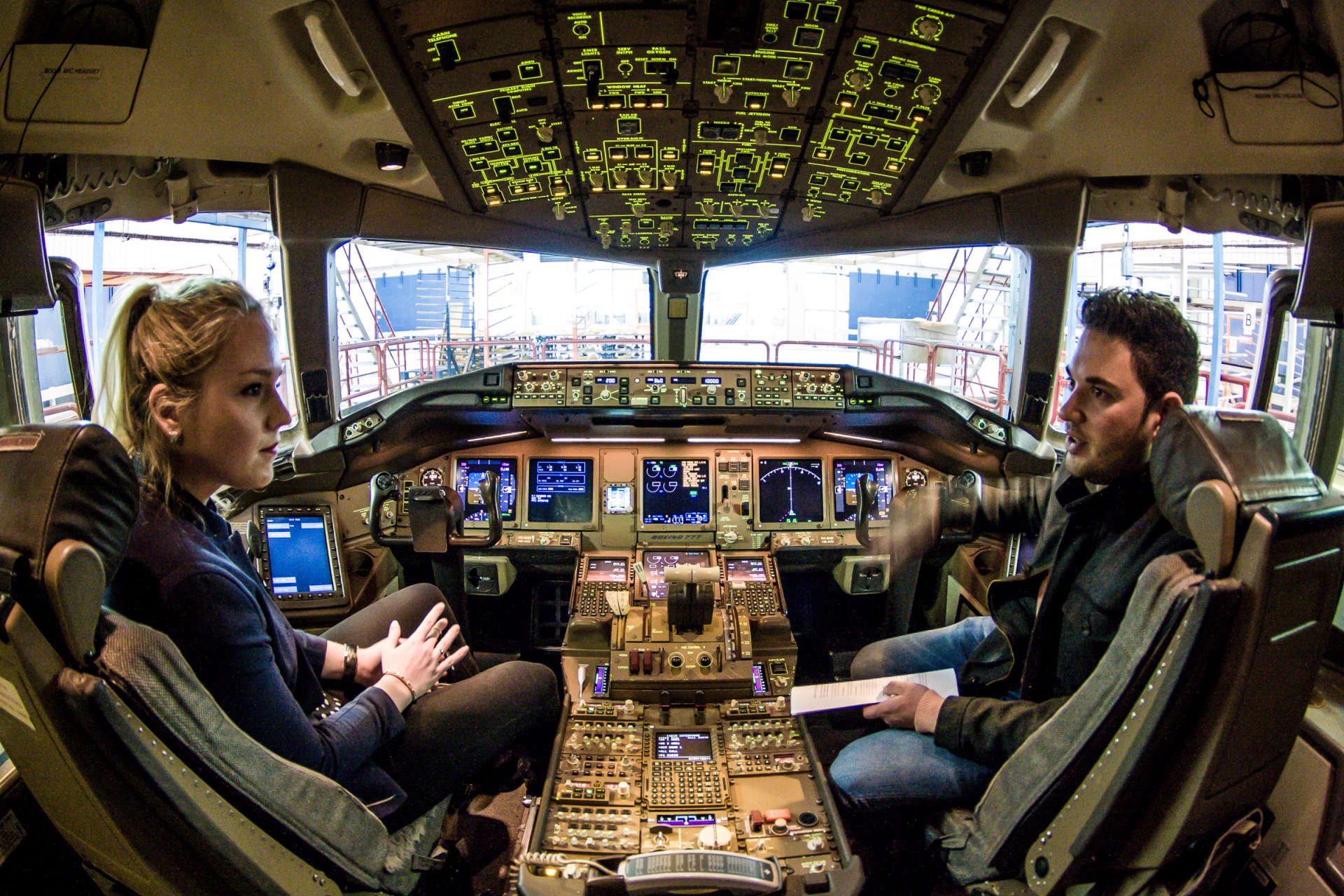 Blowing On the Engines
So, the air flow blows the engines into action. By turning on the fuel switch, fuel flows into the engines and the combustion chamber receives a spark. The fuel combusts and the engine turns, which creates its own air flow, all of which keeps the engine turning.
In modern aircraft, the entire start-up procedure is automatic. The pilot only has to set the start switch to the correct position and turn on the fuel switch. In twin-engine aircraft, the pilot turns on each engine separately.
Cessna
Don't any aircraft use a key to start up? Sure! Small aircraft, such as the Cessna, uses a key to lock it and start it up—pretty similar to a car.
Jessey Goes
With this blog I'll be ending my series of  #Jesseyknows. I was given the opportunity to dive into a new challenge at another company. I hope my stories interested you and made you smile. I had a lot of fun writing the blogs and investigating the (sometimes funny) questions I received via Social Media. Thank you for all the comments, questions, feedback and great ideas. From now, it will be #Jesseygoes ;)