Occasionally a fire alarm will sound while we're staying at a hotel. Luckily, the ones I've experienced have always turned out to be either a drill or a false alarm.
When the alarm sounds while you're fast asleep, it might get rather confusing. In fact, I mistook my first fire alarm for a wake-up call. I picked up the phone, still half asleep, and then started to press all the buttons on it as the sound didn't stop. Finally, it was the noise of the phone smacking on the floor that woke me up completely. With my heart in my mouth, I sprinted out of my room, where a hotel employee reassured me that it was false alarm. From that moment on, I've adopted the habit of checking the emergency exits everywhere I stay.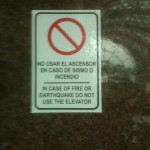 My last alarm was on my most recent trip to Mexico. It was early morning, but due to the time difference I had been awake for some time. All of a sudden, a highly frightening voice boomed through my room: "This is an emergency! Leave the building immediately!"
As earthquakes aren't uncommon in Mexico, my heart was in my mouth again. Outside my room, a scary blue light was flashing and the voice was repeating its alarming words. Other hotel guests, quite a few still in their pyjamas, were leaving their rooms in panic and an anxious-looking chambermaid confirmed that we'd better leave the building. So I grabbed some personal belongings and ran down the emergency stairs. One girl had taken along her suitcase, which turned her flight down the stairs into a struggle. Strangely, the alarming voice seemed to gradually fade as we made our way down the eleven floors of the hotel. At the ground floor we stumbled into the lobby via a side door. Relaxing lounge music was playing and people were sipping coffee while working on their laptops. Faces turned our way, staring at a bunch of bewildered looking people, some dressed in pyjamas and others in hurriedly put-on clothes. A bellboy came up to us with a smug face and asked the girl whether he should take her suitcase.
Needless to say, it was a false alarm again. It took about half an hour till my heartbeat was back to normal. But still, I'd rather face a hundred false alarms than one real one.