This Is How We Weigh A Plane
"How do you weigh a plane?" was a question I saw on social media. I'm not usually a fan of the scales, but I made an exception this time. I went in search of the answer at KLM's department of Weight & Balance.
"There you are, finally!" said Michel Heese, as I stepped into his office on Friday morning. It had taken a while to arrange an appointment with the Weight & Balance Engineer. After all, weighing an aircraft isn't something you can do at the drop of a hat. "Because the preparation for the weighing of an aircraft is affected by a number of factors – availability of personnel and space, for example – it's hard to plan exactly when a weighing will start."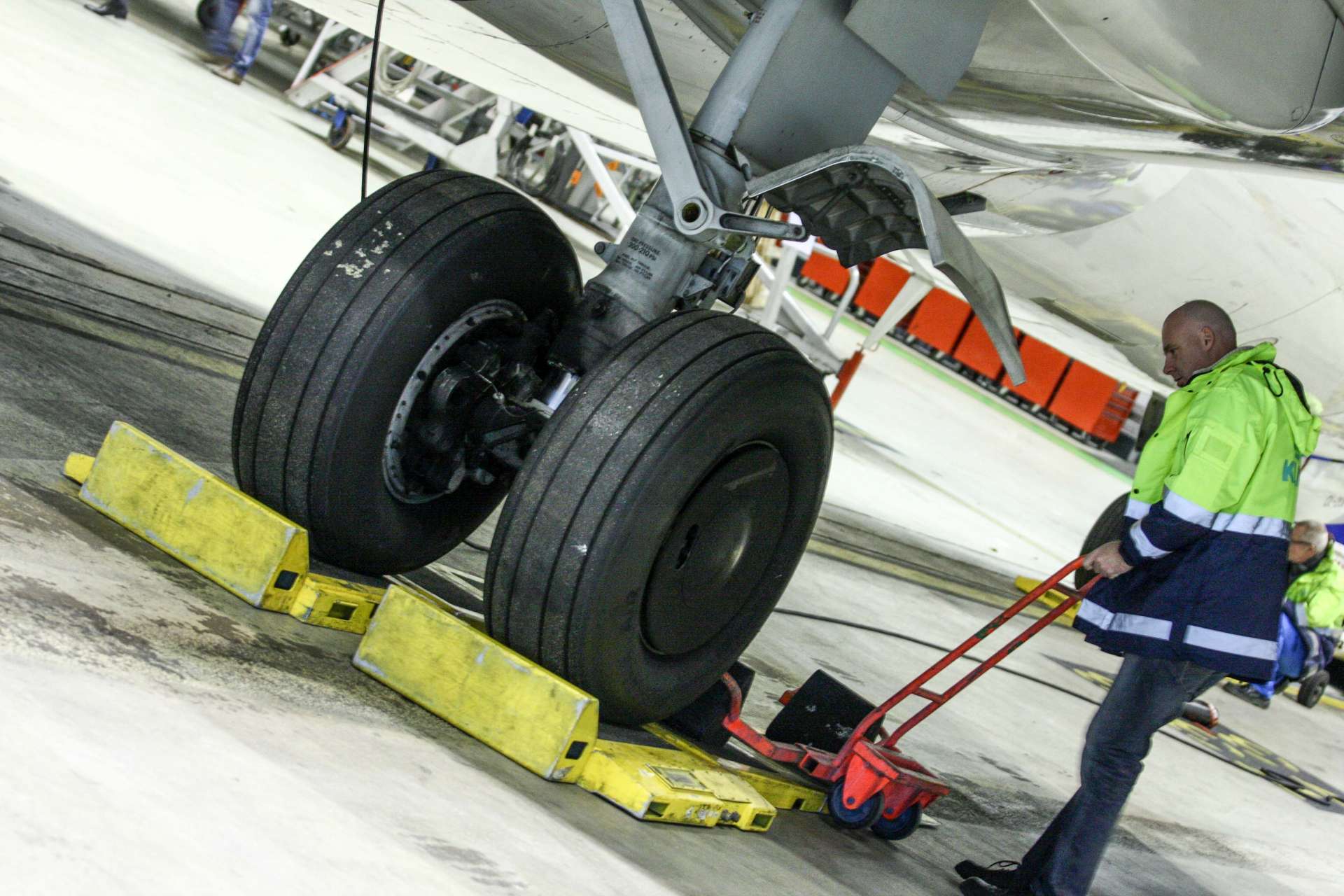 Every four years
Michel has worked for KLM since 1980 and has been at Weighing & Balance for 16 years. With two colleagues, he is responsible for the weighing of the entire KLM fleet. "Every four years there comes a moment when we measure an aircraft's new 'basic empty weight' to ensure the data relating to its weight and centre of gravity are up to date. This is set by law: if an aircraft has not been weighed within the last four years, it is not allowed into the air. We also use the correct weight and centre of gravity information to ensure the aircraft flies with maximum efficiency and consumes as little fuel as possible."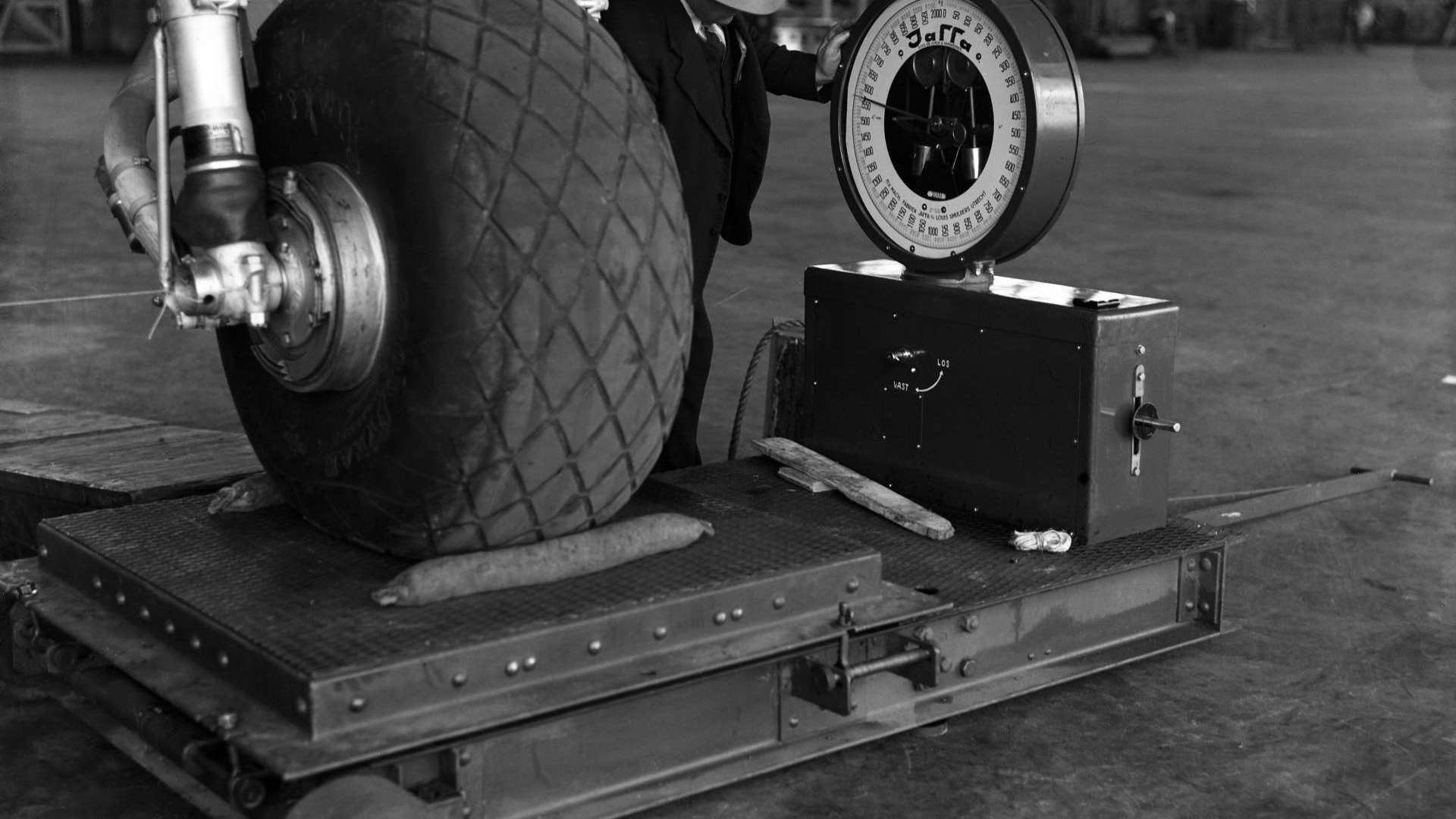 Every seat counts
The basic empty weight is the weight of an aircraft without its contents. Every fibre in the aircraft is weighed separately: curtains, cushions, carpet, safety cards, inflight magazines (Holland Herald), catering trolleys, even toilet paper.
"The weight of every item on the contents list is in our database. A safety card, for example, weighs 0.018 kilos and a Holland Herald 0.306 kilos. Every month our colleagues at Inflight let us know the weight of the new issue."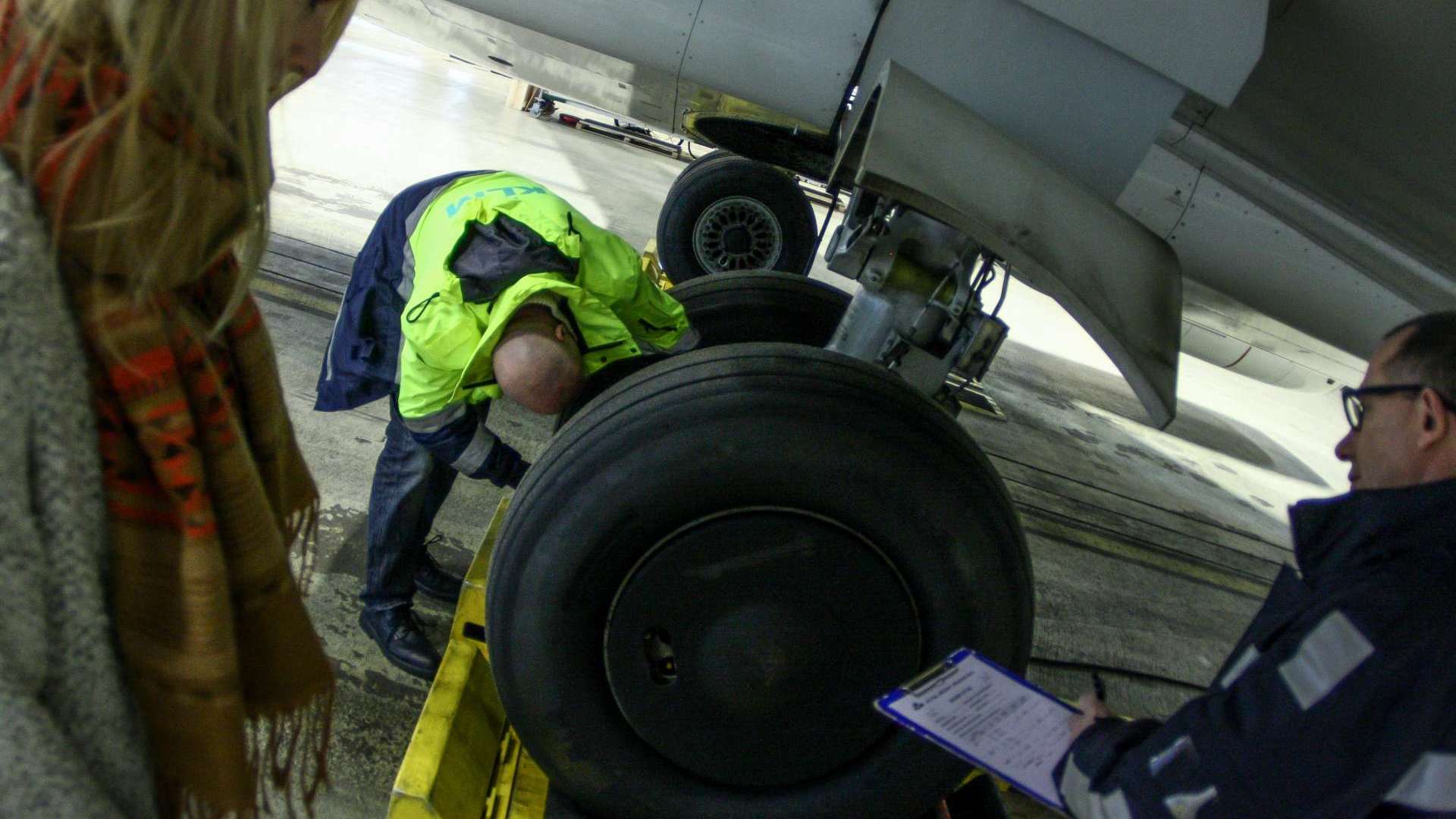 Michel's office has lots of cupboards containing blue files. "Each aircraft has its own file. And each registration has its own precise weight and centre of gravity."
The weighing moment
After the introduction in his office, Michel takes me to Hangar 10 where a 737-700 is waiting for its weighing moment. There are two ways to weigh an aircraft: using load cells, whereby the aircraft is lifted up, or using a weighing platform. For this weighing, the aircraft is pulled by a tow truck onto yellow platforms (see film). Each wheel has its own set of scales. "We can calculate the total weight by combining the weights measured at all the platforms. It's really important that the aircraft is standing exactly horizontally at this point. To ensure this, we use a plumb line, which is a thread with a piece of lead on the end."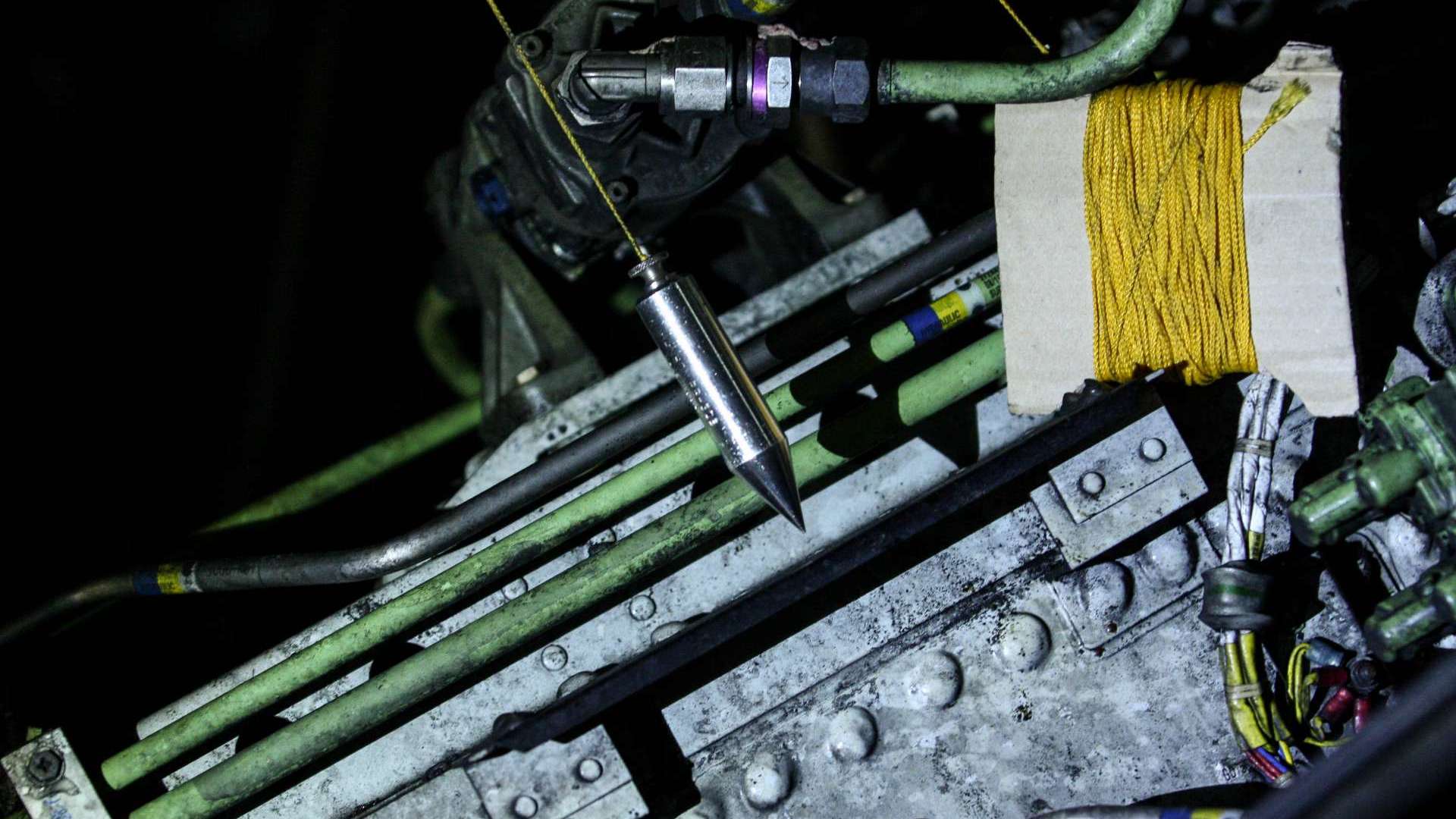 Load sheets
How do we know how heavy an aircraft is when it goes up in the air? Of course, we can't know how much the combined weight of all the passengers is. "This is work for the loadmasters. They are responsible for the freight/load on board. This includes passengers and their baggage. A different average weight is calculated for every population group. A European woman weighs on average 72 kilos. An average Chinese woman is generally of a smaller build and is therefore estimated to weigh a bit less." The same goes for the luggage. "A suitcase is not allowed to be heavier than 23 kilos (or 32 kilos in World Business Class). It is important to keep to this strict rule so that we can determine the weight as precisely as possible."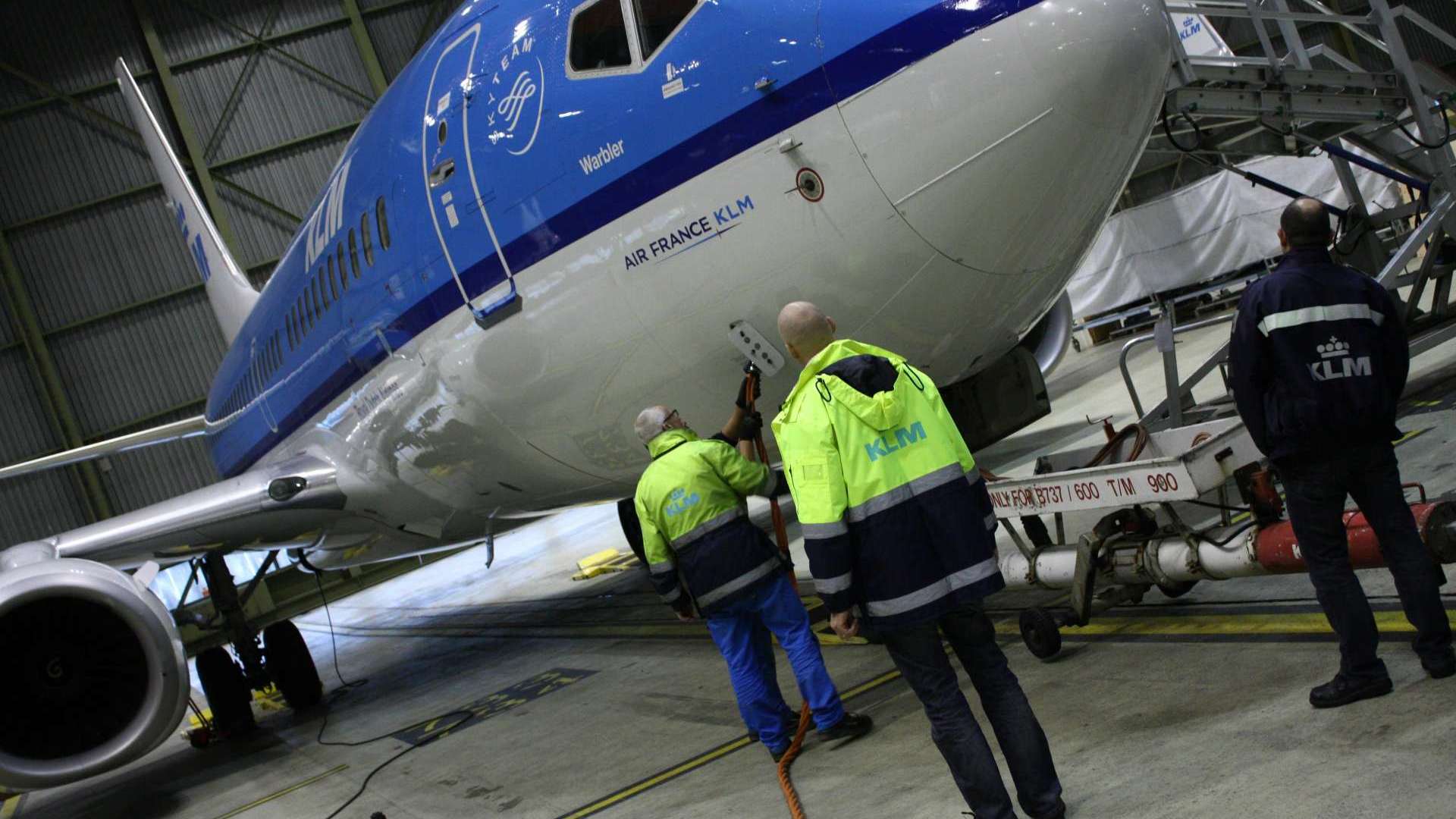 Weight & balance in the cabin
If you place your finger precisely in the middle of a ruler, it will balance. If you place a weight on one end, it will tip. The same applies to an aircraft. "This is why passengers sometimes have to change seats. If all the passengers were to sit at the back, the nose would come off the ground too early at take off; if everyone were to sit at the front, the nose would lift too late, or not at all."
Once the 737-700 has been on and off the scales three times, Michel and his colleagues can be sure of the new weight. "This weight is not very far off our prognosis. It weighs 38,321.6 kilos. This is 21 kilos different from our prognosis." I'm curious about whether this beauty will maintain her ideal weight for the next four years…
This is the average weight of an:
A330: 120,000 kg
777-200: 143,000 kg
777-300: 166,000 kg
747: 180,000 kg
The weighing process in seven steps:
Pling!- Every four years each aircraft's diary says it's time for a weighing session.
An appointment is made with Weight & Balance in the hangar.
The aircraft is completely emptied. The kerosene is drained out of the aircraft, right down to the last drop. Then the drinking water and toilet water are removed.
The Ground Engineers prepare the aircraft for weighing and make sure it really is empty and dry (rainwater can distort the measurement by adding extra weight).
The Weight & Balance engineer uses a checklist to ensure the contents of the plane have been removed entirely.
The aircraft is weighed.
File the weight.