Hunting for Business – connecting continents
From Amsterdam to China with manufacturing and luxury goods, from China to Africa with construction goods and electronics, and back to Amsterdam with flowers and vegetables. By establishing this unique cargo triangle, KLM is the first in the world to operate a direct freighter link between Europe, China and Africa.
While others gear down, KLM prefers to innovate in difficult times. It is essential to launch new initiatives, creating opportunities to achieve market growth, and to be as flexible as possible. This is how KLM has succeeded in maintaining its strength for more than 92 years.
By deploying its expertise, quality service and main-deck fleet capacity on growth routes outside Europe, KLM has once again shown its high level of flexibility and pioneering spirit. The choice for a direct China-Africa connection is driven by the fact that China already is the largest freight partner of the African continent.
Over the past few days, I had the chance to be present on the inaugural roundtrip of this new "Safari Connection". Developed by our cargo team, this brand-new, unique freight route brought me from Amsterdam to Guangzhou and than via Nairobi back to Amsterdam. Operated by a Martinair 747 freighter and flexible Martinair pilots, the Safari Connection is part of the joint venture between KLM and its long-standing partner Kenya Airways.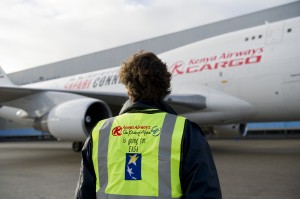 On arrival in Guangzhou, I again witnessed the strong position KLM has in China. The Safari Connection can and will strengthen this further. The special freighter for the route is decorated in safari style and boasts a tail slogan in Chinese. A clear invitation to our Chinese customers.
Together with our partner China Southern Airlines, we offer the most cargo frequencies and connections between China and Europe. China Southern is enthusiastic about this new freight route and declared this week that it is ready to start participating in the Safari Connection. This is great news! Let's roll out the red carpet soon!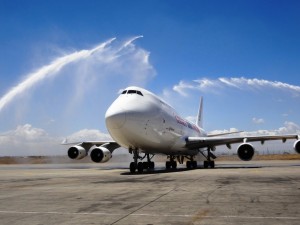 In Nairobi, hundreds of Kenya Airways colleagues were waiting to welcome the Safari freighter, which is the largest aircraft Kenya Airways jointly operates. Both Martinair and KLM have a long history serving the African continent and the Kenyan capital. The Safari Connection further enhances the status of Nairobi as cargo gateway to Africa. As a hub Nairobi has access to all key African markets. During our stay in Nairobi I was once again impressed to see the booming flower industry, established to a large extent by the pioneering spirit of Dutch entrepreneurs. Kenya Airways has announced plans for ambitious investment in its fleet to ensure a more efficient transfer of goods across Africa.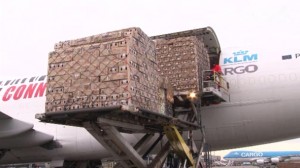 I arrived in Amsterdam from Nairobi this week on board the freighter carrying flowers and other perishable products. At the crack of dawn, a cargo team was ready to welcome us on our arrival. We had a brief moment to celebrate this achievement and thank our cargo team before we got back to work. During the trip, I supervised and helped secure the shipment carried in our cargo hold. It was fully loaded, which means 110 tonnes – an exceptional result!
View Camiel's cargo trip on Dutch television (Dutch only).
Camiel Eurlings
Managing Director KLM & Executive Vice President Cargo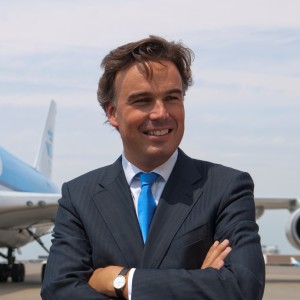 Camiel Eurlings is Managing Director KLM and Executive Vice President Cargo for Air France KLM.  He is primary responsible to manage the day-to-day Cargo operations with 350 destinations in 175 countries worldwide from the hubs Amsterdam Airport Schiphol and Paris-Charles de Gaulle. Next to the cargo operations he is responsible for KLM's CSR's strategy. Camiel was born in Valkenburg a/d Geul, The Netherlands. He is a graduate of the Technical University of Eindhoven – and holds a Master of Science in Industrial Engineering and Management Science. His previous position was Minister of Transport, Public Works and Water Management. As a keen sportsman, he also took up the role of chairman Council Olympic Flame 2028. This council's task is to bring the Olympic Games 2028 to the Netherlands.