A journey of a thousand miles starts with…frying fat
When it comes to the environment, KLM is a high-flyer. The first test flight using biofuel in 2009 has now led to official certification. With the permission and approval of all the relevant authorities, KLM carried out in the autumn of 2011 a series of commercial flights between Amsterdam and Paris fuelled by processed frying fat. The biofuel can be used in all aircraft without having to modify the engines.
KLM wants to do everything it can to save the environment. And its efforts are being recognised internationally; in fact AIR FRANCE KLM has occupied the number 1 position in the Dow Jones Sustainability Index for the aviation industry for the last seven years in a row. For KLM, the compulsory participation of airlines in the Emission Trading System (ETS) was an important reason for looking into the possibilities of sustainable biofuel as early as 2007. This year, all airlines flying to and from the European Union will have to take part in emission trading. This means that European airlines will have to pay for their global emissions of greenhouse gases. However, it will also lead to unfair competition, as non-European companies can fully or partly avoid this obligation, and there are also some countries and airlines that will simply refuse to pay.
As things stand, biofuel is still the most interesting replacement for fossil fuel. KLM is at the very heart of the creation of biofuel made from various raw materials as long as it emits less CO2 and does not have a negative impact on nature and the food chain. However, it's only possible to take major steps if the approach is adopted worldwide. Only when airlines throughout the world start to use biofuel, will this have a significant effect on the environment. And then there will be earlier cooperation to guarantee a constant supply of sustainable fuel.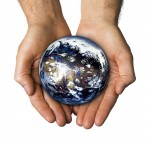 Biofuel must produce substantially less CO2 and should have no long-term effects on nature or the food chain. In other words, it should be 'sustainable'. SkyNRG's independent 'Sustainability Board' (which includes the World Wide Fund for Nature, Solidaridad and Utrecht University's Copernicus Institute) is helping KLM with this. SkyNRG was launched by KLM and North Sea Group and Spring Associates in 2009 and is actively developing a sustainable production chain for aviation biofuels. KLM acts on the board's recommendations regarding the use of a particular sort of biofuel. At the moment, this is still frying fat which is collected and processed into fuel. There are few objections to this but the possibilities of algae, waste products from the food industry and plants such as jatropha and camelina are also being examined. It is not yet known whether the latter two are truly sustainable. However, the important point is to use as many sources of sustainable fuel as possible. Waste frying fat is currently the favourite as it is already being collected on a limited scale.
KLM's actions for reducing CO2 emissions:
* Renewing the fleet – The latest Boeing 777 and Airbus A330 aircraft use 25% less fuel than their predecessors. The EMBRAER 190 jets are up to 10% more economical.
* Wing modifications – All KLM Next Generation 737 aircraft have vertical winglets. The improved aerodynamic profile saves fuel and reduces CO2 emissions by approximately 3%.
* Using aircraft more efficiently – saving fuel by using aircraft better. For example, in the summer KLM uses a big Boeing 737 for flights to Venice and a smaller Fokker for winter flights because of the reduced number of passengers.
* Improved engine cleaning – A clean engine uses less fuel and emits less CO2. Engine cleaning is a standard feature of KLM's maintenance procedures.
* The aircraft of the future – KLM is collaborating in research by Delft University of Technology into producing an aircraft that is 50% more efficient and 50% quieter.
* The Emission Rights System – KLM is supporting the establishment of an Emission Rights System that can be used by the aviation industry worldwide to trade in emission rights.
* European Airspace – KLM is in favour of a single pan-European air traffic authority so that routes can be planned more efficiently. Flying directly from A to B, without detours, could reduce European CO2 emissions by 6 to 10%.
Time for a new clean era. And KLM will be helping.
Karin
Corporate Communications