In September, a new series of Holland's Next Top Model kicked off at the hangar of KLM Engineering & Maintenance at Schiphol. The first pictures were taken against the background of the hangar and some aircraft, and the competitors were introduced to the viewers. Dutch models are doing well abroad and nowadays modelling is not really a new phenomenon. But in the old days it was.
Today's blog features some old pictures again, this time of the campaign to promote KLM abroad in 1954. This was an entirely different KLM campaign using photography. The title of the campaign was "Nine out of ten people fly with KLM on recommendation", highlighting the fact that KLM's advertising was largely by word of mouth. KLM's service was apparently of such high quality that no further recommendation was needed.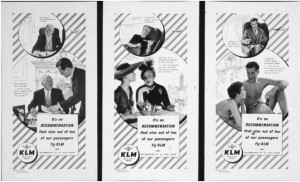 The well-known Dutch photographer Paul Huf (1924-2002), who had previously carried out other assignments for KLM, presented a story using pictures and text. He didn't need to head off to New York or Miami, but stayed at Schiphol airport to take portraits of typical passengers. Not that they actually were typical passengers, mind you. They were 'live models'.
KLM's internal newsletter of the time was surprised to hear of such a thing as a 'modelling agency': "They offer young, older and even elderly ladies and gentlemen, people from all walks of life, from ordinary types to aristocratic, from serious to jolly. In short, they offer their customers a complete arsenal of people reflecting all 'looks' in society."
The campaign consisted of a picture at the top of the ad showing the passenger during the flight. The main picture was a scene in which the passenger concerned was recommending KLM. The fashionable ladies in the middle of the advertisement are all in agreement: "… and I so appreciate your tip to fly KLM. They will do everything for your comfort."
With this campaign, Paul Huf again proved his worth to KLM, securing a long line of assignments for campaign photographs. Using 'live models' too.
Karin
Corporate Communications