There are many different types of aircraft in the KLM fleet, each with its own history and characteristics. For example, there's the Boeing 747 – an aircraft that KLM has now been flying for 40 years. One of the first-officers piloting KLM's 747-400 once referred to her affectionately as 'La Grande Dame' or 'Great Lady'. The name stuck. It's a very appropriate name, for the 747 is certainly a dame.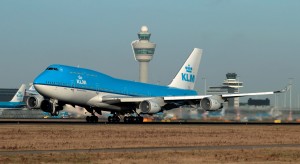 So what makes this dame so special? Well, here are a few facts. She's made up of no less than six million parts. Her tail stands 19.4 metres high. She has 16 main landing gear tyres plus two nose landing gear tyres. And that's to say nothing of 274 kilometres of wiring and 8 kilometres of tubing running around her interior. Each of her wings has an area of 524.9 square metres, ending in a winglet 1.8 metres high. And they weigh no less than 43,060 kilograms each. The engines, of which there are four, produce 28,710 kilograms of thrust. Each of them weighs 5,000 kilograms and has a diameter of 2.6 metres.
This 'Grande Dame' is also rather fond of bling: her state-of-the-art 'glass' flight deck features no less than 365 lights, meters and buttons. What's more, her fuel capacity of 240,000 litres enables her to fly extremely long distances. And a further 12,500 litres of fuel can be carried in the horizontal stabilizer of the 747-400 combi (which combines passenger and freight transport).
Up to now, 747s have flown 77.8 billion kilometres, which is roughly the equivalent of 101,500 trips to the moon, and back. So far, worldwide, the 'Grande Dame' has carried about 3.5 billion passengers, equivalent to roughly half the world's population.
The 747-400 has an average take-off speed of 290 km/h and a landing speed of 260 km/h. She cruises at 910 km/h. On average, she flies for 13 hours a day at a maximum altitude of 13 kilometres. On a regular intercontinental flight she will generally take with her 5,000 kilograms of food and 50,000 in-flight service items. The maximum take-off weight is 412,000 kilograms while the 747's maximum range is 14,297 kilometres.
Impressed?
KLM has six 747-400 passenger aircraft, sixteen combis and four ERF freighters, all named after cities around the world. Have you flown in one of these grand ladies? And do you still remember her name? Or do you perhaps even know all 22 names? Impress us with your knowledge!
Karin
Corporate Communications