Making a good first impression takes time and effort. Whether this means ensuring a clean-shaven face, putting on just the right amount of make-up and respectable clothing or using a consistent house style. In our case, it also means perfectly decorated airplanes. And, considering the importance of a meticulously painted aircraft, highly sophisticated techniques are used.
In the Deco Bay of Hangar 14 at Schiphol Oost, the planes are painted with electrostatic spraying equipment. With this painting technique the paint is 'attracted' by the 'earthed' (i.e. not electrostatically charged) airplane.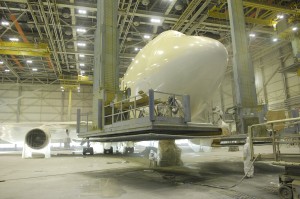 When the Deco Bay was created, considerable attention was paid to safety and the environment. When an aircraft is scheduled for a paint job, the first step is to remove the old layer of paint. The plane is then washed and a number of parts are sanded. Next, large yellow mobile platforms are used to spray the new paint onto the aircraft. Six of these platforms are situated around the plane, so that the painters and sprayers can reach all areas.
An added plus of the electrostatic painting technique is that less paint ends up in the hangar than with conventional spraying. Also, there are numerous large air blast ventilators at the very top of the 26-metre high roof. The little paint vapour that is released is blown down by these ventilators into grates in the floor and then blown outside by centrally located ventilators through ducts and a filter chamber. The grates in the floor serve not only to remove paint vapour, but all liquid waste, including leftover paint, stripper and contaminated water, is transported through these grates and underground ducts to the KLM Environmental Centre, also located at Schiphol Oost, for proper processing.
In order to continuously improve this process, attention is directed not only towards working conditions, but also the materials used. KLM Engineering & Maintenance, for instance, has developed a 'green' painting system together with Mankiewicz. This system makes it possible to apply thin layers of paint that are not only more environmentally friendly as far as the substances they contain, but also results in a 15% weight savings. In a business in which every kilo of weight counts in terms of fuel savings and CO2 emissions, this is a very positive added advantage.
Want to see our environmentally friendly painting system in action? Take a look here!
A few questions for enthusiasts:
1. How often on average is a brand-new layer of paint applied to aircraft?
2. How many litres of paint are needed to paint a 747?
3. How much time does the 747-400 spend in the Deco Bay?
Raem
Corporate Communications