I managed to avoid jetlag for 46 years, until last week. My wife, the professional traveller, invited me along on one of her trips and I threw caution to the wind, accepting her invitation and treating myself to a mind-buckling experience and set foot on a new continent.
Because my wife has the energy levels of a 12-year-old, we raced around the city on foot, trying to take in as much as possible, filling our little camera with memories. Fortunately, I managed to fake an ankle injury before we left, otherwise they would have had to fly me back to Amsterdam in a pine box in the cargo hold.
I also discovered that jetlag has an unexpected perk: you wake up at the most ridiculous hours of the night, which means you have plenty of time to process the day's experiences and mental images. You're also out and about in the early morning, which means you can observe the city at its freshest.
It was during these hours that I came up with the startlingly original concept for this blog. Instead of giving you a dry rundown of the places we visited, I now challenge you to guess the name of the city, using my numbered observations and photos as clues. In return, all I ask is that you tell me how many clues you needed to guess the city's name. No cheating, please.
1. People here drink hot coffee as if it's milkshake, sipping it through a short, flat straw.
2. People here seem to think it's weird if you stand on a street corner drinking coffee and smoking a cigarette.??
3. Construction workers carrying outsized cooler boxes look like they've over-catered for their daily picnic.??
4. "Some fine ladies you got there, sir. Nice boots, missy." Even the homeless have something to sell here.??
5. The homeless man who polished my shoes added 24 seconds to my life by smoking three of my cigarettes as he buffed.
6. The store's opulently decorated Christmas tree is so huge that the only appropriate gift to place under it would be a brightly wrapped Ferrari or Land Rover.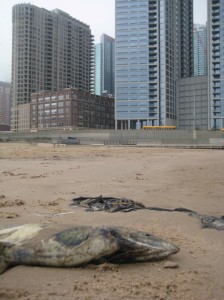 7. The tiny beach beside the pier offered just enough space for a sockeye to breathe its last.
8. For conversation, drop a dime in a beggar's cup: "Happy Thanksgiving, sir! Tell the queen I'll be late for dinner."
9. The glass canyon holds the river and fills it with silver in the rising sun.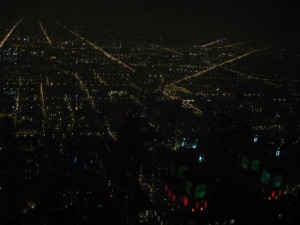 10. Tragically, this spectacular view from the 96th-floor prompted a domestic squabble between a neighbouring couple.
11. East Ohio Street is a deserted movie set, as if I'm faking the moon landing on my own.??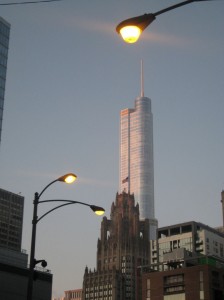 12. Whether it be natural or artificial, all light finds its beauty and meaning in the eye of the beholder.