Poof! In exactly 1 hour and 48 minutes' flying time, I've been transported back six years. My fringe is now a bit longer, my stomach not quite as flat and my experience of life is a bit wider. And this time I won't be staying in Barcelona for four months but four days.
For many people, four days in Barça means Ramblas, tapas & compras* and a visit to Gaudi's eccentric buildings. As dessert, perhaps a bullfight, which this month will be seen for the last time in Catalonia. But I'm going off road – sauntering down narrow streets surrounded by high, grey-brown buildings, where clothes hang that have come from around the entire world. Socks from a Brazilian, trousers from a Chinaman and a dress from a Dutch girl, you're never quite sure in this melting-pot of cultures. Enjoying the Spanish sun, I pass little art galleries, wave to little old ladies in their typical flower-print 'nighties', buy the sweetest churros and chat to an old man hidden behind his homemade fruit stall.
Why did I stop living here?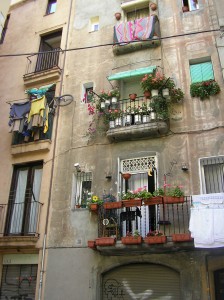 'Vamos!' says one policemen to another, giving him a nudge. And as if it's the most normal thing in the world, they escort me across the zebra crossing while the red light glares at us disapprovingly. What rules? That's why I like the Spanish so much: they're cheeky, stubborn and narcissistic. Ask them for a Lucky Strike without pronouncing it in the Spanish way and they act as if they have no idea what you mean ('Ah, lookie strik!'). They are the only people in the world to put question marks and exclamation marks at the beginning of a sentence as well as at the end. They translate every word into their own language** and, crisis or no crisis, the shops are open until 10 p.m. because we all have to look hip. The streets are full of men and women with dark, shoulder-length hair with a short fringe, dressed in casual alternative clothes, and decorated with piercings and tattoos.
Why don't I move to this crazy city for good? It's much more fun here than in the Netherlands. A rush of excitement goes through me.
¿Por qúe no?
Suddenly I feel the need for something familiar, something from the good old days – a safe haven. I decide to track down Pedro, an old flame. We were together for more than two months when I studied here. He always fantasised about a future in the Netherlands but when I finally left, we more or less lost contact.
With butterflies in my stomach, I take the metro to 'Port Vell' – which means old port – and ring the bell next to a red door plastered with stickers that brings back all sorts of memories. 'Sí?' crackles a voice through the intercom.
'Hola, I'm looking for Pedro. Does he still live here?'
'Un momento.'
I hear a noise from overhead and look up. A dark-skinned boy is leaning nonchalantly over the balcony.
'Pedro Juarez?'
'Yes!' I answer excitedly.
He knows him! Will Pedro have changed? Will he still recognise me? Will we still feel the same way about each other? I always knew we were right for each other and would start a sagrada familia together.
The boy pulls a long face. 'Pedro doesn't live here anymore. He lives in Holland.'
* Shuffling step by step over the busy Ramblas, eating far too many tapas and non-stop shopping.
** New York is Nueva York and a Hot Dog is a Perro Caliente.
Carlien van Viegen
 
Carlien is a communications consultant and sports coach. Her greatest passions are writing and travelling, preferably together. Every month, she writes a column in her Dutch blog. In 2009, she published a collection of her columns entitled 'Beautiful moments and other pink things' ('Mooie momenten en andere roze dingen').
'We all know those moments that don't look anything special at first sight but which are perhaps so special for exactly that reason,' she says. 'In the street, in a coffee bar, on the other side of the world, at work or simply at home. Those are the moments that matter.'
Carlien also has an English site featuring a number of her stories.