Touring Namibia: Burning Up The Road; In A Cold Sweat
Namibia is a fabulous destination. Before heading off on such a journey, you'd be mistaken to think Namibia is only a walk in the park. Looking back on our month-long trip, words like "fabulous" and sometimes "less-than-fabulous" spring to mind.
Fabulous: Landscapes that make you feel like you're on the surface of another planet.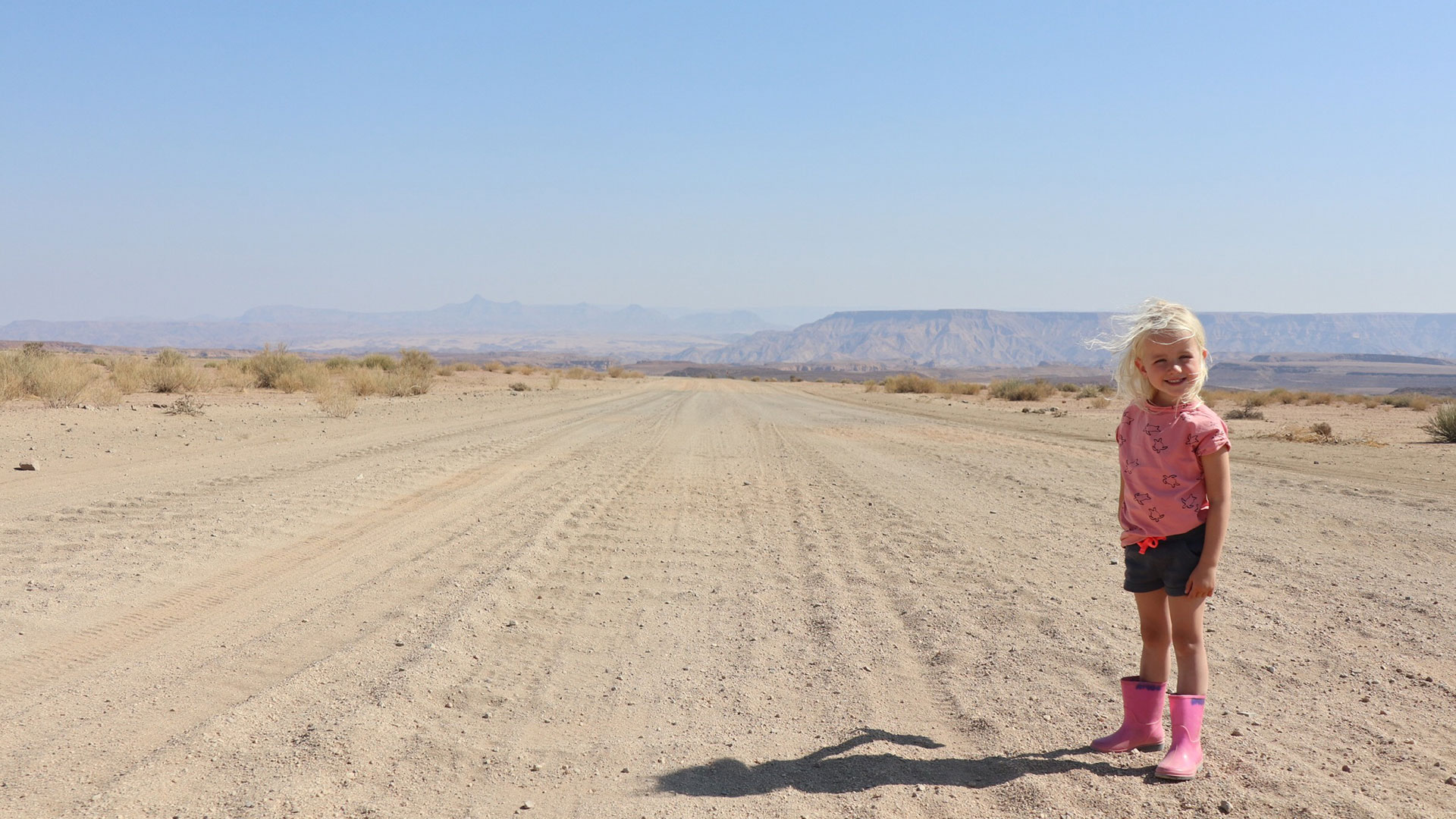 Less-than-fabulous: The huge distances you need to travel to get from place to place.
Fabulous: The beautiful camping sites located in tranquil, natural surroundings.
Tips: Ai Ais Hot Springs in the Fish River Canyon, Ameib Nature Camp in the Erongo Mountains, Spitzkoppe Tented Camp in Spitzkoppe, Oppi Koppi Rest Camp in Kamanjab and the Halali and Olifantsrus camping sites in the Etosha National Park.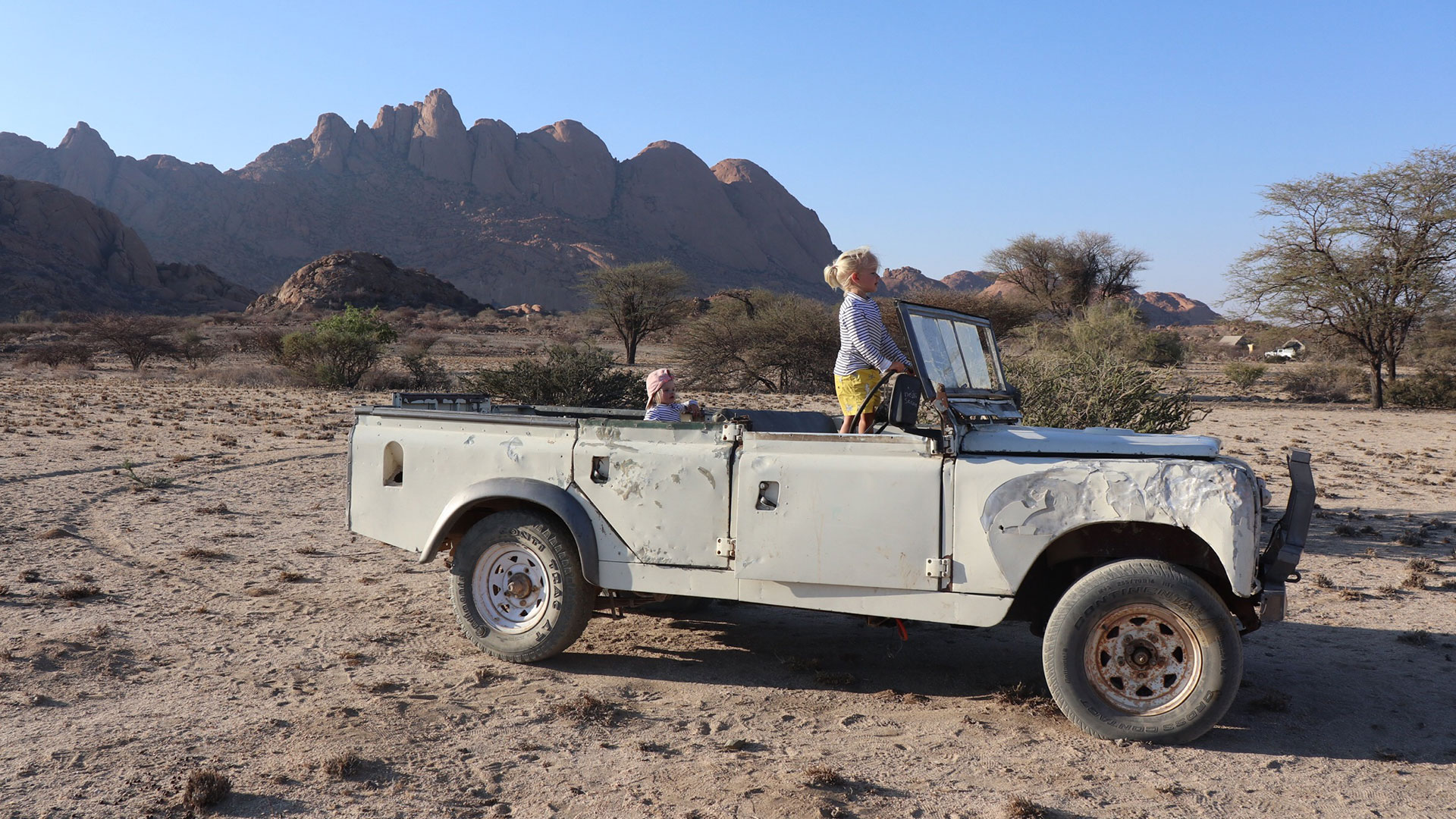 Less-than-fabulous: Mile after mile on the worst roads EVER. Within three hours of entering Namibia, we'd already suffered two blowouts. Fortunately, we weren't far from the camping site, so while Thad The Dad broke out into a cold sweat changing tyres I strapped one kiddo in front and one on my back for a free workout lugging 35 kilos a distance of 4 kilometres!
Fabulous: Brilliant hotels with wonderful gardens and views.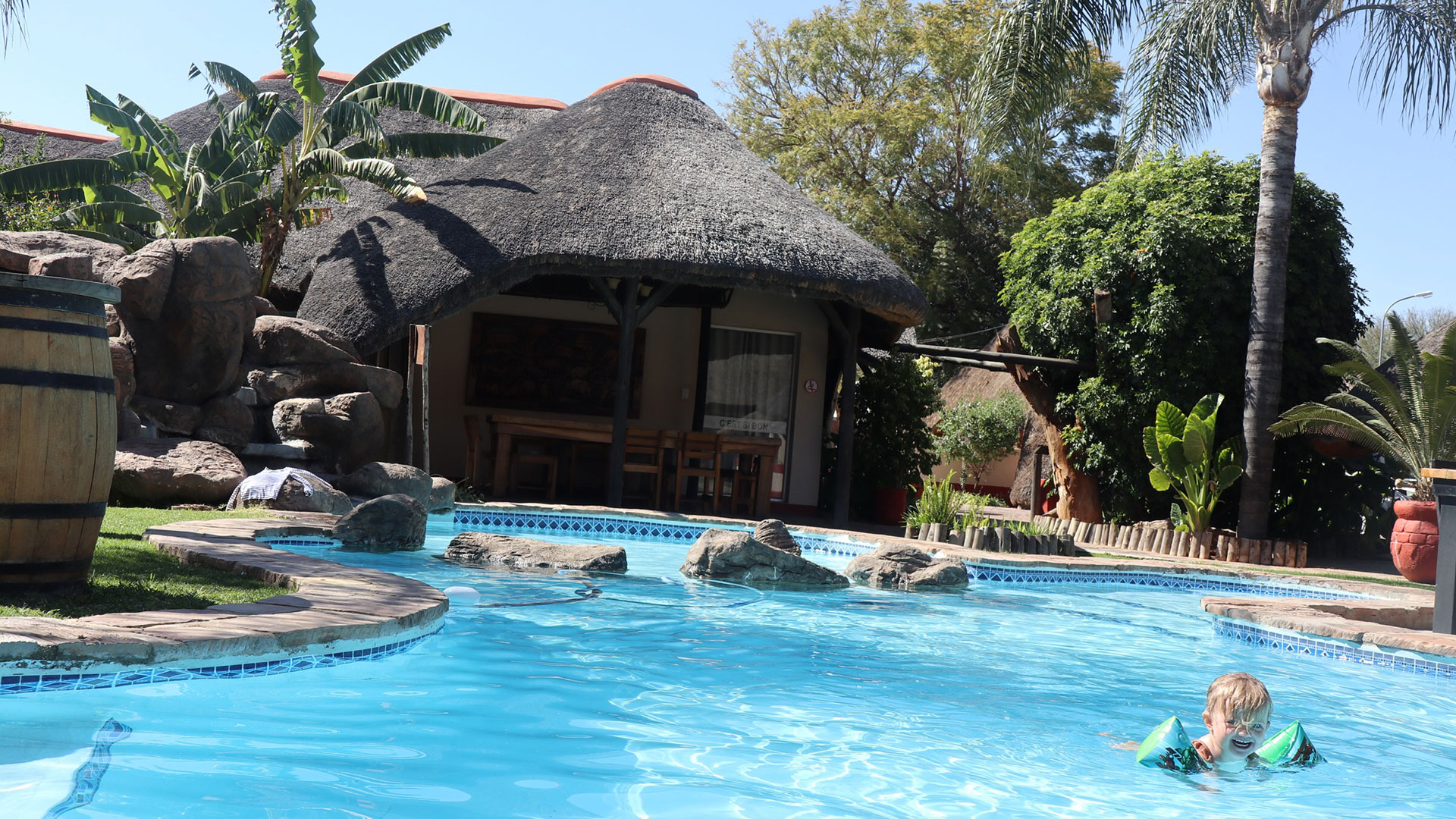 Tips: Beach Lodge in Swakopmund for the most colourful sunsets, Safari Lodge in Mariental for rhinos on the porch, African Kwela Guesthouse in Windhoek for the Jungle Feeling in the heart of the city and Si C'est Bon in Otjiwarongo to relax totally in the tropical garden with a separate kids swimming pool and friendly staff members who surprised me on my birthday.
Fabulous again: Animals… animals, everywhere! Thousands of warthogs along the roadside, taking cover at a waterhole to be surprised by thirsty animals appearing from the undergrowth (rhinos, giraffes, elephants, zebras, springbok, cheetahs, lions, hartebeest, etc., etc.) and unimaginably colourful birds…..
And trying to capture it all perfectly with our fantastic Canon EOS M5.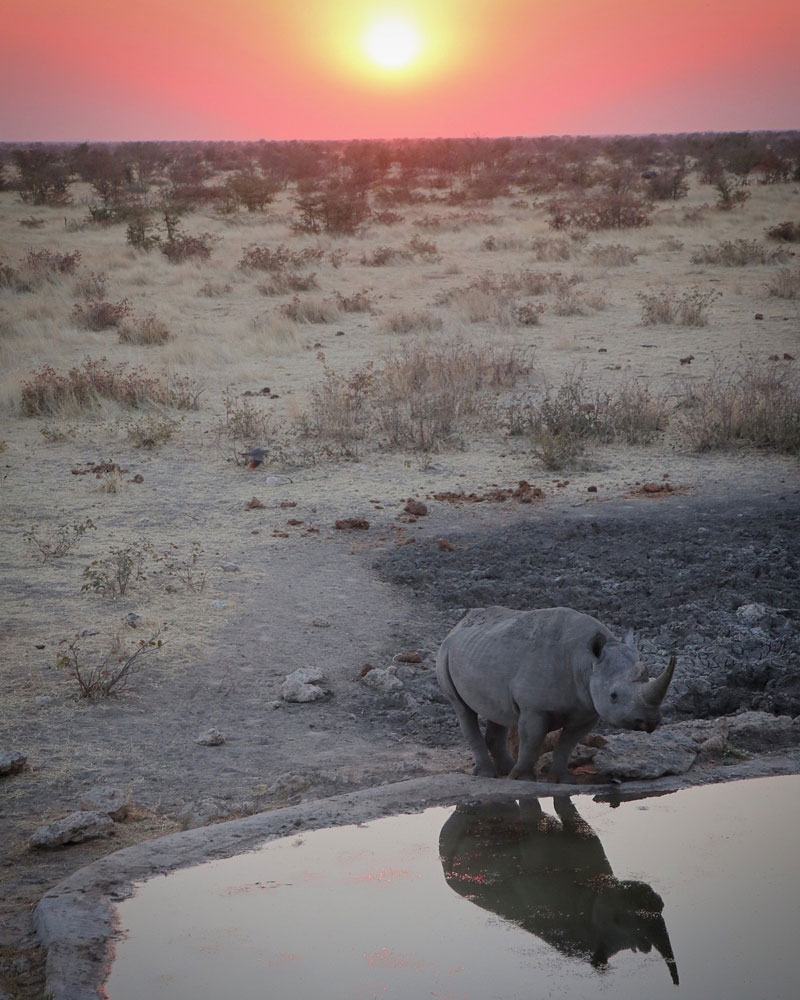 Less-than-fabulous: Baboons. Seriously, these guys are rude and dangerous! We even had to put Jools and Pippa in the car at Ai Ais when they came right up to our breakfast table.
Fabulous: The starry skies – every night! Truly unbelievable!
Fabulous again: Our daughters felt happy and free in the vast natural surroundings. They needed no more than a few sticks, pieces of string, sand and water to amuse themselves for hours. They built themselves a safari park, a KLM plane (with Pippa as the pilot and Jools as the passenger). It was joyful to see them having such fun.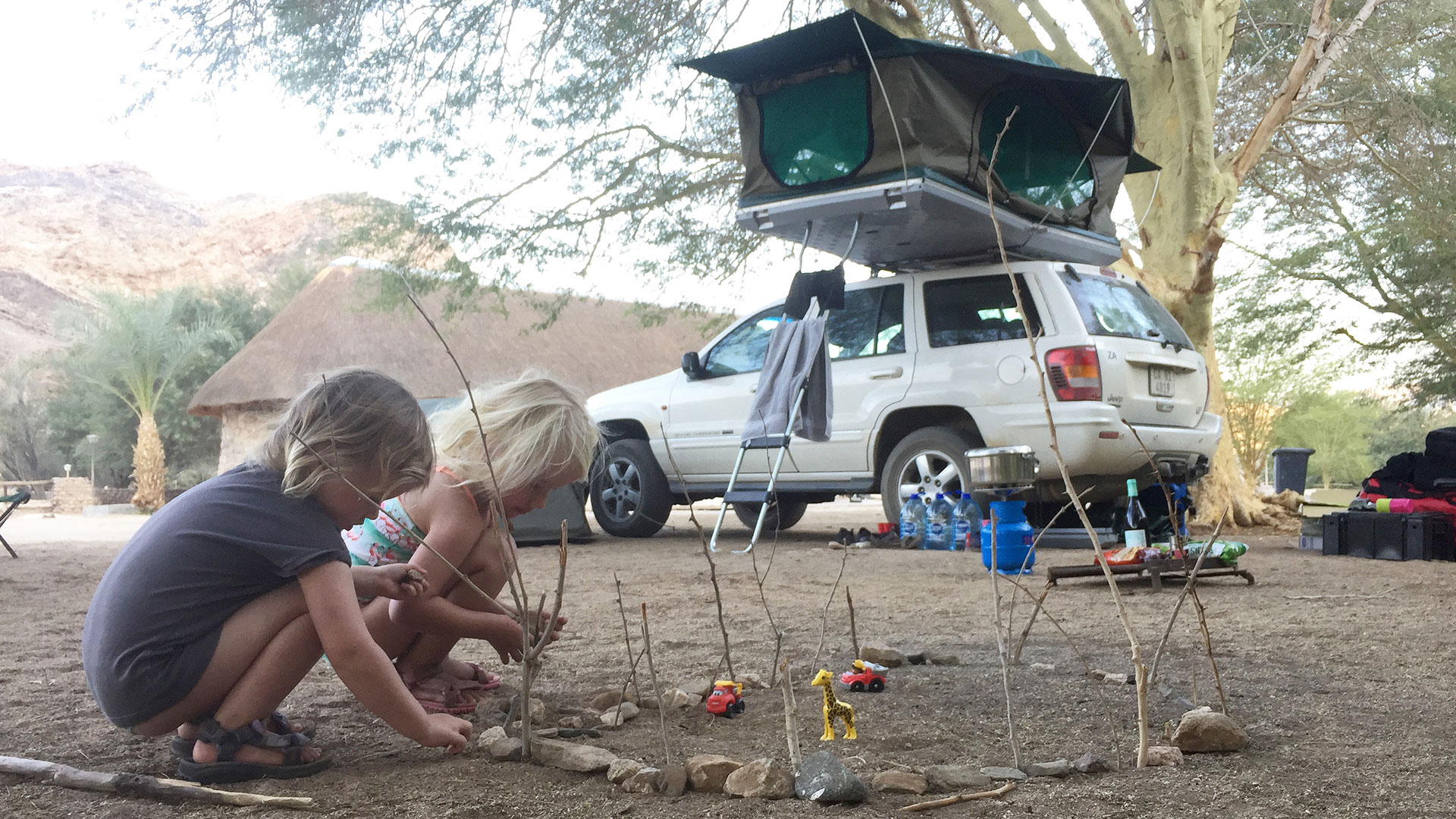 Less-than-fabulous: I was quite worried because Etosha is classed as a low-risk malaria region. We made sure that we were well informed and everything turned out fine. The risk of malaria was also why we chose to drive through southern Botswana. We felt we'd taken enough of a risk visiting Etosha.
Tips for Botswana: The Dqae Qare San Lodge at Ganzi and the Masa Square Hotel in Gabarone.
And, to close with the "Sunny Side Up":
– It was precisely the less-than-fabulous things that made our trip through Namibia unforgettable.
– It was precisely the less-than-fabulous things that made it possible for us to enjoy the splendour all the more.
– It was precisely the less-than-fabulous things that made us grow as people (learning to stay happy and patient during a bumpy four-hour drive in a half broken down car you didn't trust) and therefore as a family.
You can compare the mind-set you have at the start of a long journey with how you feel about life. If, at the outset, you see it as something scary, if you're afraid of the bears (or elephants) along the way, and if you think it's going to take forever, you'll probably experience it that way.

Or you can learn to see every long journey as an opportunity to discover new and unexpected things. Just the fact that you're moving forward can bring you pure joy. It's all about the right mind-set, baby.
A half-full / half-empty car it is.
And as to whether we'd recommend Namibia? Absolutely! But you'll need to have a spirit of adventure. You'll be able to turn the less-than-fabulous side of things into an exciting challenge!
Love, Annette
PS: Curious to see moving images? Check out this video!
In October, November and December you can fly directly from Amsterdam to Windhoek for just €900. Windhoek is centrally located and would serve as the perfect point to start and finish your trip.