What Medical Equipment is Available on KLM Flights?
What happens if you sprain your ankle flying over the Sahara? Or if you come down with a stomach-flu while crossing the Atlantic? Of course our cabin crew can tend to minor injuries with bandages and aspirin, as you would expect, but did you know that all KLM cabin crew complete first-aid training? There is a lot more medical equipment aboard our aircraft than you might think. Here's an overview.
1. Little blue bags: solving discomforts
Take-off and landing are events that can cause physical stress to the body due to rapid acceleration and deceleration. During a flight, conditions on board are different from those on the ground. The differences in air pressure and humidity, for example, can lead to minor but annoying inconveniences. Head, ear and stomach aches and dry skin and eyes are common complaints caused by these changes.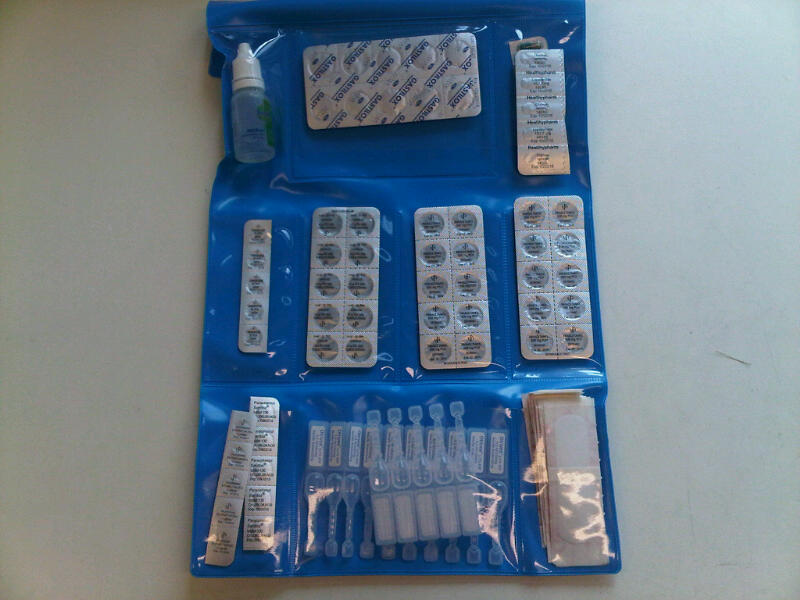 Over-the counter-medication
Frequent flyers who already know what to expect during long-haul flights will take precautions and bring nose sprays or painkillers to deal with this. These ailments may, however, come as a nasty surprise to children, elderly people and less experienced travellers. KLM cabin attendants have been trained to recognise these common ailments on board and are equipped with little blue first-aid bags (nicknamed 'stessentasjes') containing a selection of useful over-the-counter medication.
2. First-aid kit: to treat minor injuries and relieve pain
Things can get pretty lively aboard a plane. Sometimes it feels as if you're finding your way in a busy marketplace. People are walking about, opening overhead bins and swinging luggage around above other people's heads. Groggy passengers wait in line for the toilet, still half asleep and swaying dangerously from side to side. In this environment, accidents do happen.
Turbulence
When turbulence is expected, cabin crew will stop the service, take the trolleys to the galleys and secure them. In exceptional cases, an unpredicted bout of heavy turbulence can cause trolleys to fall over or hot drinks to be spilled, injuring passengers or cabin attendants. In this and other situations where bandage or gauze is needed, the cabin crew have access to the first-aid kit that is available aboard every KLM flight. This kit can be used to treat minor injuries and relieve pain resulting from minor accidents.
3. Medical kit: for emergency situations
The excitement of flying home to see your sister's new-born baby, the fatigue caused by two days of travelling, the stress caused by a snoring travelling companion – all of these might conspire with the physical and environmental factors described above, pushing some people over the edge.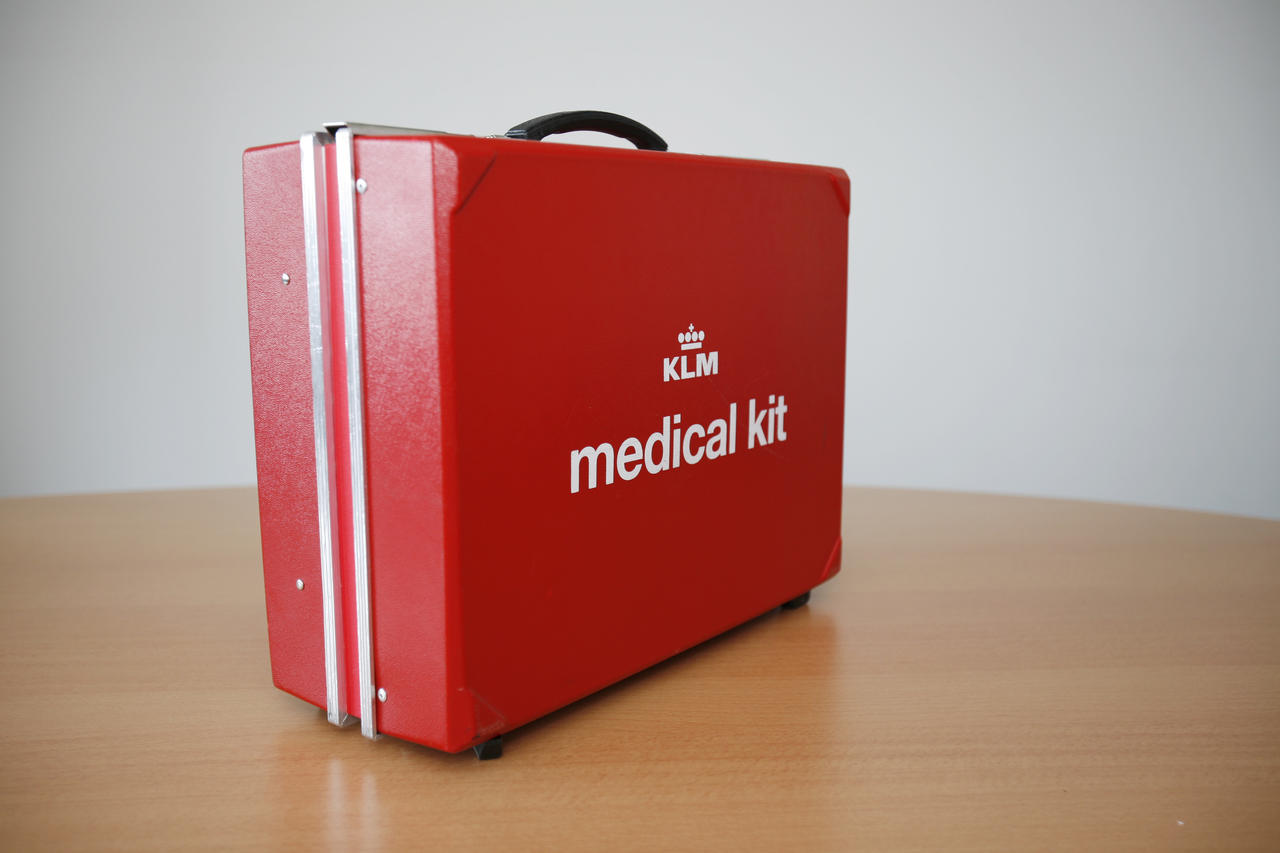 Fainting
One of the most common medical incidents on board is dizziness or fainting. In most cases, it is caused by a cocktail of various factors: too much to eat, too little to drink, standing up too quickly. If this happens, sitting down and having something to drink will generally help people feel better quickly.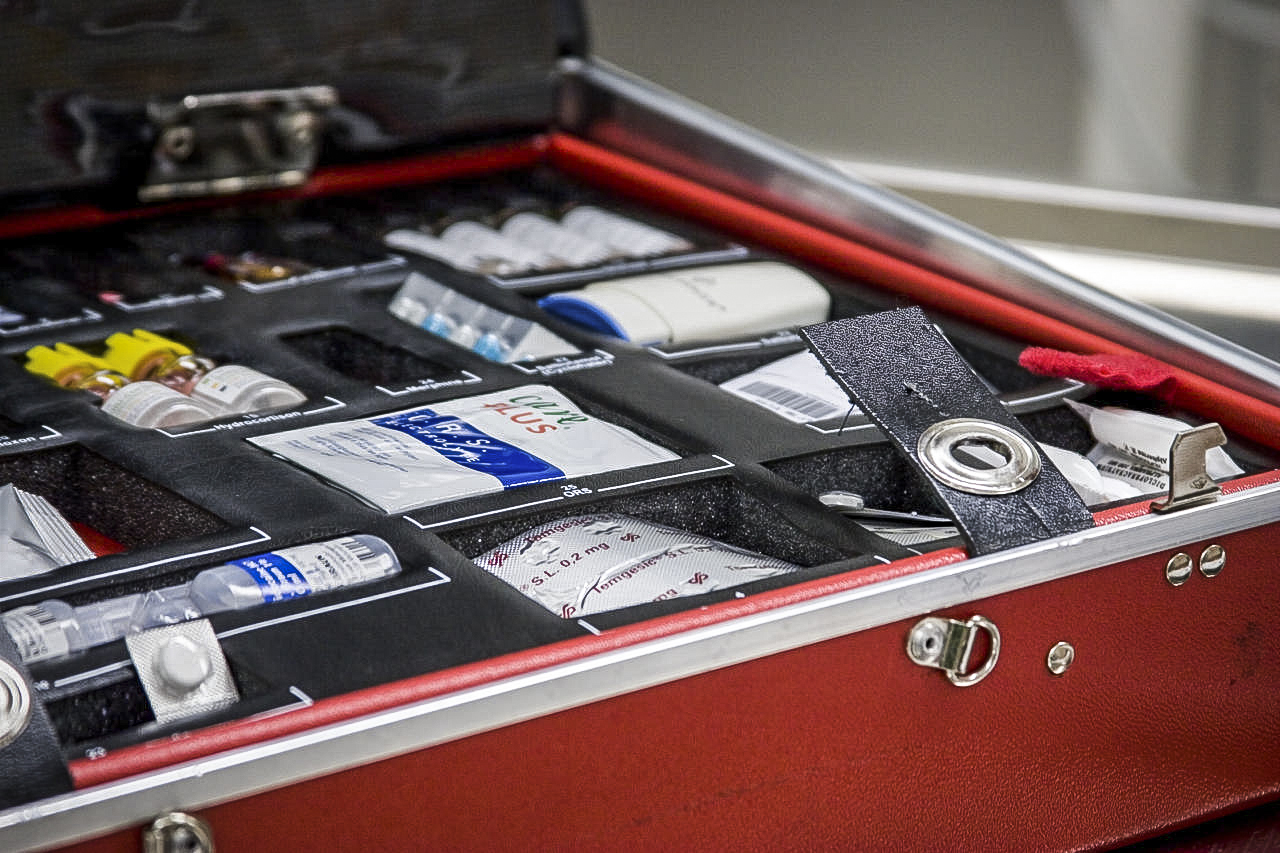 Sometimes, fainting can be caused by a pre-existing medical condition, like diabetes, or a person may have a seizure on board. There may also be other reasons to suspect that a passenger is more seriously ill. For such instances, there is a medical kit on board. This kit contains things like a blood pressure gauge, a thermometer and a stethoscope. The medical kit is designed to be used by the purser and any medical doctor who may be on board. It also contains prescription drugs, which may only be administered by the doctor on board or if approved by a medical doctor on the ground. With the aid of the medical kit, emergency situations can be assessed and primary treatment of certain conditions can be initiated.
4. Oxygen and AED
Besides the medical kits, there is also a supply of emergency oxygen on board and an automated external defibrillator (AED) is present on all planes to provide care in the unlikely event of a heart attack.
According to a large-scale study, analysing more than 7 million flights, medical incidents occur approximately once in every 600 flights. This translates to a chance of 16 in 1 million for you as an individual passenger.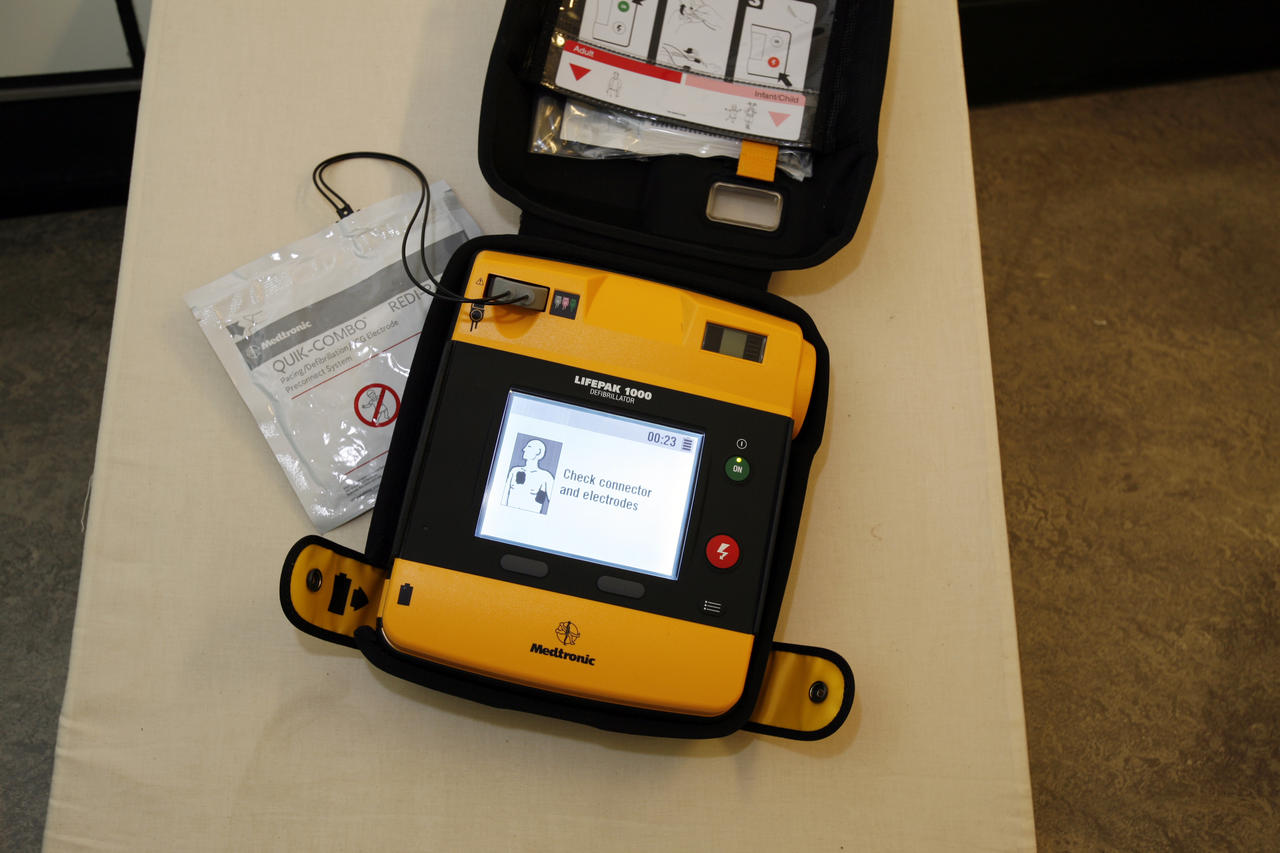 Should you happen to be the passenger in need of medical care, I hope this post has reassured you that KLM is well prepared to provide first aid on board, either by cabin crew or by a doctor on board. And if there is no doctor on board, there is always a KLM doctor on call.