6 Air Traffic Control Myths Busted
Whenever I mention that I work at Air Traffic Control, I'm reminded that people have strange ideas as to what my job entails. There are various myths that are completely inaccurate. I'll be busting a half dozen of them in this blog.

1. So you're an air traffic controller? That means you're out there waving around your ping-pong bats, right?
Many people don't know the difference between an aircraft marshaller and an air traffic controller. Marshallers use "ping-pong bats", flags or light signals to direct aircraft to their correct position at the gate or any other parking bay. Air traffic controllers, on the other hand, supervise flying and taxiing air traffic and ensure that the aircraft are kept at safe distances from one another. In short, we use our radio to tell pilots where they have to go and when.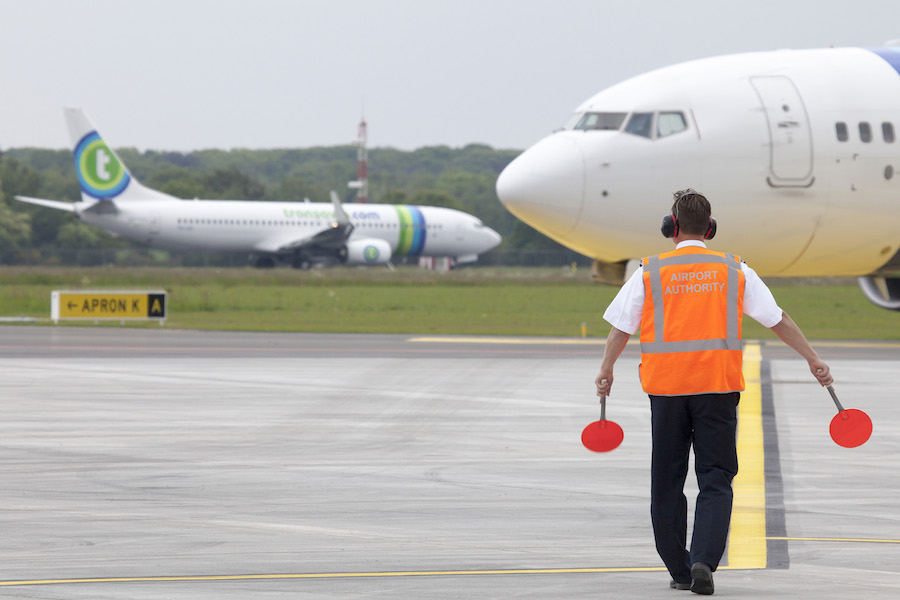 2. Air traffic controllers never look out the window. They just stare at their screens
We do have radar screens up in the tower, but we mainly handle traffic based on what we see from our window. In short, we sit staring out of the window a lot. In fact, we can handle more traffic if we can see it directly than if we have to rely on technology.
This is also one of the reasons why air traffic is delayed when visibility is poor at the airport. Because we can't see the aircraft and they can't see each other, or even the taxiways on really bad days, we insist on bigger distances and intervals between aircraft than we would on a nice, clear day. This means we can handle less traffic when the weather is poor. The radar screens then ensure that we can keep doing our job.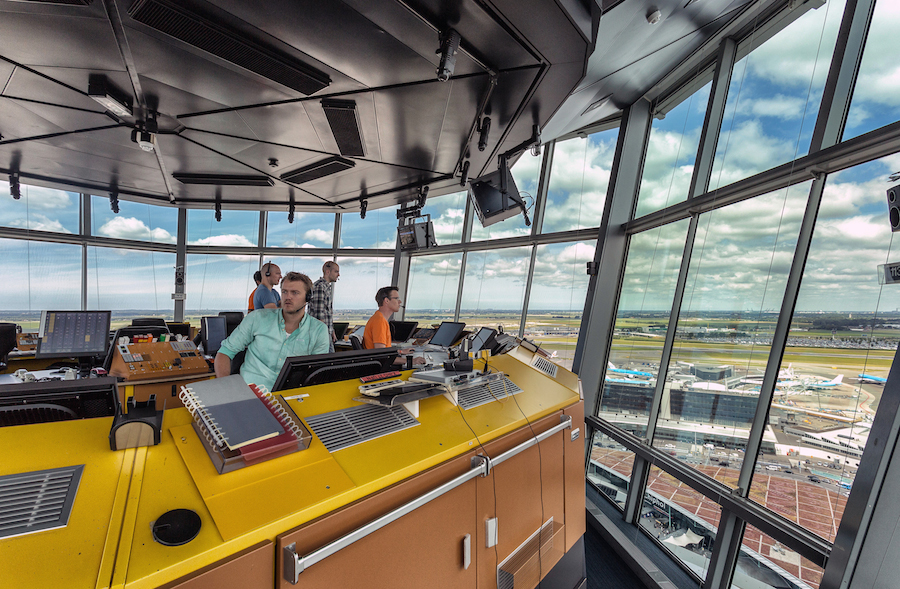 3. They're all up there in the tower
Air Traffic Control the Netherlands (LVNL) employs around 900 people, including around 250 air traffic controllers. Schiphol tower's upper observation cupola can accommodate a maximum of eight people. This area is only used to handle traffic at the airport itself and within a 15-kilometer radius of the airport.
All other air traffic operating within our national airspace is handled by the radar centre at Schiphol East. This includes air traffic departing from and approaching Dutch airports, but also traffic passing through Dutch airspace on its way to Brussels or Dusseldorf, for example. There are also air traffic controllers stationed at the airports in Groningen, Rotterdam and Maastricht. The remaining LVNL staff mainly work at our offices in Schiphol Oost.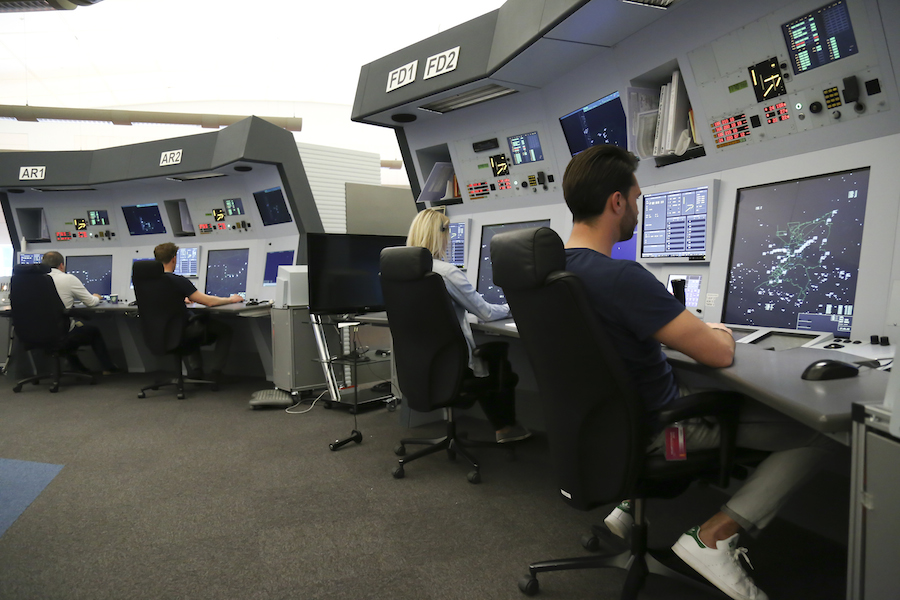 4. All air traffic controllers are always stressed
If that were really the case, we'd all be sitting at home in no time. To become an air traffic controller, you have to complete a comprehensive selection procedure, during which your coping skills and all sorts of other abilities are tested. While we're at work, we also keep a close eye on ourselves and our immediate colleagues. If things tend to get too busy, we split the airspace up into sectors that we handle with several colleagues. Also, we're only allowed to work for 2 hours and 20 minutes at a stretch, before we have to take a compulsory break, during which we can relax at a PC or at the pool table, or we can work out in our gym.
5. You must be really good at maths
It's handy if you can use mental arithmetic to calculate where one aircraft will be in relation to another aircraft in X minutes' time, taking into account aircraft performance and wind factors. But we also have a lot of technology at our disposal that helps us do our jobs. In short, it is easier if you're good at mental arithmetic, but you certainly don't have to be a whizz kid. You do, however, need good spatial awareness skills, because you need to see those 2-D radar images as 3-D images in your head.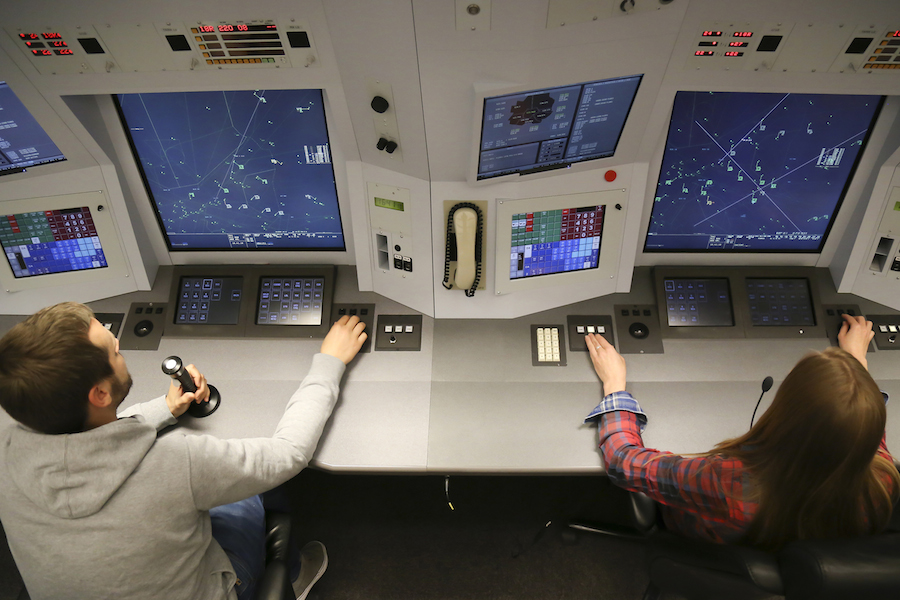 6. You need to speak at least five languages to communicate with all the pilots
In our world, we speak a unique language called radiotelephony (RT). This is based on English and there is a lot of jargon involved. Even if English is your first language, you need time and training to understand and speak the language of air traffic control. That means we all speak the same language, regardless of whether we're talking to a French, Chinese, Dutch or Russian pilot.
When Dutch air traffic controllers talk to each other, they usually speak Dutch combined with RT. This can lead to rather amusing sentences. If you look carefully, you may be able to spot some of the English RT terms in the following: "De KLM1234 gaat op een heading om er wat delay uit te vliegen, dan gaat de KLM5678 holden in de stack op flightlevel 100."
Heard it al before?
It's quite possible you've heard or read this before. We've posted this interesting and funny blog on 8 February 2016. So this actually is a repost. But not without reason: our great KLM Intern On a Mission used this blog for some serious vlog inspiration. Did it work? Find out for yourself: