6 Christmas Holiday Chocolate Getaways
If you start drooling when you read the word 'chocolate', you're in for a treat. We've selected 6 of the finest chocolate makers in the world. They make the perfect gift for your loved ones this holiday season. Or treat yourself to one of these mouth-watering bars.
And oh, if you happen not to be around in one of these cacao heavenly cities, you might want to surprise someone with a chocolate box of KLM Wannagives.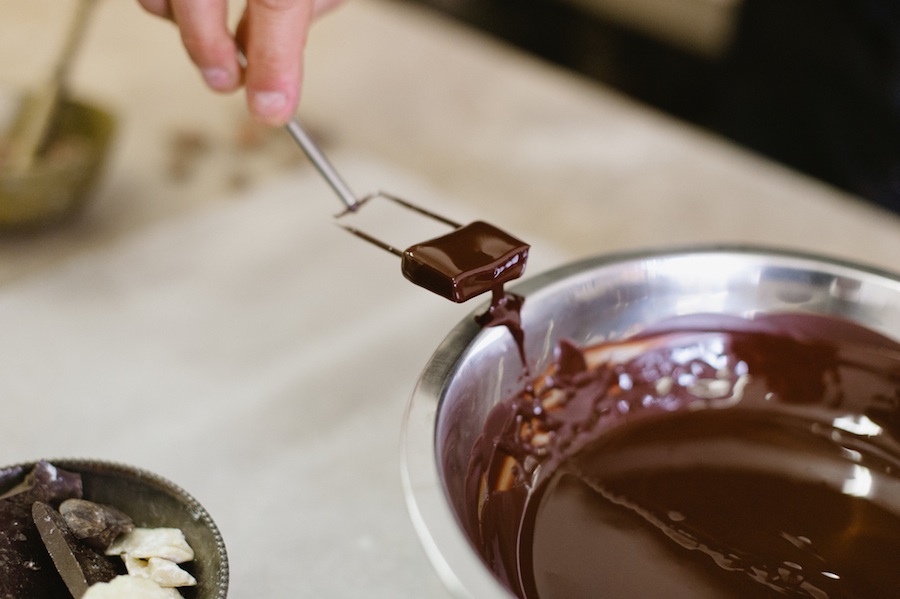 London
Rick and Michael Mast, better known as the Mast Brothers, opened a new establishment in Shoreditch. Once inside, mouth-watering aromas draw clients to the minimalist plywood counters, where towers of brightly wrapped bars are displayed like designer purses. Highly recommended is the Brooklyn Blend, featuring black cherry, Syrah and allspice. What's more, they also hold tours of the factory, showing you exactly how to handle the quality beans they import from Papua New Guinea and Guatemala.
Visit the webshop.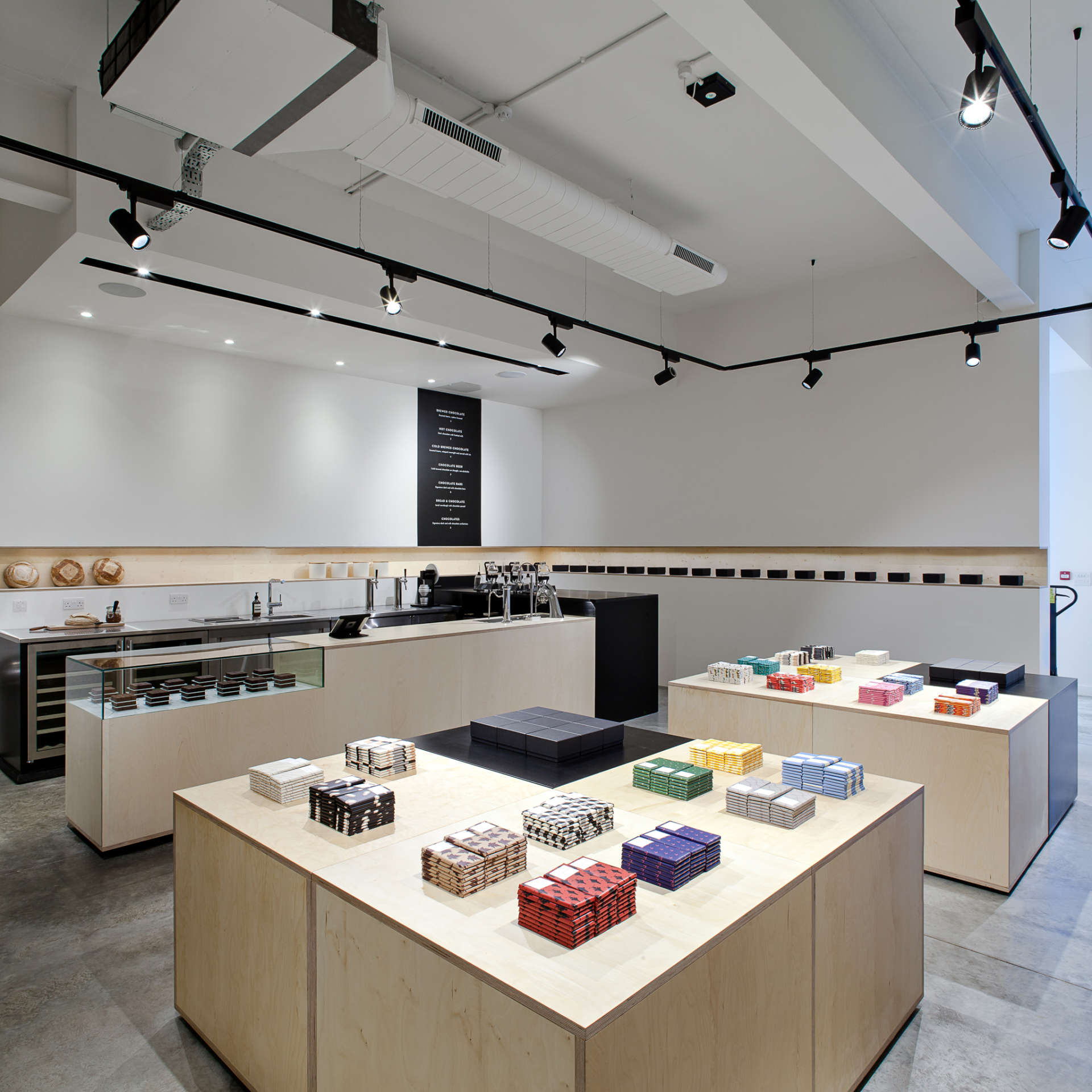 Cape Town
What is hard is having to choose which of the handmade, preservative- additive- and emulsifier-free chocolate bars and bonbons you like best of the South-African chocolatiers Honest Chocolate. There's the bar with 72% cocoa and a sprinkling of coffee. Or the one called 'Don't be afraid of the dark', which contains no less than 88% cocoa. The packaging, designed by local illustrators, is equally lovely.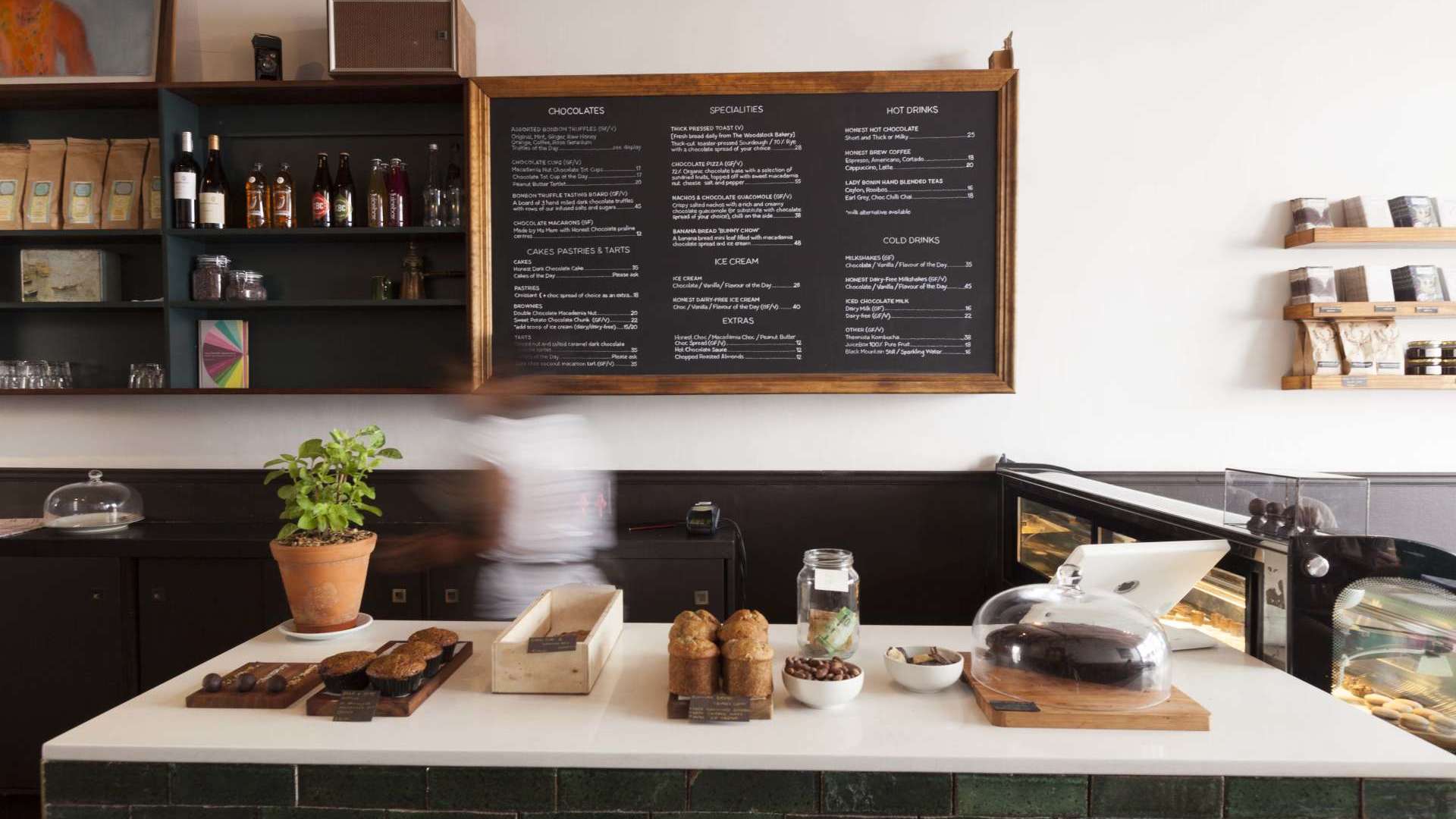 Sydney
No dairy, no soy, no gluten, no refined sugars. That's Pana Chocolate for you. The company is owned by Pana Barbounis, who creates a dream come true: chocolates that are good for you. All handmade bars are delicately flavoured, with natural aromas such as orange, rosewater or mint. And if that wasn't enough, they also serve up a tasty bit of cake. Sweet.
Visit the webshop.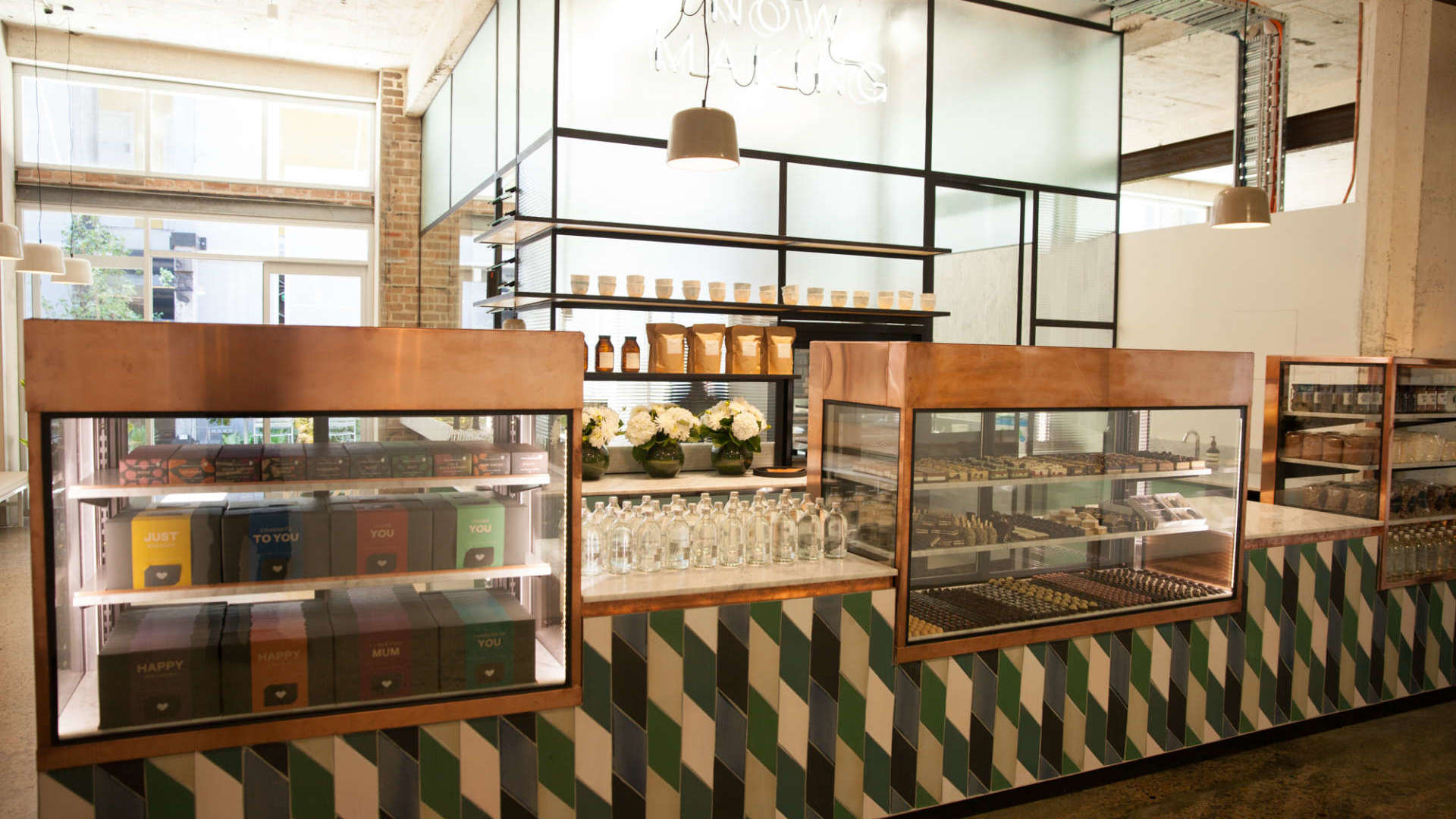 Paris
World-renowned chef and owner of several excellent Parisian restaurants Alain Ducasse recently teamed up with one of his trusted patissiers, Nicolas Berger, to open La Manufacture de Chocolat in Paris. Located near the Bastille, this spectacular chocolate factory offers a wide variety of bars, spreads, bonbons and even chocolate chips for all your home-baking adventures. True aficionados are happy to spend their last eurocent on Ducasse's Giant Dark Chocolate Bar: an almighty 3kg treat that will last you – well, at least until next week.
Visit the webshop.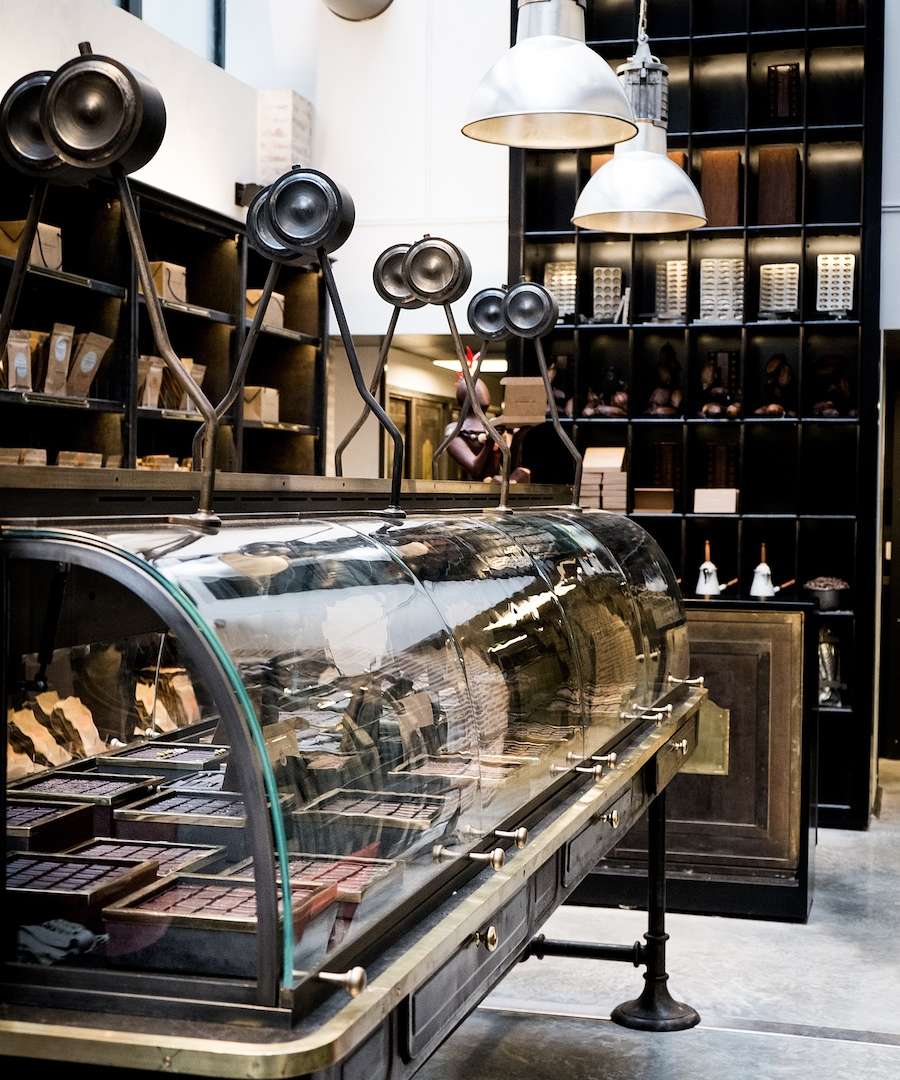 Credit: Pierre Monetta
Antwerp
Dominique Persoone runs The Chocolate Line, with stores in Bruges and Antwerp. The latter is located in the Palace on the Meir, which once belonged to Napoleon Bonaparte. The grand interior, with its crystal chandelier, baroque ceiling decorated with gold leaf and counter shaped like a chocolate bar, adds a majestic touch to the divine experience of chocolate shopping.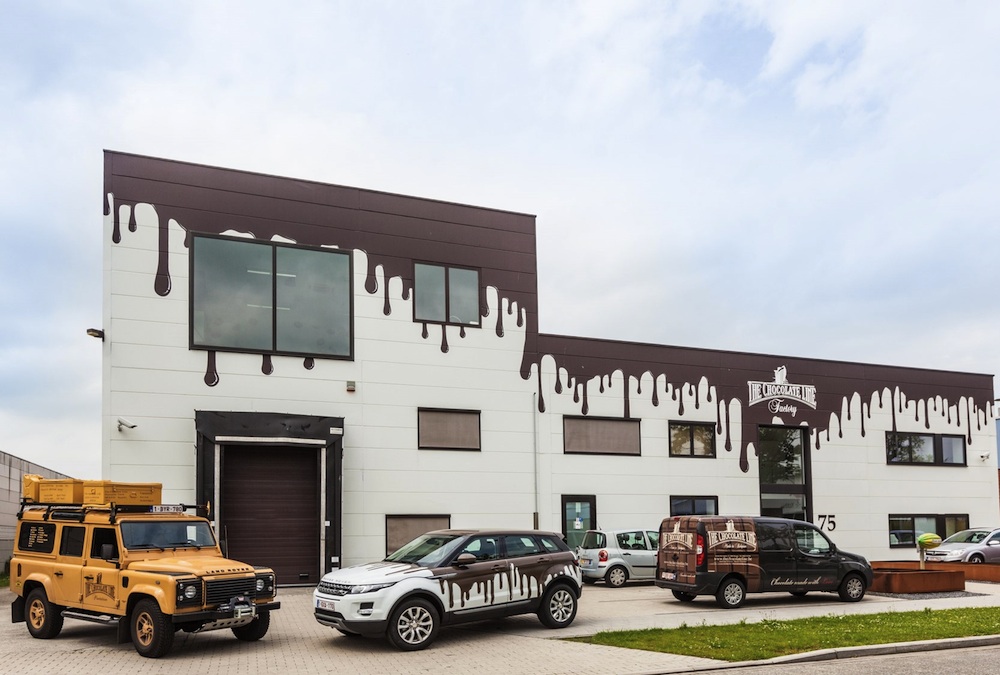 San Francisco
Housed in a former garage in San Francisco's Mission District, the Dandelion chocolate factory sells all things chocolatey, be it bars (try the Dulce de Leche) or Nutella cookies. Dandelion's owners travel to Trinidad and Venezuela to pick the best beans while the actual roasting process happens in San Francisco, in front of customers. There's also a smaller shop in the Ferry Building, which only sells the chocolate, but for a true 'making-of' experience, the Mission District branch is the place to be.
Visit the webshop.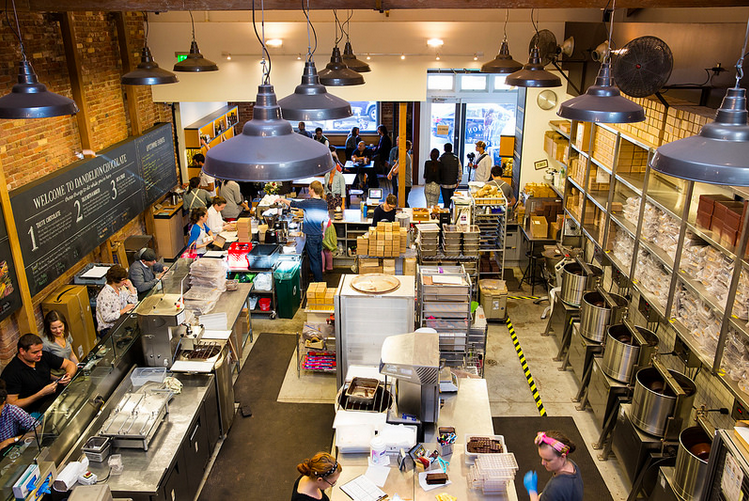 Everywhere bonbons on board
Yes, you can give a lovely box of chocolate on almost every flight. Even if you aren't flying yourself. Through KLM Wannagives you can surprise someone on board of our aircraft. All you have to do is select a gift (it can be anything), fill in the passenger's name and the date of their flight or their flight number. We will ensure that the gift is taken along on board and handed out by one of the crewmembers. A great way to say 'I am thinking about you.'
Inspired on an article published in KLM's inflight magazine Holland Herald.
Original text: Pauline Egge