"All the Rembrandts" in the Rijksmuseum – not to be missed!
It's Tuesday afternoon and I'm in a tram watching Amsterdam pass by like a parade. As an avid art lover, I'm feeling excited. One thing is clear: Rembrandt is alive and kicking, dominating the cityscape 350 years after his death! In fact, nationwide people are celebrating the life of this rebellious master of the Golden Age. From Leiden (Rembrandt's birthplace) to Friesland, but most of all in Amsterdam, the city where he lived and worked most of his life. But what exactly is happening at the special exhibition at Rijksmuseum?
The art of flying
Before I began my flying career, I received a creative education, which included many lectures in art history. I still visit at least one exhibition or creative event every week and I love visiting museums when I'm away from home. After a long flight, it's wonderful to catch your breath among the works of Van Gogh, Picasso or contemporary artists, wherever I may be. Artworks radiate good vibes and I often refer to museums as my "Happy Places". They give me a major boost, which comes in useful for the flight home. In 2015, I wrote a blog about one of the Netherlands' most famous artists, Vincent van Gogh, in which I traced the last years of his life in "la douce France".
Now I've been asked to turn my attention to the Dutch Master of light and shade, Rembrandt van Rijn, who also inspired Vincent van Gogh. What makes this all the more special is that KLM regularly transports works by both masters. These costly and challenging operations make it possible for people all over the world to enjoy their wonderful work. Remember this little movie KLM made? 
But this time, I'll be playing at home. Rijksmuseum, here I come!
Review: exposition "All the Rembrandts"
The Rijksmuseum owns most of Rembrandt's work and all its Rembrandts are on display until 10 June. This is a unique opportunity to see so many of the great master's works in one go. Having booked my timeslot ticket online, I installed the Rijksmuseum App on my phone. This proved to be a fantastic tip, because the app gives you a free tour of all the artworks on display. 
The two-hour tour takes you through all sorts of themes and narratives. For a while, I was totally immersed in Rembrandt's life, enjoying some of his greatest works, including one of my absolute favourites, The Jewish Bride. Take a close look at Isaak's sleeve. See how the thick paint has been smeared on and modelled with a palette knife and the back of a brush. Fun fact: when the Rijksmuseum opened in 1885, Vincent van Gogh was utterly gripped by this painting. Sadly, no one knows what he thought of Rembrandt's technique at the time, but it's fascinating to see how, many years later, he too started working with thick layers of paint, creating works that people would come to love.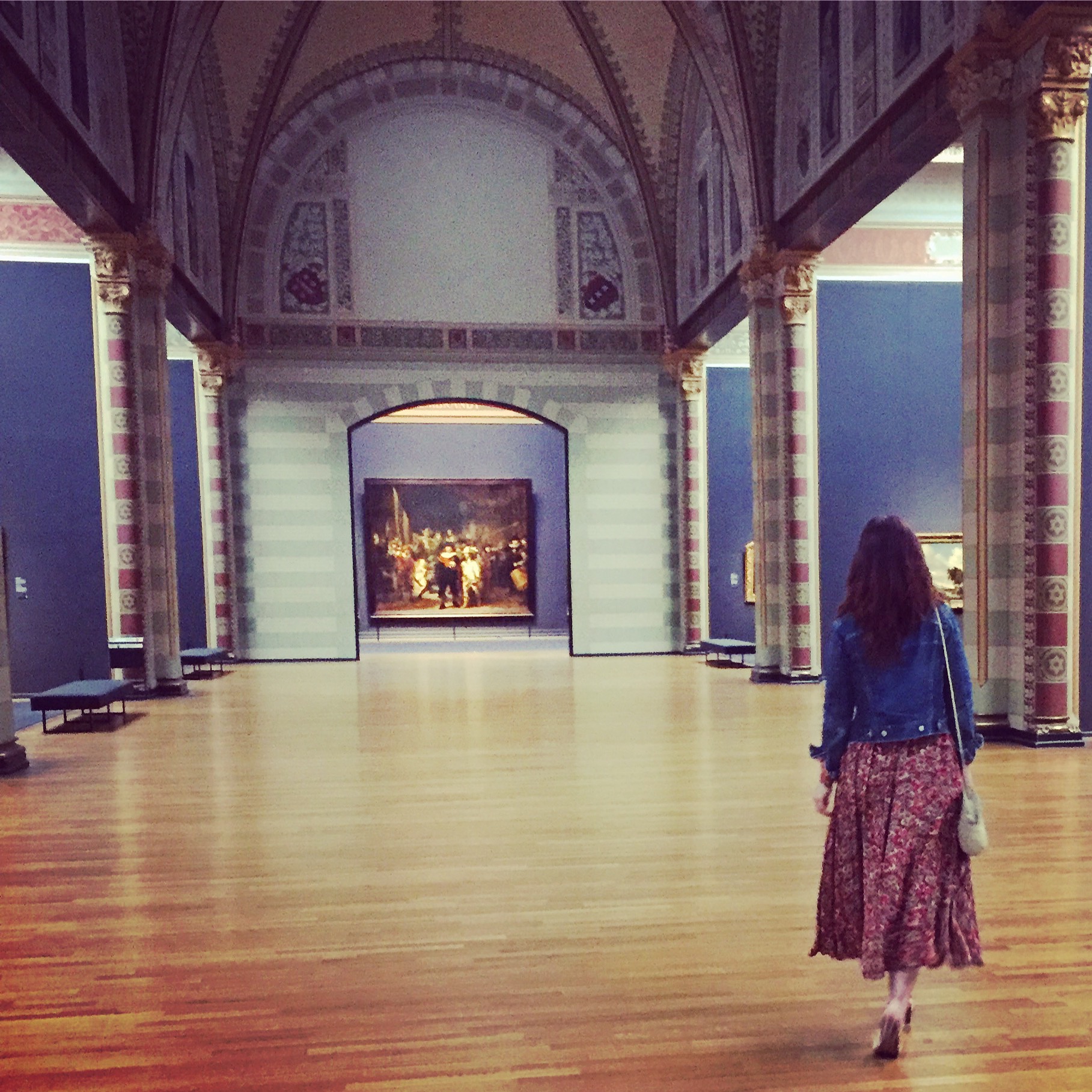 But let's return to the Rembrandts…
The tour also takes in the familiar faces of The Sampling Officials of the Amsterdam Drapers' Guild (known as The Syndics) and the full-length portraits of Marten Soolmans and Oopjen Coppit. Funnily enough, it's the smaller, less familiar etchings that really give me goose bumps. His etched self-portraits are truly phenomenal! So finely detailed and recognisable. The Rijksmuseum has many of Rembrandt's etchings in its collection, but it has brought out the very best for this exhibition. You really shouldn't miss them!
I can hardly believe my eyes. What a collection. Such bold talent! He really did things in his own way, which made him a rebel of his age. He painted, sketched and etched things he saw in daily life. We would probably add an Instagram filter nowadays, but Rembrandt clearly believed in "what I see is what you get". This confirms that he was not only a genius in terms of his art, but also very much a man of flesh and blood.
Rembrandt's crowning glory: The Night Watch
The only work missing from the exhibition All the Rembrandts is the crowning glory of painting in the Golden Age, the one masterpiece that people "fly" to the Rijksmuseum to see: The Night Watch. This painting hangs where it always does in the hall of honour. So, what could be better than including the Hall of Honour in your tour. If you can do this after 8 July you will be able to watch live – in the gallery and online – as this jewel of painting is restored. A very special highlight of this Rembrandt year.
Rembrandt for kids
The museum shop stocks all kinds of great things for children too. I bought the lovely book book Miffy x Rembrandt by Dick Bruna for my four-year old nephew. The Playmobil figures of the Night Watch characters and Marten and Oopjen are really funny too. Rijskmuseum actually organises all kinds of special activities for children, including quizzes, tours and drawing workshops. 
Go for a stroll
If, after you've been around the Rijksmuseum, you feel like holding on to that Rembrandt mood a bit longer, you might like to go on a walk that takes you past 16 Rembrandt sites in the heart of Amsterdam. The route starts at the Rijksmuseum and takes in the square Rembrandtplein, where you can insert yourself into a life-size sculpture of the Night Watch for a photo. Then on to the Rembrandt House, where he lived and worked, and the church Westerkerk, where he is buried. You can pick up the map of this walk from the information desk at the Rijksmuseum or download it. If you're still hungry for more Rembrandt, here is the full programme of Rembrandt events at the Rijksmuseum for the rest of the year:
All the Rembrandts, 15 February to 10 June

Restoration of the Night Watch from 8 July

Long Live Rembrandt, 15 July to 15 September

Rembrandt – Velázquez, 11 October 2019 to 19 January 2020