There's a certain atmosphere in the air during these days before Christmas. In Northern Europe, the days are short, dark and cold. When you walk along the streets and pass all those cosy-looking houses, it makes you long to go inside and spend the rest of the day sitting in front of a roaring fire, sipping hot chocolate.
A lot of my friends outside KLM are busy bringing the year to an end at their work this week. In fact, next week most businesses will go into sleep mode.
But at some places it will be business as usual. And that goes for a fair part of KLM. As long as there are planes in the sky, the operational and support departments need to be 'on air' as well.
I've learned that quite a few other people won't have a conventional Christmas either. On my last flight, a passenger told me he would be working on a drilling platform during the holiday season. Another passenger said that he would have no time to fly home to his family for Christmas, so he would be spending the Christmas weekend with colleagues in a hotel. A lady told me she would be on a flight to Hong Kong on Christmas Day to attend a meeting on Monday. Yet, most passengers I've spoken to were on their way to spend Christmas and New Year's Eve with their loved ones.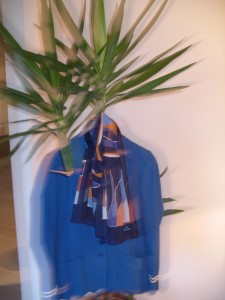 I'll be spending Christmas Eve underneath my own Christmas tree as well. However on Boxing Day I'll be in Curacao, celebrating the last part of Christmas underneath a palm tree. Hopefully, my partner will be able to join me. We booked a staff ticket for him, but these tickets can only be used when empty seats are available.
I've spent Christmas in foreign places quite a few times before. But I'm still amazed by Christmas songs and ornate Christmas trees under a blue sky, in the heat of the tropics. I'd love to share this with my boyfriend this time. So we're keeping our fingers crossed.
Merry Christmas to all of you, wherever you may be!
Caroline