The holiday season is in the air. Halloween has just passed, a few Christmas trees are being decorated already, and literally every shop I enter sells 'pepernoten'. These small, nut-like cookies are eaten in huge numbers during Saint Nicholas, a children's feast on 5 December.
There's a buzz among KLM's cabin crews these days as well, as our flight schedules for Christmas and New Year's Eve will be published soon.
In our job, we don't have Sundays or holidays: every day of the year is a normal working day. But there's a basic rule for Christmas and New Year's Eve: if you worked last year, you'll be off this year and vice versa.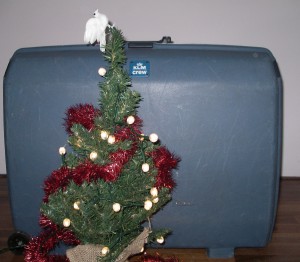 I'm on for Christmas this year. Fortunately, in Holland, Christmas is spread over three days: Christmas Eve, Christmas Day and Boxing Day.
'Working at Christmas' boils down to working somewhere between Christmas Eve and the end of Boxing Day. Basically, there are two main strategies. You can try to get a flight to one of your favourite destinations and celebrate Christmas abroad with your colleagues and, if you're really lucky, with a loved one you brought on your flight. Or you can try to get a flight that returns on Christmas Eve or leaves on the 26th. Either way, you can still sit down to a full Christmas dinner twice.
I'm taking a bet on the second strategy this time.
Unfortunately, the flights that don't meet these requirements have to be staffed as well. Obviously this also applies to flights that leave on 31 December or return on 1 January.
The longer you work at KLM, the more chance you have of getting the flight of your choice.
So every year some of us are happy with the flight roster and some of us aren't.
But time and time again, quite a few of those 'unwanted' flights turn out to be unforgettable trips. I guess being in the same boat creates solidarity.
So I'm not too worried about my whereabouts at Christmas.
Caroline