It's still freezing outside, which means our aircraft need to be de-iced. It's during days like these that the ladies and gentlemen of KLM De-Icing do everything they can to make sure your plane is ready for departure. Allow me to explain what their work entails.
Maybe you've been aboard a plane, just before take-off, when it is suddenly surrounded by boom lifts that start spraying the aircraft with powerful jets of fluid. Was the whole aircraft shrouded in a vapour cloud, making you wonder what was going on? Well, that was de-icing.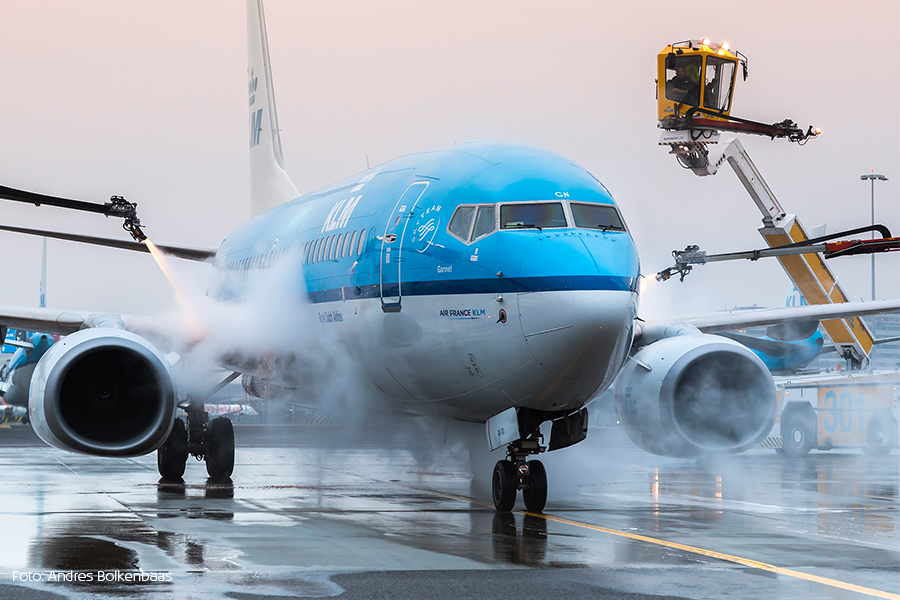 These photos confirm that de-icing can be pretty impressive. The vapour you see comes from the heated fluid hitting the frozen wings. In combination with the bright work lights on the de-icing vehicle, it all looks quite futuristic! And it all gets even more spectacular when they start working on the fuselage and you can hear the powerful jets of fluid spraying left and right.
Snow, ice, hail
Winter contaminants – ice, snow, hail, sleet, frozen mist – disrupt the airflow over the wings, affecting an aircraft's performance. And that's something we want to avoid! Which is why we clean and protect our aircraft just before take-off on winter's days. That cleaning process is called 'de-icing'. It's done with a mixture of water and glycol, heated to a temperature of 70°C.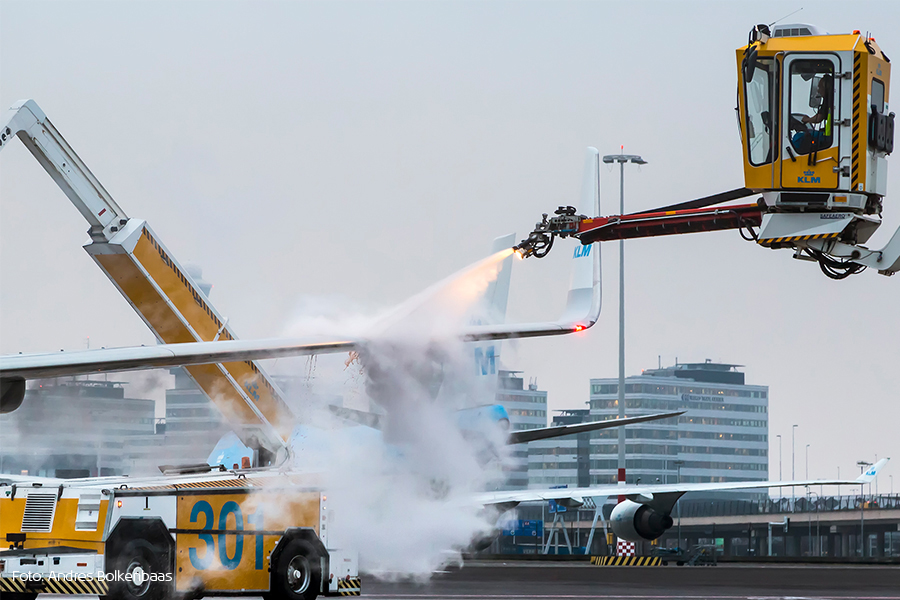 If it snows or hails during de-icing, the aircraft is also coated with a thick, un-warmed fluid, which offers temporary protection against snow and/or hail. Once an aircraft is airborne, it has its own systems to prevent ice build-up.
The fluid that KLM uses is not toxic or harmful to the environment. All the run-off fluid is collected and neatly disposed.
Central De-icing Facility
Normally, de-icing takes place at a special facility at the airport. Once passengers and cargo are on board, the aircraft taxis over to this Central De-icing Facility, better known as CDF.
Aircraft leave their engines running during de-icing, so that they can head straight to the runway for a safe and smooth take-off. If the winter weather is really grim, causing a traffic jam at the CDF, de-icing is sometimes done at the gate.
De-icing can take from 3 to 25 minutes, depending on the type of aircraft and the degree of contamination. You can imagine that an Embraer 190 is easier to clean than a snowbound Boeing 747.
How does one plan de-icing, considering the unpredictable Dutch weather?
Because it is almost impossible to predict the winter weather in the Netherlands, it is difficult to assess how many aircraft will need to be de-iced. That means it is difficult to assign personnel. Which is why we work with different kind of staff – around 230 in total – with various working backgrounds.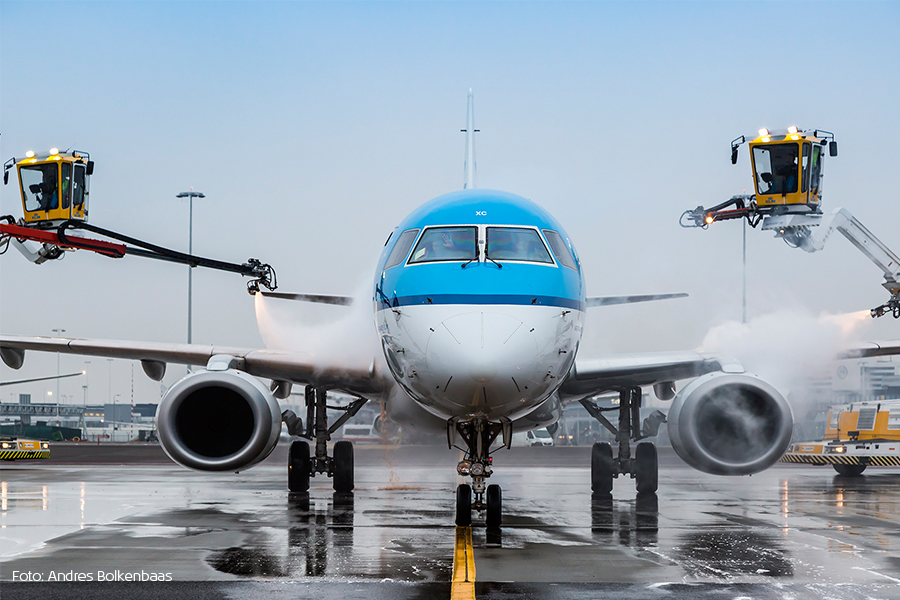 Permanent staff and volunteers
There is group of permanent de-icers. They ensure that aircraft can be de-iced 24/7. These heroes are supported by a group consisting of permanent de-icers and temps, who do other work when the winter weather is mild. And then there is a team of volunteers who come into action when the weather is at its worst. This team consists of around 45 KLM superheroes who drop whatever they are doing and pull on their de-icing overalls if things get hectic at the CDF. All of these people have earned their de-icing diploma. Which means they fully clued up on the strict procedures and the many legal and regulatory requirements.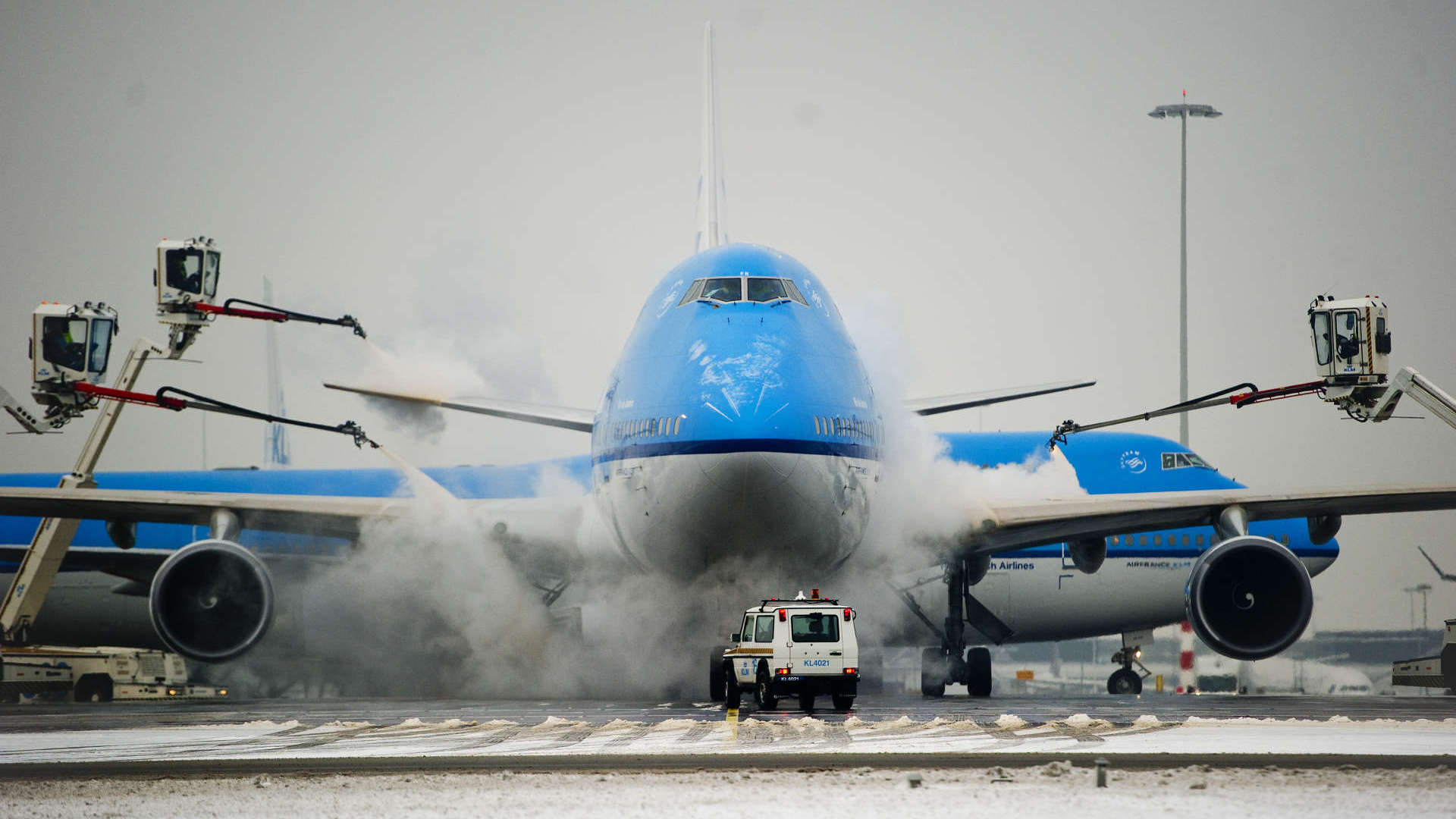 So, next time you see this winter spectacle, you'll know exactly what's going on. Which means you can give an interesting winter's lecture to your fellow passengers. ;)
Sounds familiar?
It's quite possible you've heard or read this before. We've posted this blog in November 2015. So this actually is a repost. But not without reason: our great KLM Intern On a Mission recently made a cool and interesting vlog about KLM's De-Icing. You can check it out here: