The moment we touched down in Ninoy Aquino International Airport in Manila, we knew all the hard work we had put into organizing the trip and fundraising for the Air France KLM Village was about to pay off.
But we had no idea yet of just how much this trip would impact our lives.
We are both 19 years old, and have been fortunate all our lives to never know poverty. When we decided to participate in the RAG Jailbreak Challenge, it seemed almost incredible to us that the rules stated we weren't allowed to spend any money at all, for the 36 hours of the 'game'. Not spend money?
How is that even possible, we asked ourselves! But then driving through the streets of Manila became an eye-opening experience that made us think about poverty in a real, almost touchable way.  We saw a level of poverty that shocked us: people living in make-do homes that seemed nothing more than cardboard boxes.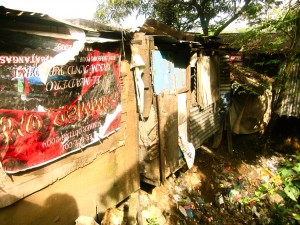 And in contrast to that, we met people so welcoming and kind that poverty seemed to be something that doesn't affect their sensibilities and dignity as human beings.  What a lesson! When we arrived in the village of Bagong Silang we were overwhelmed by the gratitude and happiness of its villagers and thought to ourselves how could it be possible that people who have so little want to give back so much?  We were overcome with mixed emotions:
shock that people live in such conditions, but also hope – as Gawad Kalinga, and Air France and KLM are changing these people's lives so dramatically.
Throughout the day we experienced the warmth and appreciation of the Filipino people as they showed us inside their homes and thanked us repeatedly for the help we were giving them.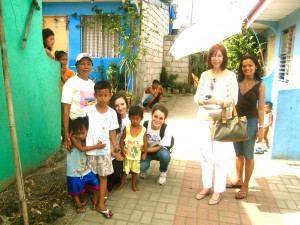 But perhaps our most abiding memory will be the children of Bagong Silang, who touched our hearts enormously with their affection, innocence and zest for life. Though they have so little materially, their smiles could not have been bigger, their laughs could not have been louder, and we soon found their happiness was infectious. The thought of being able to help such children live in safe and comfortable houses will drive us to continue to do everything we can to help them, even if it is in the slightest way.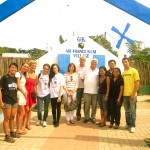 We were extremely fortunate  Cees Ursem, KLM general manager South China Sea and Tess Zulueta, KLM Marketing & Communications Executive had organized for Mr. Tony Meloto, founder of Gawad Kalinga, to visit Bagong Silang with us. Mr. Tony Meloto, alongside all the members of Gawad Kalinga, is trying to build empowered communities by reaching people through faith and through patriotism. They are dedicated to eradicating poverty, and restoring a sense of human dignity amongst the poorest areas of the Philippines. It was an honour to learn and understand all about the conditions throughout the Philippines, why the conditions have become so bad, and what we can do to help from the very founder of such an inspiring movement. We would like to thank Mr. Ursem and Ms. Zulueta for organizing this, and we would really like to thank Mr. Tony Meloto and all the dedicated people of Gawad Kalinga for inspiring us, and showing us what true dedication looks like.
Although we were only in the Philippines for 24 hours, the experience and the memories will last us a lifetime. We hope that our trip has raised awareness of the conditions in which so many people are living, and we truly hope to reach our goal of £2,000 in order to build a family a house of their own.
If you wish to donate, please go to our donation page .
You can also come along with us on our exciting journey through this video.
[youtube]e3SGibhZJM8[/youtube]
Laura Cavaciuti
Don't miss Laura's first blog!