Running New York Since 1946
Today, Sunday 2 November 2014, will see the forty-fourth New York City Marathon. Thousands of runners from the Netherlands and neighbouring countries will take part in the world-famous event. Quite possibly, they got there on KLM. KLM has maintained scheduled service from Amsterdam to New York since 1946. Ours was the first European airline to be offered—and seize—the opportunity to link the continents immediately following the Second World War. This is served to create the foundation of the most important aspects of KLM's route network.
Downfall and Restoration
Even during the Second World War, New York was one of KLM's destinations. However, it was then part of the company's West Indies division. It was the only division that continued to function during the war. Starting in 1943, the New York-Dutch Antilles-Suriname route helped create jobs in a time when all other activities lay dead. Japan had occupied the Dutch East Indies (which we now call Indonesia) and Schiphol Airport was bombed beyond recognition. The majority of KLM's fleet was either destroyed or confiscated by the Nazi occupiers. Flights from Schiphol were no longer an option. Using just a handful of leftover aircraft, the Bristol-Lisbon route was the only one left in Europe. Until it was phased out in 1946, KLM had transported more than 18,000 passengers along that "lifeline". Following Europe's liberation in 1945, Albert Plesman's main aim was to rebuild KLM as quickly as possible. At Schiphol, staff filled up the bomb craters on the platform and runways. The terminal consisted of little more than a few wooden barracks. In the meantime, KLM acquired and trained new personnel and made plans to expand its headquarters in The Hague. This was all part of the post-war dynamic in which KLM worked to rebuild its route network and, wherever possible, expand it.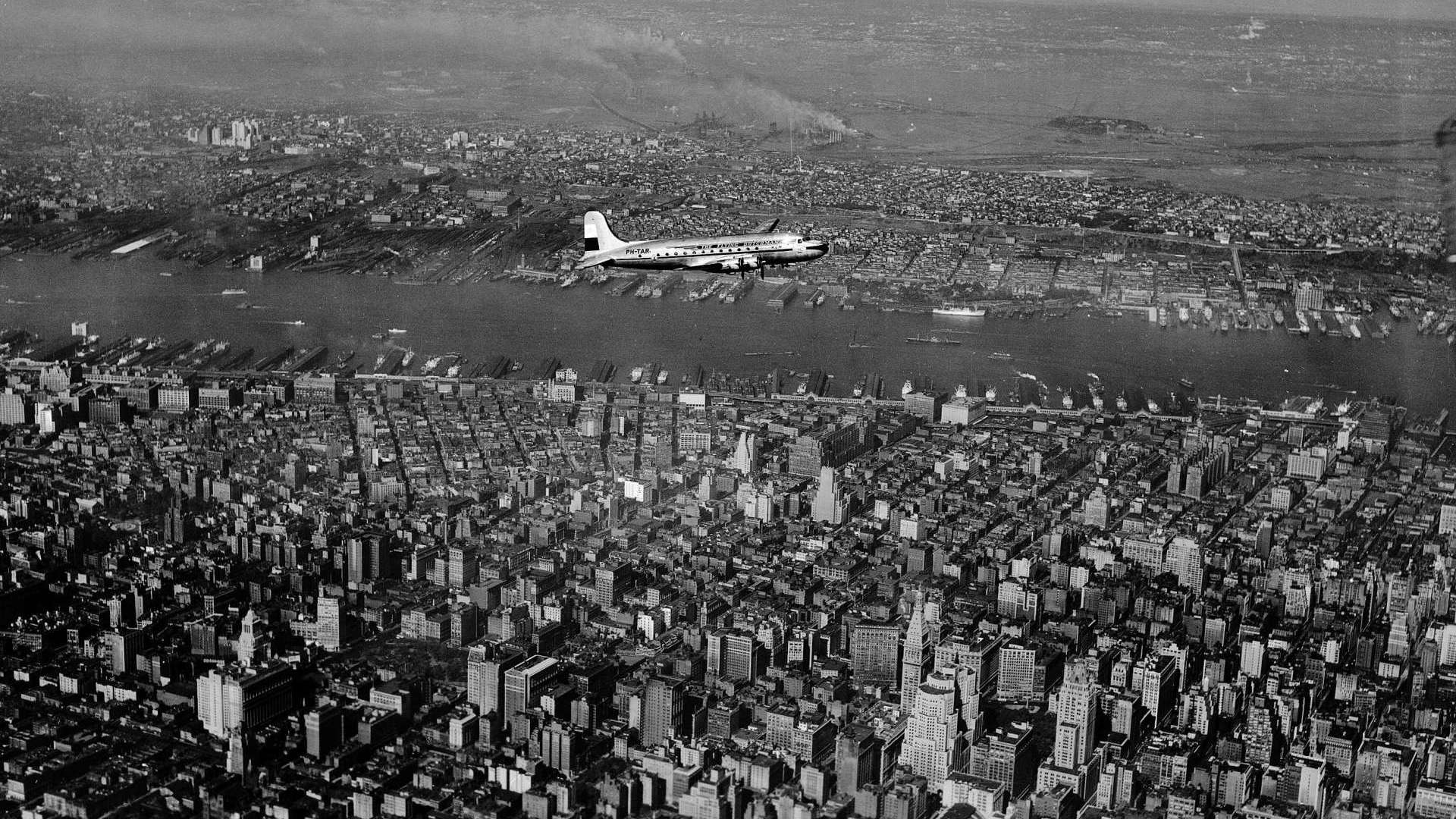 Eyes to the West
In those days, the company focus was far more on the West. The USA was an extremely important element. KLM had to arrange landing rights and the company's report of its existence between 1941 and 1946 speaks of "quite a bit of care and tact" in its efforts to gain access to New York. What is more, the rights for a commercial stopover at Glasgow airport did not go as smoothly as had been hoped for. Finally, the new route to New York—with stops in Glasgow and Gander, Newfoundland—could be tested. On 21 May 1946, we were ready. The DC-4 "Rotterdam" departed for New York. In so doing, KLM opened up the United States to the Netherlands and countries inland, all part of its European network. The route was an immediate success. In September, it deployed a brand-new Constellation L-049 to accommodate the growing demand. In 1946 alone, KLM transported 6,503 passengers and added thirty-three extra flights.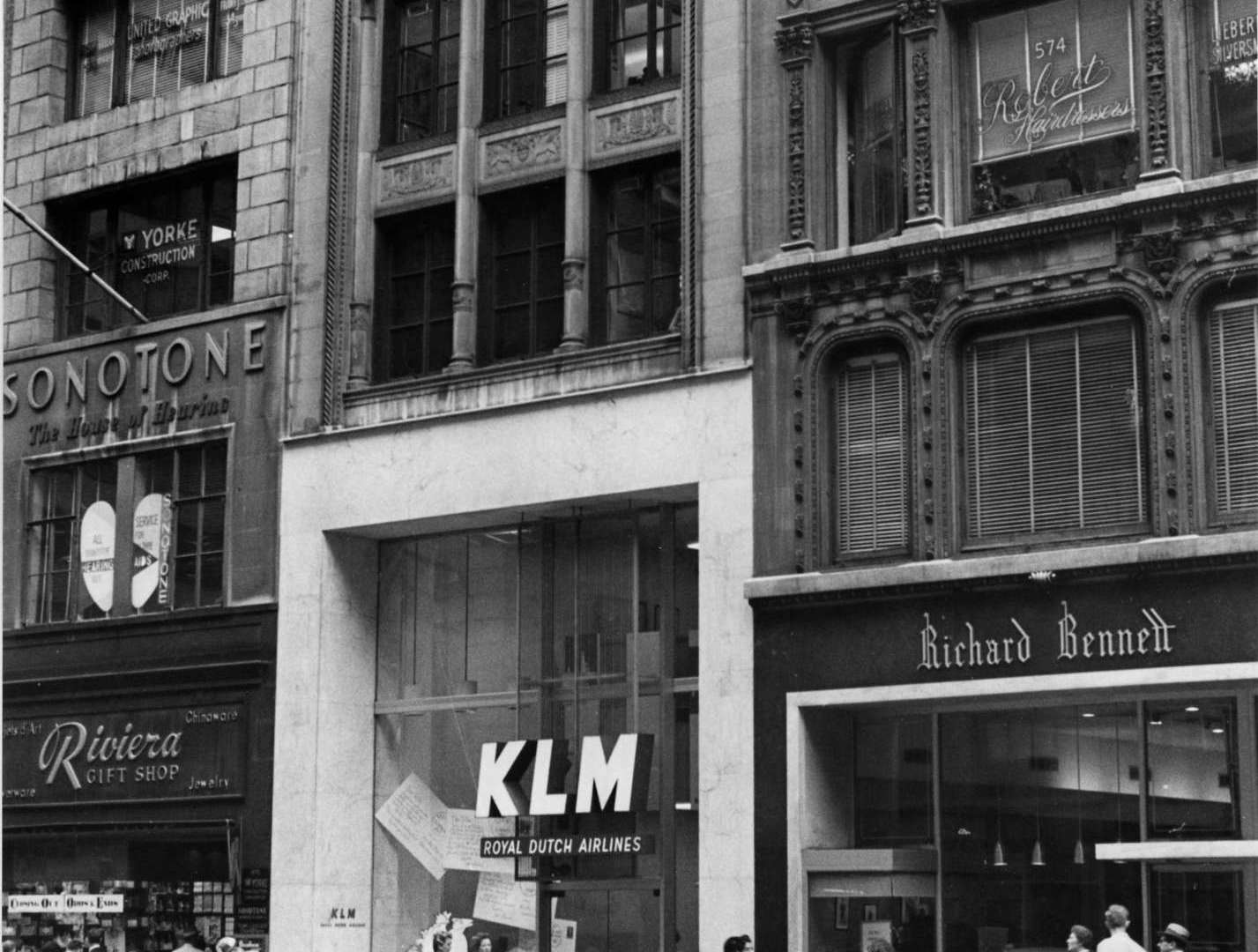 Fifth Avenue
KLM already had a passenger office in New York City. But, seeing how that was badly in need of repair, the company chose to move to Fifth Avenue. The choice was a clear expression of its desire to radiate post-war élan and the hope of a promising future, all of which had been lost during the war. The move certainly did not do KLM any harm. To this day, KLM can take passengers from Schiphol to the Big Apple several times a day.