School's out for the Summer!
The Unaccompanied Minor (UM) service is compulsory for youngsters aged 5 to 14 travelling alone. The service is not compulsory for slightly older passengers aged 15 to 17, although it can be arranged if required. UMs wait for their flights in the KLM Junior Jet Lounge (JJL).
They fly in on KLM flights or those operated by other SkyTeam partners. From around the globe, they head off to family or friends to spend the summer. Expat kids from Dubai, Tanzania, Singapore and (descendants of) emigrants from countries like Canada and Australia: they're all on their way to take a long summer break. It amazes me how at ease the UMs feel at the airport and how well they keep an eye on their departure times, fancy watches and tablets at the ready. They basically only have one request: "KLM WiFi code please." They stay in touch with the home front via Skype and Facebook. And their networking skills are evident; exchanging email addresses and mobile numbers is all part of the adventure. Yes, networking can be that simple….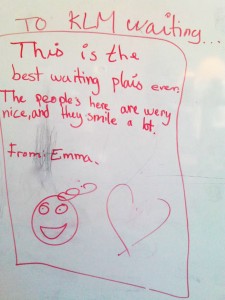 Flying Doctor
Each new day brings a colourful procession of nationalities to the JJL, the sounds of various languages fill the air and the exceptional names are often real tongue twisters. But things can take a turn along the way. A 16-year-old Romanian beauty was on her way to Los Angeles when she unexpectedly passed out at the gate. With some help from security and a female passenger, she soon came to again. The passenger who responded so swiftly turned out to be a doctor. The gate agent informed the purser of the flight, who arrived to see how things were going. Everyone felt involved and responsible for the UM. I asked the doctor what her destination was and as if it were meant to be, she was travelling to LA as well. And quite by chance, the seat next to her was available, so we were able to seat Rebekka there. I was so relieved that things worked out so well! She ended up travelling with her guardian angel, a real flying doctor. And with a hug, we said goodbye.
Rebekka, Caydon, Zarah, Nkosana, Matvey, Kofi, Dewi and the others, it was such a pleasure to escort you to the gate. Thanks for all the wonderful chats and I hope you had just as much fun as I did in the summer of 2013.
With love,
Morena