12 Magical Instagram Moments of a Cabin Attendant
Every flight has its own, particular, passengers, events and stories. I'm lucky to have this job. It's inspiring! There are those moments and encounters that you want to preserve for all time. I'd like to share some of these with you through my Instagram account @Dareshegoes. Now and then, you find these wonderful moments on the @KLM account, as in this photo of a KLM tail at @dareshegoes.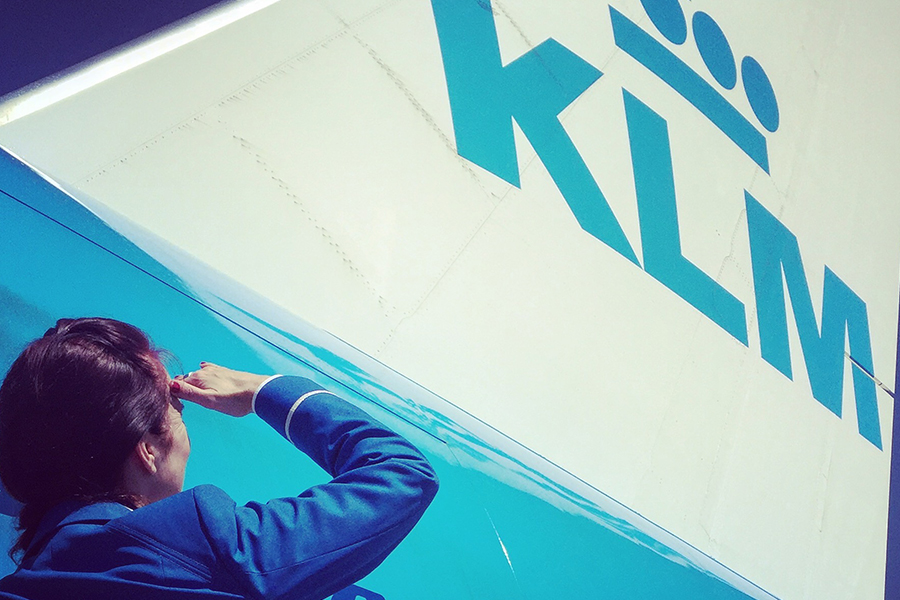 Here are my twelve favourite Instagram moments onboard at a glance:
1) Hello Chicago-town!
The service was complete. The safety check was done. We were ready to land. While my colleagues were making plans for our stop in Chicago, I took a look out the window near the crew seat. At that moment, the captain announced that, owing to congestion at the airport, we would have to make another circle before we could land. It was one of the most beautiful holding patterns I've ever seen. I grabbed my iPhone and took this great picture, if I do say so myself, and a few more. Flying along the Chicago skyline was the icing on the cake for this flight. Wow!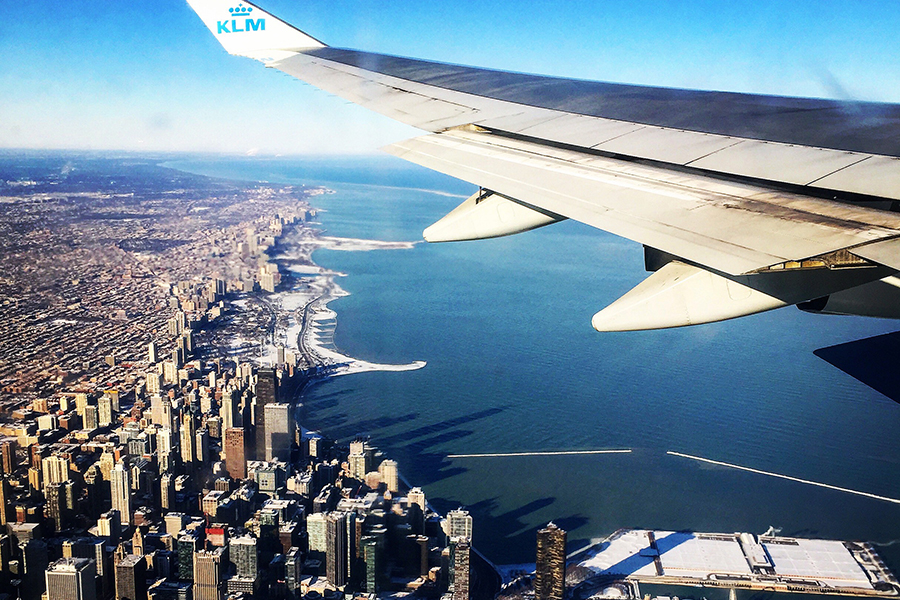 2) Best Seats in the House
By far, the flight with the best view is on our shuttle run between Buenos Aires and Santiago de Chile. For me, flying over the stunning Andes mountains on a sunny day feels like a trip on Aladdin's magic carpet. With a little luck, we'll have a little extra time and I can grab a free seat offering the best view. I made this shot as we approached the Andes. Lucky me!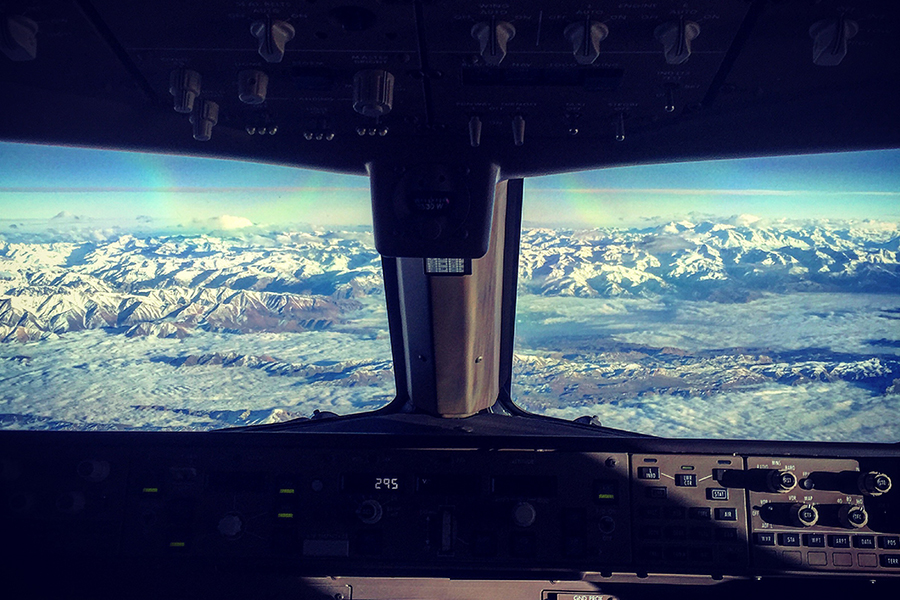 3) Nanny in the sky
Quite often, I meet mothers walking around the cabin with a child in their arm. Sometimes they visit the galley. The kid won't go to sleep, or wants a bottle. Now and then, if there's a break in the service, I'll give the mothers a "me" moment and transform from cabin attendant into "nanny in the sky". The mother of baby Yolanda appreciated that enormously and sent me this sweet photo and an email saying thanks. It's the little things that make it.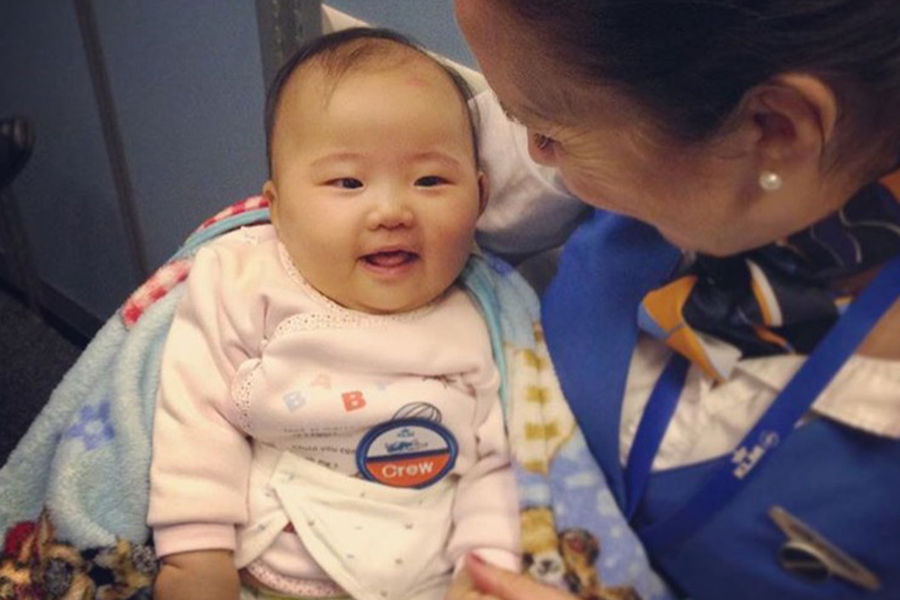 4) Green Quilt
Our landing in Quito reminds me of a patchwork quilt. What an interplay of green and yellow. KLM Engine up close and personal with Ecuador's surprising landscape.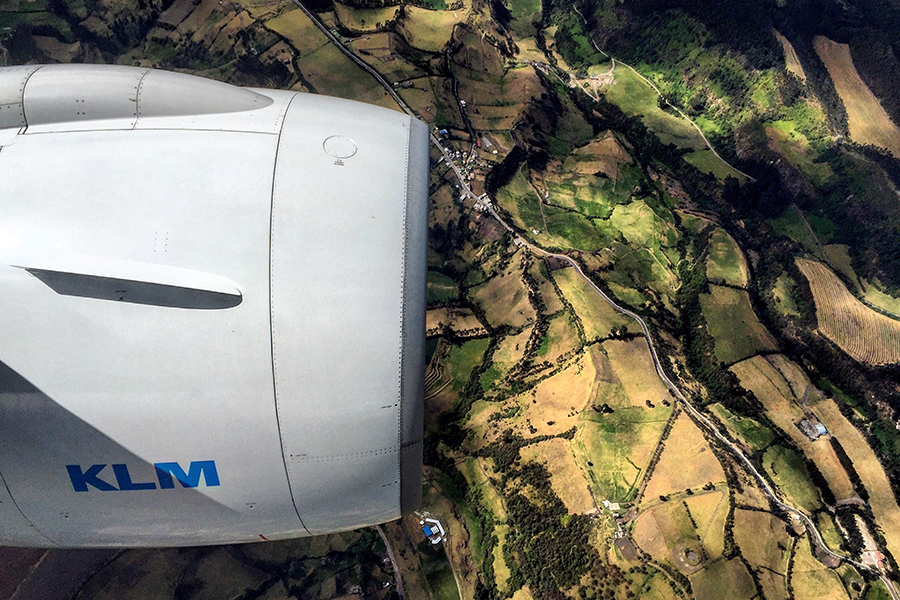 5) Hip Hip Hooray!
Last month, this great rugby team flew with us from Amsterdam to their home base in Argentina. One of the players on the flight was having his birthday. I thought that made a good photo opportunity. Never a dull moment.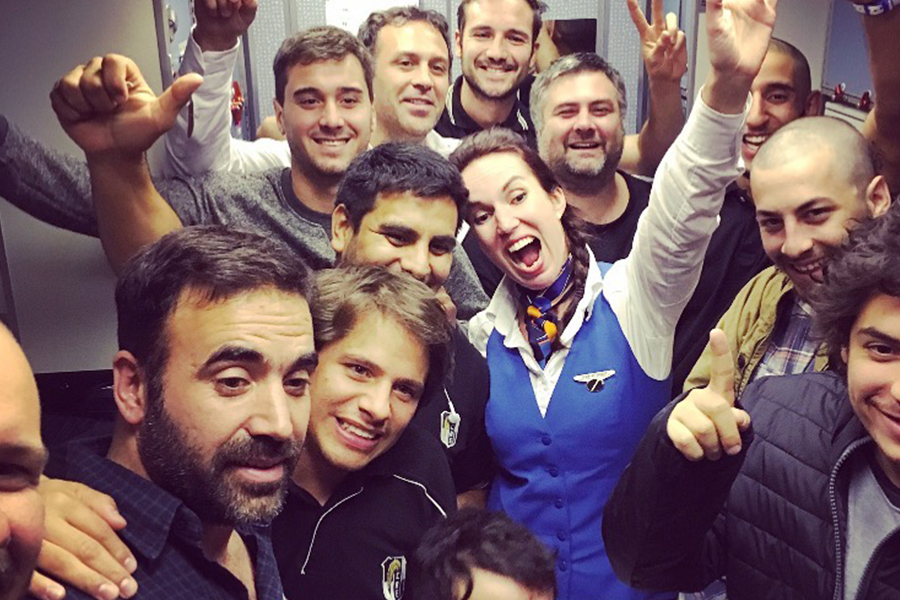 6) Can I get a window seat?
In September 2016, I volunteered to fly to Nairobi for Wings of Support. Personally I prefer to have an aisle seat though you can take the best pictures if you sit next to the window. Here's one I made while the aircraft waited on the taxiway. A beautiful Dutch sight – with KLM in my sights. "Bye-bye Schiphol, off we go."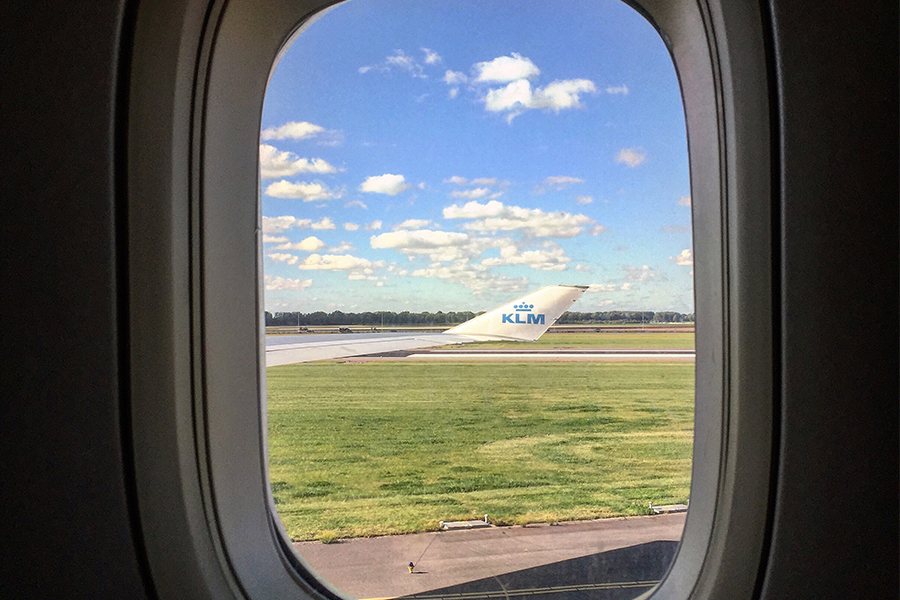 7) Guess where?
Can you guess which metropolis this is? We fly here from Amsterdam Schiphol several times a day. You can find the answer at the bottom of the blog.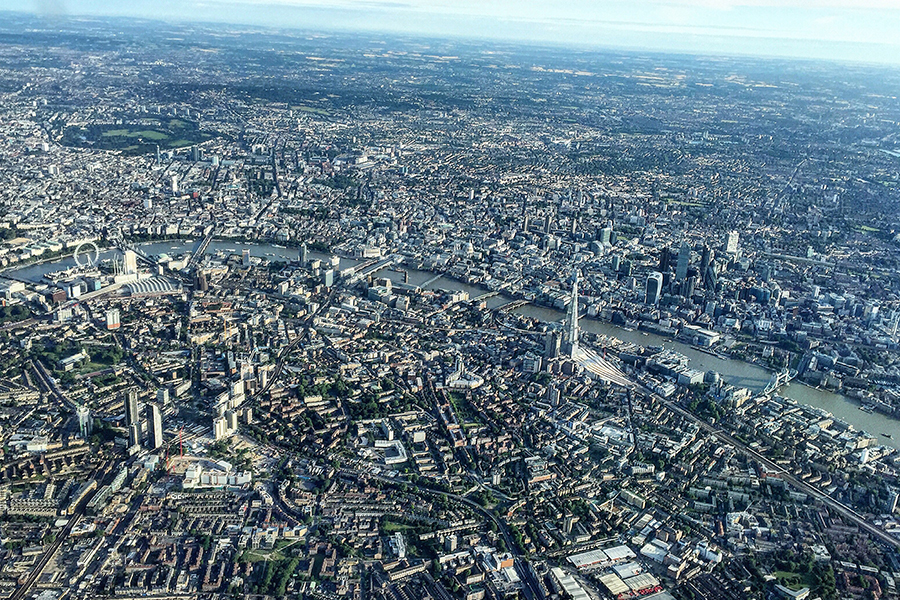 8) Viva la Vida!
In my blog about the extraordinary people I've met on board, this particular lady still ranks number one. We continue to maintain contact. We call each other regularly and I visit her every year. Here's the story of Vida and her dream.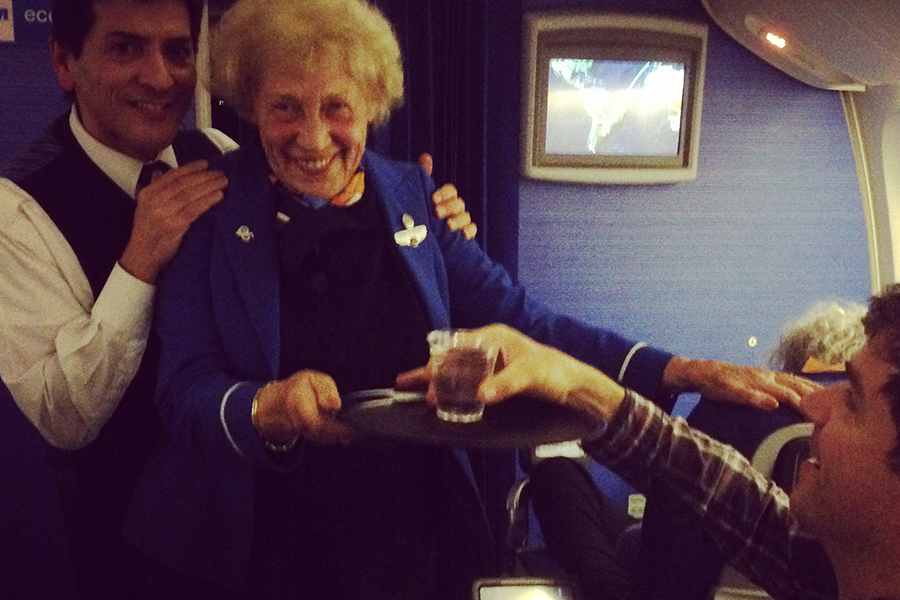 9) Galley mates
Here are my galley mates on my New Year's Day flight last year. Following a fantastic New Year's Eve in Buenos Aires we made ready for our first flight of the new year to Amsterdam. Before the passengers boarded, we took this photo using the self-timer. It was a good way to start a new year of flying. I look forward to seeing all of you often, dear colleagues.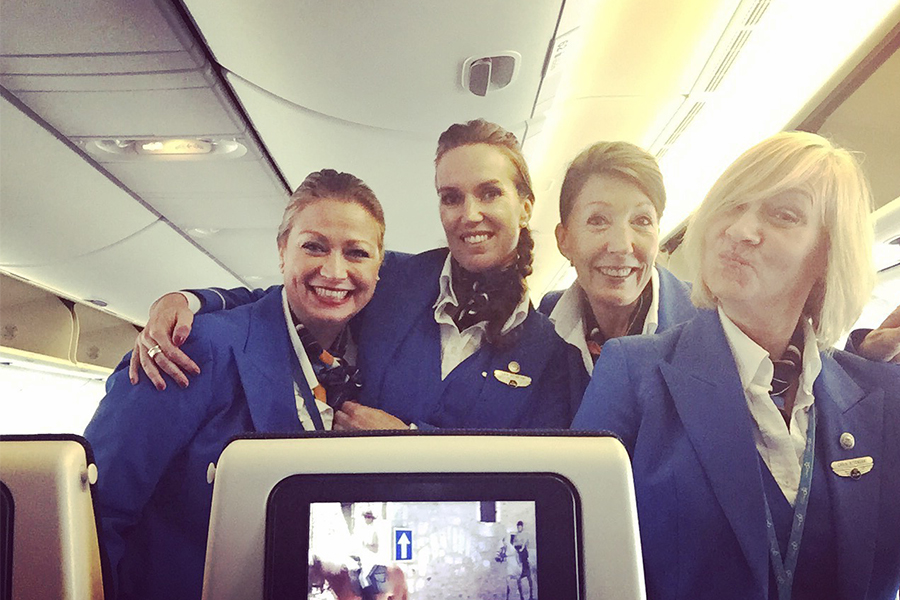 10) There's no place like home
Coming home on an early summer morning is a wonderful feeling. That moment when the sun rises and you know you've got a few days off. I took this photo of the SkyTeam livery Boeing 777-300 on a day just like that. Are you in the mood for summer, too?
11) Airbus moment
This year, I traded in my Boeing 747 for an Airbus. I made my first flight in February – to sunny Cuba! We made a turn on our approach to land in authentic Havana. What a shot!  I'm looking forward to all the KLM destinations I've not yet seen.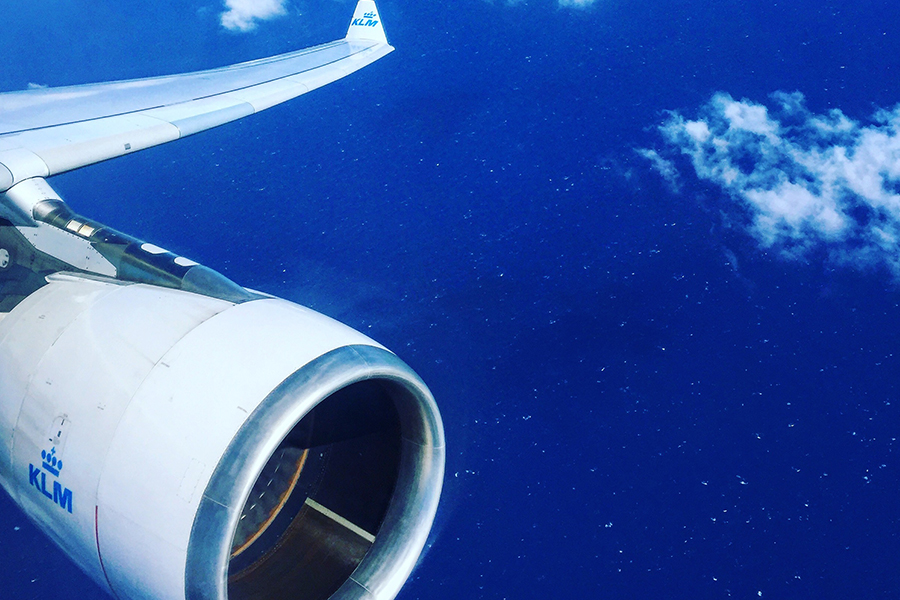 12) Nice to meet you
Aboard the flight from Kuala Lumpur to Amsterdam, I met this sweet woman from Singapore headed for Oslo. During a long flight of this kind, you always click with one of the passengers. When I told her that I was writing for KLM, she said, "Write it on my hand so I don't forget. Take a picture of it and post it on your blog." And so it was. After a twelve-hour flight, these are the things that make me happy. It's the people who want to know more about you, working inflight, and all the destinations. Flying makes your world bigger – not only by discovering new destinations but by meeting good and remarkable people. If you want to follow my life in the sky, you can find me on Instagram: @dareshegoes. Nice meeting you!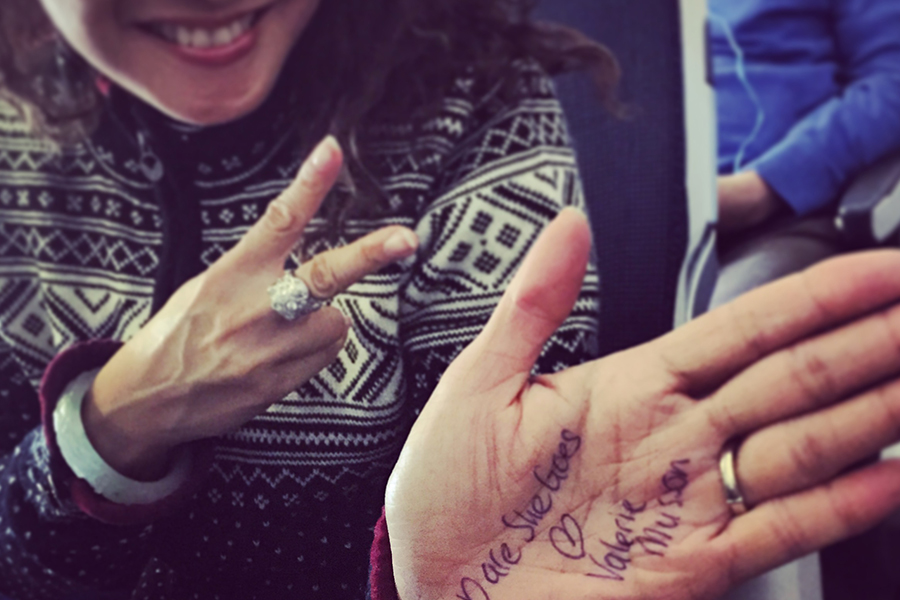 PS: The answer to Photo 7 is London.
Share your KLM flight moments as well! Use the hashtag #myKLMmoment and you might be reposted on one of KLM's social media channels.