Flight of Fame: 5 Hollywood Stars and KLM
Aviation and celebrities. The two are inextricably linked, certainly in the 1950s and 1960s when there was nothing quite as iconic as seeing a Hollywood star walking down the stairs of an aircraft. Naturally, surrounded by a horde of ecstatic fans on the platform. This blog showcases five celebrities who flew KLM at some point.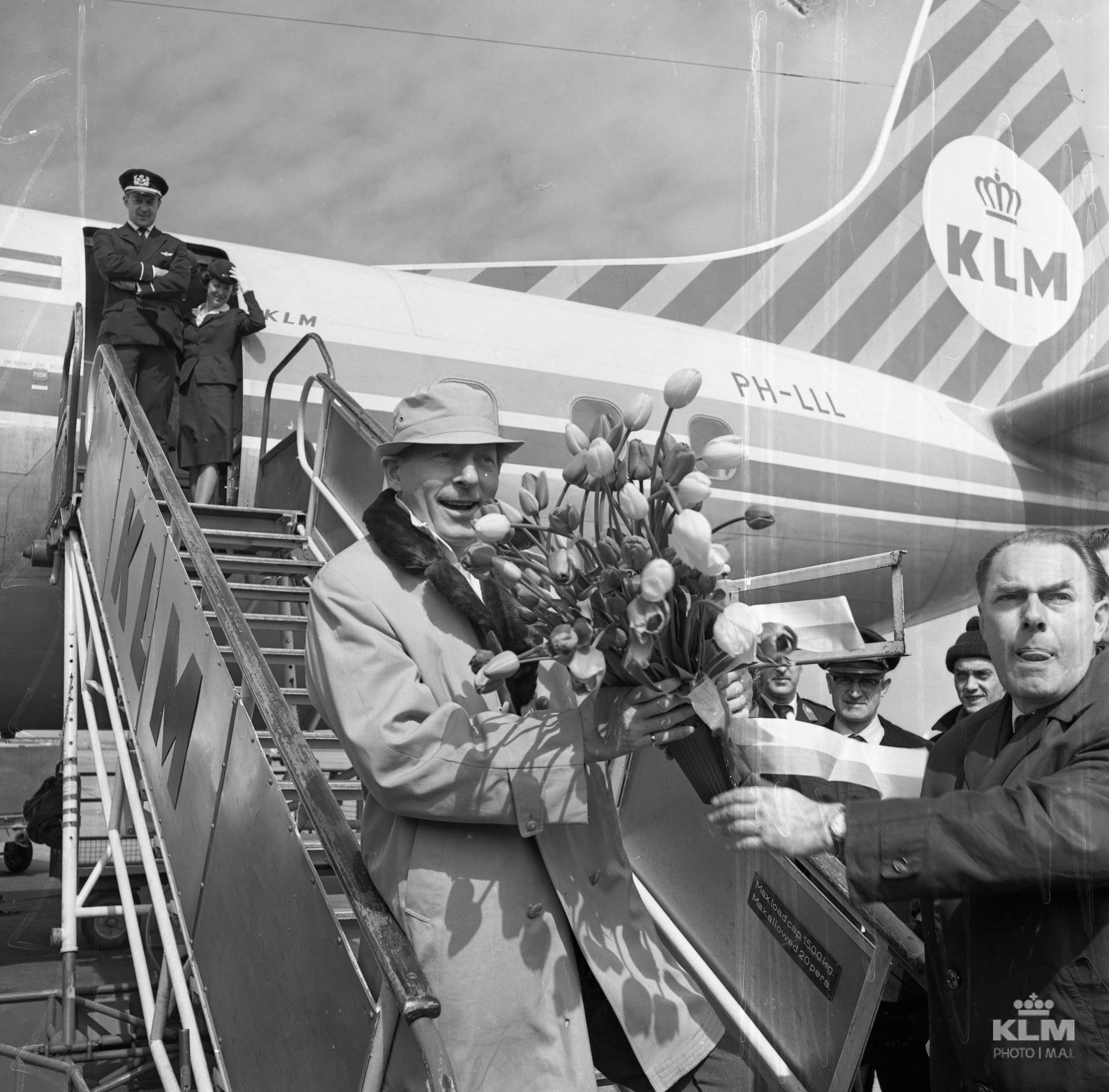 Laugh out loud
The photo shows American actor, singer and comedian Danny Kaye setting foot on Dutch soil. He's just disembarked from a Lockheed L-188 Electra ll and it is spring 1964. Born in Brooklyn as David Daniel Kaminski, Kaye became one of the world's most famous comedians. As a child, I devoured the Danny Kaye movies. The high point for me was 'The Secret Life of Walter Mitty', in which the hysterical situations Kaye finds himself in made me laugh so much it hurt. Kaye visited the Netherlands again in 1979. This time, in his capacity as Ambassador for UNICEF. And, in Amsterdam, he led the Royal Concertgebouw Orchestra in a comical fashion.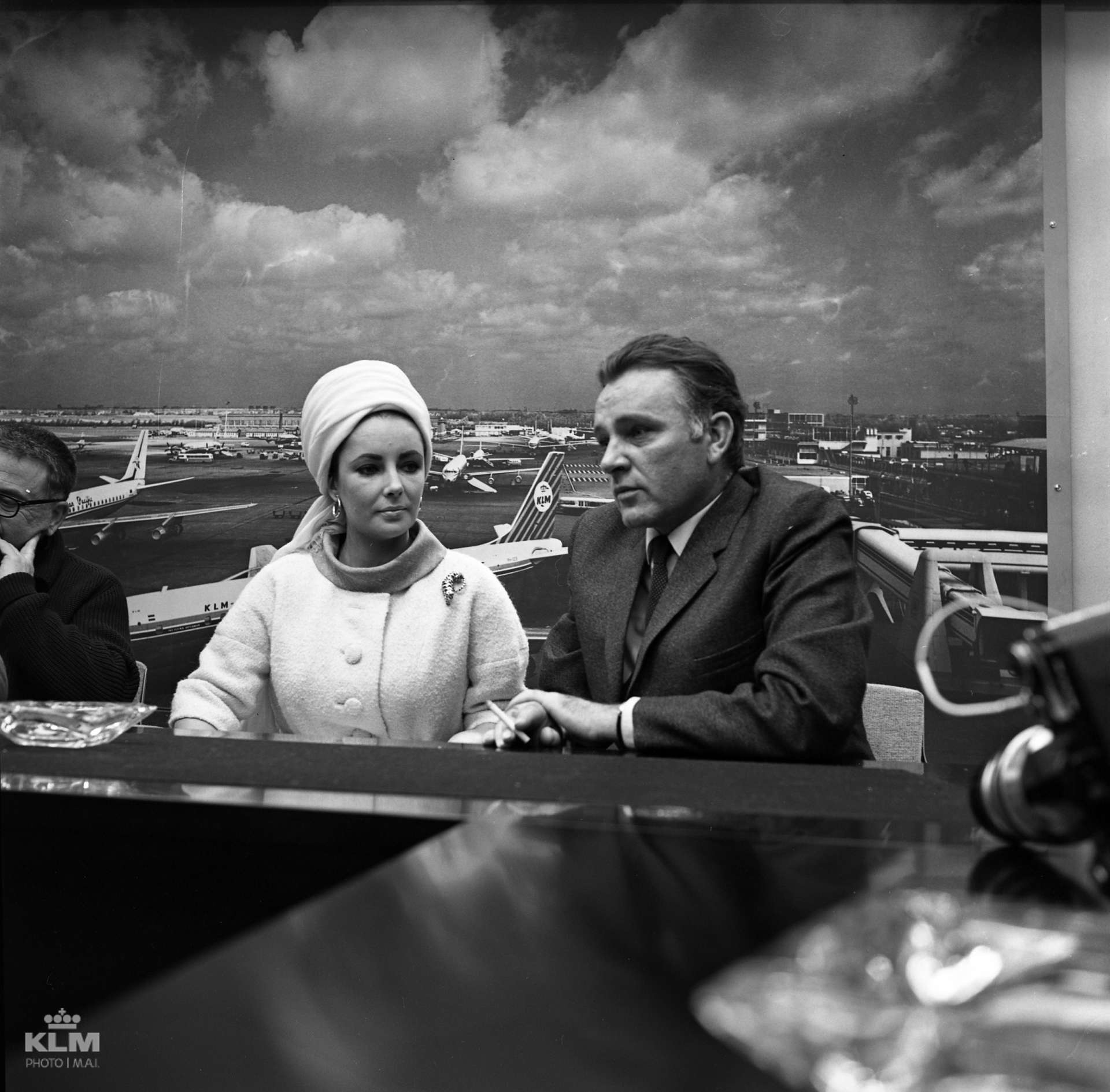 Turbulent marriage
The photograph shows the well-known, perhaps infamous couple, Liz Taylor and Richard Burton giving a press conference at the old Schiphol airport in 1965. They were married the year before and their marriage ultimately fell apart in 1974. Apparently they regretted this, because before a year had passed, the couple remarried in October 1975. This marriage lasted just short of a year, stranding in divorce in July 1976. A clear example of not being able to be with or without one another. This was also clear from their ongoing flights and conflicts, which often played out in the public arena. The photograph shows a somewhat sombre Taylor – but then who would feel like giving a press conference after a long flight. A year later in 1966, the couple went on to shine in the movie 'Who's afraid of Virginia Woolf'. Still an impressive film, in which the spouses certainly don't make things easier for one another. They were made for the job.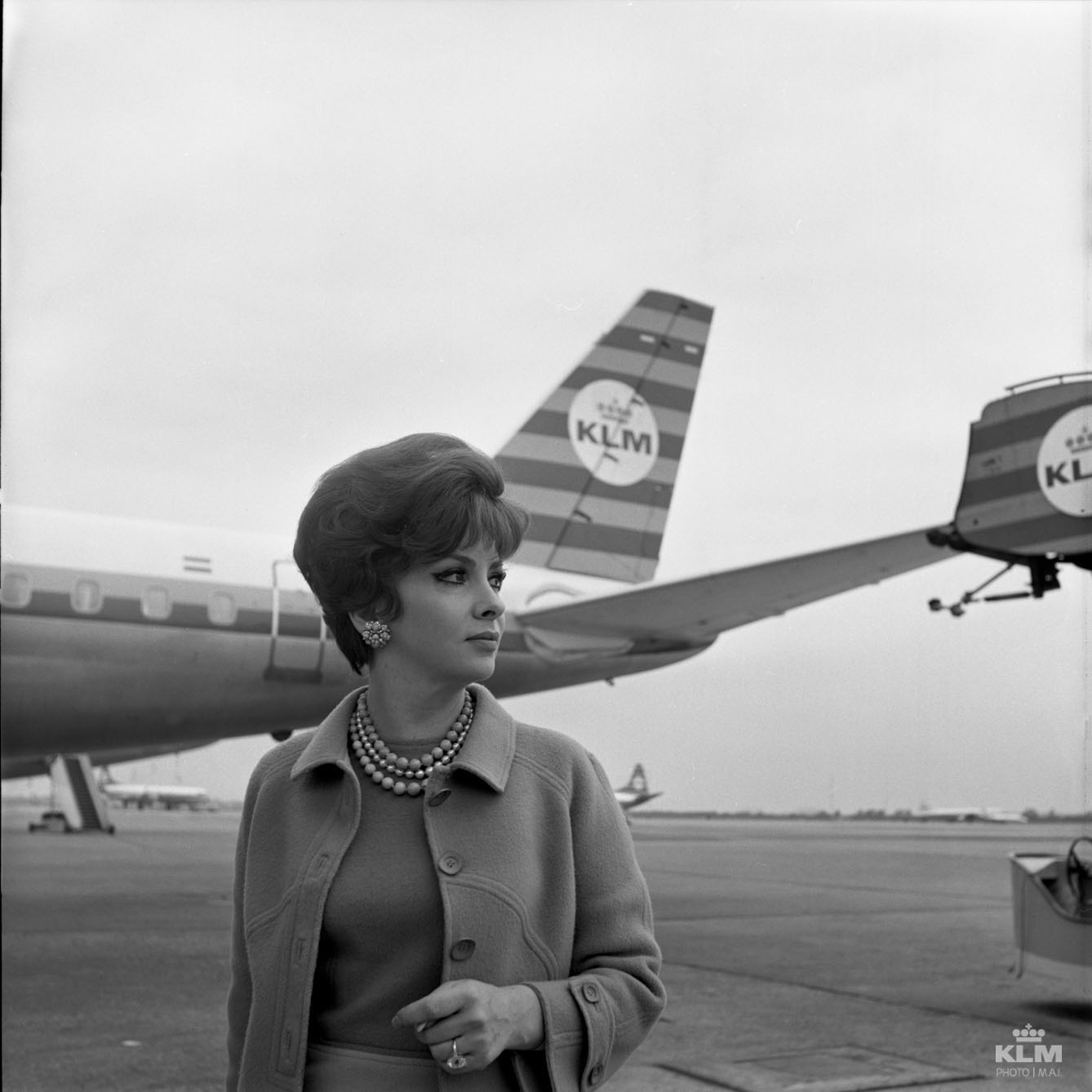 Italian beauty
A beautifully serene image of Italian actress Gina Lollobrigida on the apron at Schiphol with a DC-8 in the background. According to Wolkenridder Magazine she was spotted at Schiphol in September 1966 and the KLM photographer was smart enough to ask her to pose for him. Lollobrigida had spent the weekend in Amsterdam and was heading home again. Even celebrities enjoy going out sometimes and Amsterdam remains an irresistibly magnetic city. And Gina of course, knew all about this. She'll be turning 88 next week.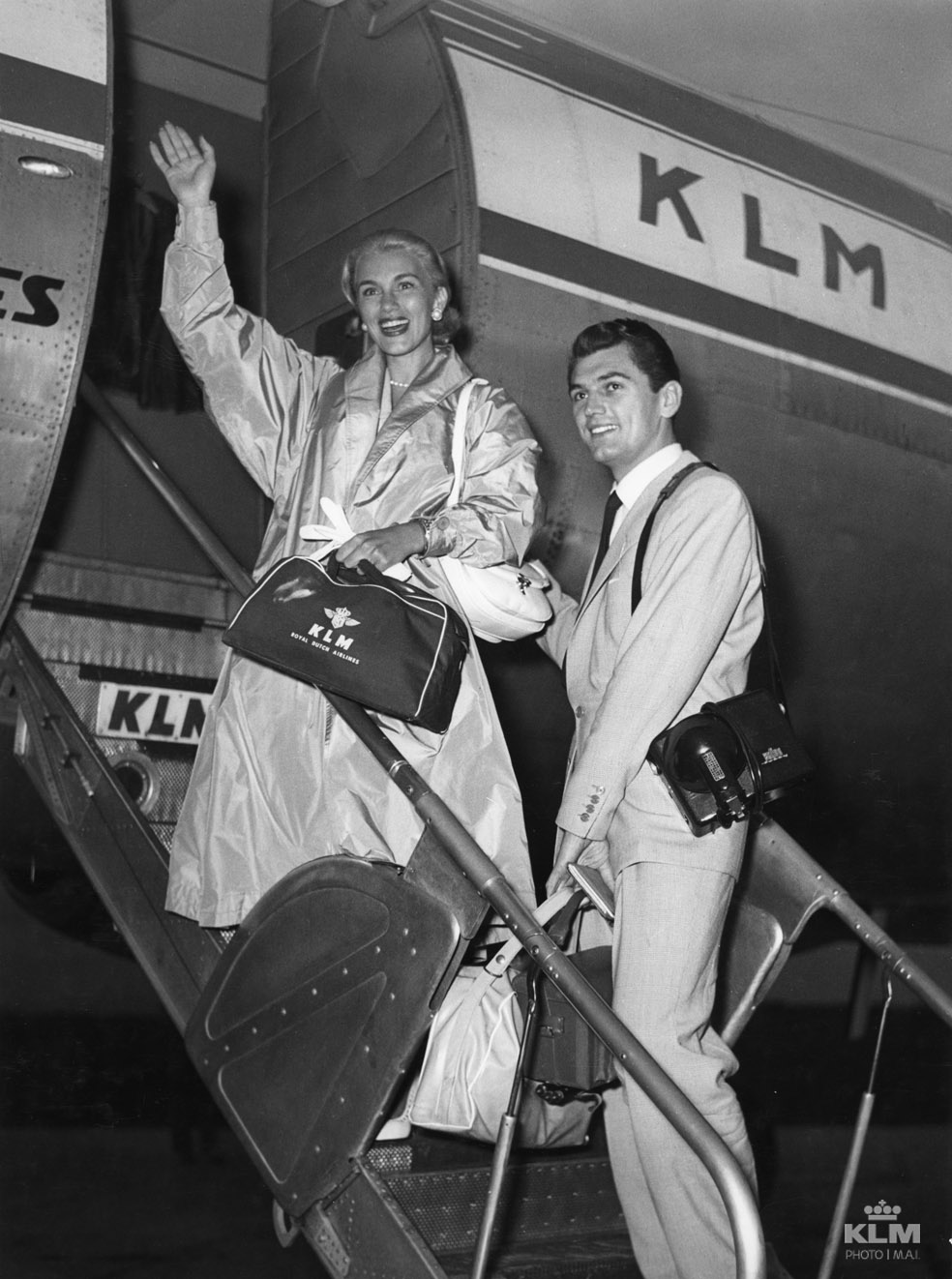 Bond girl
I couldn't place her at first, but the woman waving from the aircraft stairs is actress Linda Christian. Her actual name was Blanca Rosa Welter and she had a Dutch father – an engineer who worked for Shell – and a Mexican mother. Her Dutch roots could have been the reason for her visit to the Netherlands in 1955; seen here in the company of actor Edmund Perdom with whom she was married briefly in the 1960s. But this was not yet the case in the photograph, because at that point she was still married to a Mr Power with whom she had two daughters. Daughter Romina Power is sure to ring a bell amongst Eurovision Song Contest fans – but I digress. Either way, Linda Christian was the very first bond girl. She starred in the first version of Casino Royale produced for television in 1954. Later, the book written by Ian Fleming, would be adapted for film twice.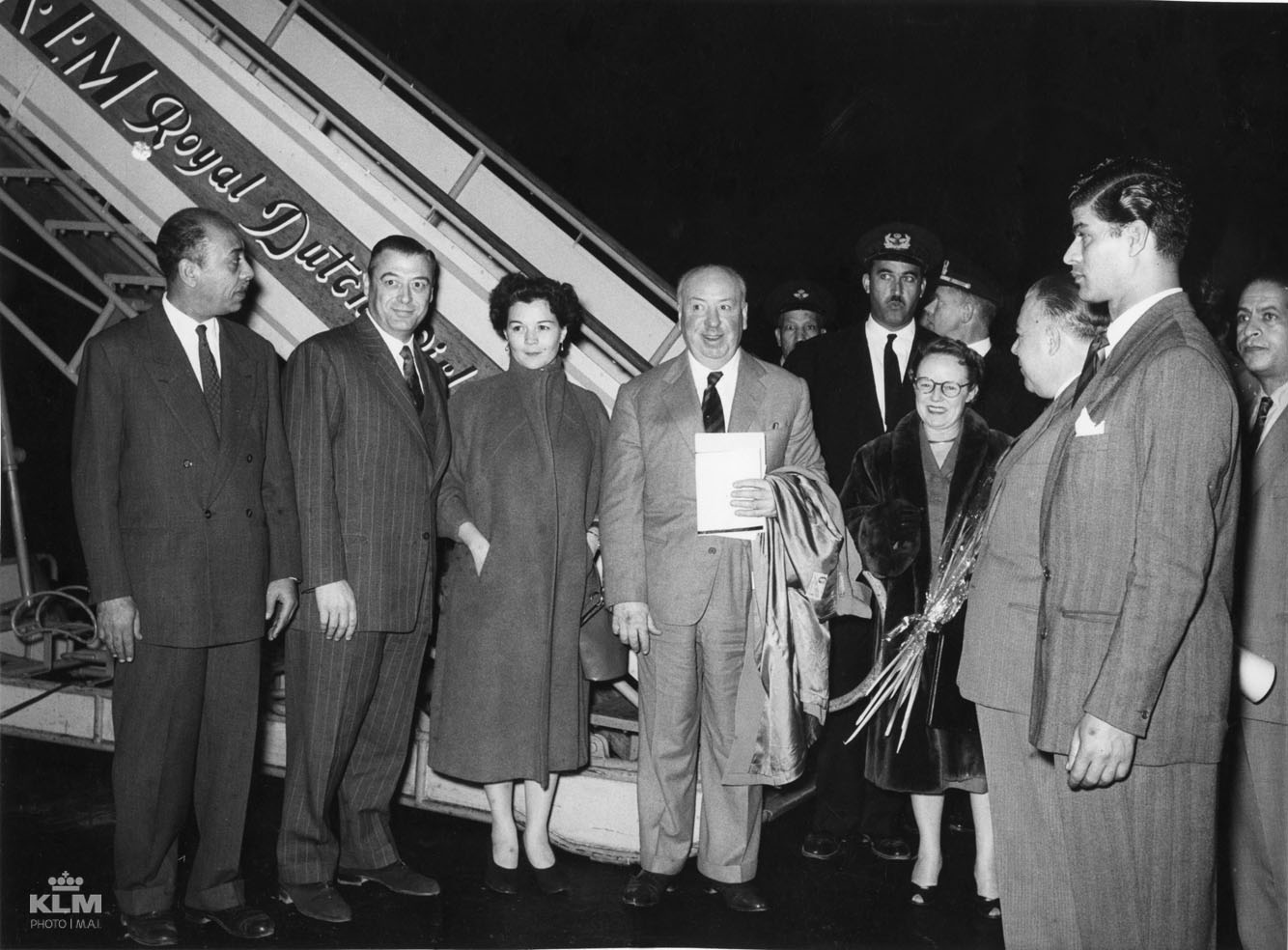 Master of Suspense
Since we're talking about suspense, Alfred Hitchcock is certainly the master. He too was once welcomed on board a KLM aircraft. He can be seen here with his wife Alma (to his right). The occasion isn't entirely clear to me from the photograph, but I suspect the couple are arriving here at the airport in New York. The identities of the people surrounding the couple are also shrouded in mystery, since the archives don't say. In any event, the KLM cockpit crew can be seen in the background. The photograph was taken in the US in December 1955. This much we know for sure. During this period, KLM only operated flights to New York and Miami – the latter solely from the Caribbean – so I suspect it was taken in New York given the winter jackets. But we cannot know for certain without proof. In short, the photograph is actually a bit of a mystery altogether. Suits Alfred to a T.