Do you remember our first Christmas in Paris?
How I took the train from Amsterdam to Gare du Nord?
How I skimped and saved my paltry student loan to buy the ticket, because I wouldn't let you pay?
How I almost got into a fight and then struck up an absurd conversation with a drunken Scottish tourist who kept asking if I was a poofter?
How you said I should take the metro out to Charles de Gaulle?
How I pleaded with the chauffeur of the hotel shuttle in my awesome schoolboy French?
How snow delayed your flight in London and then again in Amsterdam?
How I sat waiting in the deserted hangar of a hotel lobby?
How the prim receptionists whispered with puckered lips, casting sly glances, their horn-rimmed heads nodding in agreement at my lack of elegance, my ponytail, my leather jacket, my winkle-pickers?
How I worried about the fact that I couldn't catch a taxi into town ("Je suis rien de monnaie…"), that I didn't have a credit card, that mobile phones had yet to be invented, that the only other person waiting in the lobby – clearly a handsome deserter from the légion étrangère – kept eyeing me over his copy of Le Monde?
How I later discovered that he was the French lover of one of your crewmates, instructed to give me shelter should your flight be cancelled, but too bashful or linguistically ill-equipped to inform me of his role as saviour?
Do you remember how I sat trying to read James Joyce because I thought it looked cool?
How my heart leapt when you led your crew into the lobby, four hours and fifty-three minutes later than expected?
How you clicked over on your high heels for a quick embrace before you got back to business arranging rooms?
How out-of-place I looked, with my no-future coif and tattered rucksack, reflected in the floor-to-ceiling elevator mirrors like a crow among the bluebirds?
How weird it was to shake hands with people in such a confined space?
How you rushed into the shower and stayed there long enough for me to wolf down an entire bag of chips and half a box of biscuits?
How annoyed you were at my impatience and, not soon thereafter, how pleased?
Do you remember how much we saw of Paris?
How we rushed from place to place without a camera?
How we had Christmas dinner with your colleague, her loving legionnaire and the rest of the crew?
How the names of people and places and other details have been erased by the memory of your sparkling eyes and dancing lips?
How I can only do true justice to the romance of our union when I am alone at my keyboard?
How much I love you?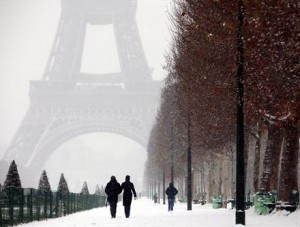 Richard de Nooy